This whole grain cinnamon raisin bread is made with spelt and is relatively simple as far as yeasted breads go!
Good 100% whole grain bread recipes aren't that easy to come by. And most of them can be a bit fussy. But this cinnamon raisin bread? It's just as easy as a recipe made with white flour! There's no soaker and no biga required, cutting way down on prep time.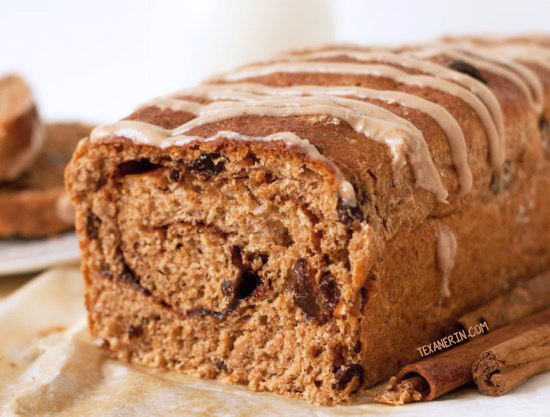 I tried making this with whole wheat flour and it didn't work out. When you use spelt, it makes things a little tricky. Spelt requires less moisture than wheat, but the question is exactly how much less to use. I've read that you should use 10 – 25% less less liquid when using spelt and I know a 15% differential doesn't sound like that much, but in bread baking it seems to be. I sub whole spelt for whole wheat all the time in non-yeasted baked goods and haven't had a problem. It's just in yeasted bread that I have this issue.
So I was extremely excited when I found a recipe on Sonya's page already calling for whole spelt. My changes were to add more cinnamon because I wanted more of a cinnamon taste and less of a spelt taste, and to give it a cinnamon swirl. You could leave that out if you really want to, but it makes the bread so much more fun and tasty. And whose morning doesn't need some more excitement?!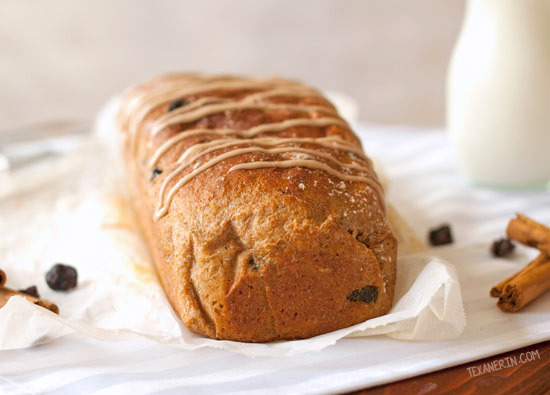 I put some icing on top and then realized it was a pretty silly move. This bread is really best toasted and icing in the toaster isn't the best idea. So ignore that! No comments about how you burned down your kitchen with toasting icing will be allowed. ;)
I don't know what's up with German dry yeast, but I haven't had much luck with it. And neither have my American bread baking friends over here. For this loaf, and all my other yeast breads, I've been using a two pound bag of active Red Star Yeast I bought at Sam's or Costco three years ago. It was only about $4 at the time so it was an amazing value.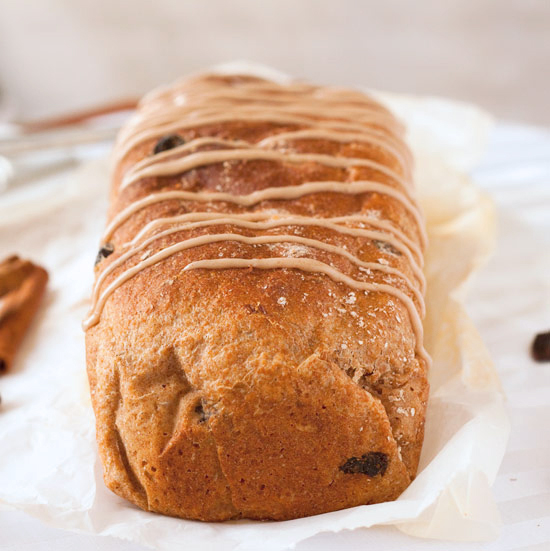 And one important thing to note: With most of my recipes, you can't tell that they're whole grain. You can with this whole grain cinnamon raisin bread but that's not a bad thing if you actually like whole grain goodies! Just letting you know because this might be a difficult one to sell to the whole grain haters.
And I just realized that this is vegan and dairy-free. Bonus! And this here maple cinnamon almond butter would go perfect on it. It's like eating spreadable maple cinnamon candy. :)
❀
100% Whole Spelt Cinnamon Raisin Bread
Prep Time:
Cook Time:
Ready in:
Yield:

12 servings
Ingredients
2 1/4 teaspoons active dry yeast
1 cup (240ml) warm water
2 tablespoons (28 grams) melted coconut oil or canola oil
3 to 3 1/2 cups (375-438 grams) whole spelt flour
1 tablespoon cinnamon
1 teaspoon salt
1/2 - 1 cup (70 - 140 grams) raisins
1/4 cup (50 grams) coconut or brown sugar
1 tablespoon cinnamon
Directions
In a large bowl, mix together the yeast, warm water and honey. Proof for 5 minutes.
Add the oil, 1 1/2 cups flour, cinnamon, salt and raisins. Mix with a hand mixer until well combined.
Cover the bowl with plastic wrap and let the dough rise for 30 minutes or until doubled.
Add more flour, 1/4 cup at a time, just until the dough comes together. I used about 1 1/2 cups in this step, meaning I used 3 cups in the entire recipe.
Mix the dough on low for 3 minutes. The dough should be just slightly sticky, but not so sticky that you can't work with it.
Spray an 8 x 4" loaf pan with cooking spray.
On a floured clean surface or a Silpat, roll the dough into an eight inch square.
Sprinkle the sugar and cinnamon evenly over the surface.
Roll into a tight loaf and place in the prepared loaf pan.
Spray the plastic wrap you used to cover the bowl with cooking spray and use this to cover the loaf.
Let the dough rise for 30-60 minutes in a warm place or until doubled.
Preheat the oven to 350 degrees F (175 degrees C) and bake the loaf for 30-40 minutes. It should be golden brown and when tapped, it should sound hollow.
Let the bread cool in its pan for 5 minutes before turning it out onto a wire rack to cool completely.
Adapted from Arrowhead Mills as seen on Home Cooking with Sonya - Spelt Cinnamon Raisin Bread