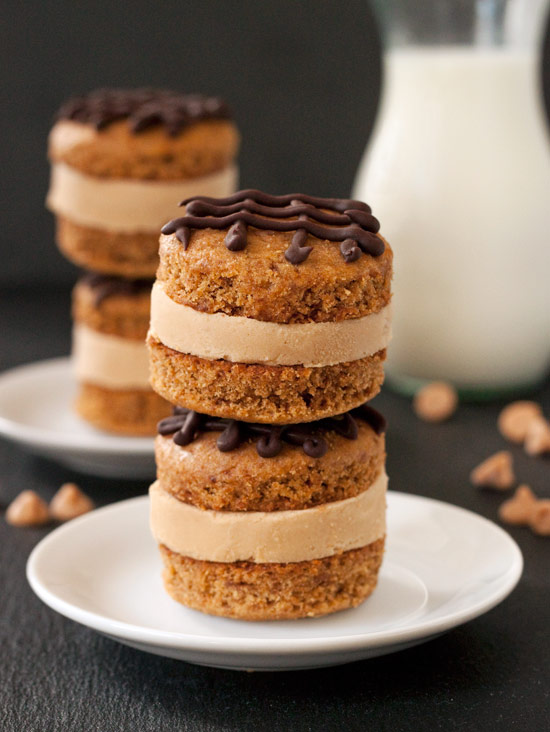 In celebration of Sunday's return of Arrested Development, some other bloggers and I got together to create some of the dishes mentioned in the show.
I could have been more creative and made something like bone stew or shish ka-bob-loblaw, but I figured they wouldn't go over too well. Since bananas are so important to the show (yes, it's true) I tried making some super healthy banana peanut butter ice cream, but it didn't freeze nicely.
So we have some unhealthy, yet delicious, peanut butter ice cream. I just can't do healthy ice cream. It makes me weep. At least I used coconut sugar instead of regular sugar. That surely counts for something, right? ;)
This vegan chocolate banana ice cream looks amazing, though!
In the show, the main character, Michael, is visiting his father in jail. Michael's trying to have a conversation with his father, but he's too busy "having a love affair" with the ice cream sandwich to really pay attention. I feel confident in saying that you will also have a love affair with these. Peanut butter cookies + peanut butter ice cream. And the chocolate on top? They were supposed to be bars, because, get it… the father's in jail eating ice cream sandwiches! But they're just stripes.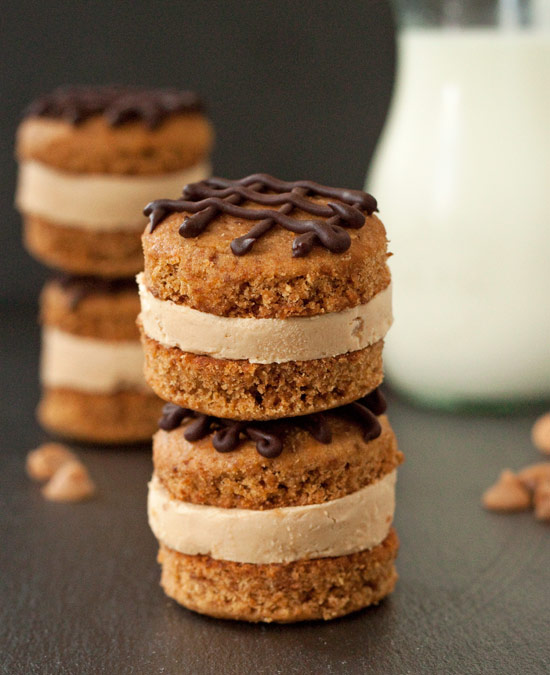 For the cookies, I used normal (not natural) peanut butter. I just don't like natural peanut butter in my cookies. It yields unpleasantly textured and tasting cookies. So if you insist on using it – you've been warned. ;)
I also used regular peanut butter in the ice cream, but you could use the natural stuff. I'm pretty sure it'd be a little gritty and not totally smooth. I didn't heat anything when making the ice cream, so I had tiny little peanut butter specks. And I liked that. If you prefer, you can heat up the milk and then add the peanut butter and mix until combined.
I always freeze my ice cream mixes for 30 minutes or an hour before churning. This time, I forgot about the ice cream and when I went back to it, it was pretty much already in ice cream form.
I could only churn it for a minute or two before the machine revolted and started making some unsettling sounds. So you don't need an ice cream machine for this one!
If you don't decide to churn it, mix the ice cream every 20-30 minutes after putting it in the freezer. This helps it to freeze more evenly rather just than having the outer parts freeze.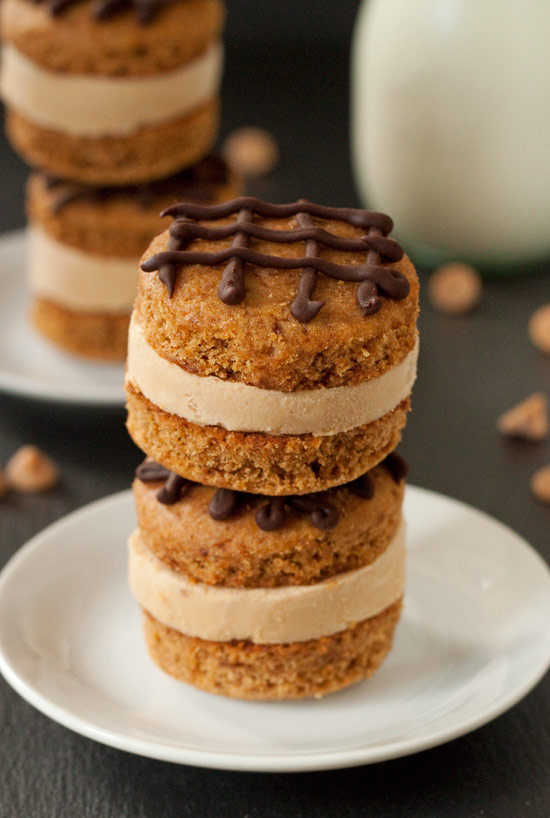 The cookie recipe was adapted from these chewy peanut butter cookies from Confections of a Foodie Bride. I've made them as written and they're definitely my favorite peanut butter cookie!
I took her recipe, reduced the sugar and used all coconut sugar, used coconut oil instead of butter and used all whole wheat flour. This resulted in a more cakey cookie. I'm normally against all things cakey (except cake) but here it turned out to be a good thing since I didn't want my cookies to be too hard for the sandwiches.
You could eat these straight from the freezer, but they're really best if they sit at room temperature for 10-20 minutes first. It just brings out the peanut butter flavor somehow! And they're softer and gooier. It's just an all-around much more pleasant experience.
❀
100% Whole Wheat Peanut Butter Ice Cream Sandwiches
Prep Time:
Cook Time:
Ready in:
Yield:

10 - 15 ice cream sandwiches
Ingredients
Ice Cream:

1 cup peanut butter
1/4 cup + 2 tablespoons coconut sugar
2 cups whipping / heavy cream
1/2 cup whole milk
2 teaspoons vanilla extract

Cookies:

1/2 cup coconut oil, melted
2/3 cup coconut sugar
1/2 cup smooth commercial peanut butter
1 egg
2 teaspoons vanilla
1 cup flour
1/2 teaspoon baking soda
1/2 teaspoon salt
Directions
For the ice cream:

In a medium bowl, mix everything together with a hand mixer.
Churn according to your ice cream machine's instructions.
Line a 8"x8" pan with parchment or wax paper.
Spoon the ice cream over this, flatten the best you can, and freeze for 1 hour.
After 1 hour, remove the ice cream from the freezer, and cut out circles with a cookie cutter. The cutter should be the same size that you want your cookies.
Put back in the freezer and freeze for another hour.

For the cookies:

Preheat the oven to 350 degrees F (175 degrees C) and line a 9"x13" inch pan with parchment or wax paper.
In a large bowl, with an electric hand mixer, mix together the coconut oil and coconut sugar and let sit for 5 minutes to help dissolve the sugar.
Add the peanut butter, egg, vanilla and mix until combined.
Add the remaining ingredients and mix until thoroughly combined.
Scoop the batter onto the paper, spread as evenly as possible, and bake for 8 - 13 minutes or until the middle is set.
Let the cookies cool for 5 minutes and then, using the cutter you used for the ice cream, cut out little cookie circles.
Let the circles cool completely and then freeze for at least 30 minutes or until you're ready to assemble the ice cream sandwiches.
To assemble ice cream sandwiches: place an ice cream circle between two cookies and freeze until ready to eat.
Cookie recipe adapted from Chewy Peanut Butter Cookies - Confections of a Foodie Bride