Healthy fudgesicles that are super creamy, rich and full of good-for-you ingredients! Can be made paleo and vegan.
I've never been a fan of popsicles. Especially not chocolate popsicles or fudgesicles or whatever they're called. They're too icy, not creamy, and taste artificial.
But homemade fudgesicles? A totally different story! They're not only delicious but pretty darn healthy.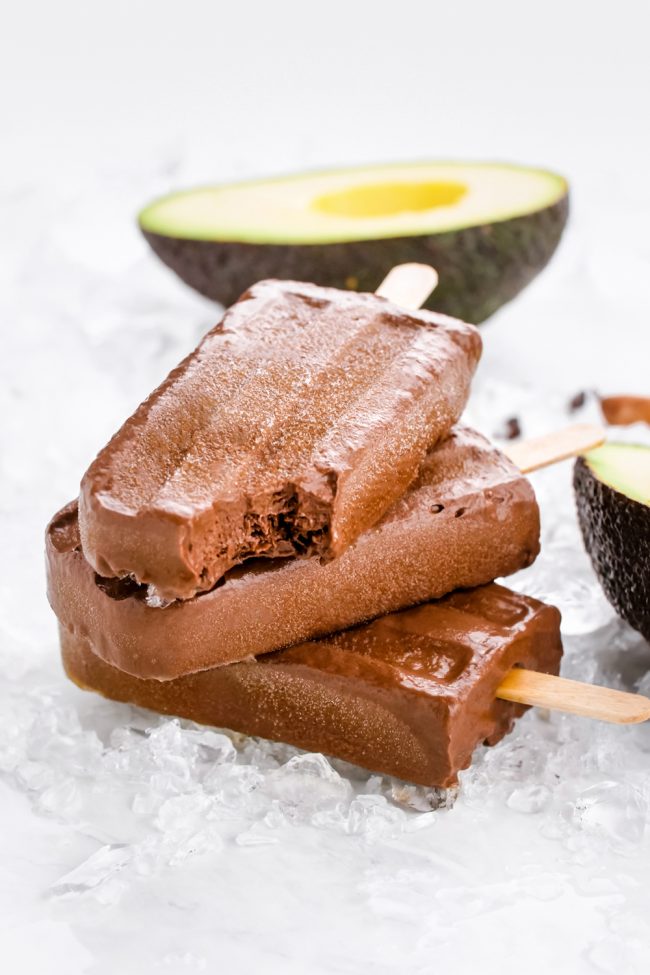 So what's in them? Bananas are almost a given, right? :) Sorry if you hate bananas!
Then there's yogurt. You can use whatever type you'd like. If you can have dairy, Greek yogurt is great (I like the thickness). If not, any kind of non-dairy yogurt works just as well. I like coconut milk yogurt.
And there's avocado. I promise that you can't taste it! All you taste is super fudgy chocolate and banana.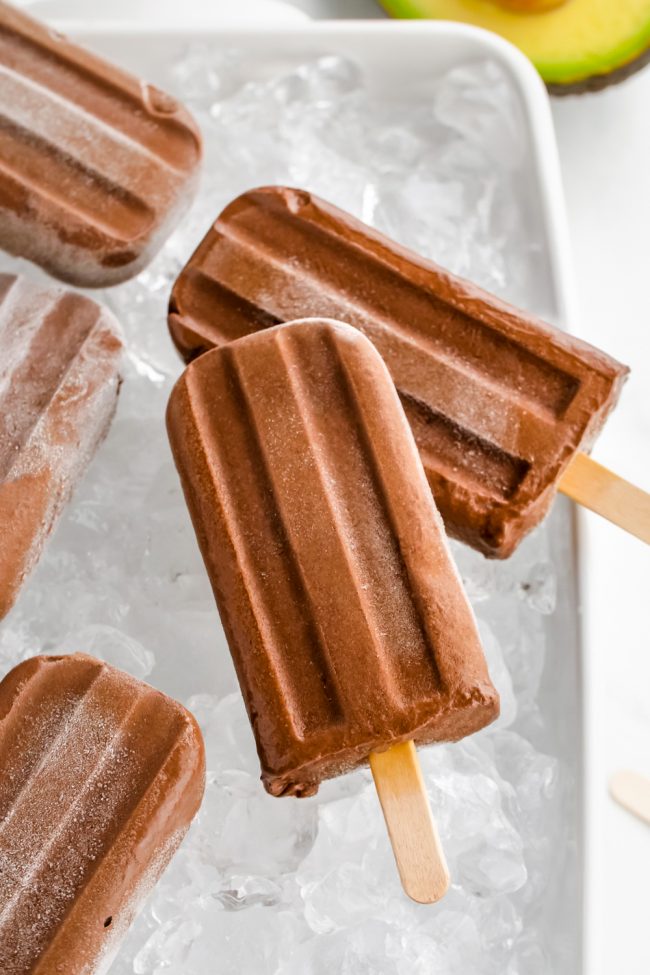 I really doubt that a more creamy, non-ice cream popsicle exists. If there is, I want to know about them!
The only issue I had with these chocolate fudgesicles is that the mixture was so thick, even after using a spoon to make sure the entire popsicle mold surface was covered, that there were still little holes here and there.
If that bothers you, add some milk. But I really don't think anyone will mind.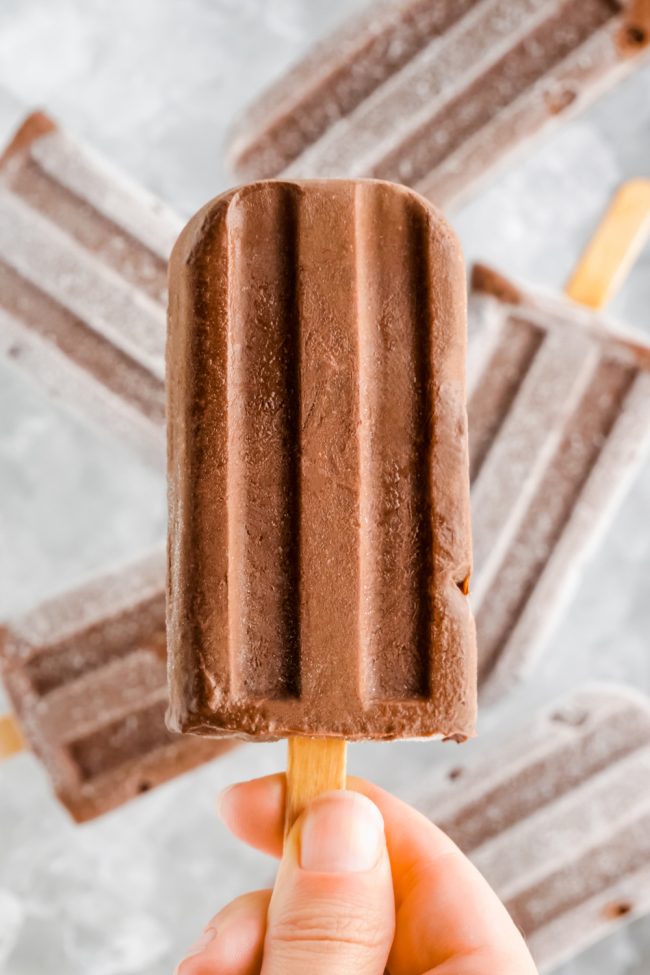 I used coconut sugar to sweeten them as just banana wasn't enough. I think probably any sweetener would work.
Even liquid ones. They'll just be less creamy because of the extra liquid. I'm normally like "NO! NO! NO! Don't make subs!" but… they're just popsicles. ;) Do whatever you want!
For some more kid-friendly treats, try these healthy muffins for kids or zucchini brownies. And if it's too hot to bake, try these protein balls or no-bake chocolate cookies.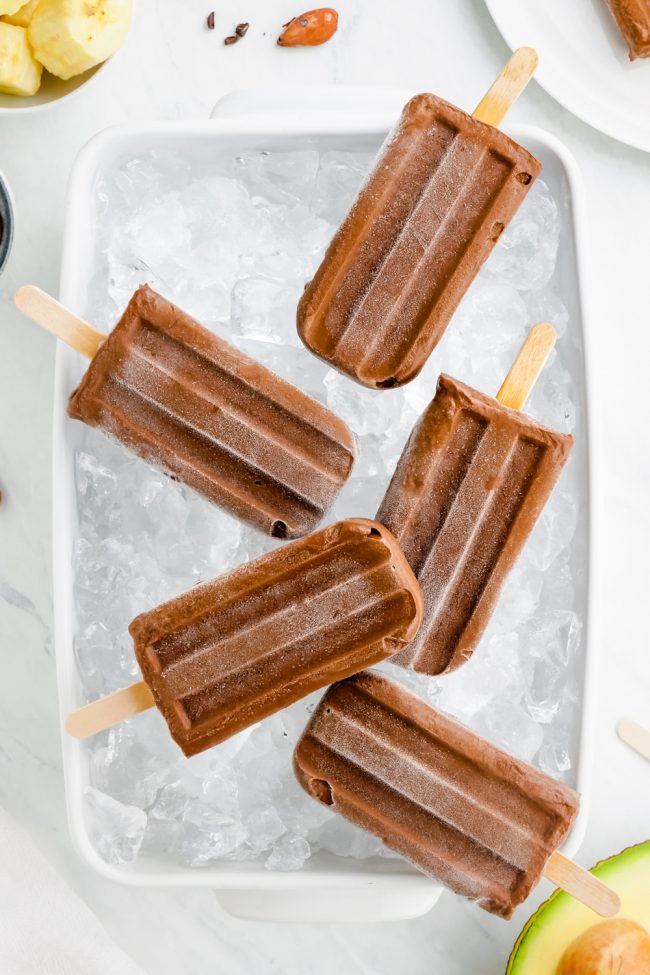 Also, these taste better than they look! They look quite icy because they're sitting on ice. But once they're out of the freezer for a few minutes (or you start licking them), they start melting quickly.
They were just really difficult to photograph. There were approximately 2 minutes in which to get photos between the icy-looking and melting stages. I hope you'll try them, anyway!
If you're in the mood for something more fruity, try these fruit popsicles. And for a more traditional chocolate treat, try these chocolate popsicles!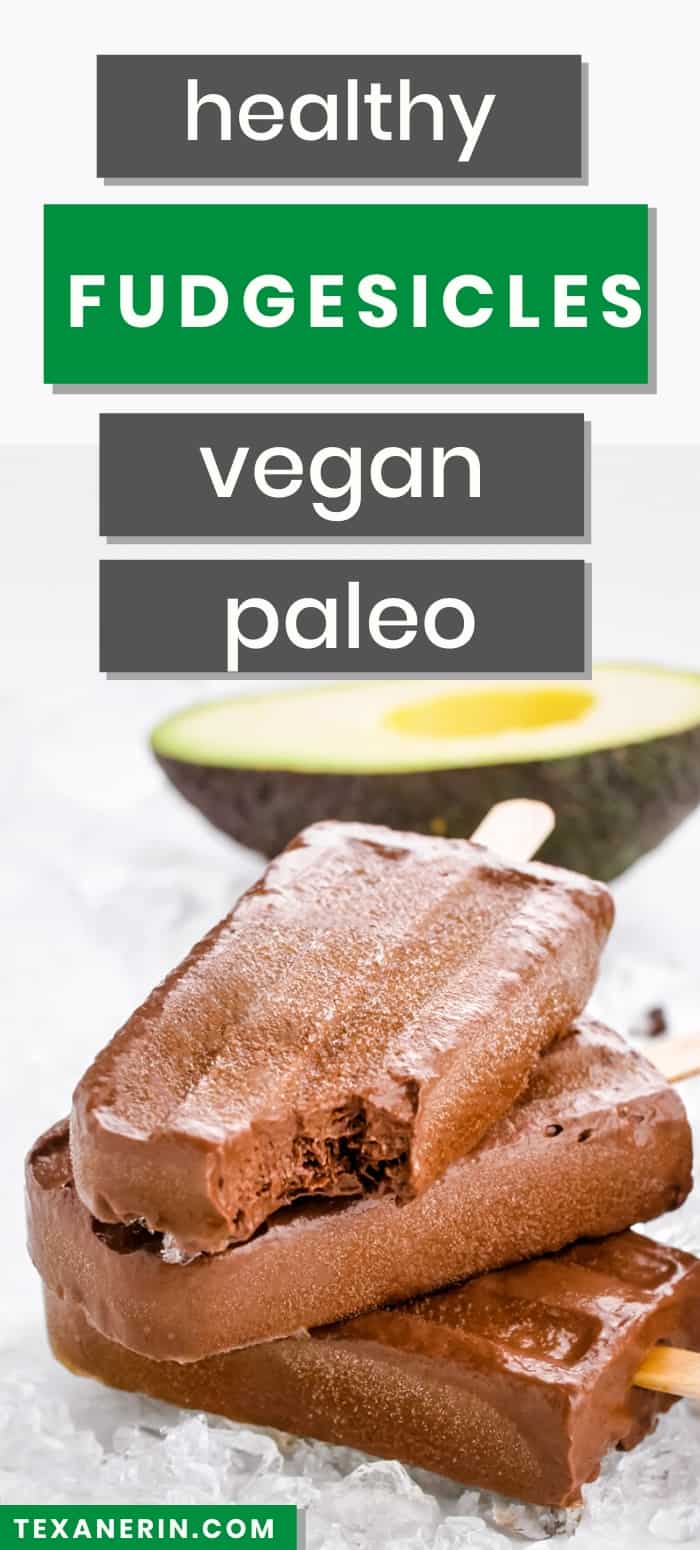 ❀
Chocolate Popsicles (paleo, vegan)
Prep Time:
Cook Time:
Ready in:
Yield:

8 3-oz popsicles
Ingredients
200 grams avocado flesh (about 1 1/2 avocados)
7 1/2 ounces (220 grams) plain or vanilla yogurt (make sure to use dairy-free / vegan / paleo yogurt if needed)
1/4 cup (32 grams) cocoa powder
1/4 cup + 2 tablespoons (60 grams) coconut sugar (or whatever sweetener you want)
2 medium (220 grams total, out of peel) bananas
1 tablespoon vanilla extract
Directions
Blend everything together in a food processor or a very good blender until thoroughly combined.
Pour into 8 3-oz popsicle molds and prepare according to your popsicle mold's instructions. For me, I covered the molds with the plastic lid and then inserted the popsicle sticks.
Freeze for at least 4 hours or overnight.
To unmold, carefully run lukewarm water against the sides of the mold.
Keep covered in the freezer until serving.