These grain-free and gluten-free strawberry cupcakes have a great texture thanks to a mix of almond and coconut flours!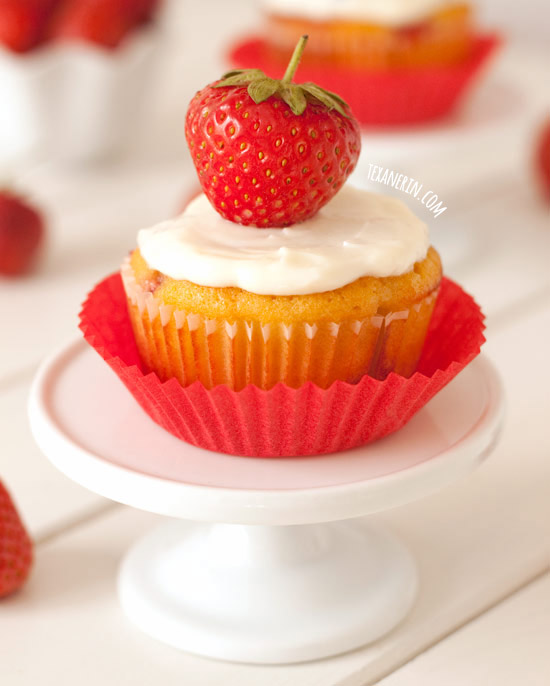 So this is a pretty last minute attempt at something for July 4th! I wanted to post this in the morning before folks in the US even woke up but the sunshine prevented me from sitting at my computer. When it's sunny, do I go outside and finally soak up some Vitamin D? Nope. I get baking and take pictures! So at least I'll have something for y'all next week. :)
The cookie tart I posted on Monday was whole grain and I thought it'd be nice to do something for the gluten-free crowd this time. And I desperately wanted to post strawberry cupcakes! But why is it that every grain-free cupcake or muffin recipe I try from the internet comes out soggy? What am I doing wrong? Or is grain-free stuff usually soggy? I can't do soggy.
It took me a few attempts, but I finally came up with some pretty delicious strawberry cupcakes! I say pretty delicious because in reality, what I really want is this strawberry cake. It uses strawberry Jell-o mix… but at least there's no cake mix involved! Not that I really have anything against mixes.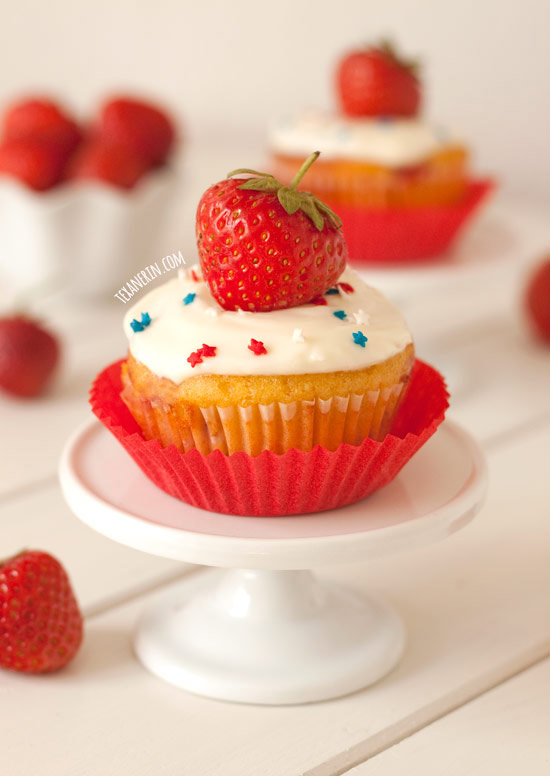 I've made that version of strawberry cake a few times and brought it to work to share. The Americans and Brits pounced on it. The Germans were a bit more wary (probably rightly so ;)) about the bright artificial red color. But I love it despite it's scary color!
Anyway, these cupcakes. I tried several other recipes I found but they were, to be honest, a bit gross. I must have done something wrong. So I just gave up and adapted one of my other recipes. I basically messed around with the liquids in this grain-free lemon muffin recipe and wanted to call it a day. But those darn strawberries! They made it soggy. So I messed around some more and coated the strawberries in coconut flour and finally… strawberry cupcakes.
For another delicious gluten-free cupcake, try these lemonade rosewater cupcakes from Allergylicious!
And the frosting on these cupcakes is one of my favorite frosting recipes ever. It's just cream cheese, Greek yogurt and powdered sugar. Nice and light! I know that if you're interested in making grain-free strawberry cupcakes, you're probably not into eating powdered sugar. What you could do is grind coconut sugar in a coffee grinder until it's like powdered sugar. But keep in mind that they taste of the frosting won't be the same at all. It's be darker and a little caramel-y.
And if you want to, I'm pretty sure you could pipe this. After the frosting sat in the refrigerator for an hour, it seemed firm enough to pipe. Still pretty soft, but pipeable. But then you'd need to double the frosting recipe. What I call for is only enough to top them like in the pictures. And for some weird reason, these are much better when refrigerated! When warm, they're no good at all. So chill them first before enjoying!
And look who got patriotic sprinkles. :D Happy 4th of July! For another gluten-free treat, try this gluten-free strawberry shortcake. And to drink, why not try this non-alcoholic mimosa?
❀
Grain-free / Gluten-free Strawberry Cupcakes
Prep Time:
Cook Time:
Ready in:
Yield:

8 cupcakes
Ingredients
For the cupcakes:

96 grams (~1 cup but please weigh!) almond flour
2 tablespoons (16 grams) coconut flour
1 teaspoon baking powder
1/8 teaspoon salt
1/4 cup (56 grams) coconut oil or butter, melted
3 eggs
3 tablespoons (60 grams) honey
1 tablespoon vanilla
2 tablespoons plain Greek yogurt (or strawberry or vanilla)
2/3 cup (90 grams) strawberries, hulled, chopped to 1/4", and patted dry
1 teaspoon coconut flour

For the frosting:

4 ounces (112 grams) cream cheese (reduced fat is okay)
1/2 cup plain Greek yogurt (or vanilla, but then reduce the sugar)
1/2 teaspoon vanilla
100 grams sifted powdered sugar
Directions
For the cupcakes:

Preheat the oven to 375°F (175°C). Line a cupcake pan with 8 cupcake liners.
In a medium bowl, mix together the dry ingredients (almond flour through salt) and set this aside.
In another medium bowl, mix together the coconut oil through Greek yogurt.
Add the dry ingredients to the wet and stir just until combined.
Put the chopped strawberries (that have been patted dry!) in the bowl that you had the dry ingredients in.
Add the teaspoon of coconut flour and coat the strawberries in the flour.
Fold the strawberries into the batter. Do not over mix or the resulting cupcakes will have a bad texture.
Bake the cupcakes for 15 - 18 minutes or until a toothpick inserted in the middle comes out clean and the cupcakes are firm to the touch. Let them cool for 5 minutes in the pan and then turn the cupcakes out onto a wire rack to cool completely.

For the frosting:

Beat the cream cheese, Greek yogurt and vanilla together in a medium bowl until well combined.
Gradually add in the powdered sugar. Add more or less to taste.
When the cupcakes are completely cool, spread on the frosting.
Store covered in the refrigerator for up for 4 days.
Notes
These are much better cold. Refrigerate the cupcakes even if not frosting!