A super moist apple butter bundt cake full of fall flavor and with maple cinnamon almond butter glaze!
A few weeks ago, I made Homemade Apple Butter and since then, I've been baking up a storm with it. My apple butter didn't have any added sweetener at all in it, so if you use store bought apple butter, this cake will definitely be quite a bit sweeter than intended. It's not that sweet to begin with so it probably won't be overly sweet!
The maple cinnamon glaze is based off of this yummy Maple Cinnamon Almond Butter. You roast the almonds and then process them in a food processor with maple syrup, cinnamon, vanilla and a little coconut oil. Hands down the best powdered sugar free glaze I've ever had. It even hardens a little like a regular glaze!
My only regret is that I didn't make about 50% more and just smother the cake in it. I'm thinking that would have been a good move.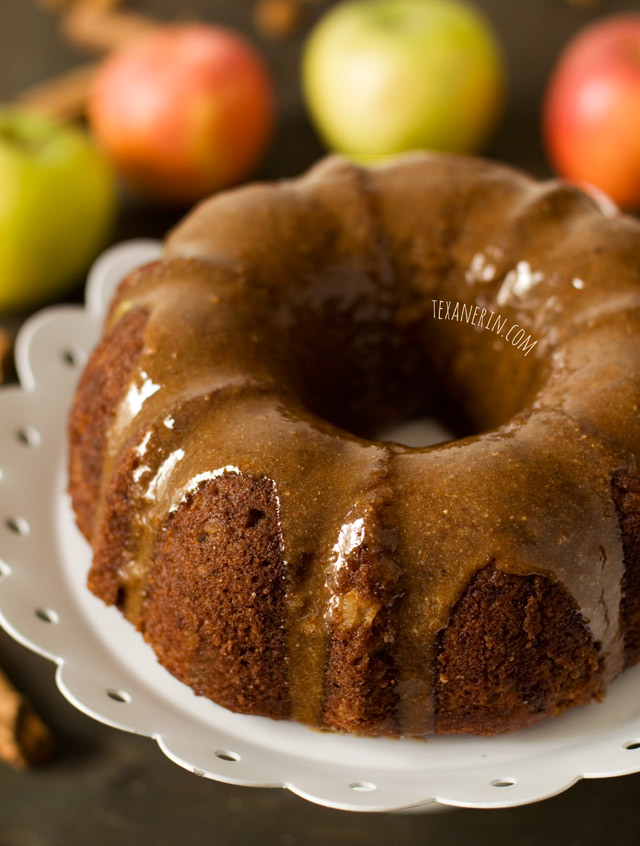 I've been making a lot of goodies with my homemade apple butter. Here's my first grain-free creation!
The best part of this cake is the glaze. Although I'll sometimes use powdered sugar (mostly just in glazes), I really wanted to stay processed sugar-free for this cake. So I was really worried about how I'd make my cake a little prettier. I just thought it was impossible to make a glaze without powdered sugar.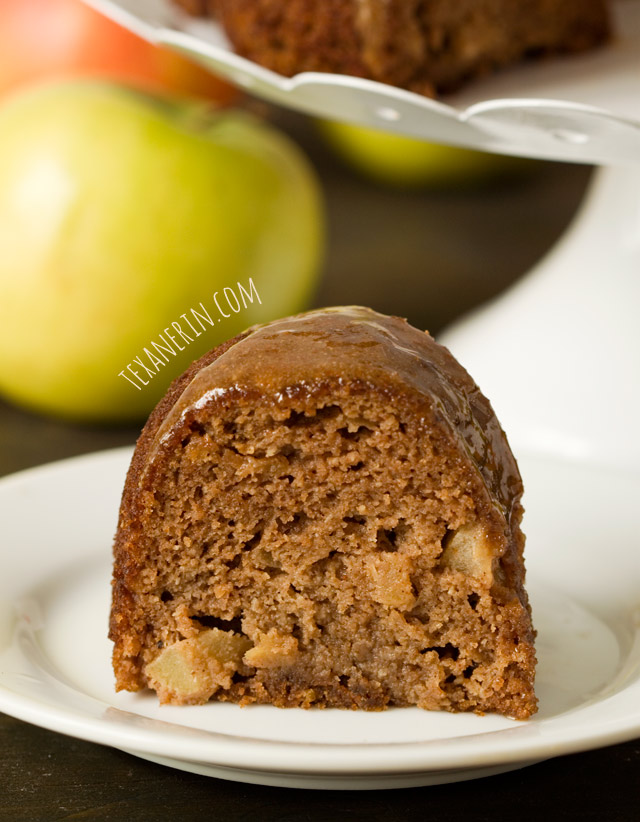 I was whipping up a batch of maple cinnamon almond butter when it hit me – add some coconut oil and bam! Super healthy glaze. So it's just almonds, maple syrup, cinnamon and a little coconut oil. Yum!
This recipe is enough to fill a bundt pan. I'm sure you could double the recipe for a regular 12-cup bundt pan, but I'm unsure of the baking time. I'm guessing it'd be around 50 – 60 minutes. Or you could make these as cupcakes! Bake for 14 – 16 minutes. It'll yield 16 cupcakes.
Be sure to grease your bundt pan very, very well. My cake didn't want to come out without putting up a fight first. I had to coax it out by running a knife around the edge of the pan.
Enjoy! :)
❀
Paleo Apple Butter Cake
Prep Time:
Cook Time:
Ready in:
Yield:

12 slices
Ingredients
1/2 cup (66 grams) coconut flour
3/4 cup (75 grams) almond flour
1 1/4 teaspoons baking soda
2 1/2 teaspoons cinnamon
1/2 teaspoon allspice
1/2 teaspoon nutmeg
1/2 teaspoon ginger
1/2 teaspoon cloves
1/4 teaspoon salt
4 eggs
7 tablespoons (98 grams) coconut oil*, melted
1/2 cup maple syrup
1/2 cup apple butter
2 teaspoons vanilla
1 cup (117 grams) cored and peeled apples, chopped into 1/4″ chunks

For the glaze:

1/2 cup almonds
5 tablespoons maple syrup
1 teaspoon cinnamon
1 1/2 tablespoons coconut oil 1, melted
1 tablespoon vanilla extract
pinch of salt
Directions
Preheat the oven to 350 degrees F (175 degrees C). Prepare a 6-cup bundt pan by greasing it with coconut oil or butter very well.
In a large bowl, mix together the dry ingredients (coconut flour through salt). If your coconut flour is lumpy, sift it into the dry ingredients.
In a medium bowl, mix together the wet ingredients (eggs through vanilla).
Add the dry mix to the wet mix and stir just until combined.
Stir in the apples.
Pour the batter into the pan and bake the cake for 30 minutes or until a toothpick inserted in the middle comes out clean.
Let the pan cool for 10 minutes in the pan, and then turn out onto a wire rack to cool.
To make the glaze, roast the almonds (still at 350) for 10 minutes or until they smell toasty.
Let the almonds cool for 5 minutes (and no longer!) and then process in a food processor until almond butter forms.
Add the maple syrup, cinnamon, melted coconut oil, vanilla and salt
Process until it's well combined.
Let it cool completely at room temperature before glazing the cake. If it's very runny, stick the glaze in the refrigerator for a few minutes so that it firms up a little. If it's too runny, the glaze will just fall off the cake.
Once the cake is completely cool, arrange the cooking rack over a large plate or another clean surface (some glaze will drip off the cake).
Pour the glaze on top of the cake.
Remove the cake to a serving plate.
Cover the cake and store it in the refrigerator for up to 5 days.
Notes
I used refined coconut oil. If you use unrefined, this might have a slight coconut flavor but I doubt it. I'm pretty sure all those spices will cover it up!