Wondering how to make almond butter? Here's your ultimate guide covering everything you need to know. You just need almonds and a food processor (or high-speed blender)! In about 10 minutes, you'll have your own homemade almond butter at a fraction of the cost of store-bought.
I know almond butter isn't the most exciting recipe to post. It's actually pretty boring. But for those of you who don't already make homemade almond butter, I hope this post is useful!
While almond butter on its own isn't that fun, I have oodles of recipes you can make with it, like these no-bake oatmeal cookies and my favorite paleo chocolate chip cookies.
I go through huge amounts of nut butter when developing a recipe. There's no way I could afford to do that if I were using store-bought almond butter. So I learned how to make almond butter early on my blogging days.
I get almonds from Aldi or Lidl, which, by the way, are from California and are so much cheaper than they are in the US! It's bizarre. I can't understand why they're cheaper here in Germany. But anyway.
I roast them, toss them in the food processor, and then I have my almond butter for a fraction of the price of what I can find in stores or even online.
For a while, I was making almond butter in my high-speed blender but our neighbor actually complained to the super. It was disturbing his peace, apparently. And his dog's.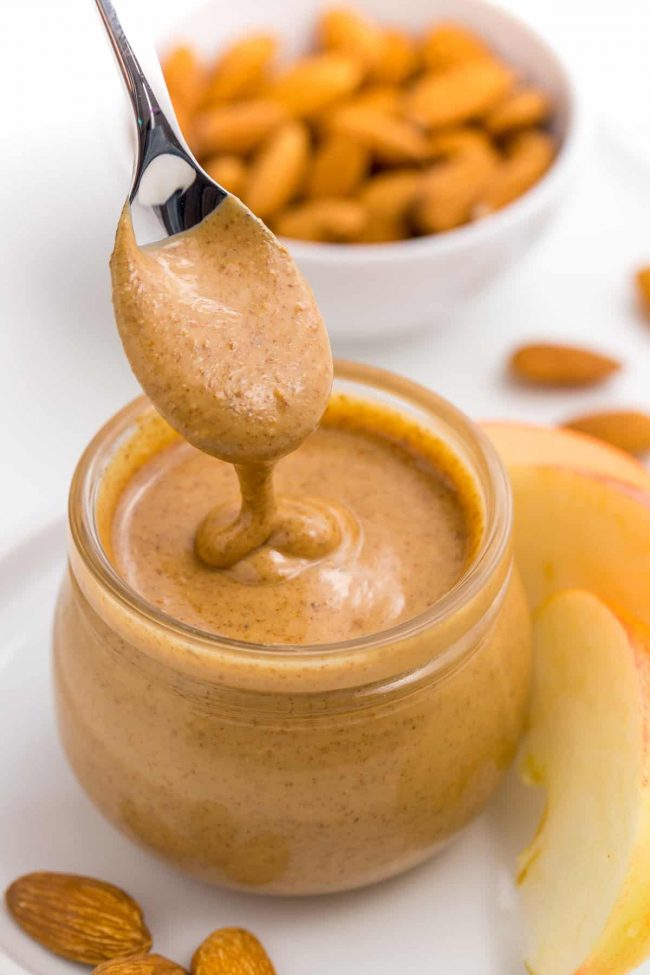 So now I take my food processor, go to the pantry, close the door, and make almond butter.
Making it in the blender was indeed really loud but what I really didn't like was that I could only grind 1 or 1 1/2 cups at a time. And even then, I'd have to take lots of breaks.
And even with the breaks, the almonds that were room temperature when I began would become really steamy! I was worried that my blender would die.
It'll depend on your food processor, but I can make SO much more at a time now. Instead of 1 cup of almonds, I can do more like 6.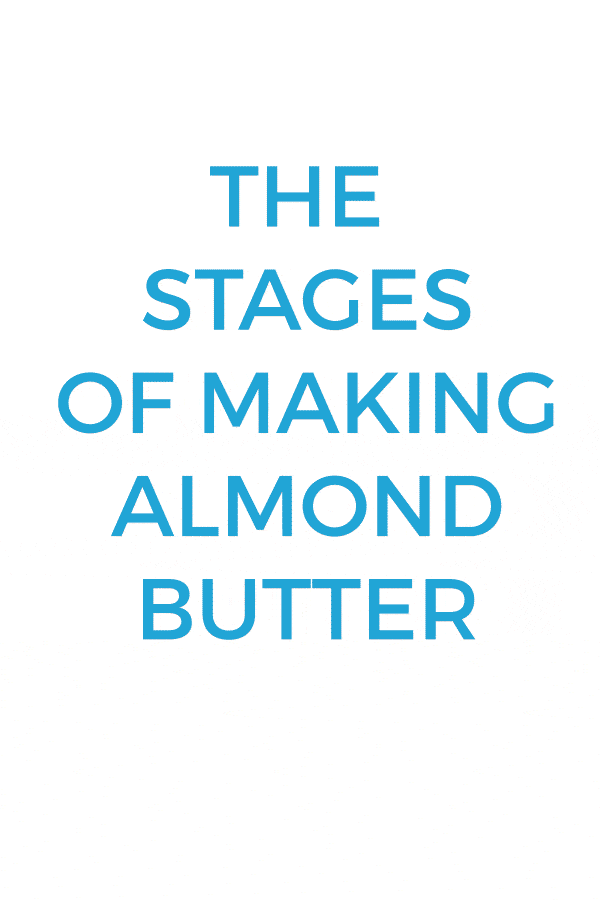 I thought about all the possible questions that might arise when making almond butter. If I'm missing something, let me know!
Everything you need to know about how to make homemade almond butter:
Equipment:
Can I use a regular blender?

Unfortunately not. Please don't try! You need something like a Blendtec or Vitamix.

What kind of food processor do I need?

My food processor is 1,000 watts and does a great job but one with at least 700 watts should work. It might work in one with fewer watts. Before you buy one, I recommend reading the reviews and searching to see what people have said about making nut butter.

I've read a few different guides and it seems like most people recommend this Cuisinart.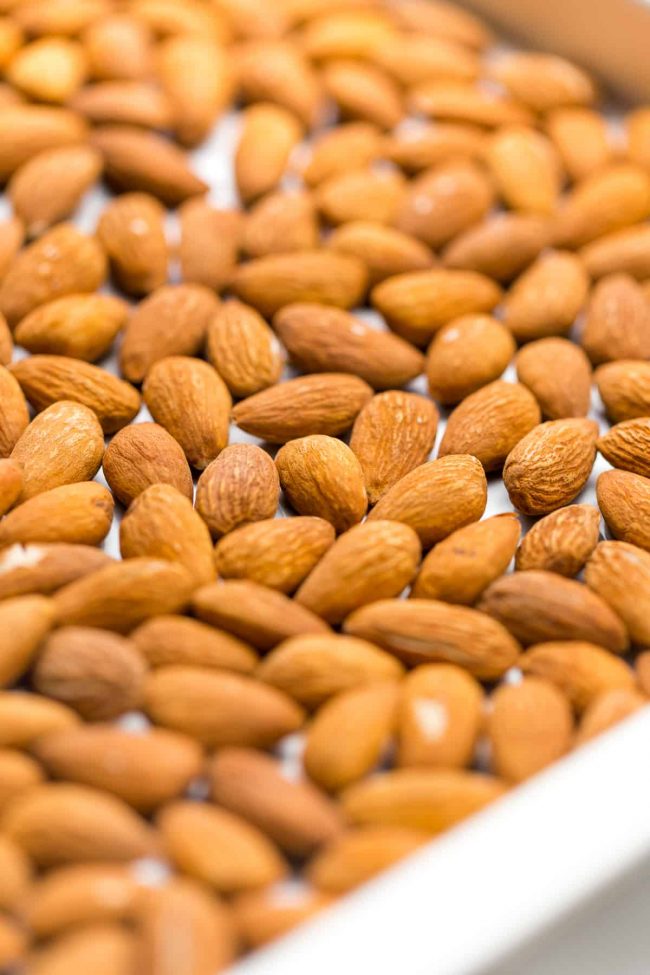 Nuts:
Can I use another type of nut?

For peanuts, read my post on how to make peanut butter. You can use the recipe below for walnuts, pecans, hazelnuts and cashews, but you'll probably need to adjust the roasting time. If you want to use hazelnuts, you'll probably want to get rid of hazelnut skins first.

For hazelnut butter, you can use my recipe for paleo chocolate hazelnut butter and stop after step 3.

How long you have to process the nuts depends on the type of nut. Almonds take way longer than the above-mentioned nuts.

Can I use pre-roasted or flavored almonds?

Yup! Technically it works. But that would be some expensive almond butter!

Do I have to roast the nuts?

I think almond butter tastes WAY better after roasting the nuts but you don't have to. When the nuts are warm, it's also much quicker to process them.

How full should I fill the food processor? What if I only want a small amount?

If you don't fill the processor enough, you won't get anywhere. You need enough nuts so that the blade is fully covered, and then add some more. If you don't need much, then see the questions in the storage section below.

How much does X cups of almonds yield?

1 cup of almonds = about 120 grams. 1 cup of almond butter = 256. So you need about 2 cups + 2 tablespoons of almonds for 1 cup of almond butter.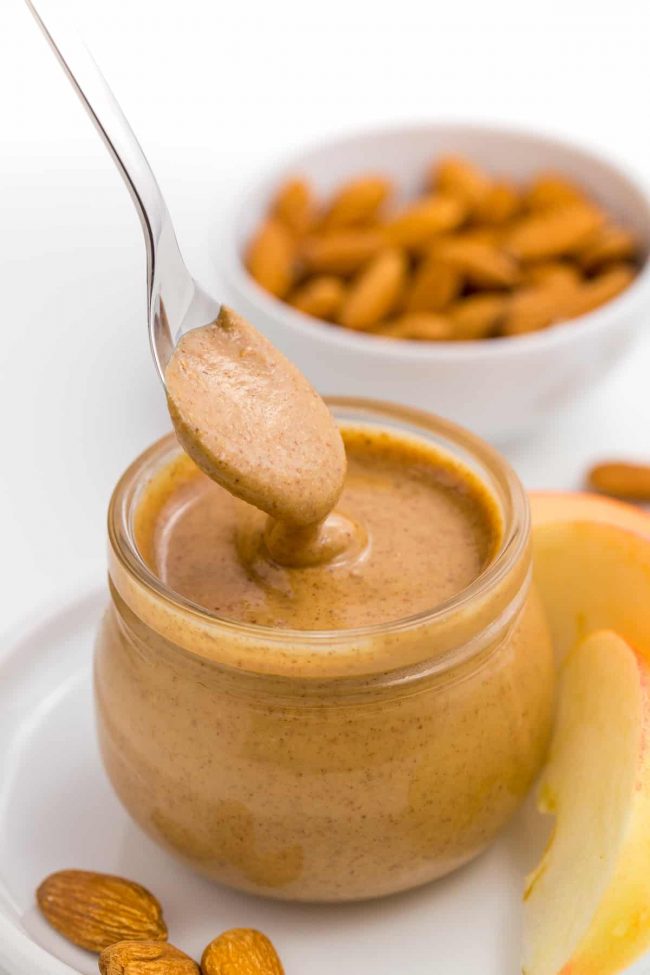 Adding things to the almond butter:
Can I add liquid stuff like honey, vanilla, etc.?

If you add anything liquid other than oil (which you do not need!), then the almond butter will seize. It'll be clumpy and pretty much ruined. So please don't try that!

In this maple cinnamon almond butter recipe, I roasted the nuts in maple syrup first (so that they were basically candied) and then added cinnamon after processing. And it's incredibly delicious!

Can I add spices and salt?

You can! If you want vanilla, use the seeds of a vanilla bean. A little cinnamon is also nice.

My recommendation is to make your almond butter and once it's your desired runniness, pour some almond butter in a little bowl, add a little of whatever you want to add, and see if it works. This is a much better way than adding something to your almond butter and ruining your whole batch!

Don't I need to add oil? Lots of other recipes say to add oil!

You don't need a fancy new food processor to make almond butter. I used to use one from the former East Germany [meaning it was really old]. I have no idea why some recipes call for oil. Just keep processing, take breaks if necessary, and don't give up!

Do you see how runny my almond butter is? I've never needed oil to get to this consistency!

If you want to add oil, you certainly can.
Storage:
Does homemade almond butter have to be refrigerated?

Definitely refrigerate it! The oil can go rancid. I read that you can store opened almond butter on the shelf for up to 3 months but I don't think I'd recommend that, especially since homemade almond butter doesn't have any preservatives.

I don't leave mine at room temperature for longer than 1 week. It's just safer to keep refrigerated.

How long does it stay good?

I've left my almond butter in the refrigerator for embarrassingly long periods without anything funky happening to it. But I'm going to say 3 months to be on the safe side.

Also be sure to always use a clean spoon. If you use something that was previously in jam, your mouth, whatever – your almond butter will mold in no time. Also make sure to not use almonds that were about to expire if you want your almond butter to last for a while.

Can I freeze almond butter?

Yes! For up to 4-6 months. Make sure to use an air-tight container.

Does it separate like some natural almond butters?

I've had that happen a few times. When the jar gets lost at the back of the refrigerator for half a year. But even if it doesn't visibly separate, you should stir it before every use to make sure the oil is evenly distributed.

How will I know if it's gone bad?

You'll be able to smell it. It'll smell like oil paint, paint thinner, or something along those lines. You'll know! Throw it out immediately. And if you didn't notice a smell but it tastes bitter, that also means it's rancid and time to throw it away.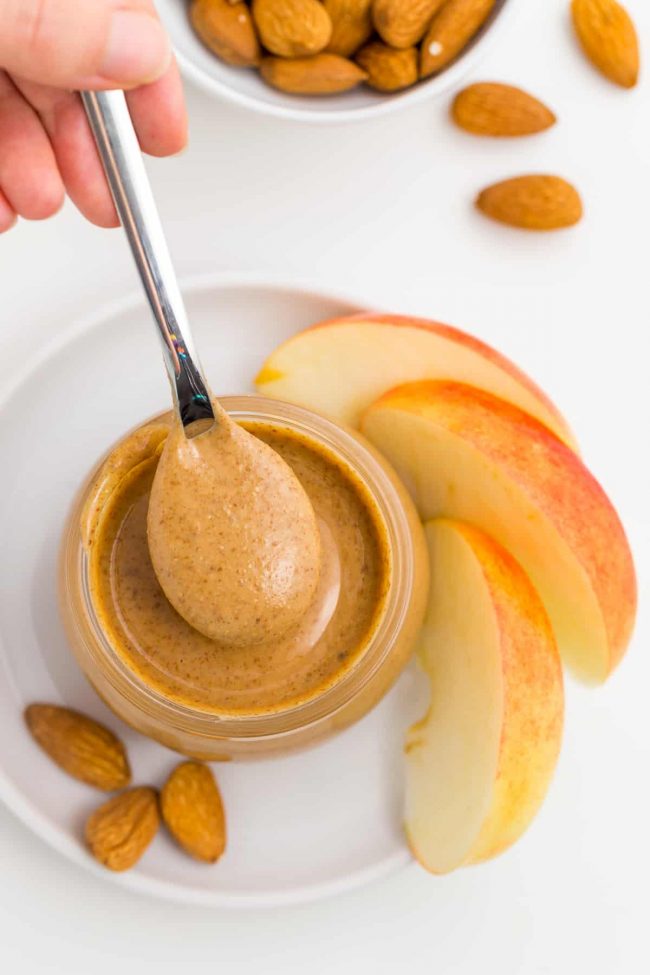 Troubleshooting:
My almond butter isn't coming together! What can I do and what did I do wrong?

Are you sure your food processor can handle making nut butters? If you are, you just need to be patient. Some food processors take longer than others.

Also, did you process the nuts while still warm (but not hot?). That helps the process along. Using room temperature almonds takes a lot longer. If your processor is getting hot, take a break. Remove the bowl from the base, open the lid, and let sit for 10-20 minutes or until it's cooled quite a bit. We don't want you to kill your food processor!
❀
How to Make Almond Butter
Prep Time:
Cook Time:
Ready in:
Yield:

1.5 cups
Learn how to make homemade almond butter with just almonds and a food processor or a high-speed blender.
Ingredients
3 cups almonds (the amount depends on the size of your food processor – see the post for a tip on how full to fill it)
Directions
Preheat the oven to 350°F (175°C) and roast the almonds on a baking sheet for 8-12 minutes or until fragrant, stirring after every 5 minutes.

For the food processor:

Let cool for just 5-10 minutes, and then transfer the nuts to the food processor and process until creamy, scraping the sides of the bowl as needed, about 6 to 12 minutes. Do not overheat your food processor! Take breaks if your food processor starts to warm up too much. In the first stage, you'll have something that looks like almond meal. Then it'll form a thick mass. Then it'll break down into a liquid. After that, blend for another minute so it's easily pourable.

If using a high-speed blender like a Blendtec or Vitamix:

You'll only be able to use about 1 1/2 cups of almonds. Roast the almonds using the above directions and let cool completely. Then use the smaller Twister jar (or the equivalent) and process at medium-high speed for 1-3 minutes. If your blender gets too hot, take breaks. Let the blender and ground almonds cool a bit, then blend again. Do not overheat your blender!
Make sure it's room temperature or cold before using in a recipe.
As an Amazon Associate, I earn from qualifying purchases. For more info, see my disclosure.