This maple almond butter is the nut butter you never knew you needed in your life! Roasting almonds in maple syrup, before processing them in the food processor, yields an amazingly tasty spread! You'll never buy store-bought again.
Despite me having over 75 almond flour recipes and 30 almond butter recipes, I don't actually like almonds.
I should say that I don't like them in their natural form. I devour candied almonds like no other. And almond butter and almond flour can do some magical things once combined with other ingredients.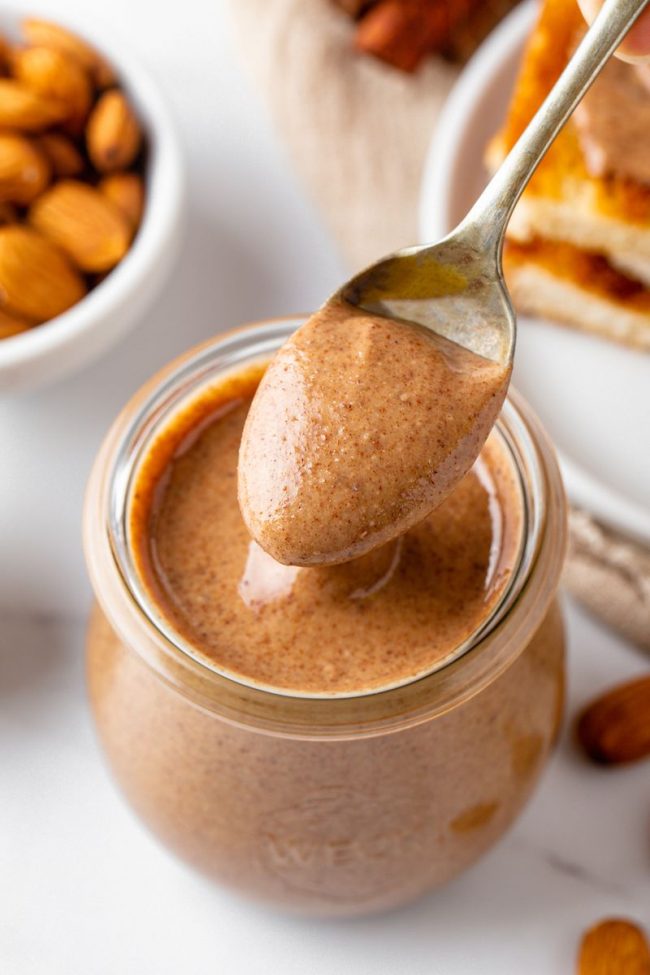 Let me tell you… almonds roasted in maple syrup, with some cinnamon thrown in during processing? This stuff is insanely delicious. Maple almond butter = spreadable healthy-ish candy!
I first posted this recipe in September 2011. It was my third ever post. But nobody looks at it because the previous pictures were hideous. So here we are today with much better pictures!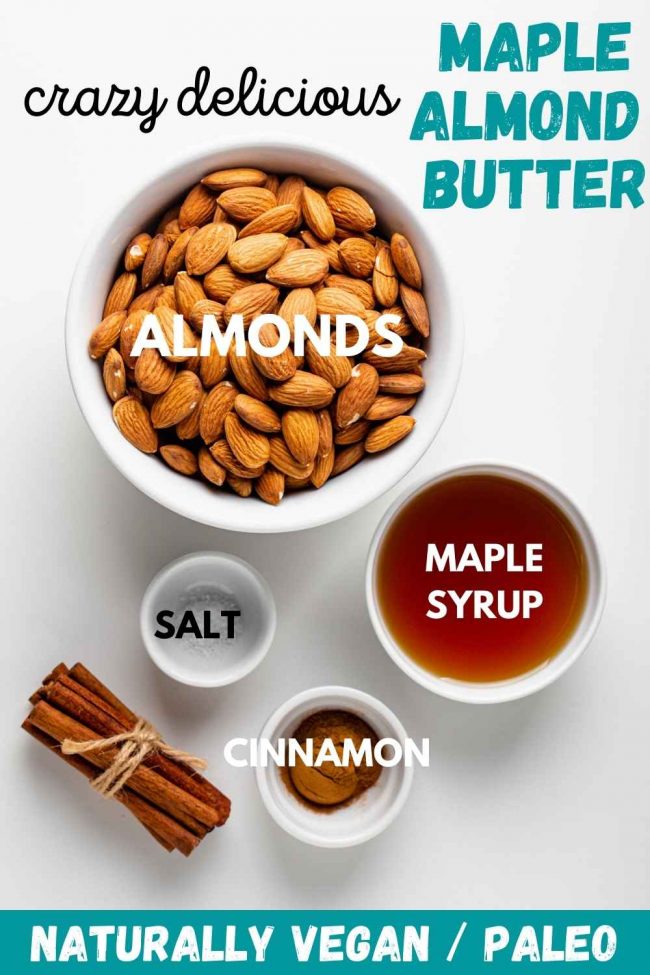 If you've never made almond butter before, I have a whole post dedicated to how to make almond butter. It's a super thorough guide.
I've copied and pasted the relevant parts from the questions section in that post down below in case you run into any problems while making your almond butter.
I'm sure some people are wondering if you can add maple syrup and cinnamon to store-bought almond butter. That yields a totally different product that I find to be quite gross. So definitely don't try it!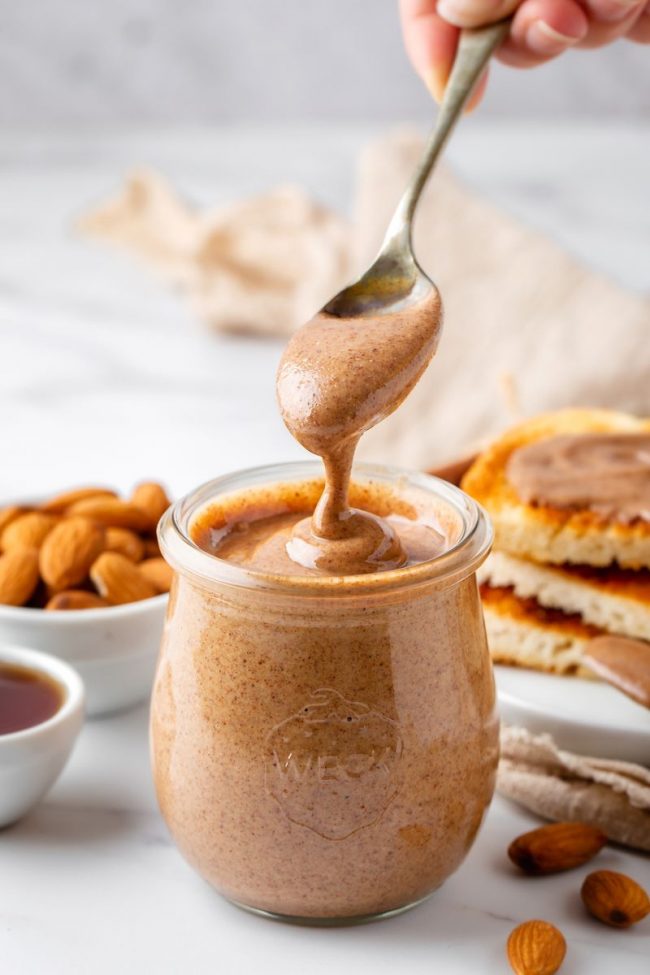 The key step is roasting the maple syrup-covered almonds. When you roast them, they become candied. And that removes all the liquid in the maple syrup, which is what causes almond butter to seize up if you try adding maple, or any liquid, to almond butter.
I've also tried adding vanilla to this recipe but again, it always seizes up (and that's using homemade vanilla with just vodka and vanilla beans). If you want to add vanilla, you can add the seeds from a vanilla pod.
Be sure to use a rimmed baking sheet. More than once, I've forgotten about that thinking the maple syrup wouldn't run off the pan, but it always does. And 10 minutes later there's a smoky oven disaster.
I've seen homemade almond butter recipes with oil but you really don't need any. When I first started making almond butter, I used to use a 15 or 20-year-old food processor and even I didn't need oil. You just have to keep processing until it's creamy like natural peanut butter.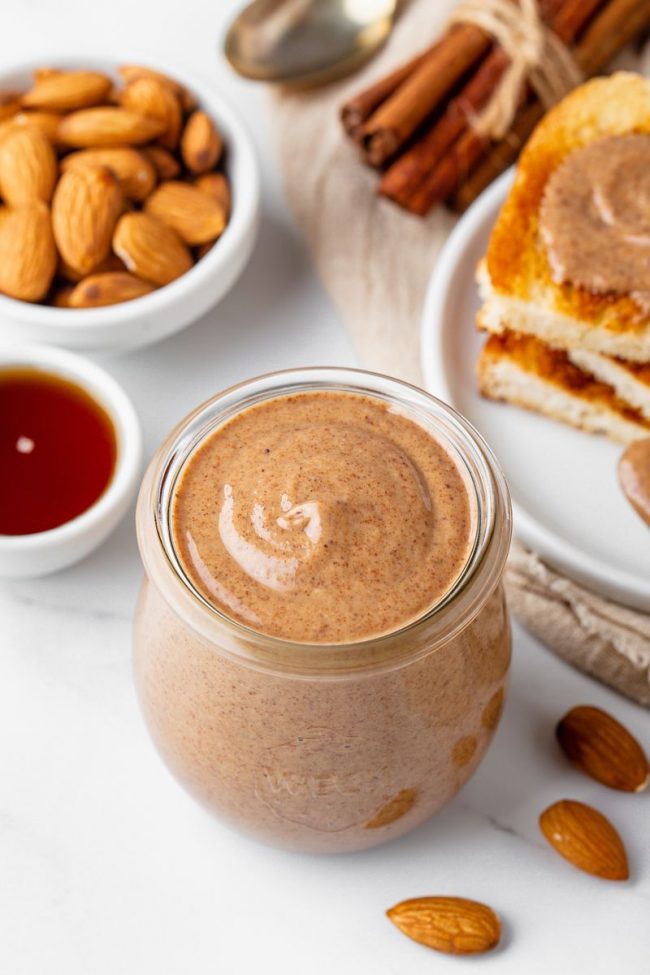 Questions?
Equipment:
Can I use a regular blender?

Unfortunately not. Please don't try! You need something like a Blendtec or Vitamix.

What kind of food processor do I need?

My food processor is 1,000 watts and does a great job but one with at least 700 watts should work. It might work in one with fewer watts.<

Before you buy one, I recommend reading the reviews and searching to see what people have said about making nut butter.

I've read a few different guides and it seems like most people recommend this Cuisinart.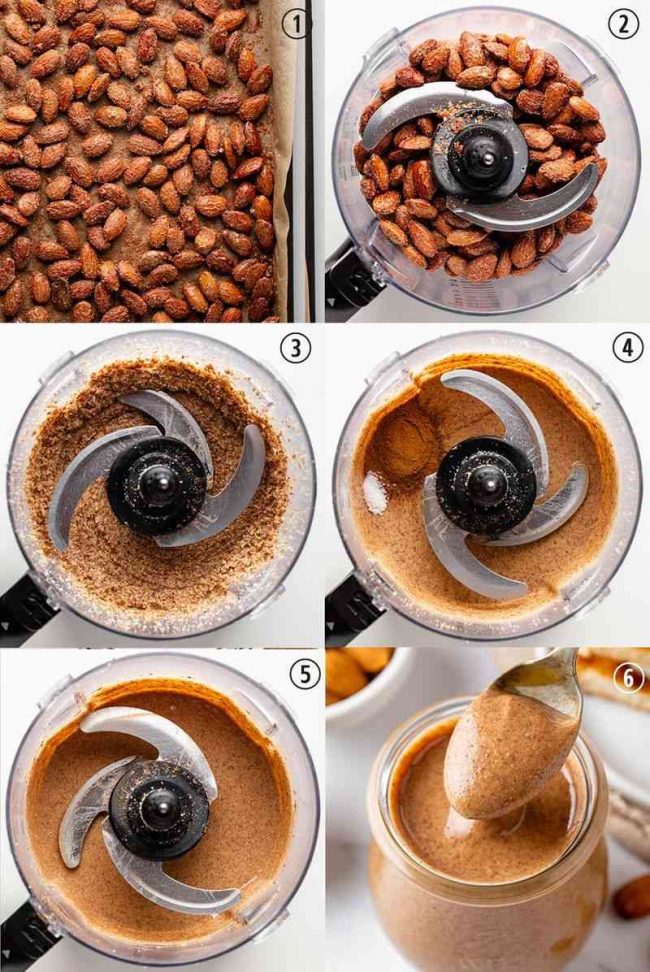 Nuts:
Can I use another type of nut?

You'd probably need to adjust the roasting time. When making almond butter, I usually just roast the nuts 8-12 minutes.

But for this maple almond butter, I do it for 15-20 minutes. So that should give you an idea of how much longer you'll need to roast your nuts.

How long you have to process the nuts depends on the type of nut. Almonds take way longer than other types.

Can I use pre-roasted or flavored almonds?

Nope! The key step is roasting raw almonds in maple syrup.

Do I have to roast the nuts?

Yup! See above. :)

Can I use store-bought almond butter and just add maple and cinnamon?

Nope! See 2 above. :)

Can I halve the recipe if I only want a small amount?

If you don't fill the processor enough, you won't get anywhere. You need enough nuts so that the blade is fully covered, and then add some more.

If you have a mini food processor, a half batch may work.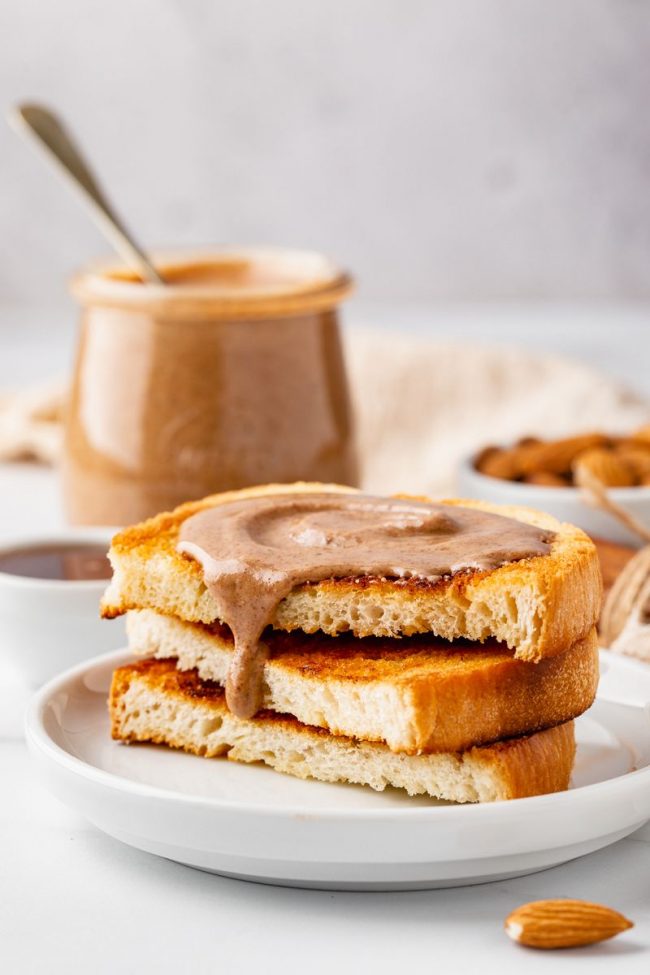 Adding things to the almond butter:
Can I add liquid stuff like honey, vanilla, etc.?

If you add anything liquid other than oil (which you do not need!), then the almond butter will seize. It'll be clumpy and pretty much ruined. So please don't try that!

Can I add vanilla extract or other liquids?

Nope! It'll seize up.

Don't I need to add oil? Lots of other recipes say to add oil!

You really don't need a fancy new food processor to make almond butter. I used to use one from former East Germany, meaning it was really old, and it worked just fine.

I have no idea why some recipes call for oil. Just keep processing, take breaks if necessary, and don't give up!

Do you see how runny my almond butter is? I've never needed oil to get to this consistency!

If you want to add oil, you certainly can.
Storage:
Does this maple almond butter have to be refrigerated?

Definitely refrigerate it! The oil can go rancid. I read that you can store opened almond butter on the shelf for up to 3 months but I don't think I'd recommend that, especially since homemade almond butter doesn't have any preservatives.

I don't leave mine at room temperature for longer than 1 week. It's just safer to keep refrigerated.

How long does it stay good?

I've left my almond butter in the refrigerator for embarrassingly long periods without anything funky happening to it. But I'm going to say 3 months to be on the safe side.

Also be sure to always use a clean spoon. If you use something that was previously in jam, your mouth, whatever – your almond butter will mold in no time.

Also make sure to not use almonds that were about to expire if you want your almond butter to last for a while.

Can I freeze almond butter?

Yes! For up to 4-6 months. Make sure to use an air-tight container.

Does it separate like some store-bought natural almond butters?

I've had that happen a few times. When the jar gets lost at the back of the refrigerator for half a year. But even if it doesn't visibly separate, you should stir it before every use to make sure the oil is evenly distributed.

How will I know if it's gone bad?

You'll be able to smell it. It'll smell like oil paint, paint thinner, or something along those lines.

You'll know! Throw it out immediately. And if you didn't notice a smell but it tastes bitter, that also means it's rancid and time to throw it away.
Troubleshooting:
My almond butter isn't coming together! What can I do and what did I do wrong?

Are you sure your food processor can handle making nut butters? If you are, you just need to be patient. Some food processors take longer than others.

Also, did you process the nuts while still warm (but not hot?). That helps the process along. Using room temperature almonds takes a lot longer. If your processor is getting hot, take a break. Remove the bowl from the base, open the lid, and let sit for 10-20 minutes or until it's cooled quite a bit. We don't want you to kill your food processor!
I hope you'll love this as much we do do! If you try it out, I'd love to hear how you like it.
❀
Maple Almond Butter with Cinnamon (just 3 ingredients!)
Prep Time:
Cook Time:
Ready in:
Yield:

1 1/4 cups
This maple almond butter just uses 3 ingredients and yields an almost candy-like spread.
Ingredients
2 cups raw almonds (300 grams)
1/3 cup maple syrup (80ml) – sometimes I use 1/4 cup, but I prefer 1/3 cup
1 or 2 teaspoons cinnamon
a pinch of salt
Directions
Preheat your oven to 325 °F (160 °C).
Place a Silpat or a piece of parchment paper on a rimmed baking sheet.
Place the almonds on the Silpat or parchment paper and pour the maple syrup over them. Stir, if needed, to make sure all the almonds are covered.
Roast the almonds for 15 – 20 minutes, stirring every 5 minutes. They'll be like candied almonds when they're ready. I try to roast them as long as possible without burning them, which is usually 20 minutes, but it might take less time in your oven. I didn't roast them long enough a few times and it ended up taking about 25 minutes to process them. Also, be careful when you stir them the first time. You don't want the syrup to spill into the oven.
Remove the pan from the oven. Wit pot holders, take the Silpat off the pan and let the almonds cool about 5 – 8 minutes. After that time, they shouldn't be super hot, but they should still be warm. If you wait too long, it'll be more difficult to process them. But if they're too warm it might upset your food processor. I didn't wait once and just started processing. This melted the top part of my food processor. So waiting is important! I also take off the pusher and I think that this helps release some of the heat.
Put the almonds, along with the maple sugar that formed and is covering to Silpat, in the food processor and process until it's creamy. Stop every few minutes to scrape the side of the bowl (I like giving the food processor little breaks). The last time I made this it only took 7 minutes. I think 15 minutes is normal for most food processors. Add a pinch of salt and the cinnamon. I like 2 teaspoons of cinnamon, but try it after 1 and see if it's good. Process for a few more seconds until it's combined well.
Store in the refrigerator and enjoy!