Black Forest cupcakes made healthier! Cherry filling and lightly sweetened whipped cream transform these ordinary gluten-free chocolate cupcakes into something truly special.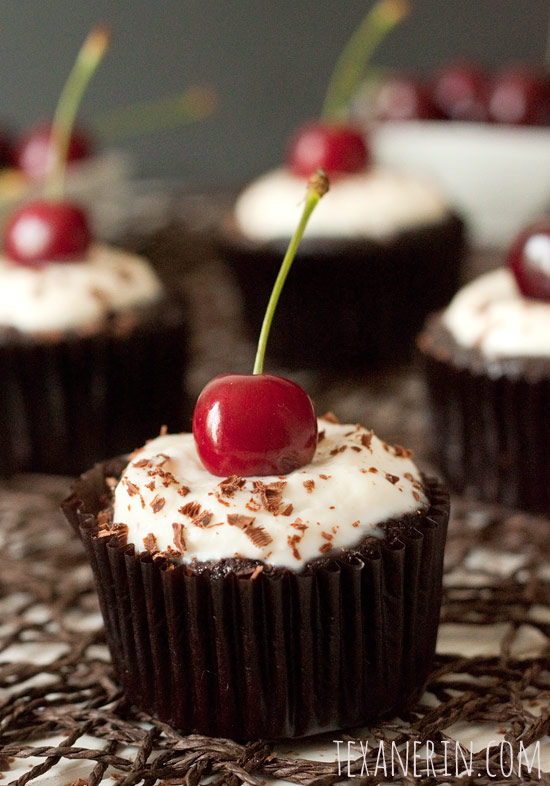 I've been living in Germany for four years and I've had this blog for half that time. But still, I've never made anything German on this blog other than this Eierlikör, which is egg liqueur and also know as Advokaat. I'm just not a big fan of German baked goods (other than the bread). But told hen it struck me – I can adapt German goodies so that I do like them!
So first up we have these Black Forest cupcakes. I don't do layer cakes. They're way too fussy and Black Forest cakes especially just have way too much whipped cream for my liking. So I adapted my grain-free spiderweb cupcakes. I made them less spidery, obviously, added a cherry filling which is just cooked cherries and honey, and a little whipped cream.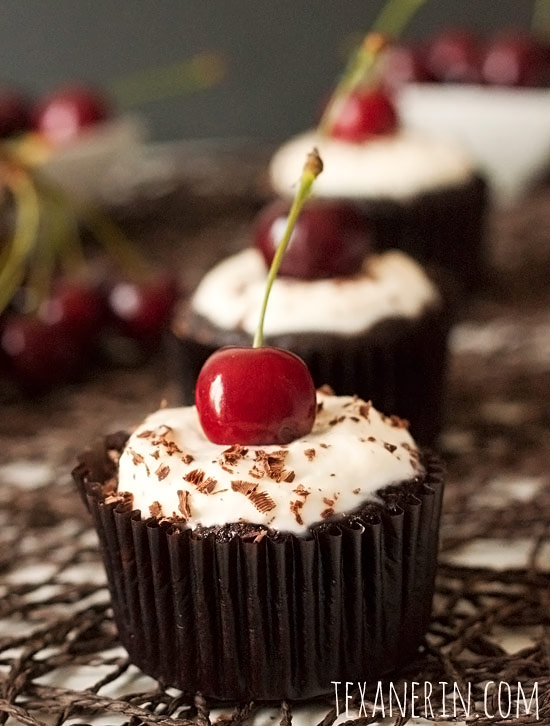 The cupcakes themselves are super moist and not too sweet. And when you refrigerate them, they're a little fudgy! So definitely refrigerate them if you want the ultimate Black Forest experience. By the way, I've been to the Black Forest in the fall and it was lovely! Kind of like New England. But sadly, we didn't have any cake. Nope. Instead we ate Asian fast food and ate salmon on a cruise ship with a bunch of seniors. It's a long story…
Anyway, if you don't need your cupcakes to be grain-free, try these whole grain chocolate cupcakes. The pictures are atrocious so it's painful to share that link with you. But the cupcakes are SO good that I'm sucking it up. ;)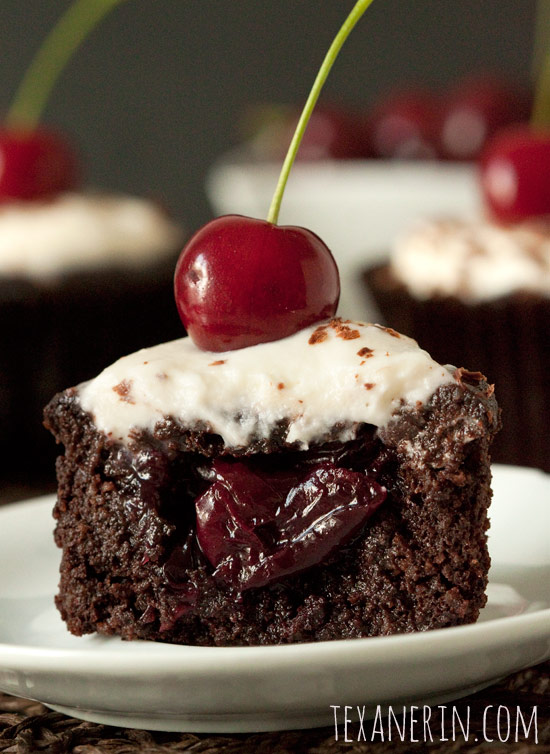 German law requires that Black Forest cake contain Kirschwasser, a type of brandy distilled from cherries. That's right. They regulate their cakes. I could have gone out and bought some but I was too lazy for that. So… sorry. These aren't authentic! But neither is the cupcake part or the gluten-free part. And you should apparently use sour cherries, but all I had was sweet. It worked out fine but use sour if you have them!
Prefer a cake version? Try this delicious looking Gluten Free Vegan Cherry Chocolate Cake!
❀
Black Forest Cupcakes (Grain-free, Gluten-free, Dairy-free)
Prep Time:
Cook Time:
Ready in:
Yield:

8 cupcakes
Ingredients
Chocolate cupcakes:

40 grams (1.4oz, ~1/3 cup but please weigh!) almond flour or almond meal
3/4 teaspoon baking powder
1/8 teaspoon salt
1/2 cup (52 grams) Dutch-process cocoa powder
65 grams (2.2oz / ~ 4 1/2 tablespoons) coconut oil, melted
1/3 cup (106 grams) honey
5 tablespoons unsweetened applesauce
2 eggs
1 1/2 teaspoons vanilla extract

Filling:

2 cups pitted cherries (the weight pre-pitting was 190 grams)
1/4 cup (80 grams) honey
4 teaspoons lemon juice

Topping:

1/2 cup (120ml) whipping cream (for dairy-free, use my coconut cream recipe)
1 tablespoon powdered sugar, optional
8 cherries
grated chocolate (if dairy-free, use Enjoy Life Chocolate Chips)
Directions
For the cupcakes:

Preheat oven to 350°F (175°C) and line 8 muffin cups with paper liners.
Mix together the wet ingredients in a medium bowl and set aside.
In a smaller bowl, combine dry ingredients together and add this to the wet ingredients. Stir just until combined and be careful not to overmix!
Pour the batter evenly into the 8 paper liners. My liners were a little less then 2/3 full.
Bake for about 16 minutes or until a toothpick inserted in the middle of a cupcake comes out mostly clean. Moist crumbs and a little stickiness are okay - just not raw batter. These are incredibly moist so if the toothpick comes out totally clean (like a normal cupcake), they're probably overdone.

For the filling:

Put the cherries in a medium saucepan and smash them with the bottom of a glass. Add the honey and lemon juice and stir until combined.
Simmer for 15 minutes, stirring occasionally.
Let cool completely before filling the cupcakes.

To assemble the cupcakes:

Use a paring knife to cut out a section of the cupcake, about 1 inch into the cupcake. Set these cut out portions aside.
Fill the cupcakes with the filling.
To prevent the cherry filling from bleeding, I cut off just the top part of the cupcake cutouts and placed it back on the cupcake.
For the whipped cream, beat the whipping cream and powdered sugar in a bowl until stiff peaks form.
Spoon this onto the top of the cupcakes.
Add grated chocolate and a cherry right before serving.
Store covered in the refrigerator for up to 4 days. These are best enjoyed cold.