These 100% whole wheat chocolate cupcakes are made just a little healthier with less sugar (or honey!) and are incredibly moist. Can also be made with all-purpose or gluten-free flour and they're naturally dairy-free.
I first posted this recipe almost 5 years ago. It's my favorite chocolate cake or cupcake recipe and it's ruined almost all other chocolate cake recipes for me. They're never moist enough.
I do love my paleo chocolate cupcakes but they have a totally different texture and they can't really be compared.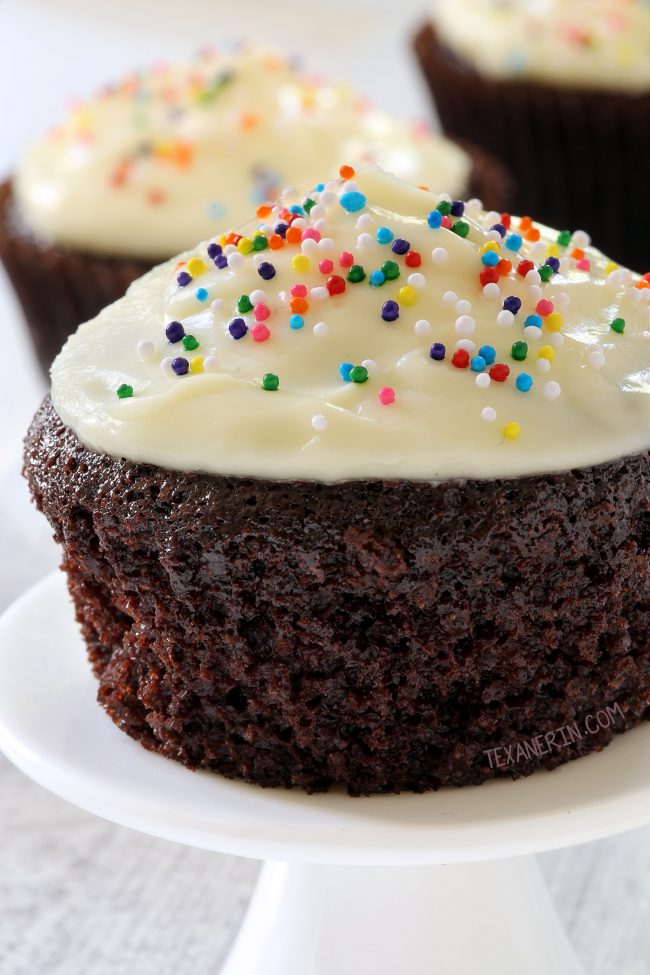 I thought I should try making this whole wheat recipe gluten-free so I tried them first with buckwheat. That resulted in some funky weirdness. They tasted… floral.
So then I tried them with Bob's Red Mill gluten-free 1-to-1 baking flour and they worked perfectly! If you use that, I really recommend going by the weight I list in the recipe rather than using measuring cups. I always recommend that, but especially when it comes to gluten-free flours. :)
For another delicious cupcake recipe using that flour mix, try these gluten-free vanilla bean cupcakes from Gluten-free Palate!
There are two ways you can make these cupcakes when it comes to sweetener: with sugar or with honey. The texture using sugar is mind-blowingly awesome. It's the moistest chocolate cake ever. Kind of fudgy, even. Pretty much everyone who tastes this cake says it's the best chocolate cake they've ever had.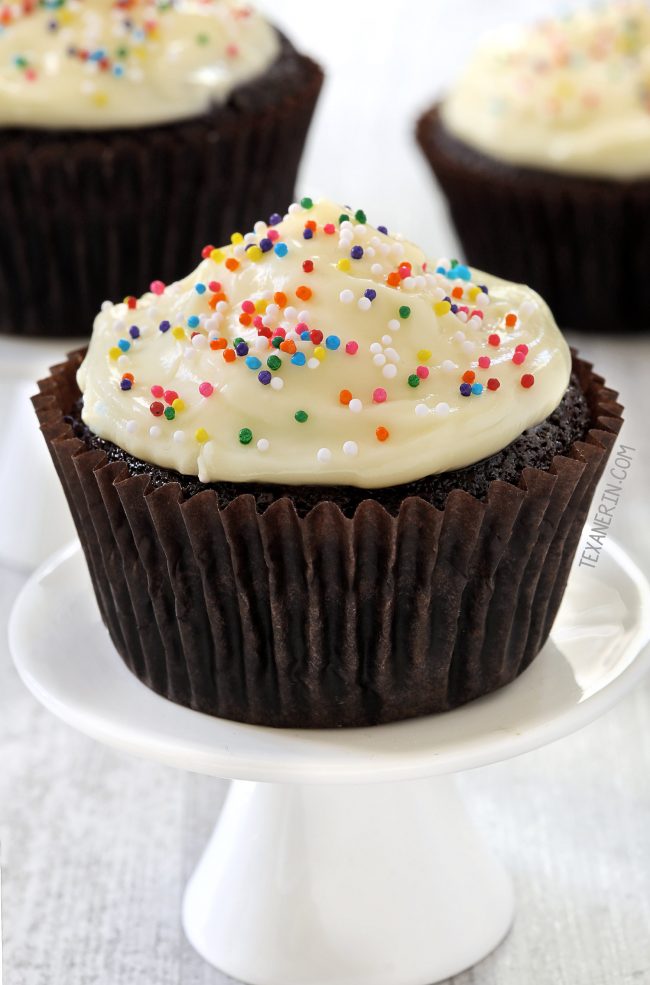 The version with sugar is, in my opinion, tastier than the honey version, but with two cups of sugar, which the original recipes calls for, it's kind of ridiculous. It also works with 1 1/2 cups sugar (but it's even yummier with 2 cups!).
For another delicious whole wheat and honey recipe, try my whole wheat apple muffins! They've always been a big hit.
The honey version is almost as good. I used one cup of honey instead of two cups of sugar and it's pretty awesome.
The taste is almost as good as the two cups of sugar version but the texture is like normal chocolate cake, and not like the super duper moist and fudgy original recipe. I'm thinking with the frosting, nobody would even notice.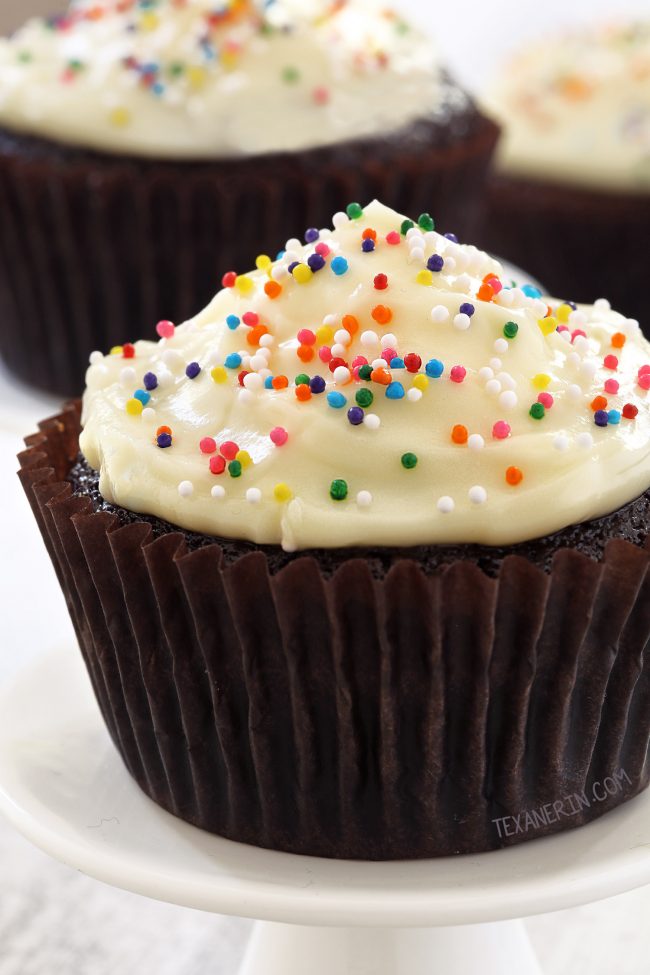 And if you're wondering if you can taste the whole wheat in these whole wheat chocolate cupcakes – definitely not! I've made them dozens of times and when I decided to replace all of the white flour with whole wheat (or whole spelt), nobody noticed. The gluten-free version also tastes the same as the all-purpose flour version.
I used this healthier cream cheese frosting to top these cupcakes off but this vegan chocolate fudge frosting would also be great! So would this chocolate cream cheese frosting.
And for a great chocolate + strawberry treat, this strawberry buttercream frosting looks amazing.
These cupcakes would also be the perfect base for these super cute bear cupcakes. :)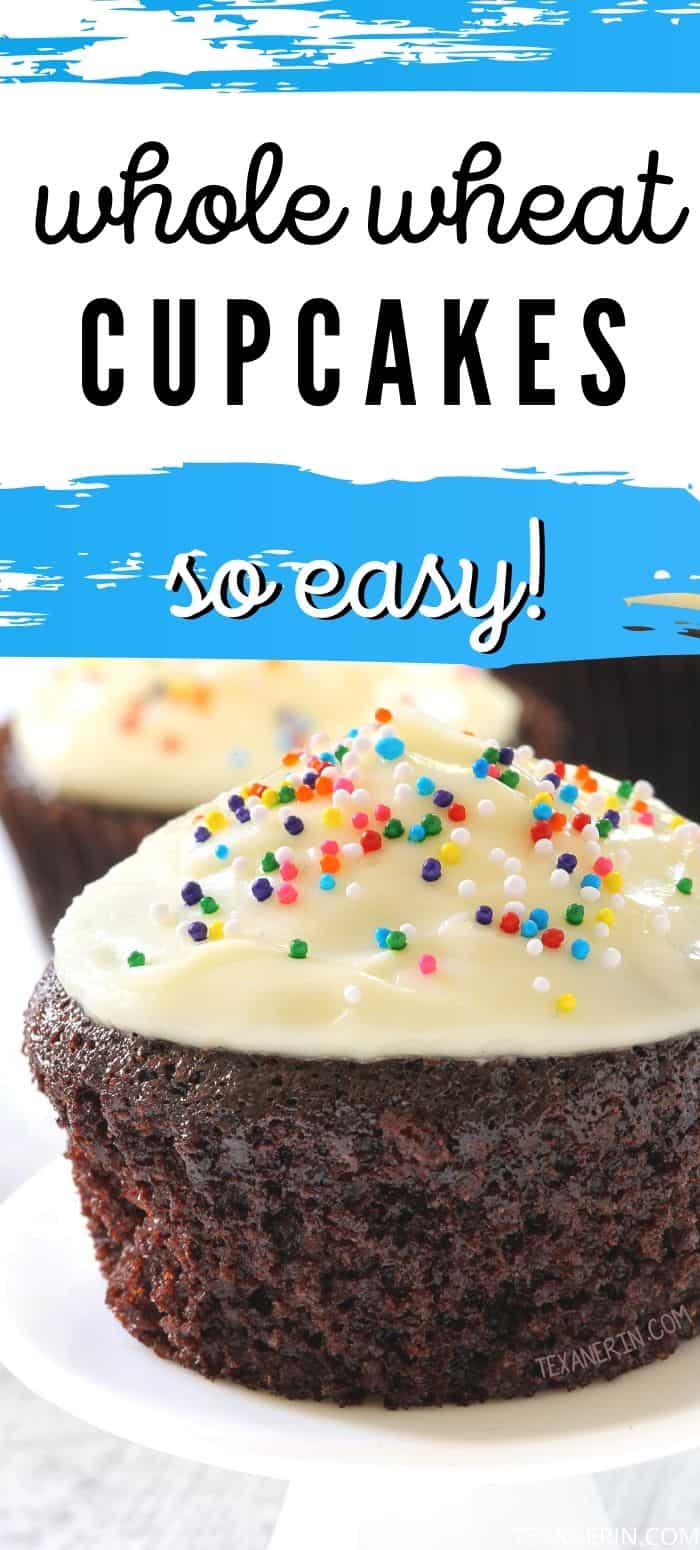 That's it! If you try the cupcakes, I'd love to hear what you thought. Thanks! :)
❀
100% Whole Wheat Chocolate Cupcakes (dairy-free with gluten-free option)
Prep Time:
Cook Time:
Ready in:
Yield:

24 cupcakes
Ingredients
Cupcakes:

1 3/4 cups (210 grams) whole spelt, whole wheat flour, white whole wheat flour, all-purpose flour or 1 3/4 cups (236 grams) Bob's Red Mill 1-to-1 gluten-free baking flour
3/4 cup (85 grams) Dutch-process cocoa powder
1 1/2 teaspoons baking powder
1 1/2 teaspoons baking soda
1 teaspoon salt
2 eggs
1 cup (240ml) milk of choice (but not canned coconut milk)
1/2 cup (120ml) olive oil (or canola oil or another neutral tasting vegetable oil that's liquid at room temp)
2 teaspoons vanilla extract
1 cup (240ml) boiling water (I know that sounds like a lot but I promise you, you need 1 cup!)

For the frosting:

1 batch healthier cream cheese frosting (which is what I used on these - that recipe is enough for 4 teaspoons on each cupcake) or 2 batches vegan chocolate fudge frosting (for a dairy-free option - use 4 teaspoons of frosting per cupcakes)2
Directions
Preheat your oven to 350 °F (175 °C). Line 2 muffin pans with 24 liners.
In a large bowl, stir together the sugar (if using honey, don't add it yet), flour, cocoa, baking powder, baking soda and salt.
Add eggs, milk, honey (if using), olive oil and vanilla.
Mix for 2 minutes on medium and then stir in the boiling water. The batter will be almost as thin as water.
Fill each liner just a little more than halfway full.
Bake for 14 – 18 minutes or until a toothpick comes out with some moist crumbs, but no liquid. If you make the gluten-free version, you'll need closer to 18 minutes. If you make the whole wheat / all-purpose versions, you'll need more like 14-16 minutes.
Let cool for 5 minutes in the pans, and then turn out onto a rack to cool. Let cool completely before frosting.
Notes
I've also used 1 1/2 cups sugar and it was still sweet enough.
Here is the original frosting recipe I had listed on this recipe:
– 1 cup (240ml) whipping cream
– 1 8-ounce package (225 grams) cream cheese
– 3/4 cup (98 grams) powdered sugar
– 1/2 teaspoon espresso powder
– 1/2 teaspoon vanilla

Beat the whipping cream until stiff peaks form.

In a separate bowl, using the same beaters, beat the cream cheese until soft and smooth. Slowly add the powdered sugar.

Dissolve 1/2 teaspoon of espresso powder in 1/2 teaspoon vanilla (I did this in a tablespoon). Add this to the frosting. If you want more coffee flavor, keep adding 1/2 teaspoon espresso / vanilla until you're happy.

Fold in the whipped cream and frost the cooled cupcakes. Store frosted cupcakes in the refrigerator.
Adapted from One Bowl Chocolate Cake
Note: The pictures were updated in September, 2016.
As an Amazon Associate, I earn from qualifying purchases. For more info, see my disclosure.