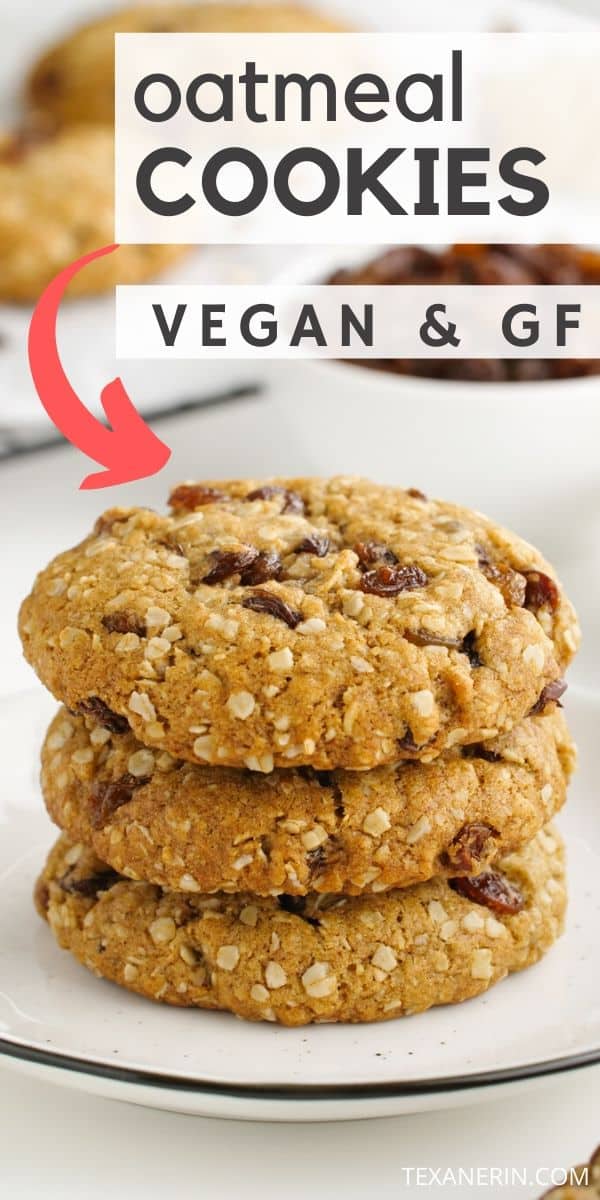 These vegan oatmeal cookies are crisp on the outside and chewy on the inside and taste just like traditional oatmeal raisin cookies! Can be made gluten-free, whole wheat or with all-purpose flours. Thanks to Bob's Red Mill for making today's post possible!
I really, really love my oatmeal cookies. I've posted so many other oatmeal raisin cookie recipes before and figured I might as well be thorough and post a vegan version today. :)
I do have these vegan no-bake oatmeal cookies, which are great for those of you already dealing with high temperatures, but today's vegan oatmeal cookie recipe is more traditional.
There are lots of flour options! You can use:
All-purpose flour
Whole wheat or whole spelt for a whole grain version
Bob's Red Mill 1-to-1 Gluten-free Baking Flour or a homemade gluten-free mix (found in the notes section of the recipe) for a gluten-free version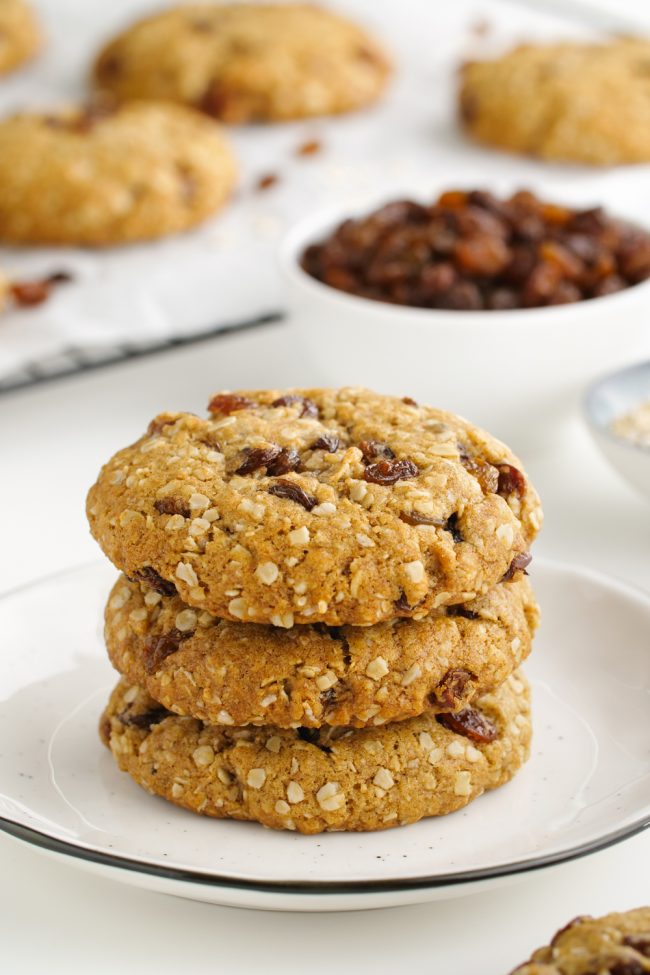 The really amazing thing is that all versions taste the same. The only difference is that the gluten-free version has a slightly sandy texture when still hot from the oven. Once cooled, they're just as delicious!
I usually use chia eggs in my vegan recipes, but I recently wanted to make some cookies for a friend who can't eat eggs or seeds.
Luckily, I happened to have some Bob's Red Mill Gluten-free Vegan Egg Replacer on hand and it worked wonderfully in these vegan oatmeal cookies. So why'd I pick this specific egg replacer?
I like baking with the very best, so I chose Bob's Red Mill, knowing that the egg replacer would work just as well as regular eggs and be made of quality ingredients.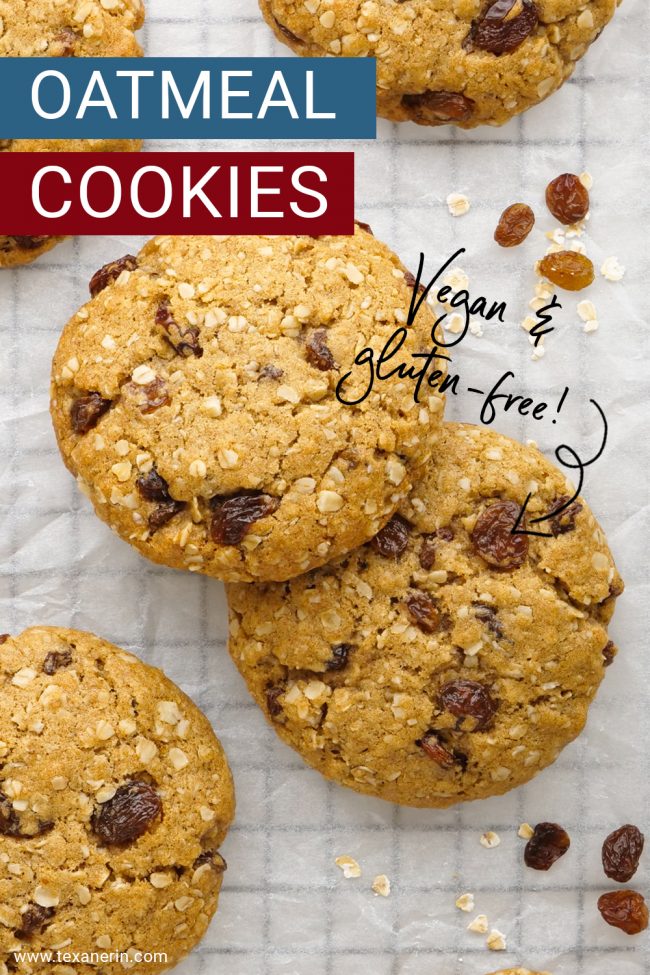 Egg replacers sometimes consist of some funky ingredients. This one just contains potato starch, tapioca flour, baking soda and psyllium husk fiber (and is therefore paleo-friendly!).
Some also contain wheat or are processed in facilities that also handle products with gluten. And just like all of Bob's Red Mill's gluten-free products, their Gluten-free Vegan Egg Replacer is mixed and packaged in their dedicated gluten-free facility.
Like all the other egg replacers I've come across, Bob's Red Mill's Gluten-free Vegan Egg Replacer doesn't work in recipes that require you to beat eggs to stiff peaks (like angel food cake or meringue) but it's worked in everything else I've tried.
If you need to eat egg-free, I definitely recommend it! If you can eat regular eggs, go ahead and use them in these cookies for a non-vegan version. Chia eggs work (I tried those for myself) and I'm fairly certain that flax eggs work, too.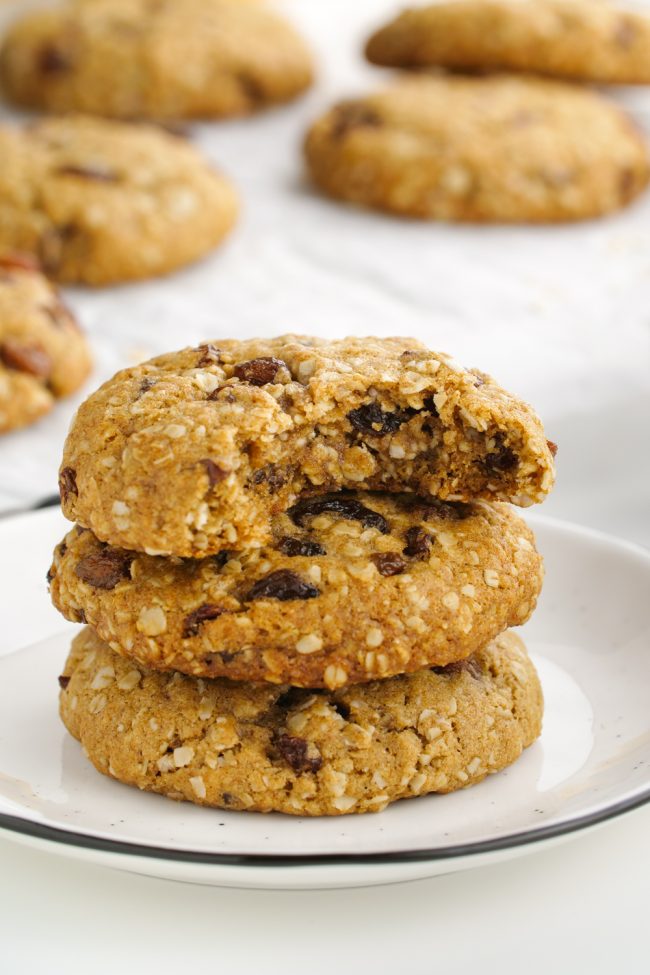 As for the egg replacer, I'm going to try these soft and fluffy gluten-free cinnamon rolls with it next. It keeps the rolls soft for a few days without them needing to be heated to soften (as opposed to the egg version!). The same is also true of these gluten-free dinner rolls, which look amazing!
Questions about these vegan oatmeal cookies?
Can I use something other than the listed flours? I've tested and listed 5 flour options. Those are the ones that I know will work and they're the only ones that I think will work. You could try a different 1-to-1 GF baking mix but I can't say it'd work as well. You for sure can't use any grain-free flour as a substitute but I do have a paleo oatmeal cookies recipe which is grain-free!



Can I use something other than coconut oil? Butter works for a non-vegan version and I'm assuming vegan butter would work, too, but the cookies are chewier with coconut oil.


Can you taste the coconut oil? Neither I nor my other testers could taste any coconut flavor and I use unrefined coconut oil!


Can I use something other than the egg replacer? Regular eggs work great for a non-vegan version. Chia eggs also work and I think flax eggs would, too!



Can I use something other than the listed sugars? You can probably use another granulated sugar that you've used in place of regular white granulated sugar. Liquid sweeteners wouldn't work as they'd make the dough too wet (there's no milk or anything to reduce to make up for the added liquid for the sweetener).


Can I reduce the sweetener / oil? I used the least amount that I thought was enough so I don't recommend it. The less sugar / oil you add, the more cakey and crumbly the cookies will be.


Can I use different add-ins / add more of them? You can use nuts, dried fruit or candy. But don't add much more or the dough won't hold together! I know because I tried. ;)


Thanks again to Bob's Red Mill for sponsoring today's post! Be sure to check out their site for coupons and more recipes.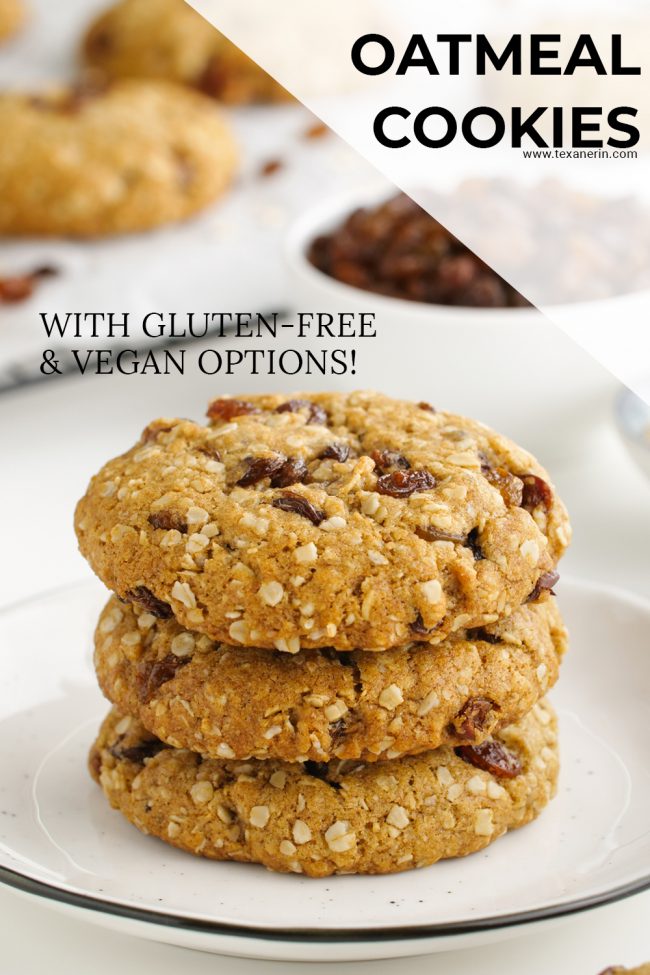 ❀
Vegan Oatmeal Cookies (gluten-free, whole wheat, all-purpose flour options)
Prep Time:
Cook Time:
Ready in:
Yield:

18-20
Ingredients
1 1/2 cups (190 grams) whole wheat flour, whole spelt flour, all-purpose flour or for a gluten-free version: 1 1/2 cups (208 grams) Bob's Red Mill Gluten-Free 1-to-1 Baking Flour or the homemade gluten-free mix listed below1
1 teaspoon baking soda
1 teaspoon baking powder
1/2 teaspoon salt
1 teaspoon cinnamon
3/4 cup (168 grams) coconut oil, melted
1 1/3 cups (266 grams) raw sugar, coconut sugar or brown sugar
2 prepared Bob's Red Mill Gluten-free Vegan Egg Replacer eggs, chia eggs2 or 2 large (50 grams each, out of shell) eggs for non-vegan
1 tablespoon vanilla extract
2 3/4 cups (260 grams) quick oats (make sure to use GF, if needed)
1 1/4 cups (190 grams) raisins
Directions
Preheat the oven to 375 °F (190 °C) and line a cookie sheet with a piece of parchment paper.
Stir together the dry ingredients in a medium mixing bowl and set aside.
In a large mixing bowl, stir together the melted coconut oil, sugar, replacement eggs or regular eggs, and vanilla and stir just until combined. It's okay if the oil starts separating. Don't try to recombine it.
Add the dry mix to the wet mix and stir just until combined. Add the oats and raisins, again stirring just until combined.
Form the dough into compact3 75-gram balls, about two inches or slightly over 1/4 cup in size, and place 4" apart on the prepared baking sheet. Press the balls down slightly with the palm of your hand.
Bake for 13-15 minutes or until the middle appears to be set and the cookies have evenly browned.
Let cool completely on the baking sheet. Remove to a wire rack and let sit for another few hours until they've firmed up completely. Store in an airtight container up to 5 days.
Notes
Homemade gluten-free mix:

1 cup (140 grams) white rice flour
1/3 cup (52 grams) potato starch
2 tablespoons + 2 teaspoons (20 grams) tapioca flour
1/2 teaspoon xanthan gum

To make the 2 chia eggs, mix 2 tablespoons ground chia seeds + 6 tablespoons water together until gloopy like an egg.
If the dough balls aren't compact, the cookies will come a little apart during baking. If that happens, press them back into shape after taking them out of the oven.