Sweetened with honey and coconut sugar, this naturally gluten-free and dairy-free chocolate coconut granola is a much tastier and healthier alternative than the store bought variety!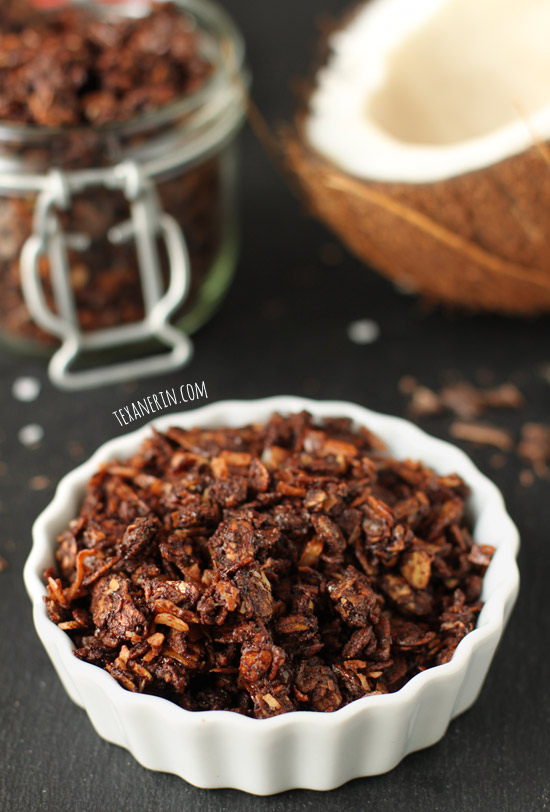 So like I said in my raspberry coconut smoothie post, I love my cracked open coconut. I made tons of coconut recipes that I intended on spacing throughout the year, but since I didn't have time to make anything else – there's more coconut today. Woohoo! Right? :D
I have to admit that I LOVE store bought granola. Probably because it's loaded with sugar and when I make it at home, I never add enough. But this time I added some coconut sugar (in addition to honey) and chocolate and that solved everything. This chocolate coconut granola tastes even better than the stuff from the store, and unlike that stuff, it only has a few ingredients rather than a list full of ingredients I can't pronounce. It's also much cheaper and relatively healthy!
This recipe uses coconut oil, shredded coconut and coconut extract. If you use unrefined coconut oil, it'll add even more to the coconut taste. I used refined (which is flavorless) and this granola was still coconut-y enough! And if you want the granola to be ultra coconut-y, add more extract.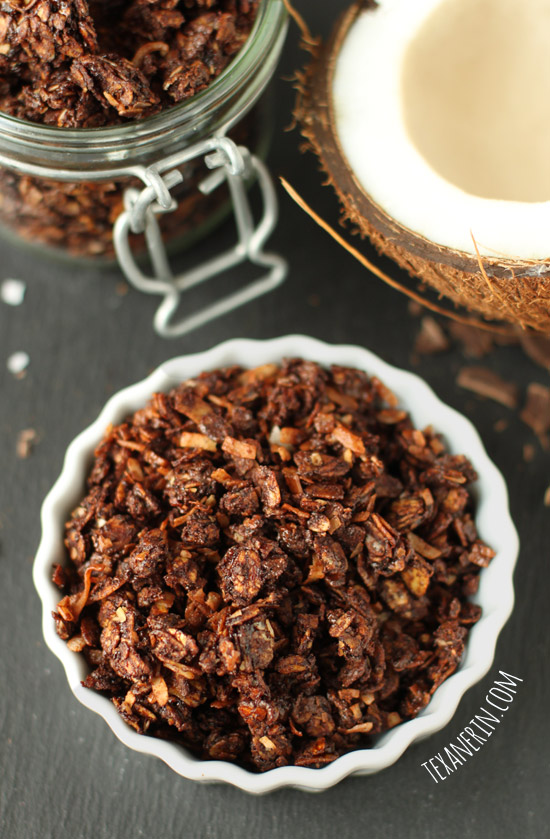 The final step of this recipe is to add chopped chocolate into the baked granola and stir it around so that the granola is coated in chocolate. But it's a very light coating. It's definitely heading into the dessert granola category with the chocolate. If that sounds too much for you, taste the granola after it comes out of the oven and if it's sweet enough for you, skip the chocolate! But honestly… it's not that much chocolate and it adds SO much to the granola.
This is naturally gluten-free AND whole grain and dairy-free (if you use Enjoy Life chocolate chips). And if you're gluten-free, make sure to buy gluten-free oats!
And just in case you've never made homemade granola – experimenting doesn't work out so well. Changing the type or amount of sweetener or fat always ends in failure. At least in my experience! So stick to the recipe unless you're an experienced granola maker. :)
So now that I have chocolate coconut granola down, what should I try next? I'd love some ideas!
Here are some other chocolate and coconut goodies! And they happen to both have peanut butter. :D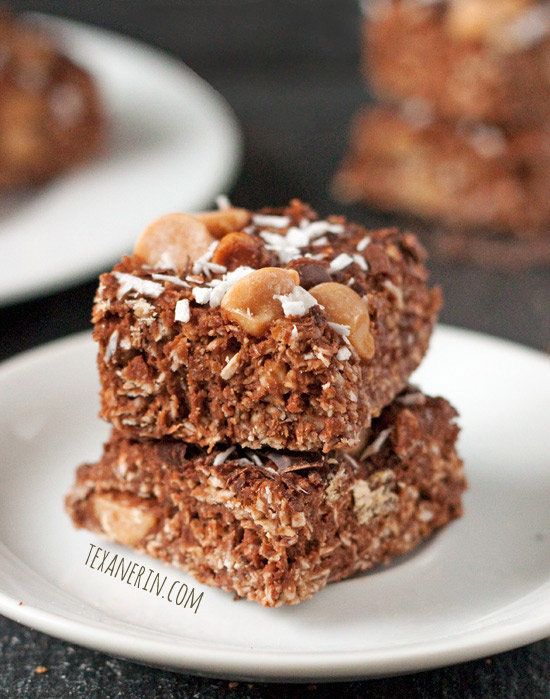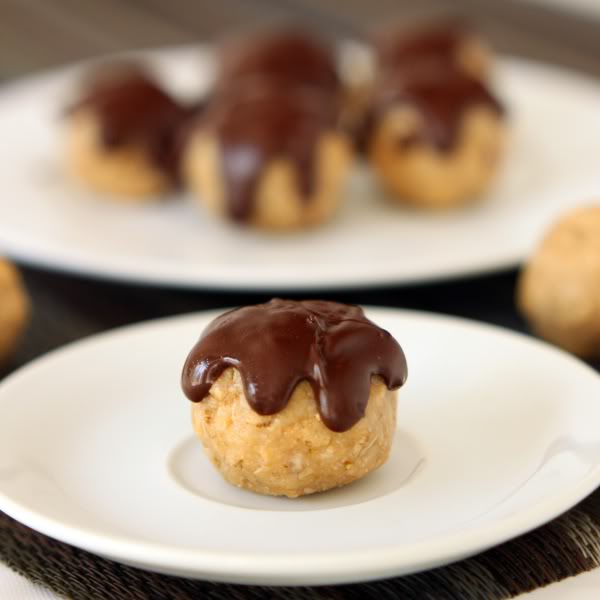 ❀
Chocolate Coconut Granola (gluten-free, whole grain, dairy-free)
Prep Time:
Cook Time:
Ready in:
Yield:

8 servings
Ingredients
Directions
Preheat the oven to 325°F and line a baking sheet with a Silpat or piece of parchment paper.
In a large pan, melt the coconut oil.
Stir in the honey, cocoa powder, coconut sugar and salt and bring this mixture to a simmer.
Remove from the heat and add in the vanilla and coconut extract.
Working quickly, add in the oats and make sure they're evenly coated with the mixture.
Spread this evenly over the parchment lined baking tray.
Bake for 15 minutes, stirring after every 5 minutes.
Remove the granola from the oven and stir in the shredded coconut. You only want to bake it shortly so that the coconut doesn't burn!
Return to the oven and bake for another 5 minutes.
Remove the granola from the oven and let it sit for 5 minutes. It should harden a little. Stir in the chocolate chips and make sure that the granola is well coated.
Let the granola cool completely (it'll harden even more during this time) and if using chocolate, let it sit for 2 hours to allow the chocolate to harden.
Store in an airtight container for up to 3 weeks.
As an Amazon Associate, I earn from qualifying purchases. For more info, see my disclosure.