These gluten-free pumpkin donuts are paleo, grain-free and dairy-free. Can also be made as regular muffins and are coated in cinnamon sugar. With a video.
I haven't been feeling the pumpkin love at all this year. I don't know what happened but I'm just not excited about it.
I've been much more into apples and making this paleo apple crisp and these paleo apple muffins.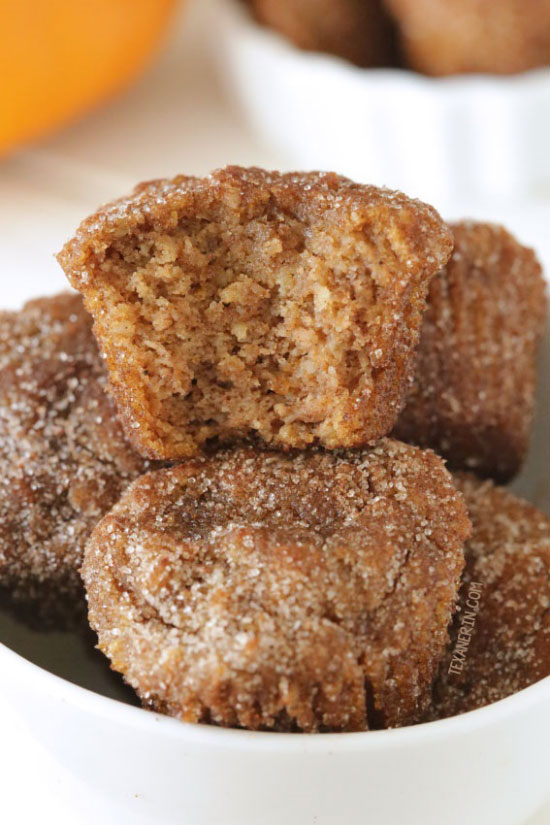 And it doesn't help that we don't have canned pumpkin in Germany. I either have to make homemade pumpkin puree, which I won't do because moisture content varies too much and I never know how much liquid to drain, or buy imported canned pumpkin from the American section of a department store.
For about $4.50 a can. I typically make a recipe several times before posting it and spending $18 on just the pumpkin for one recipe? Eh. I'll pass.
So for this recipe, I took a short-cut. I adapted my pumpkin spice latte Nutella muffins and made them into these gluten-free pumpkin donuts. Or actually donut holes. I didn't have to go through my precious cans of pumpkin and y'all get a pumpkin recipe. It's a win-win for everyone! :)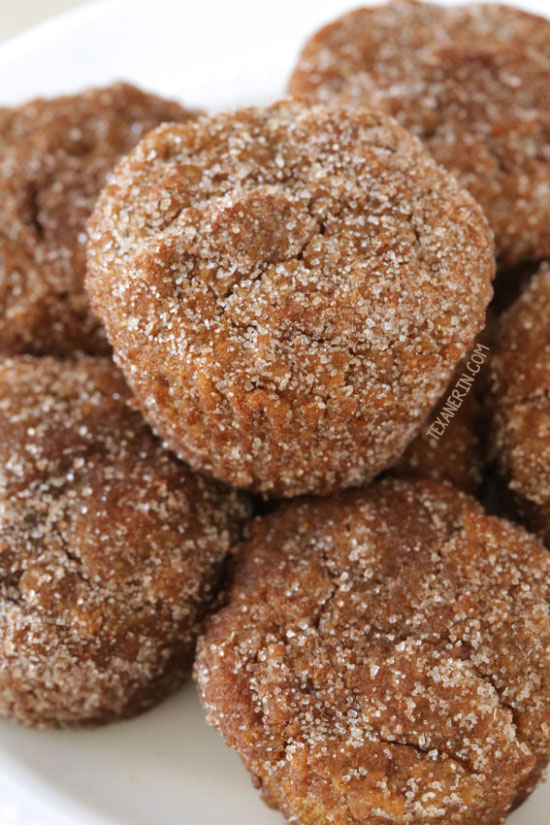 If you don't have a mini muffin pan, these can be made as 16 regular-sized muffins. You can check out the directions in my paleo pumpkin muffins recipe. It doesn't work quite as well in bread form. I tried! It rises nice and high and then kerplunks. It's pretty sad.
I've seen a lot of recipes where you dip the donut holes in butter first before dipping them in the cinnamon sugar, but when I tried this, the donut holes sucked up so much butter and were so wet that I had to use a ton of sugar to get them properly rolled.
It tasted amazing so feel free to do that if you don't mind a ton of extra sugar. :) I'm thinking it's perhaps a grain-free thing. I never had that issue with whole wheat goodies!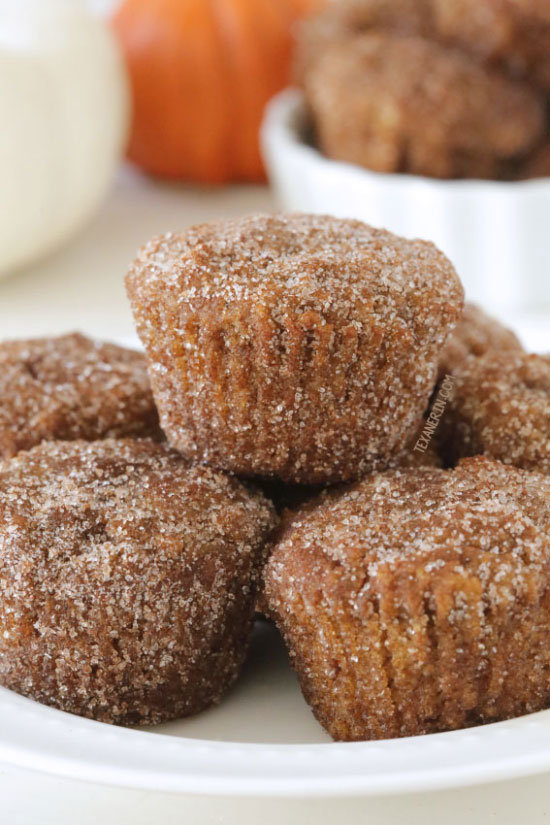 I have two more cans of pumpkin left and am very carefully planning what to do with them! What's your favorite pumpkin recipe? If you don't already have a favorite, check out the reviews in the comments below – people seem to love this gluten-free pumpkin donuts recipe!
And I can highly recommend this paleo vegan pumpkin pie. I'm not vegan but this pie is even creamier and more delicious than a traditional pie! SO good. :D
Not into grain-free baking? Try these whole wheat cinnamon sugar baked donuts from Family Food on the Table! They look so plump and delicious.
Click here to view, comment or share the video on Facebook! Thank you. :)
❀
Gluten-free Pumpkin Donuts (paleo, grain-free, dairy-free)
Prep Time:
Cook Time:
Ready in:
Yield:

30 donut holes
Ingredients
For the donut holes:

1/2 cup (66 grams) coconut flour
3/4 cup (75 grams) almond flour
1 1/4 teaspoons baking soda
3 1/2 teaspoons pumpkin pie spice
1/4 teaspoon salt
4 large eggs, room temperature
7 tablespoons (98 grams) coconut oil or unsalted butter, melted
1/2 cup (120 milliliters) maple syrup
2 tablespoons coconut sugar or brown sugar
1/2 cup (120 grams) canned pumpkin puree (not pumpkin pie filling)
2 teaspoons vanilla extract

For the cinnamon sugar:

1/3 cup (67 grams) coconut sugar or granulated sugar
1 1/2 teaspoons ground cinnamon
Directions
Preheat the oven to 350 °F. Line a mini muffin pan with 24 muffin liners.
In a large bowl, mix together the dry ingredients (coconut flour through salt).
In a separate medium bowl, mix together the wet ingredients (eggs through vanilla).
Add the dry mixture to the wet mixture and stir just until combined.
Pour the batter evenly into the muffin liners, filling each liner until almost completely full. You'll likely have enough batter for another six donut holes.
Bake for 11-13 minutes or until a toothpick inserted in the middle comes out clean. Turn out onto a wire rack to cool completely. These need to rest for at least an hour before serving, both because of taste and texture.
When ready to serve, mix the cinnamon with the sugar in a small bowl. Remove the liners and roll the donut holes in the cinnamon sugar. As these donut holes are quite moist, the cinnamon sugar tends to liquify overnight, which is why it's recommended to roll the donuts in the sugar no more than 8 hours before serving.
Store in an airtight container for up to 2 days.
Notes
For paleo, use coconut sugar and coconut oil.
For dairy-free, use coconut oil.
Source: My post on My Baking Addiction – Gluten-free Pumpkin Donut Holes