The creamiest and fudgiest chocolate popsicles ever! Avocados and bananas come together to create these healthy and delicious frozen treats.
I've never been a fan of popsicles. Especially not chocolate popsicles or fudgsicles or whatever they're called. They're too icy, not creamy, and taste artificial. So I thought of all the creamiest healthy stuff possible and crammed it together to make these chocolate popsicles. It's like my no cook chocolate peanut butter banana pudding, but so much better. The pudding has its place and time, but now I can't imagine just making pudding when I could have these popsicles!
So what's in them? Bananas are just a given. If you want to make something chocolatey healthy, just add (more) bananas. Then there's Greek yogurt. And… avocado. I promise that you can't taste it! All you taste is super fudgy chocolate banana. I really doubt that a more creamy, non-ice cream popsicle exists. If there is, I want to know about it!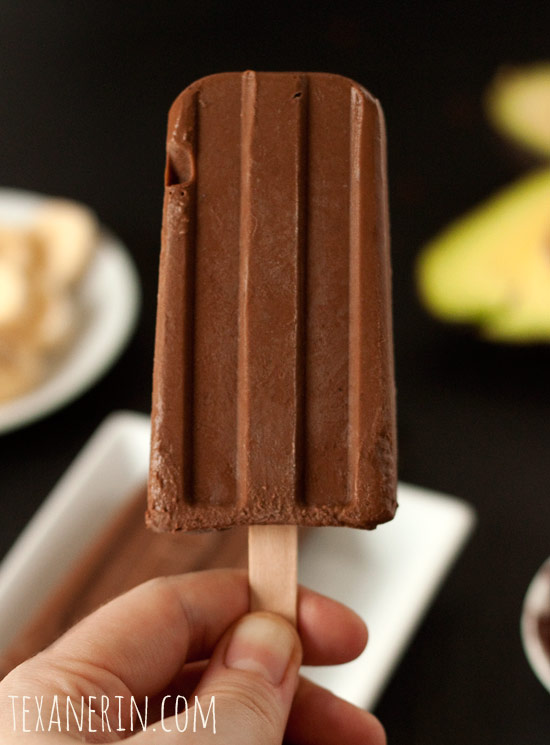 The only issue I had with these is that the mixture was so thick, even after using a spoon to make sure the entire mold surface was covered, there were still little holes here and there. If that bothers you, add some milk. But I really don't think anyone will mind (unless you're taking pictures :)).
If you prefer a vegan and dairy-free version, Heidi posted these chocolate avocado popsicles the other day. Whichever recipe you use, it's a fun way to enjoy the amazing nutritional value of avocados!
I seem to be late to the popsicle party, but I got this BPA free popsicle mold while in the US. And I love it! You can expect to see lots more creamy popsicle recipes round here in the next few weeks. :)
❀
Chocolate Popsicles - With a Secret Ingredient!
Prep Time:
Cook Time:
Ready in:
Yield:

8 3-oz popsicles
Ingredients
200 grams avocado flesh (about 1 1/2 avocados)
7 1/2 ounces (220 grams) plain or vanilla Greek yogurt
1/4 cup (32 grams) Dutch-process cocoa powder
1/4 cup + 2 tablespoons (60 grams) coconut sugar or white sugar
2 medium (220 grams) bananas
1 tablespoon vanilla
Directions
Blend everything together in a food processor or a very good blender until thoroughly combined.
Pour into 8 3-oz popsicle molds and prepare according to your popsicle mold's instructions. For me, I covered the molds with the plastic lid and then inserted the popsicle sticks.
Freeze for at least 4 hours or overnight.
To unmold, carefully run lukewarm water against the sides of the mold.
Keep covered in the freezer until serving.