These no-bake chocolate oatmeal cookies are wonderfully chewy, easy to make and are vegan and gluten-free. With a nut-free option.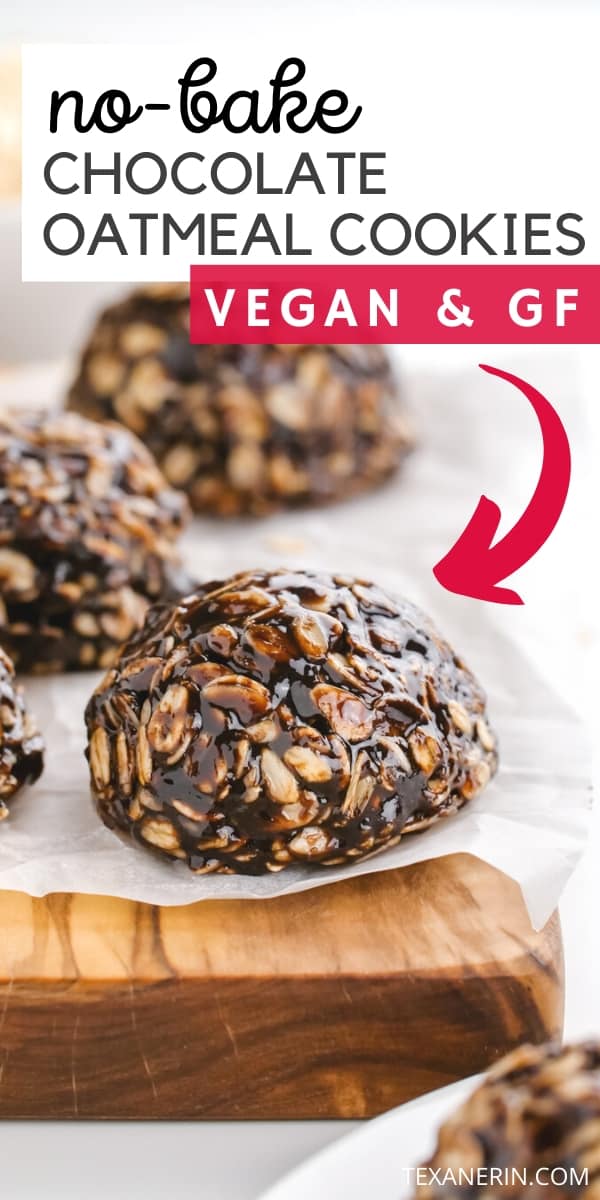 I've been trying to make a chocolate version of these no-bake oatmeal cookies and these peanut butter no-bake cookies unsuccessfully for four years. Adding cocoa powder or melted chocolate just resulted in some weird cookies.
So here's a totally new version! And they're just as delicious as my other no-bake cookies.
I started working on this new recipe over a year ago and have made it approximately 27 times since then. Partly to perfect the recipe and also because… they're just so good and I was craving them.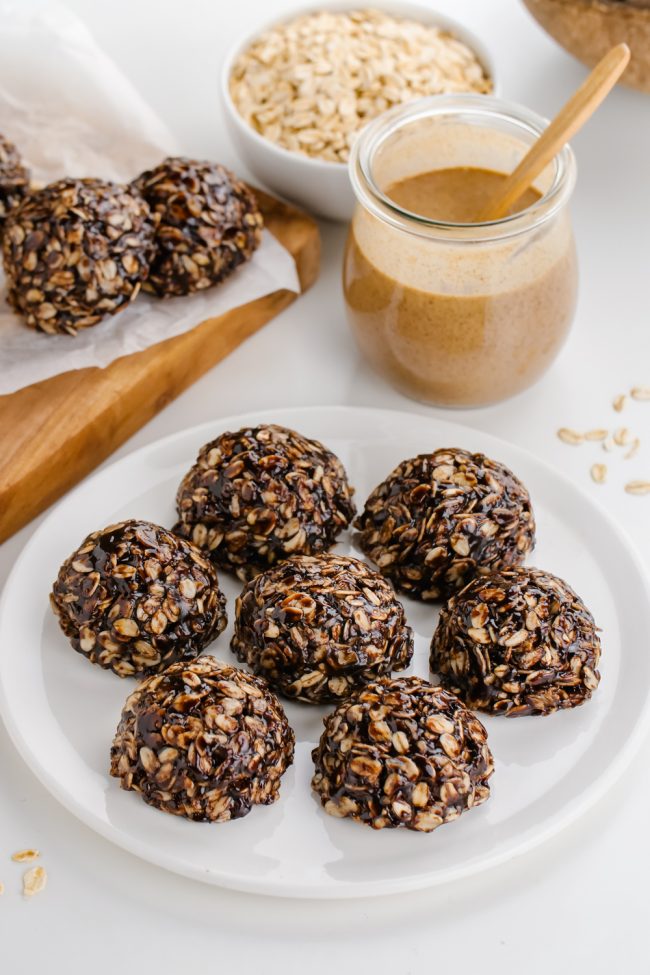 When I make them, I immediately put them in the freezer. The cookies are a little firm straight from the freezer but still chewy and edible.
It's great having a stash of these no-bake chocolate cookies hidden away for emergency "I need a cookie" moments. We moved Björn to his own bed and room two weeks ago (trying to break his habit of drinking milk every 40 minutes to 2 hours throughout the night… at 1.5 years!) so I was having a lot of those moments when I last made these cookies. ;)
If your kid has any sleep problems, I highly recommend The Modern Mama as a sleep consultant! I'm happy to report that after three nights in his new room, Björn was able to get himself to sleep without crying and can now sleep through the night. Yay!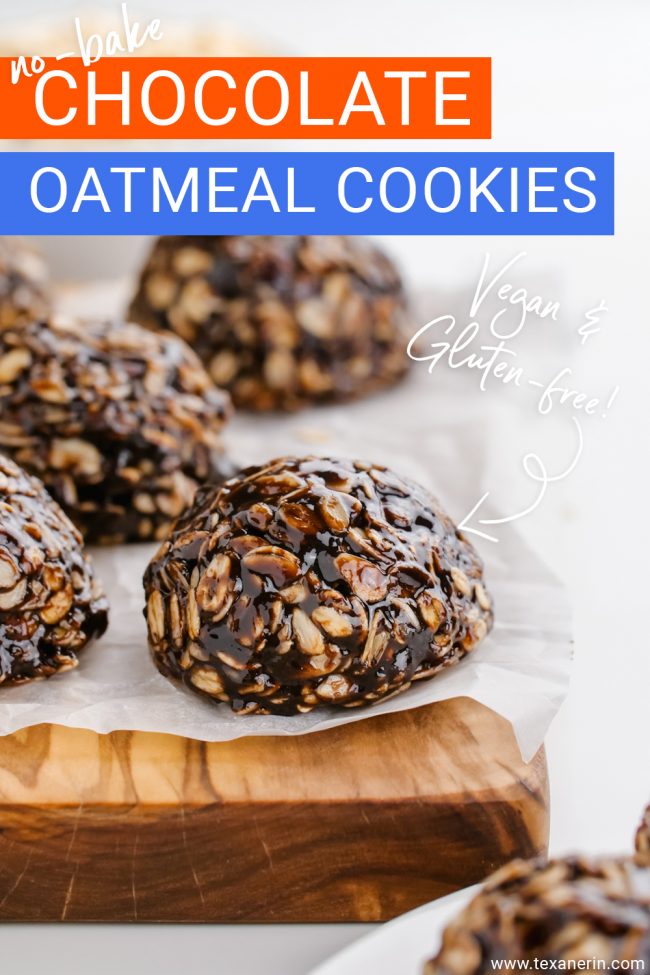 But back to these cookies! I use sunflower seed butter for a nut-free version but you can use any kind of nut butter that you'd like.
I've tried making a grain-free and paleo version, thinking it'd be easy. After all, the only ingredient that needs to be subbed is oats.
But I haven't found a good sub in these cookies. Not yet, anyway! I've tried coconut and mixed nuts. The result was just greasy.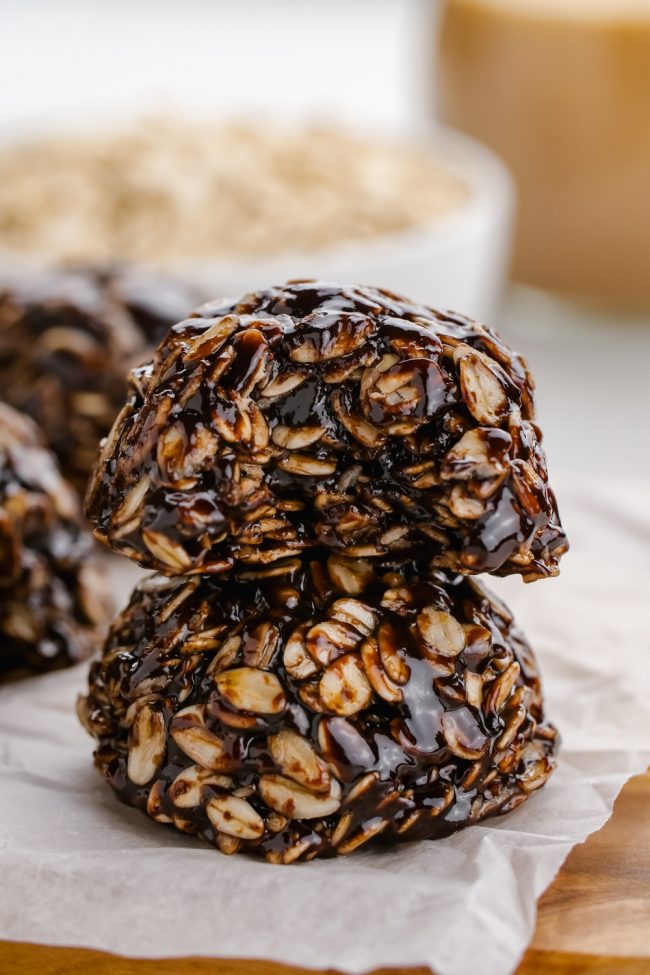 Questions about these no-bake chocolate oatmeal cookies?
Can you taste the coconut? No, they just taste like normal and delicious chocolate no-bake cookies!

Can I use something other than coconut oil? Butter would probably work for a non-vegan version but I haven't tried it!

What can I use instead of maple syrup? I'd love to say any liquid sweetener but I haven't had a good experience with honey in my no-bake cookies. I don't use agave syrup but that might work.

Can I use something other than coconut sugar? Granulated sugar probably works. I wouldn't recommend any sugar subs as I don't think they behave the same way. You're not exactly making a caramel sauce for these cookies, but it's similar (the sauce will thicken and get caramel-like). Low-carb sweeteners don't caramelize (someone correct me if I'm mistaken!) so I'm thinking it wouldn't work.

Can I use something other than coconut milk? Coconut milk is quite a bit thicker than other types of milk, so I'm not entirely positive, but I think other milks (whatever kind) should work. One commenter made it with almond milk and it worked, so I'm pretty sure you can use whatever you want!

Can I use something other than oats? I haven't found a good sub for them in recipes like this.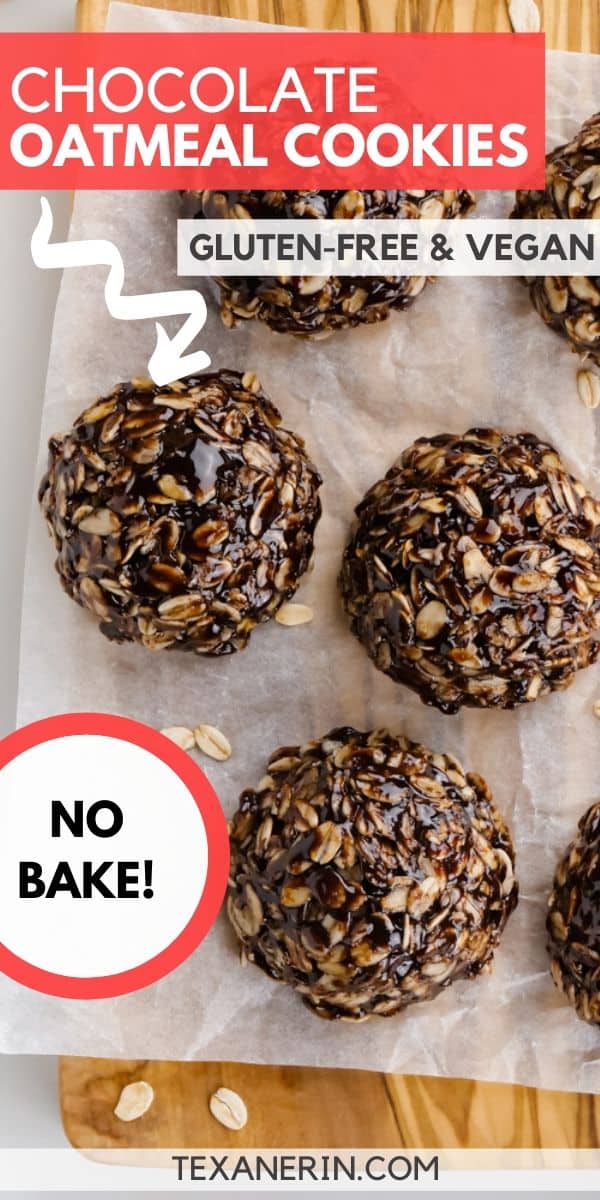 ❀
No-bake Chocolate Oatmeal Cookies (gluten-free, vegan, nut-free)
Prep Time:
Cook Time:
Ready in:
Yield:

24
Ingredients
6 tablespoons (84 grams) coconut oil
2 tablespoons maple syrup
3/4 cup (150 grams) coconut sugar
1/3 cup full-fat canned coconut milk
1/3 cup (36 grams) cocoa powder
1/4 teaspoon salt (you might need more depending on your nut butter)
1/2 cup (128 grams) almond butter, peanut butter or sunflower seed butter for nut-free (or whatever nut butter you want)
1 1/2 teaspoons vanilla
3 1/2 cups (322 grams) rolled oats (make sure to use GF oats if needed)
Directions
To a large pot, add the coconut oil, maple syrup, coconut sugar, coconut milk, cocoa powder and salt. Turn the heat to medium and stir frequently until melted and well combined.
Bring to a boil and stirring frequently, boil for 90 seconds. It should thicken a bit. Don't boil too long or it may separate.
Remove from the heat, add the nut butter and vanilla and stir until smooth. Add a bit more salt, to taste, if you want.
Stir in the oats until well combined.
Use a medium cookie scoop to scoop out balls of the mixture (I made 24 33-gram balls) onto a piece of parchment paper.
Place in the fridge for at least 2 hours or until firm. You can also place them in the freezer for about 1 hour.
Chill in an airtight container for up to a week or freeze for 2 months.