A layer of raspberries and chocolate is sandwiched between a streusel-like crust and topping in these vegan, 100% whole grain and dairy-free chocolate raspberry oat bars! Can also be made with all-purpose flour and butter.
My freezer is in a perpetual state of way-too-full. It's pretty awful and I'm kind of shocked I haven't broken the freezer yet with just how full I stuff it. The only reason I wanted to make these bars was to get rid of 2 1/2 cups of frozen berries but for some reason I can't quite understand, I only used 1 1/2 cups.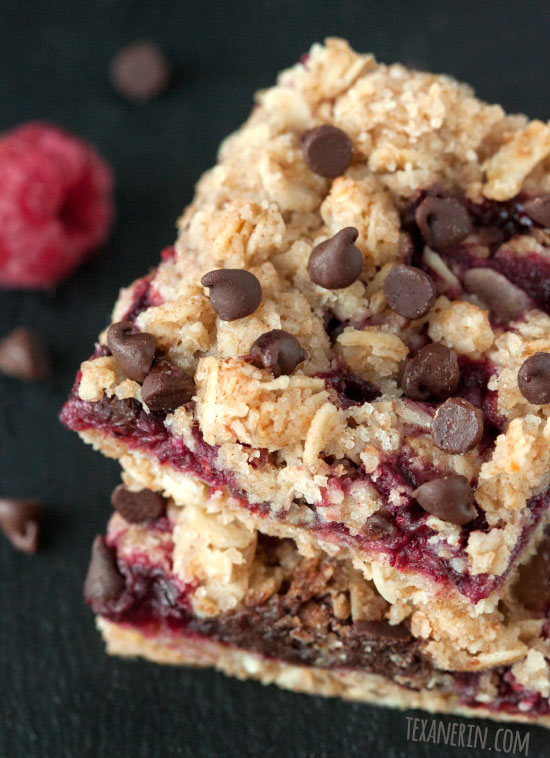 Then I panicked because only half the crust was covered and that's when I decided to dump on a bunch of chocolate. It was either that or start all over, which I really didn't feel like doing, so the chocolate won. And now I get to share these lovely chocolate raspberry oat bars rather than just plain on raspberry bars. I'm okay with that. :)
Last summer, I made these strawberry oat bars and in that post, I said that I wanted to try a version with coconut oil, which would make these oat bars vegan + dairy-free. So in these raspberry bars, I reduced the fat by 4 teaspoons and that worked. The bars weren't oily and held together well! If you don't want to use coconut oil, use 3/4 cup butter instead of 2/3 cup coconut oil as listed below.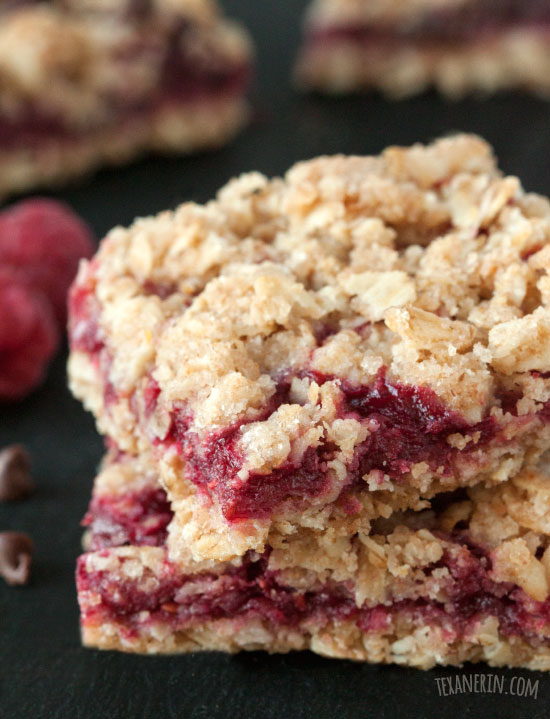 The raspberries only cover about half the surface so if you don't want to add chocolate to the middle raspberry layer of the bars (like the above picture), I'd suggest going with 2 1/2 cups raspberries + 7 tablespoons raspberry jam. And adding lemon zest! Because berries without lemon zest is just sad.
If you use frozen berries (which I always do – I don't like baking with fresh raspberries because they're so expensive!) make sure that you're not using super icy berries that are going to make things soggy. When I completely defrost my berries, I don't really have any liquid in the bottom of the bowl. If you do, make sure to get rid of that! These oat bars should be slightly soft and chewy and so not soggy.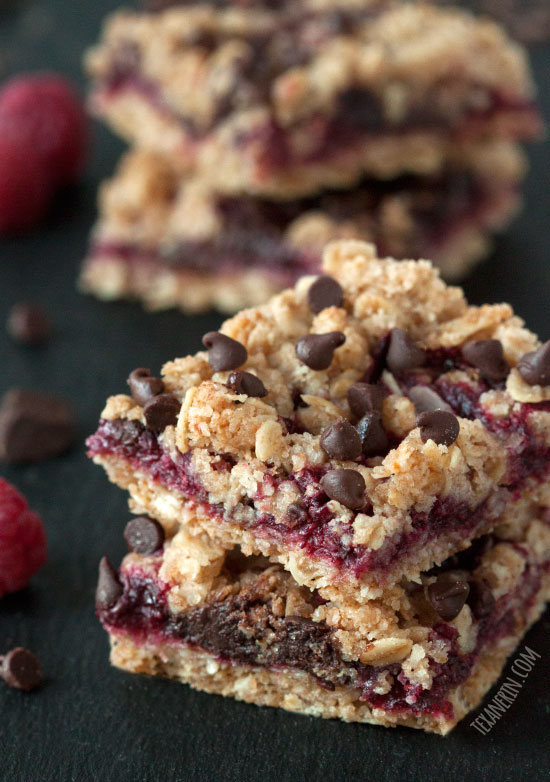 If you need something gluten-free, these Chewy Apple Oatmeal Bars from Veggie Balance look amazing!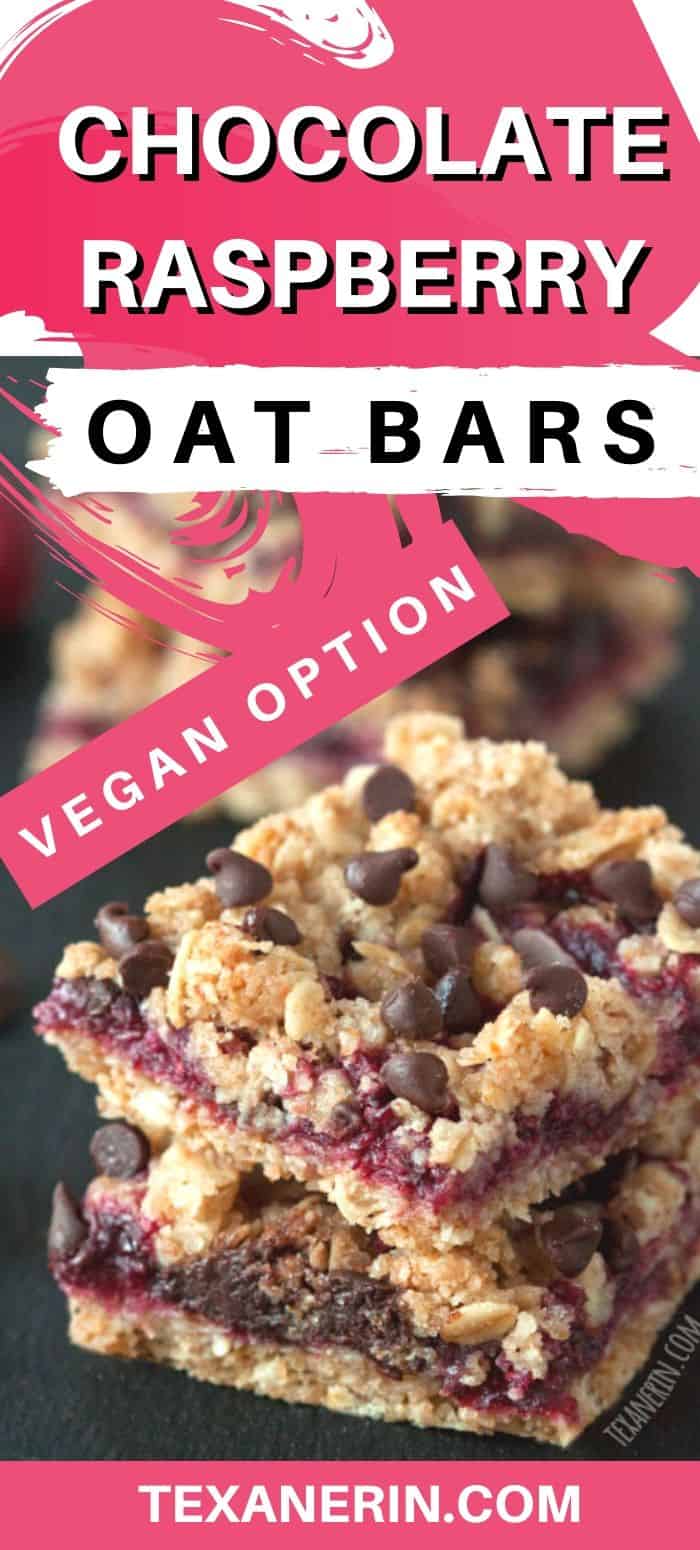 ❀
Chocolate Raspberry Oat Bars (vegan, whole grain, dairy-free)
Prep Time:
Cook Time:
Ready in:
Yield:

16 bars
Ingredients
1 1/2 cups (150 grams) rolled oats
3/4 cup (94 grams) white whole wheat flour or all-purpose flour
1/2 cup (100 grams) brown sugar or raw sugar
1/4 teaspoon baking powder
1/4 teaspoon salt
2/3 cup (149 grams) room temperature coconut oil (should be as soft as room temp butter)1 or 3/4 cup (168 grams) unsalted butter for a non-vegan and non-dairy-free version
1 1/2 cups (159 grams) fresh or frozen raspberries2
5 tablespoons (100 grams) raspberry jam (make sure to use vegan jam, if necessary)
1/2 teaspoon vanilla
3/4 - 1 cup (135 - 180 grams) semi-sweet mini chocolate chips (or regular sized chips / chunks. Make sure to use dairy-free or vegan chocolate, if necessary.)
Directions
Preheat the oven to 375°F (190°C) and line an 8"x8" (20cmx20cm) baking pan with parchment paper.
In a large bowl, mix together the rolled oats, flour, sugar, baking powder and salt.
Cut in the coconut oil using a pastry blender, two knives or your fingers, and mix until the dough just comes together. The dough should not be very crumbly, but should stick together.
Gently press two thirds of it onto the bottom of the prepared baking pan.
Bake for 10-13 minutes or until the edges just start to brown.
Meanwhile, prepare the raspberry filling. In a medium bowl, mix together the raspberries, jam and vanilla. Lightly mash with a fork.
Spread this mixture over the baked crust and then sprinkle about 1/2 cup (90 grams) chocolate chips over the raspberry layer.
Sprinkle the remaining oat mixture over the chocolate chips.
Bake for another 22-25 minutes or until the top has lightly browned and the filling is bubbly.
Remove from the oven and top with more chocolate chips, if desired.
Let the bars cool completely and then refrigerate for 2 hours before cutting.
Store any leftovers in the refrigerator for up to 4 days. These can also be frozen.
Notes
If you use unrefined coconut oil opposed to refined coconut oil, these bars will likely have a coconut taste to them. If your coconut oil is liquid at room temperature, you can use melted coconut oil in these bars. Mix all the crust / topping ingredients together and then put the bowl in the refrigerator for 10-20 minutes or until firm enough to be pressed onto the bottom of the pan.
If using frozen raspberries, halfway thaw them so that there's no icy bits on them and discard of any juice at the bottom of the bowl.