These mini apple pies have a delicious oatmeal cookie crust and are covered in caramel sauce. The perfect individual dessert for Thanksgiving! Gluten-free, vegan and dairy-free.
I've been working on apple pie recipes since I started this blog 8 years ago and I still haven't posted one. The crust is never as good as I want.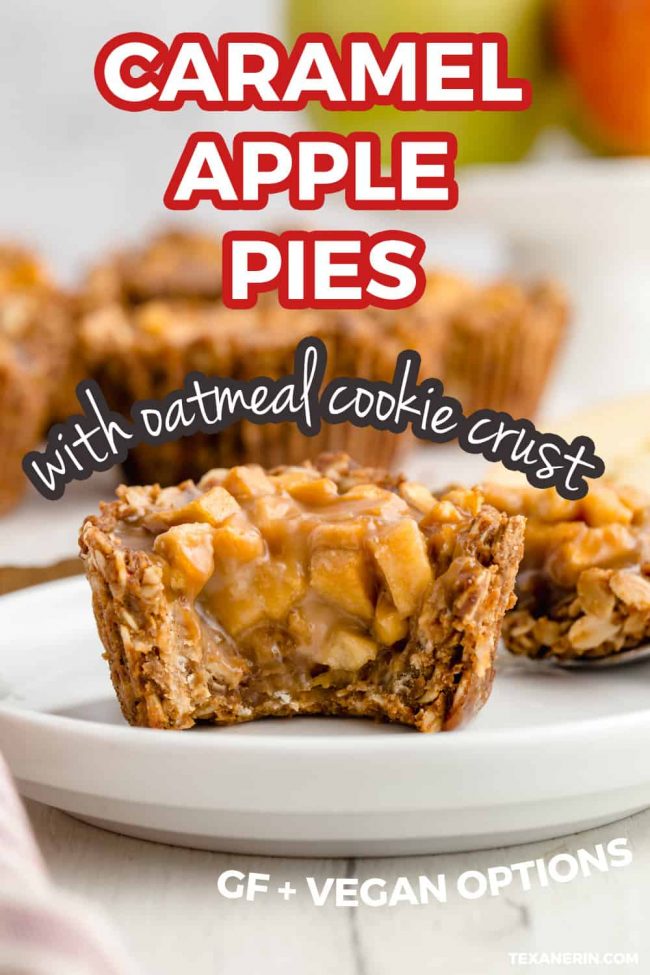 Except for these! The crust is delicious on its own and tastes like an amazing oatmeal cookie.
I've tried it in a pie pan (many, many times over the years) but it doesn't work. It slides down and is just a mess.
For the apple filling, you just mix it all together. A lot of mini apple pie recipes have you cook the filling first but I didn't find that necessary.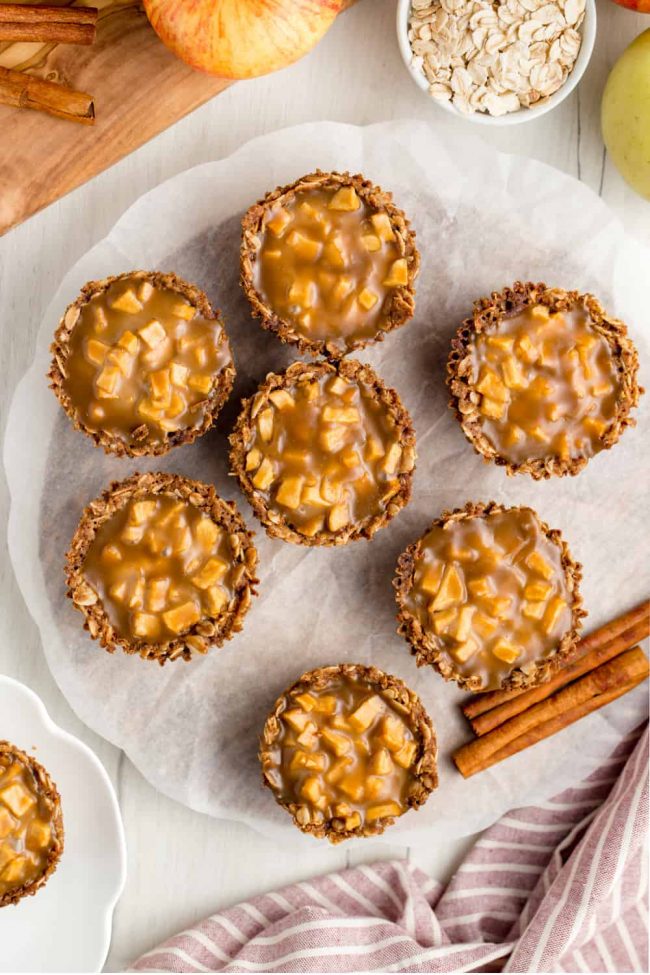 Straight from the oven, the apples aren't very soft but as they cool, they soften more.
You can stop there and eat the apple pies as is. If you do that, let them sit for a few hours or even overnight. I think they're better that way!
If you feel up for one more step, you can make this vegan caramel sauce I posted last week and pour it all over the top. I highly recommend it!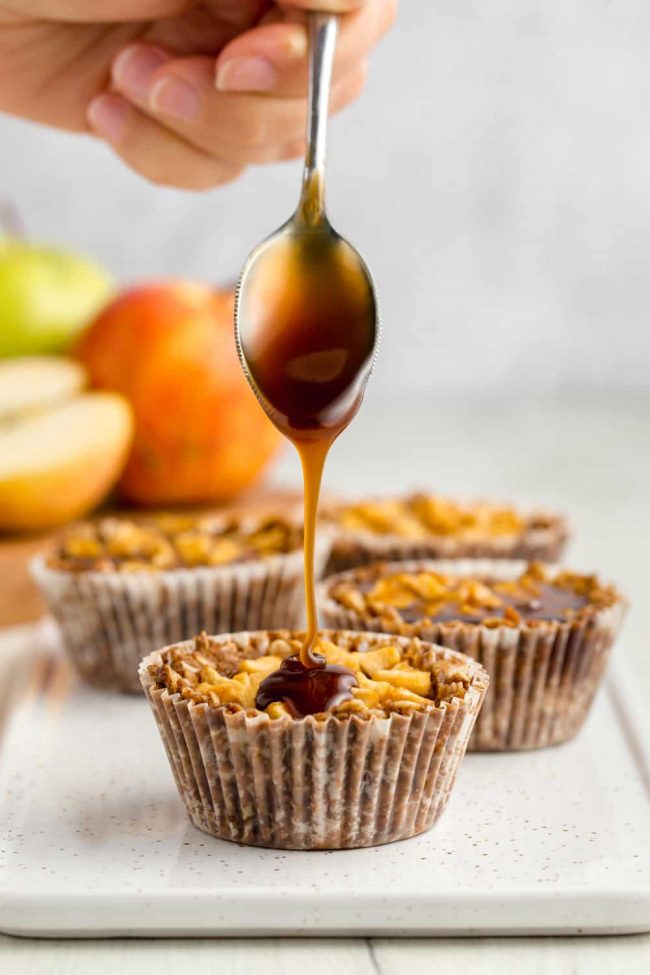 If you try these mini caramel apple pies, I'd love to hear what you think!
Questions about these mini apple pies?
Can I use something instead of oat flour?

Pie crusts are not forgiving. I do not recommend experimenting with the flour! Plus there's no good sub for oat flour. Sometimes coconut flour works in some recipes but not in one like this that consists of mostly oat flour.

Can I reduce the amount of coconut oil?

Nope! I've made these a ton of times and this is just the right amount of coconut oil.

Can I use unrefined / extra-virgin coconut oil?

You can if you don't mind a coconut taste in the filling!

Can I use something else in place of the coconut oil?

If you use butter (which I don't recommend), the crusts will likely fall apart. Butter is 82% fat and coconut oil is 100% fat. Changing out the fat in a crust recipe is not an easy sub. It's what holds it all together.

For the caramel:

Can I use something instead of coconut cream?

I can't think of a paleo or vegan sub. Heavy cream would probably work if you can have dairy. Almond milk, cashew milk, etc. would be too thin.

Can I use something instead of maple syrup?

Honey and maple syrup don't really work the same way in boiled candy-like / caramel recipes. I've never tried honey but I'm guessing it might work, but that it'd be thicker and that you'd need to boil it for less time.

And also, I think the honey flavor would overpower the caramel taste! Whenever I've made other caramel-like recipes with honey in the past, the honey was way too strong (at least in my opinion).

Can I use something instead of coconut sugar?

Brown sugar would probably work.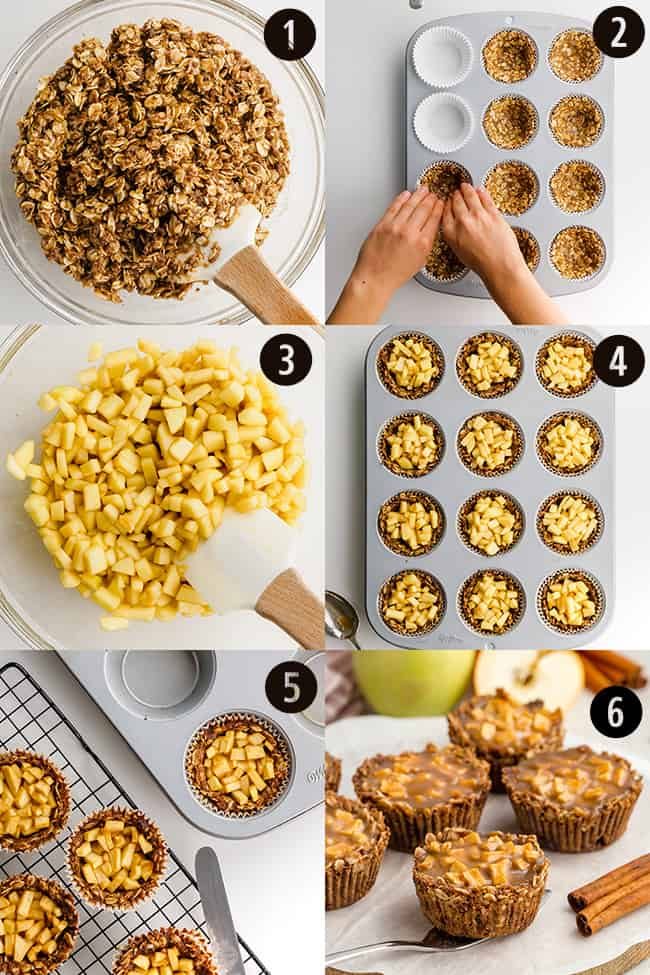 ❀
Mini Apple Pies with Caramel (vegan, gluten-free)
Prep Time:
Cook Time:
Ready in:
Yield:

15 muffin-sized pies
Ingredients
Crust:

1 1/4 cups (115 grams) oat flour (make sure to use GF oat flour)
2 cups (180 grams) rolled oats (make sure to use GF oats)
1 1/2 teaspoons ground cinnamon
2/3 cup (133 grams) coconut sugar or brown sugar
1/4 teaspoon salt
3/4 cup (168 grams) coconut oil, melted (I used refined for no coconut taste)

For the filling:

2 cups (250 grams) finely chopped (should be about half the size of your pinky nail) apples, from about 2 medium peeled apples
2 tablespoons (25 grams) tightly packed coconut sugar
1 tablespoon tapioca flour / starch or cornstarch
2 teaspoons lemon juice
1 teaspoon vanilla extract
pinch of salt

Caramel:

2/3 cup (160 milliliters) coconut cream (not milk!)
1/4 cup (60 milliliters) maple syrup
1/4 cup (50 grams) coconut sugar
1/4 teaspoon salt
1 teaspoon vanilla extract
Directions
Prepare the crusts:

Preheat the oven to 375 °F (190 °C). Line a muffin pan with 12 muffin liners. Silicone or parchment paper liners are best. I tried these with some different paper liners as well and they stuck to one brand. This recipe makes 15 pies so you'll have to do another batch with just 3 in it.
In a medium mixing bowl, stir together the oat flour, oats, cinnamon, sugar and salt. Stir in the melted coconut oil until well combined.
Pat about 3 tablespoons (40 grams) of the crust mixture up the sides and on the bottom of each muffin liner. It'll be crumbly and annoying and it doesn't need to look perfect. I used the bottom of a spoon to press in the mixture.
Bake for 8-10 minutes or just until they start browning. They'll look greasy and wet and the crusts will have fallen a bit. They'll look pretty bad. Use the spoon to push the crusts back into shape. They'll reabsorb the oil while cooling and look better. While they're baking, start the filling.

Prepare the filling:

In a medium mixing bowl, stir together all the filling ingredients. Spoon 2 tablespoons of the mixture over each pre-baked crust.
Bake for another 16 minutes or until the apples look soft. There will just be a little bubbling around the edges but not much.
Remove from the oven and let cool for about 10-15 minutes or until cool enough to handle. Use a knife to carefully remove the pies from the molds (but keep them in their liners until time to serve).
Place on a cooling rack to cool completely.

Prepare the caramel:

Add all the ingredients, except for the vanilla, to a saucepan or small pot. Put in a candy thermometer if you have one.
Bring to a boil, over medium heat, stirring frequently. Once it's come to a full boil, continue boiling for 8 - 8 1/2 minutes. Adjust the heat if you need to so that the mixture doesn't burn. I kept mine at 5 out of 9 and never had an issue with that.
The mixture quite quickly came to 195 °F (90 °C), and then it took several minutes before it started getting hotter. Then it quickly moved to 203 °F (95 °C). You could also see a change in the mixture when that happened (but maybe you won't so don't use that as a measure of it being ready). But it will be clearly thicker than when you started. It will thicken quite a bit more as it cools.
Once the pies and caramel are cool, spread 1 1/2 teaspoons of caramel over each pie. Place in the fridge to harden (will take 1-3 hours) and then keep refrigerated for up to 2 days.
They freeze great. I recommend that if you want to make them more than 2 days in advance. They don't need long to defrost. Maybe 30 minutes at room temperature.