These paleo oatmeal cookies (also known as n'oatmeal cookies) are crisp with a chewy center and taste just like classic oatmeal raisin cookies! Recipe has a vegan option and video. Thanks to Nordic Ware for making today's post possible.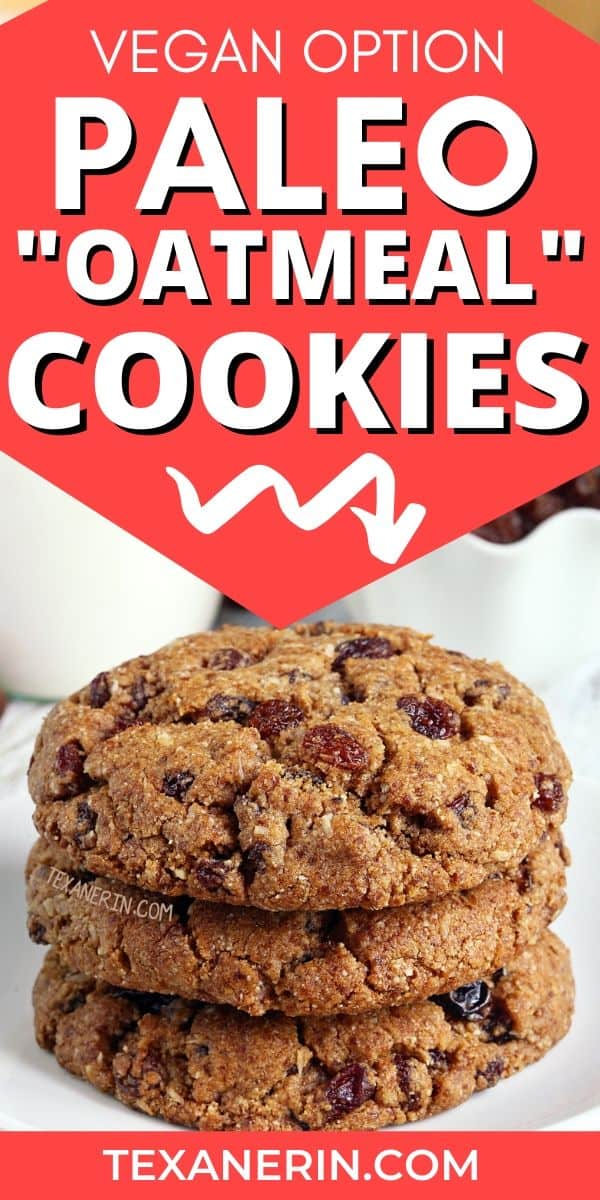 First of all – is oatmeal paleo? Nope. Due to the lack of oats, these paleo "oatmeal" cookies don't really look like regular oatmeal raisin cookies, but to me, they taste exactly like the real deal.
And not just any old oatmeal cookies, or healthy oatmeal cookies, but really amazing soft and chewy ones! To make up for the missing oats, I added shredded coconut and ground flax seed. It sounds weird, but it works!
Make sure to use shredded coconut, like the left two in this picture, and not flaked coconut, which you see on the right.
If oatmealess oatmeal cookies sounds too odd for you, try my gluten-free oatmeal cookies. They're even tastier than the original gluten-filled kind, in my opinion! These no-bake oatmeal cookies are also awesome and perfect for hot summer days.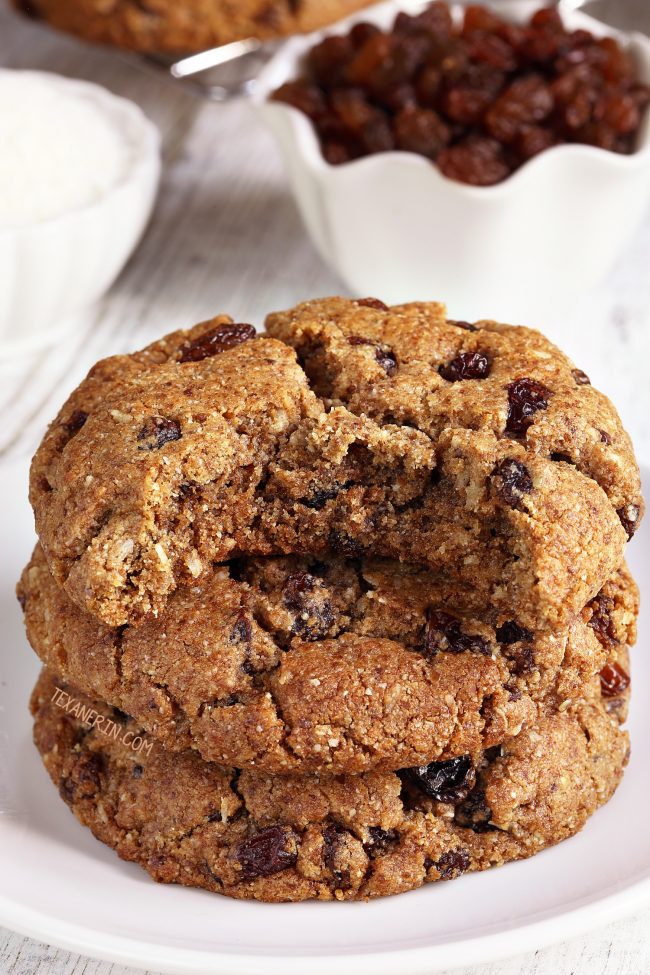 I used refined coconut oil in these paleo oatmeal cookies and they came out with absolutely no coconut taste. If you use unrefined coconut oil, they'll likely have a bit of coconut taste to them, though it shouldn't be at all overwhelming! Sometimes it makes a difference and sometimes it doesn't. Like in my paleo lemon bars, I think unrefined is actually better.
You can't taste the flax, either. It somehow just makes the cookies more oatmeal-like! If you have whole flax seeds, an electric coffee grinder is a great tool to grind them.
This recipe is based on my paleo chocolate chip cookies. Unlike that version, I haven't made these with butter or brown sugar (for a non-paleo version). I'm guessing that they'd work but since I haven't tried it, I can't say for sure.
I also don't recommend playing around with the recipe (unless you're okay with them not coming out as intended). This is one of those recipes I had to make over 30 times to get right, which is madness considering it's based on another recipe!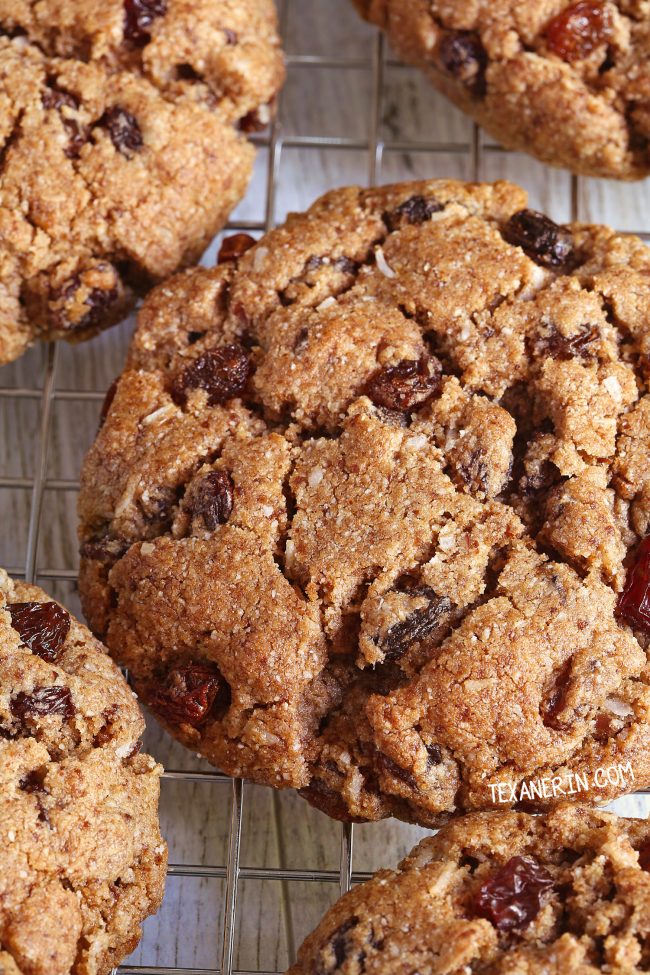 If you omit the coconut or flax, the cookies won't have the right texture as I had to make a lot of changes to the recipe to accommodate those two ingredients. I'd just make the original recipe and add raisins instead of chocolate chips if you don't want to add flax or coconut.
If you want to make these as vegan oatmeal raisin cookies, just use a flax egg or chia egg! Both work great.
And if you're thinking you'd like to add a little more coconut or flax seed or another add-in like that, then be prepared for some super dense and chewy cookies. The first dozen batches or so were work to eat.
Eating cookies should never require too much effort. ;) These paleo n'oatmeal cookies are chewier than the chocolate chip version, but I figured that was fitting for oatmeal cookies!
Want paleo oatmeal chocolate chip cookies? Just replace the raisins with chocolate chips! Just make sure to use paleo-friendly chocolate. And if you're in a super chocolaty mood, then try my vegan and paleo double chocolate cookies. Or these paleo chocolate cupcakes… because you know, cake is nice, too. ;)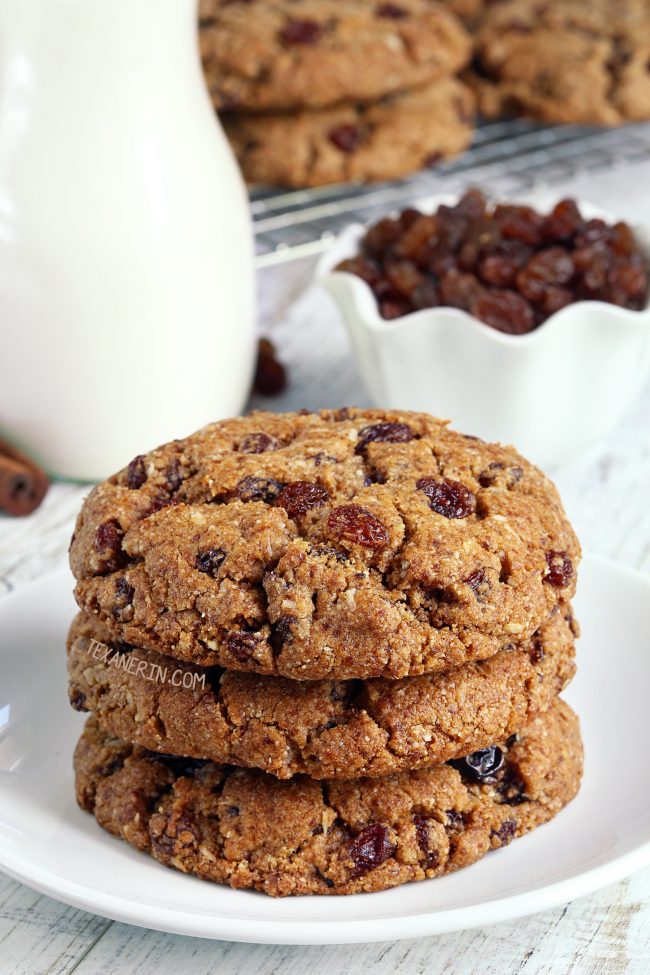 Even something as simple as adding more cinnamon had a weird effect on these cookies! I've made them with 1, 1 1/2 and 2 teaspoons of cinnamon. 1 teaspoon was just perfect and any more than that made the cookies bitter.
I've gotten so many of the same questions on the original recipe that I've answered any questions I think you may have in the footnotes of the recipe. Be sure to read those for general tips and notes on subs!
Don't want to use almond flour? Try these Gluten Free Vegan Oatmeal Chocolate Chip Cookies from Beaming Baker!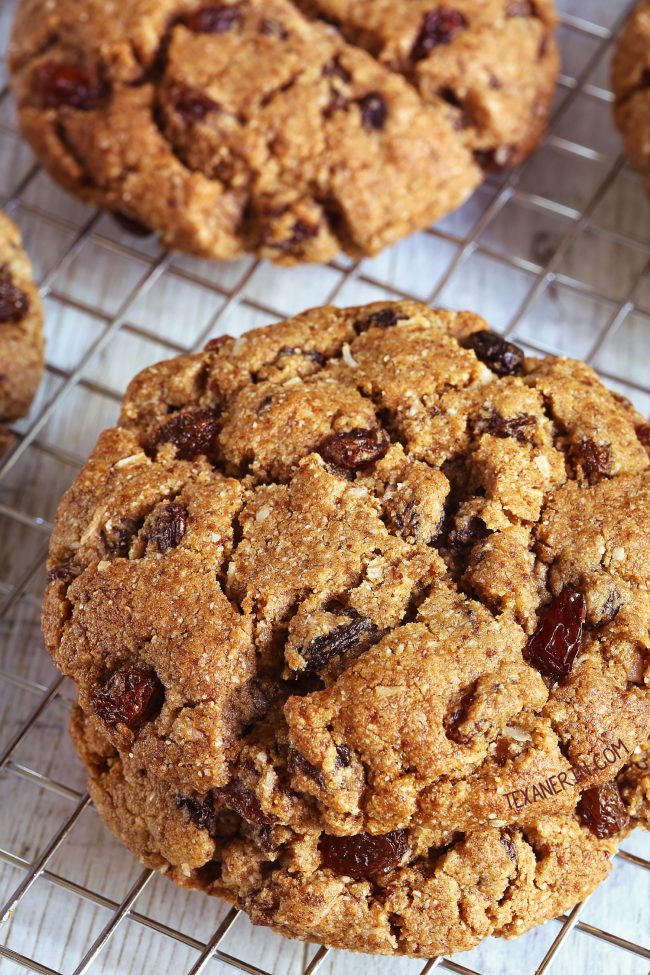 Naturals Bakeware Collection from Nordic Ware
I've posted a few recipes using Nordic Ware Bundt pans, like this coconut rum cake and this bourbon pumpkin cake but did you know that they make so much more than awesome Bundt pans?
As I was browsing their site thinking about what products my readers may especially be interested in, the Naturals Bakeware line jumped out at me.
I'm guessing I'm not the only one here who avoids pans with non-stick coatings. Some people say they're safe but I'd rather not risk it. The Naturals Line contains all your baking basics like cake pans, muffin pans, jelly roll pans, loaf pans, pie pans and more — and none of them have non-stick coatings!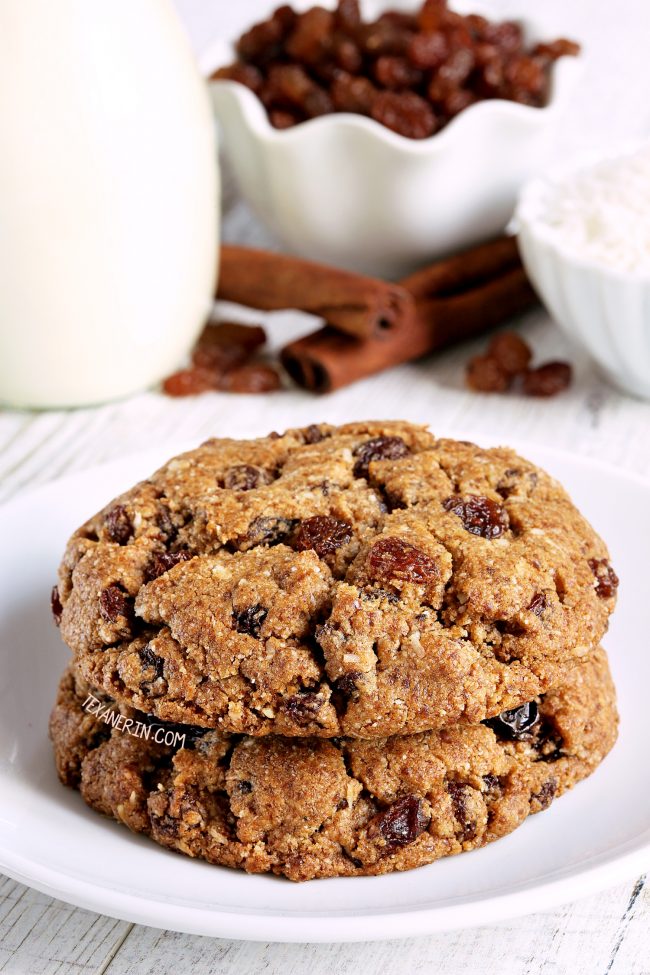 Something else that I thought is neat is that this line is perfect for gluten-free baking. Wheat alternatives, like the almond flour and coconut flour used in this recipe, need a natural surface to grab on to as they rise during baking — and an uncoated baking pan is ideal in such situations.
I didn't know about this until after I had made my video, hence the silicone baking mat. I later baked a few cookies directly on the sheet, without parchment paper or a mat, and they didn't stick at all nor did they flatten more than they were supposed to! (which you can see in the clip below!)
Insulated Baking Sheet
I'm not sure why, but most of the baking sheets in Germany are black or very dark gray. The first few months after moving here, I burned the bottom of all my cookies, not realizing the cookie sheets were to blame. Since then, I know how important a good baking sheet is!
So I wanted to give Nordic Ware's Insulated Baking Sheet a try. I'd never had an insulated pan before and so naturally was intrigued.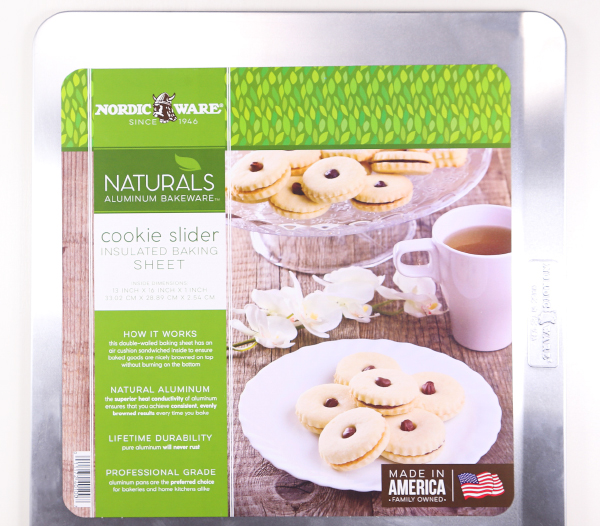 What makes this baking sheet different? It has a cushion of air between two layers of aluminum, which helps prevent over-browned cookie bottoms and overdone pizza crusts, especially in ovens with hot spots. That's a problem in my oven and I usually have to rotate the cookie sheet halfway through. I didn't need to do that when I used this pan and they came out perfectly!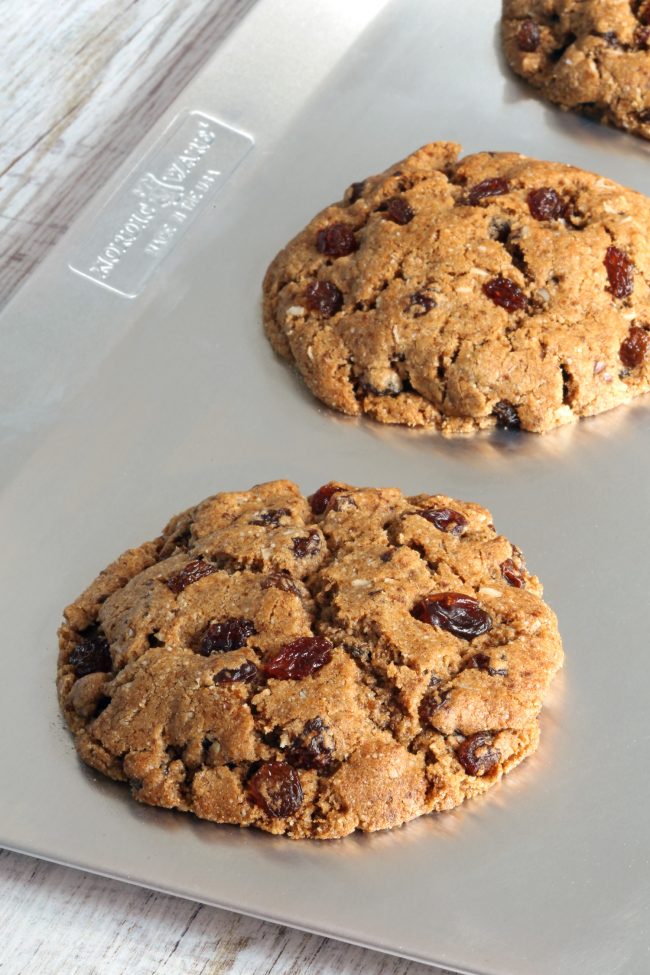 And just like all the other products in the Naturals Bakeware line, the baking sheet is made of natural pure aluminum that won't rust and produces evenly browned baked goods every time – and it's sustainably manufactured in the USA.
Thanks again to Nordic Ware for sponsoring today's post! By the way, they have a bunch of amazing new items, which you can find here. I can't wait to get my hands on that Lotus Bundt Pan! Isn't it pretty?!
Click here to share the video on Facebook!
❀
Paleo "Oatmeal" Cookies (vegan option, grain-free, gluten-free, dairy-free)
Prep Time:
Cook Time:
Ready in:
Yield:

8 huge bakery-style cookies or 16 regular ones
Please read the footnotes at the bottom for tips and notes on subs!
Ingredients
3/4 cup + 2 tablespoons (88 grams) blanched almond flour
3 1/2 tablespoons (28 grams) coconut flour
1/4 cup (20 grams) shredded coconut1
1 tablespoon (5 grams) ground flax seed
1 teaspoon ground cinnamon
1/8 teaspoon nutmeg
1 teaspoon baking soda
3/8 teaspoon salt
6 tablespoons (84 grams) coconut oil2
3/4 cup (150 grams) coconut sugar3
1/2 cup + 2 tablespoons (160 grams) natural almond butter4
1 1/2 teaspoons vanilla extract
1 large egg (50 grams, out of shell), room temperature or for the vegan version, 1 chia egg or 1 flax egg
1 cup (145 grams) raisins + an additional 3 tablespoons for pressing on top, if desired5
Directions
In a medium mixing bowl, stir together the almond flour, coconut flour, coconut, flax, cinnamon, nutmeg, baking soda and salt. Set aside.
In a large mixing bowl with an electric hand mixer or using a stand mixer, beat together the coconut oil, sugar, almond butter and vanilla extract at medium speed until well combined, about 1 minute. Beat in the egg on low and mix until well incorporated. Stir in the flour mixture until well combined. Then stir in the raisins. Refrigerate for at least 30-60 minutes or until the dough is firm and easy to roll into balls.
Move the oven rack to the bottom position in the oven. Preheat the oven to 350 °F (175 °C) and line a baking sheet with a piece of parchment paper. If you use the Nordic Ware Insulated Baking Sheet, you don't need to use parchment paper.
Roll the dough into 8 (95-gram) balls. You can also roll them into smaller balls but then you need to reduce the baking time. Place 4" apart on the prepared baking sheet. Press the cookies down lightly with the palm of your hand.
Bake for 14-18 minutes or until the surface of the center of the cookies no longer appears wet. They'll be very soft but will continue to cook as they sit on the cookie sheet.
Let cool completely on the baking sheet. Store in an airtight container for up to 3 days.
Notes
Make sure to use shredded coconut and not the flaked kind, which is like long strands. I used unsweetened in these cookies but sweetened should also be fine.
I prefer to use refined coconut oil, which has no coconut taste. If you use unrefined coconut oil, your cookies may have some coconut taste to them. If your coconut oil is a little melty, put it in the fridge for about 10-20 minutes or until firmer, like softened butter. If you use slightly melted coconut oil, the dough will be greasy and the raisins will be hard to incorporate. I haven't tried these cookies with butter, ghee or shortening or anything other than coconut oil. I'm pretty sure butter would work but I'm not sure about the others.
I don't recommend using honey, maple syrup, date syrup, etc. They make the cookies very cakey and, in my opinion, not worth making.
Use the kind with just almonds and salt. I haven't made these cookies with other nut butters so I'm not sure how they'd come out with other types. I definitely think they'd taste less oatmeal cookie-like and it may also have an effect on the texture.
I don't recommend omitting these. If you don't like raisins, use dried cranberries, cherries, etc. in their place. I added 3 tablespoons of raisins to the tops of the cookie dough balls just so there would be some raisins sitting on the top so the cookies would look pretty for the pictures. It has zero effect on taste.
Adapted from my Perfect Paleo Chocolate Chip Cookies