These cranberry bliss cookies have a soft sugar cookie base, orange zest and white chocolate cream cheese frosting. Can be made 100% whole wheat or with all-purpose flour.
For my first post of December, I felt like I had to go with cookies! December is all about cookie baking for me. I just came back from a cookie baking party and will be going to one every week until Christmas.
This is somewhat of a new tradition for my husband and I, but it's one I hope to continue. It's usually pretty hard to get Mr. T in the kitchen with me to bake, but in December, we put on some Christmas music, drink hot chocolate, and bake cookies and have a cozy time. These cranberry bliss cookies were the first holiday cookies we made this year so I though I'd start off December with posting these. :)
For the past few weeks, I've been obsessed with cranberry bliss everything! I've only been to Starbucks once in my life, and unfortunately, it wasn't to try their Cranberry Bliss Bars.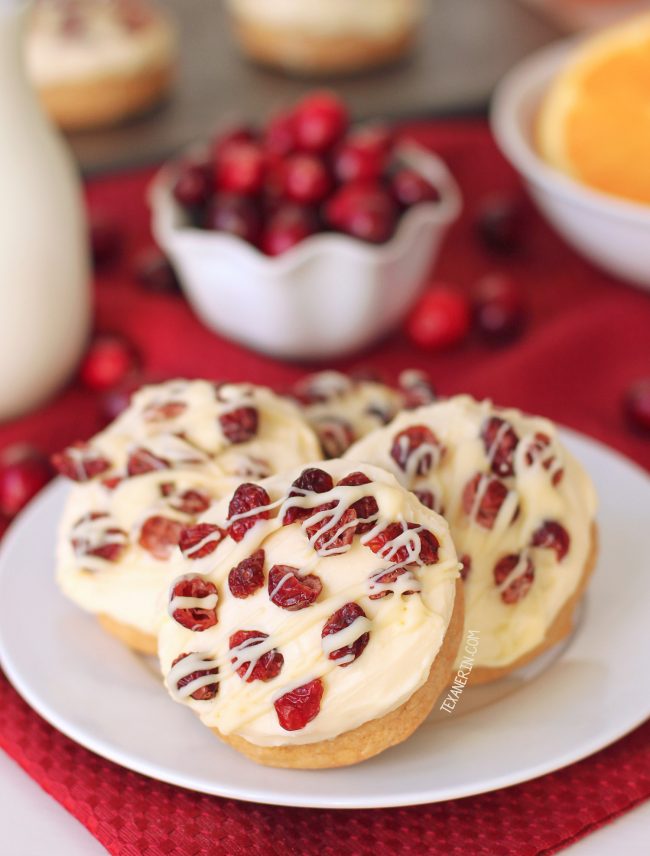 I've had cranberry bliss bars before, loved them, and I thought I'd give cranberry bliss cookies a try. I used the same base that I used in my healthier Halloween cookies, added a little orange zest, cream cheese and white chocolate frosting and dried cranberries on top!
This is a pretty fuss-free sugar cookie recipe. There's no need to roll the dough out, though you can if you'd like to use cookie cutters – the dough is extremely easy to work with and there's no chilling time required!
I might have made the cookies a little too large, though. The cookies were actually so big that when I laid them out for people to take, everyone cut them in half. Then they tasted their half cookie and grabbed the other half. And then took another whole cookie. I guess they must have liked them. :)
The cream cheese white chocolate frosting is the best part! You know how most cream cheese frostings require lots of powdered sugar? This one doesn't.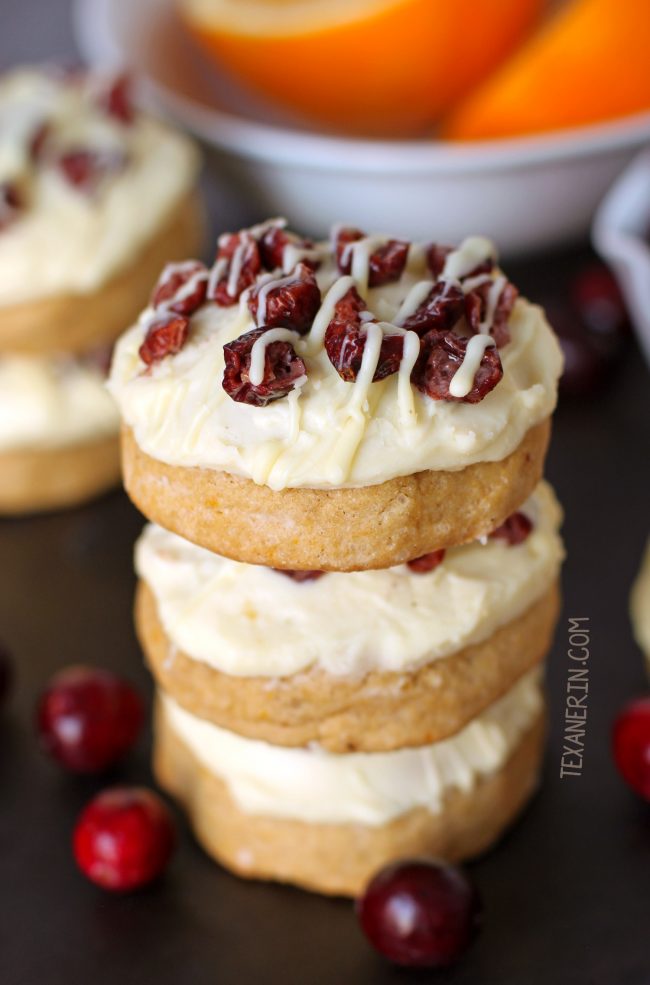 I just mixed melted white chocolate and cream cheese and added a little milk and vanilla. Best. Frosting. EVER! The frosting is firm enough after refrigeration so that you can cover the cookies with plastic wrap and even stack the cookies.
If you're not a fan of white chocolate, you can make regular cream cheese frosting. And as always, remember to use good white chocolate and not the chemical tasting stuff! If you use sub-par white chocolate, these cranberry bliss cookies won't come out nearly as delicious!
Despite being 100% whole wheat, these cranberry bliss cookies don't taste like it! I used >a mix of white whole wheat flour and whole wheat pastry flour in these sugar cookies. I haven't tried them with all white whole wheat or all pastry flour so I can't say how they'd come out if you want to experiment with the flour type. If you do try these with different flours, please tell us how they turn out down in the comments. :)
❀
Cranberry Bliss Cookies (whole wheat, all-purpose flour options)
Prep Time:
Cook Time:
Ready in:
Yield:

8 large cookies
Ingredients
For the cookies:

5 tablespoons (70 grams) unsalted butter
1/2 cup + 2 tablespoons (125 grams) unrefined or white sugar
1 large egg (50 grams, out of shell), room temperature
1 teaspoon orange zest
1/2 teaspoon vanilla extract
3/4 cup (93 grams) white whole wheat flour or all-purpose flour
3/4 cup (93 grams) whole wheat pastry flour or all-purpose flour
1/4 teaspoon salt
1/4 teaspoon baking soda

For the frosting:

1/2 cup (80 grams) white chocolate
4 ounces (112 grams) cream cheese1
2 teaspoons milk
1 teaspoon vanilla

For the topping:

1/3 cup (40 grams) dried cranberries, cut into halves or fourths
1/4 cup (40 grams) white chocolate
Directions
Preheat the oven to 350 °F (176 °C).
In the bowl of a stand mixer or with an electric hand mixer, beat together the butter and sugar for 2 minutes.
Add the egg, orange zest, and vanilla and beat until well combined.
Add the remaining ingredients (flour through baking soda) and beat until well combined.
Using a large cookie scoop, scoop out 8 balls and place evenly apart on a cookie sheet or baking stone.
Bake for 13 minutes or until the edges are slightly brown and the middle appears to be set.
Remove the cookies from the oven, let them cool on the baking sheet for 3 minutes, and then remove the cookies to a cooling rack to cool completely.
While the cookies are cooling, prepare the cream cheese white chocolate frosting.
Melt the white chocolate in a medium microwave safe bowl at 50% power.
Stir until smooth.
Add the cream cheese, milk, and vanilla and mix until well combined.
When the cookies have completely cooled, spread the frosting over the cookies (a little more than a tablespoon per cookie).
Sprinkle the cookies with the dried cranberries.
Melt the white chocolate and, using a fork, drizzle the melted white chocolate over the dried cranberries.
Place in an airtight container and refrigerate for up to one week.
Notes
If you live in Germany or somewhere else where they don't have American style brick cream cheese, simply leave the milk out of the frosting.
As an Amazon Associate, I earn from qualifying purchases. For more info, see my disclosure.