Three-ingredient naturally-colored raspberry white chocolate truffles with a little extra flavor from some coconut butter!
For the white chocolate lovers out there, I think we can all agree that raspberries + white chocolate is a seriously delicious combination.
But for something different, I threw some coconut flavor into the mix! I used coconut butter rather than shredded coconut, so the truffles are totally smooth. The texture's really nice. Not like normal chocolate truffles, but more fudge-like.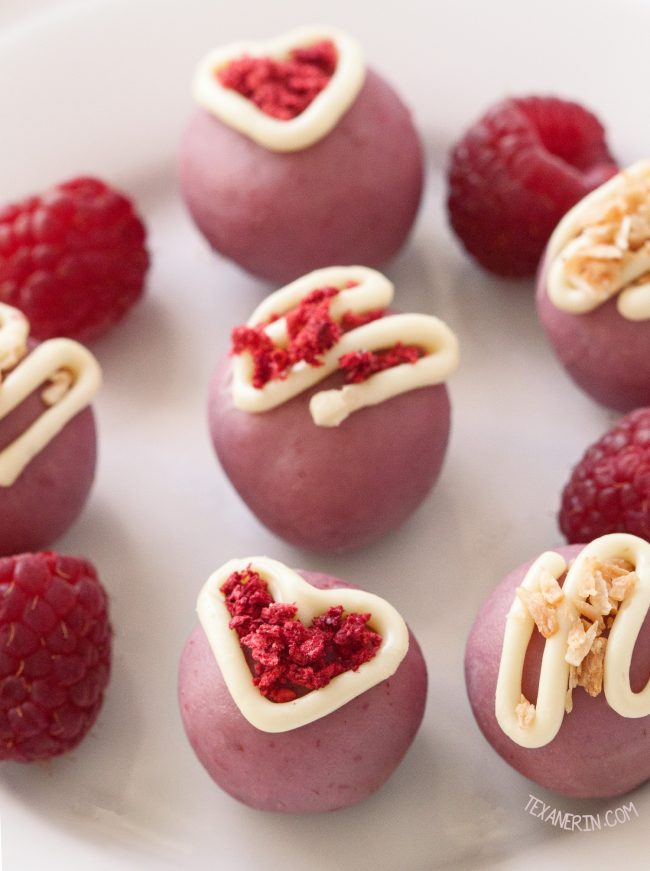 I used homemade coconut butter, which took me about 1 minute in a high-powered blender, but the store-bought stuff does just as well. I just make it myself because it's so much cheaper.
Make sure to use coconut butter and not coconut oil. That won't work in this recipe. Or I guess it would work, but they won't come out at all how they're supposed to.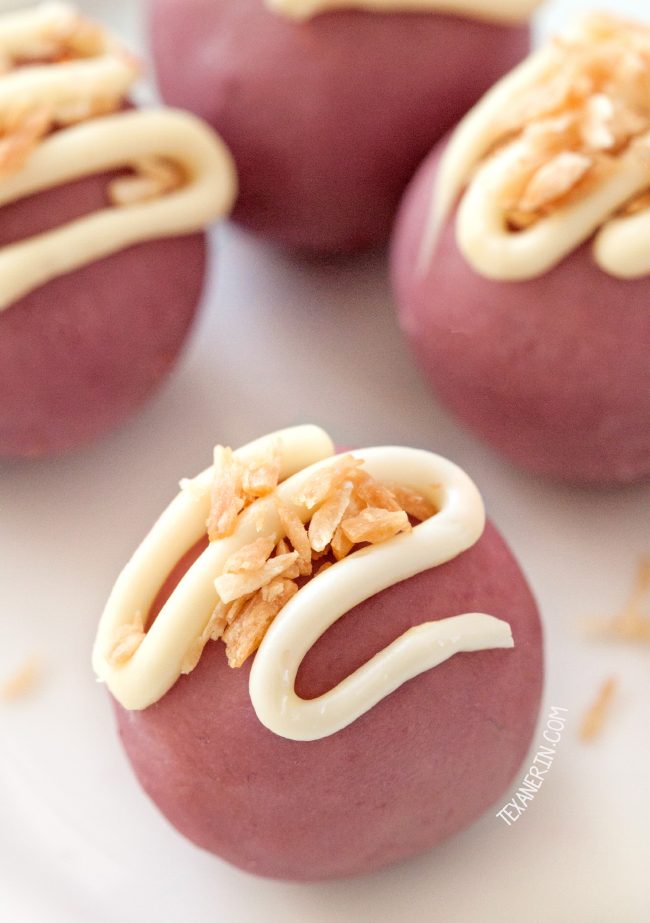 There is one thing that is kind of annoying about this recipe. You have to reduce 1 3/4 cups fresh or frozen raspberries down to about 6 tablespoons, and then run it through a food mill. It only takes about 5-10 minutes but still… kind of annoying.
I've seen other raspberry white chocolate truffle recipes that use freeze-dried raspberries, but they call for 3-4 cups. Which isn't happening.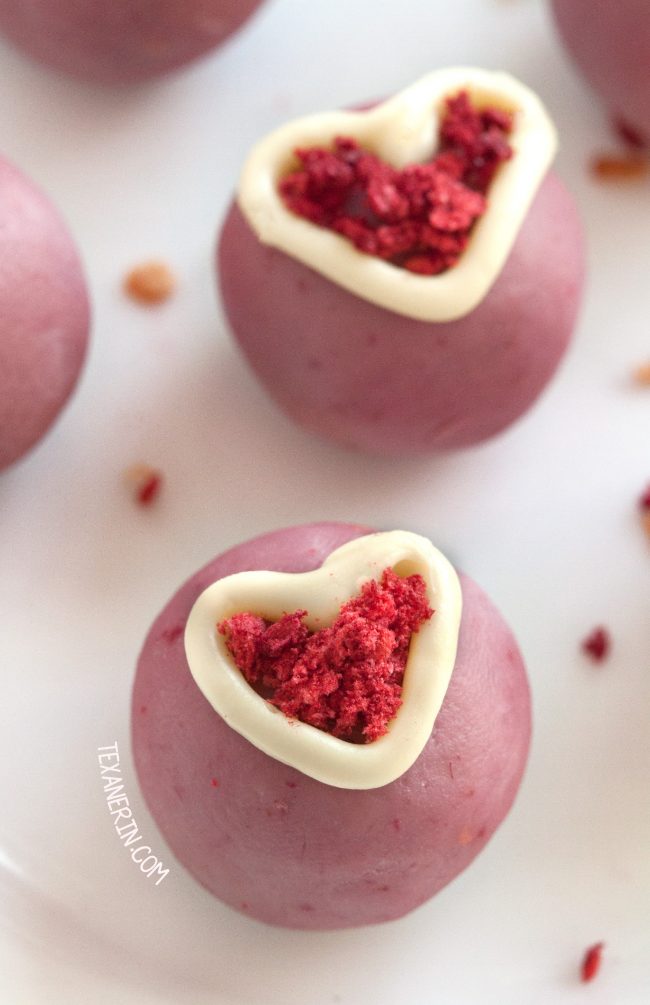 I love freeze-dried berries but they're too darn expensive to be using that much at a time. I normally use them in smaller amounts, like as decoration in these healthier raspberry truffles, which would also be great for Valentine's Day! And they're also paleo + vegan for the folks who don't eat white chocolate. If you're keto, check out these keto truffles.
If you do need to make these vegan or dairy-free, you could use these vegan white chocolate chips. I'm not super wild about the ingredients but I thought I'd throw it out there for people who need a vegan option.
Or you could just make these vegan truffles from Allergylicious!
Or you could make your own homemade vegan white chocolate! I haven't tried it myself and don't know if it'd actually work in this recipe but it sounds less processed, at least. :)
❀
3-ingredient Raspberry White Chocolate Truffles
Prep Time:
Cook Time:
Ready in:
Yield:

24 balls
Ingredients
8 ounces (225 grams or slightly over 1 3/4 cups) frozen raspberries, thawed
1/2 cup (120 grams) coconut butter (not coconut oil and not cacao butter! - here's how I made homemade coconut butter)
14 ounces (400 grams or 2 1/3 cups) white chocolate, chopped
Directions
Cook the raspberries in a small saucepan over medium heat until reduced to about 6 tablespoons (about 3 - 5 minutes).
Run this through a food mill into a medium pot. Add the chopped white chocolate and coconut butter and mix together until thoroughly combined and the chocolate is melted.
Place in the fridge for 1 - 2 hours or until it's firm enough to roll into balls. I rolled mine into about 24 balls, each about 1 inch. Store in the fridge, although I let mine at room temperature for about a week and they were absolutely fine.
If desired, pipe with melted white chocolate, microwaved in 30 seconds increments until melted.
As an Amazon Associate, I earn from qualifying purchases. For more info, see my disclosure.