Easy Swedish pancakes with gluten-free, dairy-free, 100% whole grain and all-purpose flour options.
I'll be sharing some recipes over on Gluten-free on a Shoestring every now and then and to start things off, I shared these Swedish pancakes the other day.
Like I've mentioned before, I was an exchange student in Sweden twice. The first time was in high school and I lived with and got to know several different families. One thing they had in common was a love for pancakes. I ate a ridiculous amount of pancakes that year!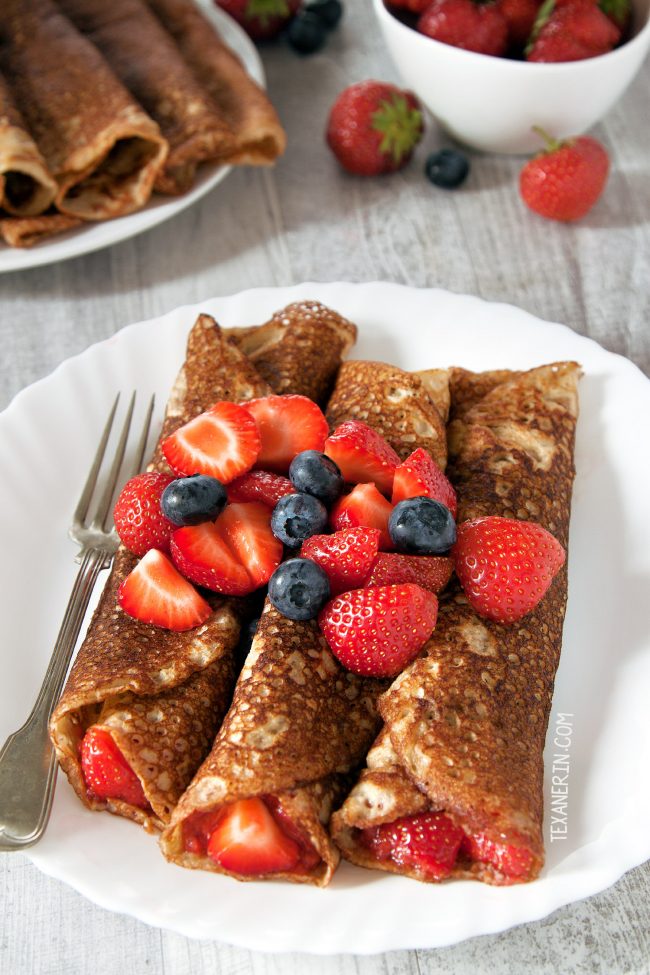 What surprised me (and made me very happy!) is that they were usually served for dinner. We even had them for lunch every now and then at the school cafeteria!
This recipe uses oat flour in place of the traditional all-purpose flour and they're truly just as delicious as the Swedish pancakes I've had in Sweden. You can also use all-purpose flour if you prefer!
I'm pretty sure white whole wheat would also work (use 3/4 cup), although I haven't tried it. But if you try that, know that the pancakes will taste whole wheat-y.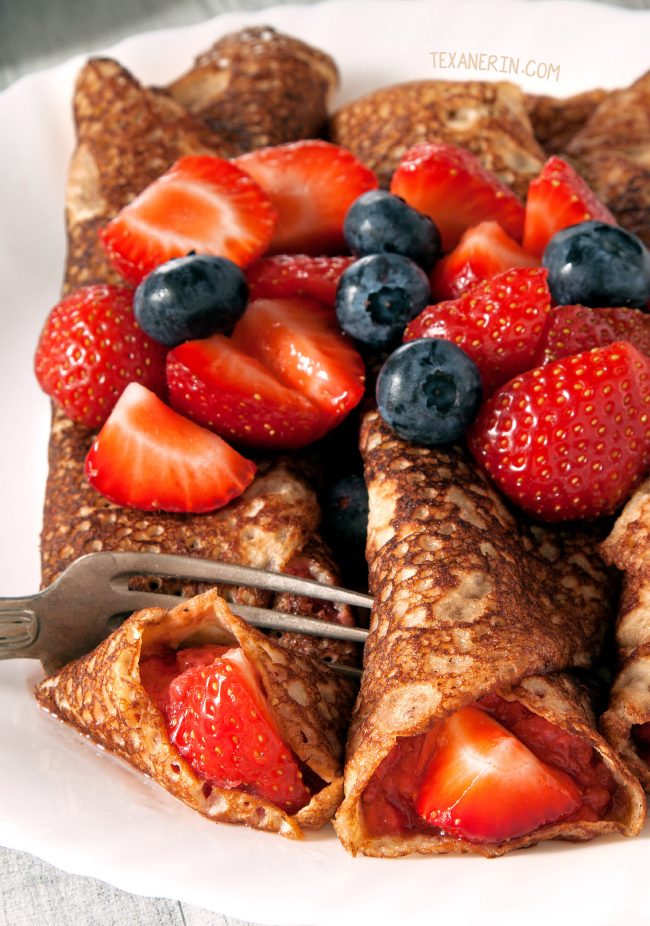 With strawberry and blueberry season in full swing, I doubt most Swedes would use lingonberry preserves, which everyone seems to associate with Swedish pancakes.
Swedes, as a whole, love their berries. We'd go out into the forest to pick wild blueberries and strawberries and then come home and make waffles (check out these gluten-free waffles!) or pancakes to go with our berries.
Although sauces are usually served on the side, I used this homemade honey-sweetened strawberry jam to fill the pancakes. They looked nicer that way. :) I just didn't cook it as long as recommended, which resulted in more of a chunky sauce than a jam.
If you serve these with just maple syrup, they're not very filling and you could easily polish off half the batch in one sitting. I definitely recommend serving these with fruit sauce or piling on some fresh fruit at the very least!
These Vanilla Balsamic Pickled Strawberries from A Mind "Full" Mom would also be awesome on these pancakes!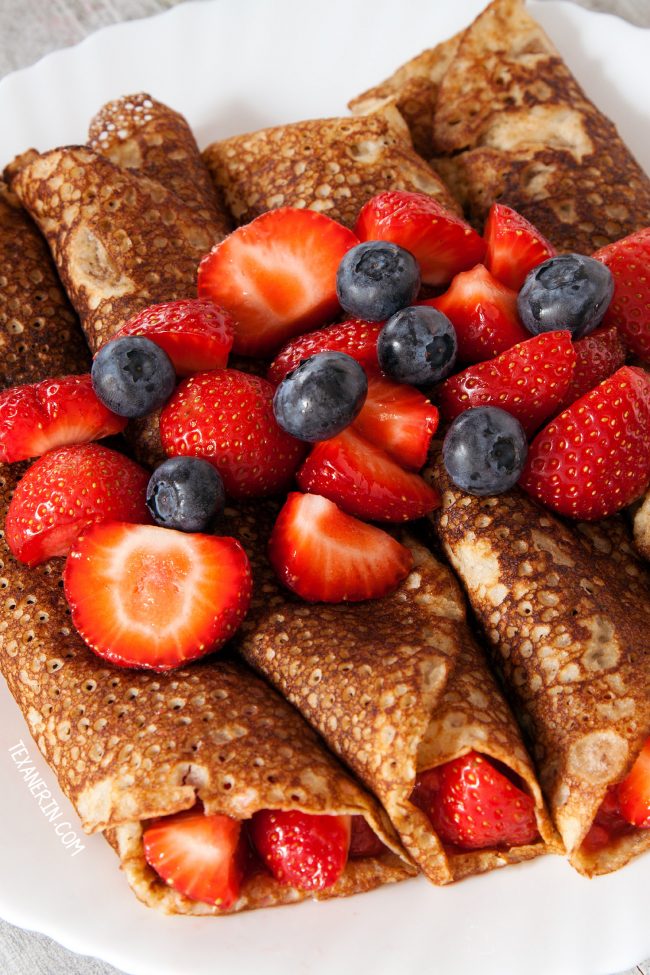 Tips for Swedish pancake success!
Your pan has to be very well-heated. If it takes longer than a minute to cook the first side of the pancake, the pan isn't hot enough. If you pour the batter into the pan and it doesn't instantly get bubbly, the pan's not hot enough. You may want to do a small test pancake first.
Don't skimp on the butter or coconut oil! The butter adds a lot of flavor and it creates a slightly crisp pancake. If you use unrefined coconut oil, it'll give the pancakes a coconut taste.
Don't just pour the pancake batter in the pan and let it cook like you would for American pancakes as they won't come out properly. I know because I tried this like 29 times. You need to very quickly swirl the batter around the pan like you would when making crepes (if you need a crepe recipe, try these gluten-free crepes!). The whole pan should be covered in batter.
My cast-iron skillet was sold as a 9″ pan, which is the top measurement, but it's only 7″ across the bottom. If you use a different sized pan then you'll need to adjust the amount of batter used for each pancake accordingly.
Always give the batter a quick stir before pouring it into the pan. The oat flour tends to settle to the bottom, especially if you mix the batter by hand rather than with a blender or immersion blender.
❀
Swedish Pancakes (gluten-free, dairy-free, whole grain, all-purpose flour options)
Prep Time:
Cook Time:
Ready in:
Yield:

nine 7" pancakes
Ingredients
3 large eggs
1 tablespoon granulated sugar
1 1/2 cups (355 milliliters) milk of choice (but not canned coconut milk as it's too thick)
1/4 teaspoon salt
2 teaspoons vanilla extract
3/4 cup + 2 tablespoons (78 grams) gluten-free oat flour for a gluten-free version or 3/4 cup (94 grams) all-purpose flour for a non-GF version
butter or coconut oil for frying
Directions
Use an immersion blender or a blender to blend all the ingredients together until thoroughly combined and no lumps remain. You can also mix it by hand but make sure to stir the batter very well before pouring the batter into the pan.
Heat a 9" skillet over medium heat and melt about 1 teaspoon of butter in the pan. Tilt the pan to cover the whole pan in butter.
Pour 1/4 cup of batter into the pan. Very quickly tilt the pan to swirl the batter evenly all around the pan.
Cook for about a minute or until the bottom is golden brown and then carefully flip it over and cook for about another 30 seconds or until cooked.
Serve with fruit sauce, jam, or preserves.
Notes
If you don't have oat flour on hand, use a coffee grinder, food processor or high-powered blender to process oats (rolled or quick and gluten-free, if necessary) until powdery.
For dairy-free, make sure to use dairy-free milk and coconut oil instead of butter.
Source: My post on Gluten-free on a Shoestring – Swedish Pancakes