This eggless cheesecake is just like a regular cheesecake, but even creamier, quicker and easier to make! This recipe can be made with a traditional graham cracker crust or a graham cracker-like homemade oat-based crust. Simply use gluten-free oats or graham crackers to make it gluten-free.
Ignore the photos!
This is a weird way to begin a post – this cheesecake is actually way creamier than you see in the photos.
In the pictures, it looks like a regular New York cheesecake. And it was like a regular cheesecake.
But then I made a change to the recipe after I had the photos and video made. Unfortunately, I don't have hundreds of dollars sitting around to have everything reshot.
The change? Take the cheesecake out of the oven when it's done baking, instead of letting it cool in the oven with a door propped open. That's how I usually cool cheesecakes to ensure that they don't crack, but it overbakes this egg-free cheesecake.
Not baking it longer results in a creamier texture! And there weren't any cracks. If you follow the directions and remove it from the oven after baking, it's kind of like a cream cheese tart filling, but firmer.
This is the overbaked cheesecake (with the homemade crust):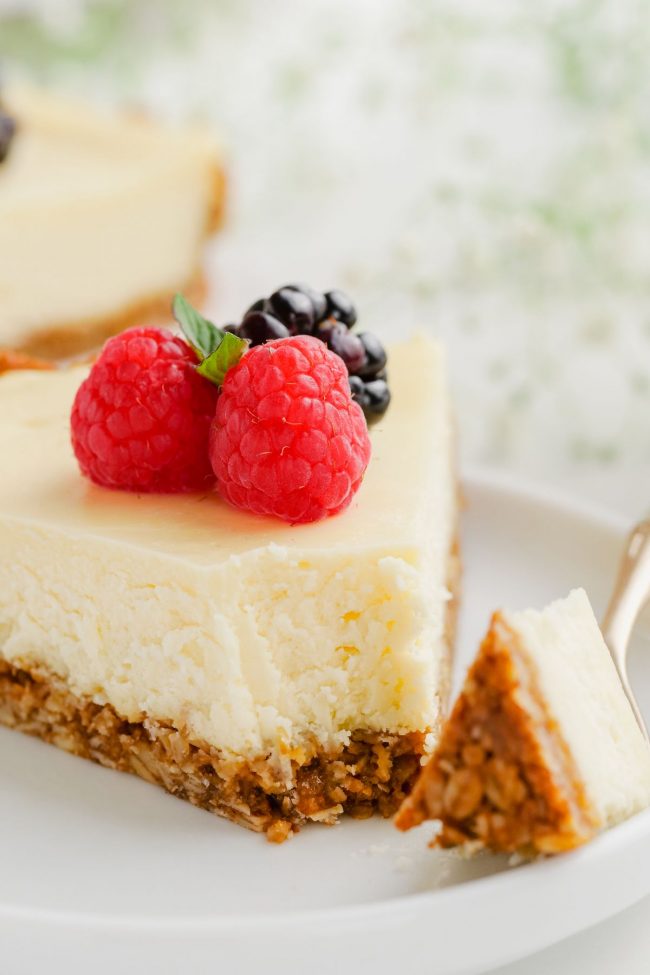 Versus a picture my parents took last night (with store-bought graham cracker crust):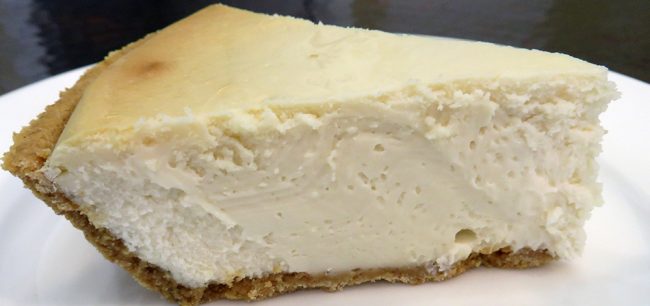 See! Much creamier. I should say that the videographer and her team loved the "overbaked" (or really, just New York style) cheesecake but I prefer the creamier-style version.
My husband isn't a huge sweets lover but declared this cheesecake a masterpiece. Now, I don't know about that, but I did love it. And I've been thinking about it a lot since I last made it!
The crust
Homemade graham cracker-like crust
The crust is reminiscent of a graham cracker crust, but also sort of like an oatmeal cookie. It sounds weird, but it's delicious.
It uses coconut sugar to mimic the taste of a graham cracker crust. If you want, you can use brown sugar instead. It'll, of course, taste less like a graham cracker crust.
The reason I don't post many pie recipes is because of the crust. They're so cumbersome.
But this crust comes out of the pan perfectly. So many crusts stick to the pan or are soggy, but this one was perfect.
Some of my regular readers know that I only like cookie-like pie crusts, and this one qualifies. I'm excited to start posting more pie recipes with this crust!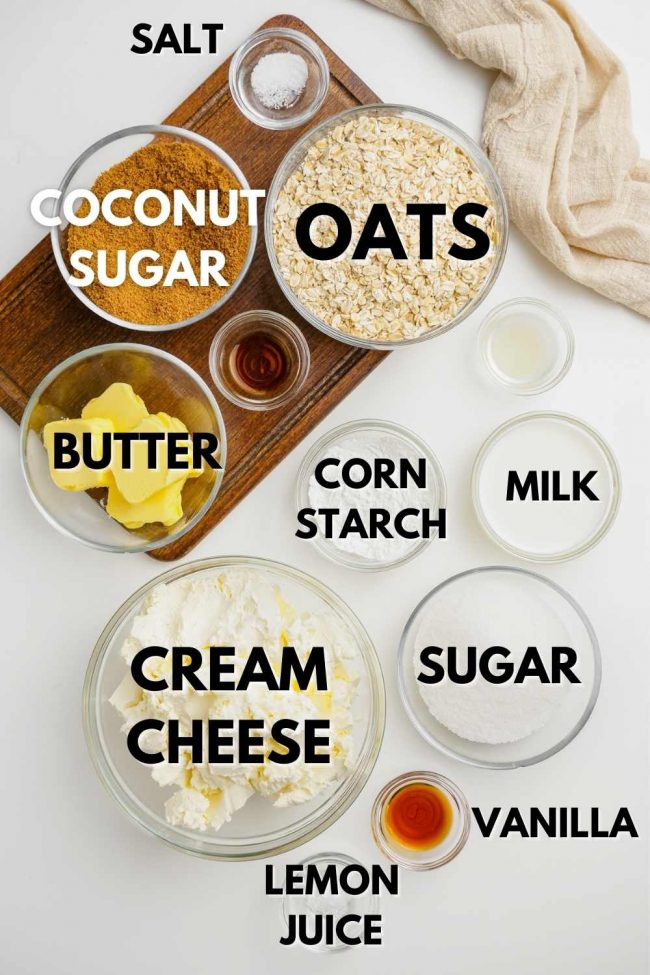 I've been mentioning this a lot lately, but ingredients aren't the same all around the world. Butter and cream cheese are among the biggest issues.
So I had my parents, who live in the US, test this recipe. The homemade crust worked great with US butter. Or, actually, even better.
The crust didn't shrink a bit and didn't have to be pushed back up with a spoon to bake a little more, the way mine did with German butter.
Store-bought / homemade graham cracker crust
I also had them try a store-bought graham cracker crust. They said that the filling was just the perfect amount for the crust.
You can also use a homemade graham cracker crust. If you do that, you'll need to pre-bake it and cool it completely, unlike the oat crust recipe. The oat crust only needs to partially cool.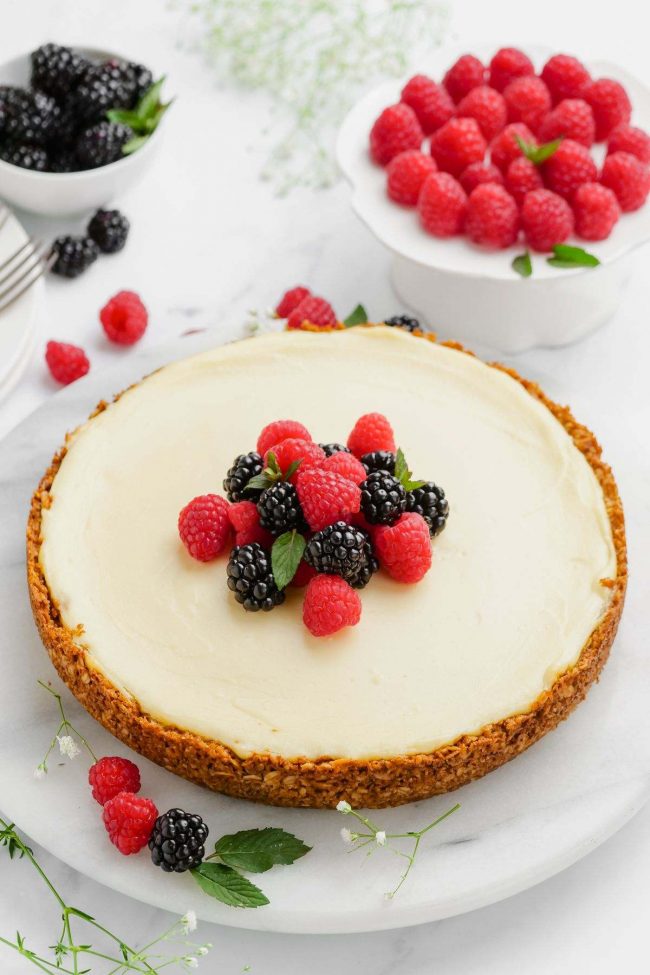 Gluten-free option
If you need a gluten-free cheesecake, make sure to use gluten-free oats for the homemade oat-based crust. If you make a homemade graham cracker crust, make sure to use gluten-free graham crackers.
Store-bought gluten-free graham cracker crusts also seem to exist, but I've never tried any. Sorry that I don't have a recommendation there!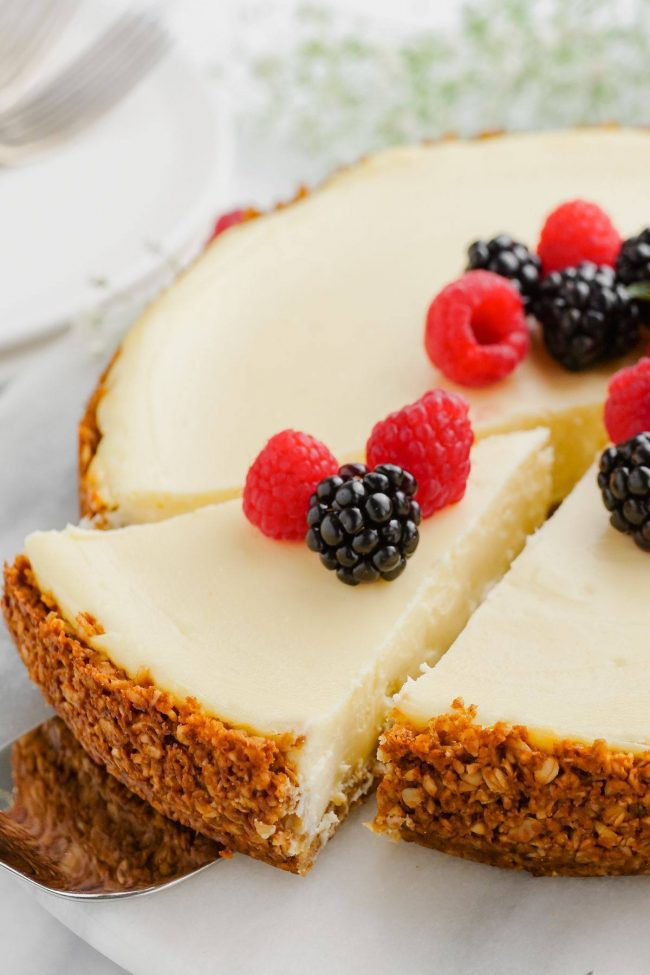 The filling
Like most cheesecake filling recipes, this filling is pretty quick and easy to make. Because it's egg-free, there's less of a chance of overbeating.
But you still don't need to overbeat. There's no reason to, and it might make cracks more likely.
As I mentioned, cream cheese is very different outside of the US. My parents didn't have any issues with the filling!
If you live outside of the US or Canada and have the type of cream cheese in little tubs, meant to be spread on toast, this is what you need to do:
For 8 ounces (225 grams) of cream cheese, buy a 300-gram package (the stuff at Aldi, Lidl, etc. works just as well as Philadelphia), put it in the center of a clean tea towel or cheesecloth, and squeeze out the liquid until you have 225 grams of cream cheese. So for this recipe, buy 900 grams of cream cheese, and squeeze out the liquid until you have 680 grams of cream cheese left.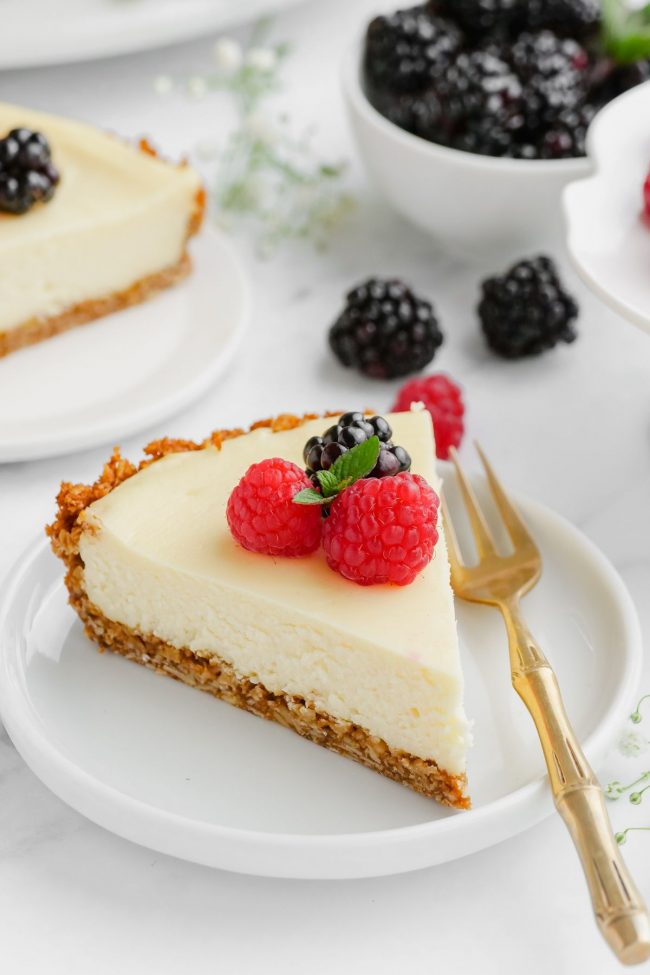 Decorating
I'm lazy and went with berries for this eggless cheesecake. Or maybe I should market myself better, and say that I went with a classic look. ;)
Other delicious toppings would be:
Raspberries or strawberries and mint leaves would look festive for Christmas.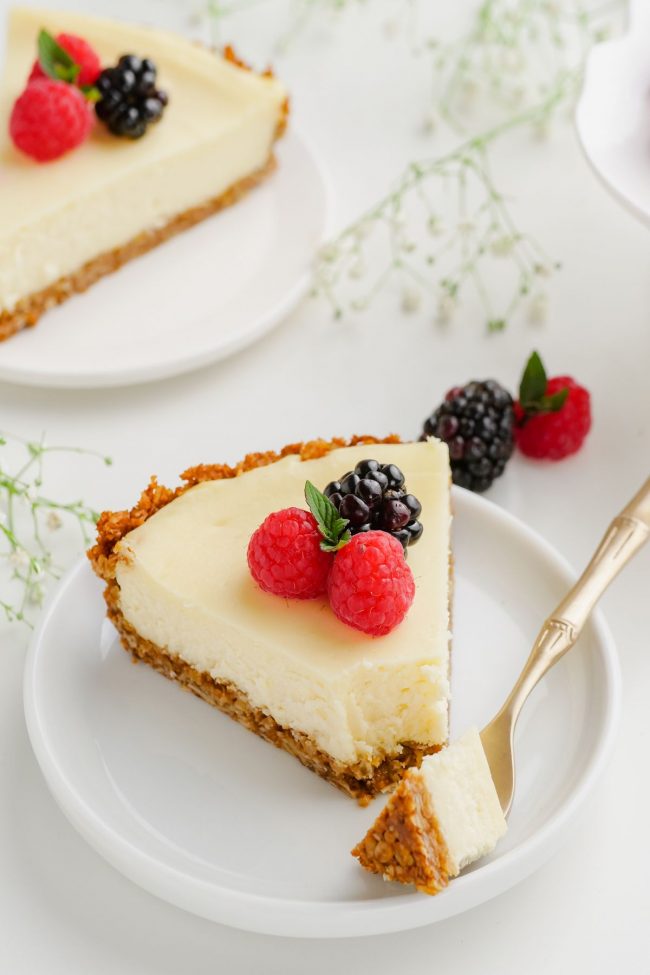 Perfect size for a smaller Christmas gathering
If you're celebrating with just one other person or even just by yourself, I'm sure you won't have any issues finishing off this cheesecake.
It doesn't make a huge cheesecake, as some cheesecake recipes do. It's quite easy to polish this off with a partner in no time. I'm not advocating that, just saying that it's easy to do. ;)
If you're not a piggy, you can also slice the pieces and freeze them for up to a few months. They freeze great.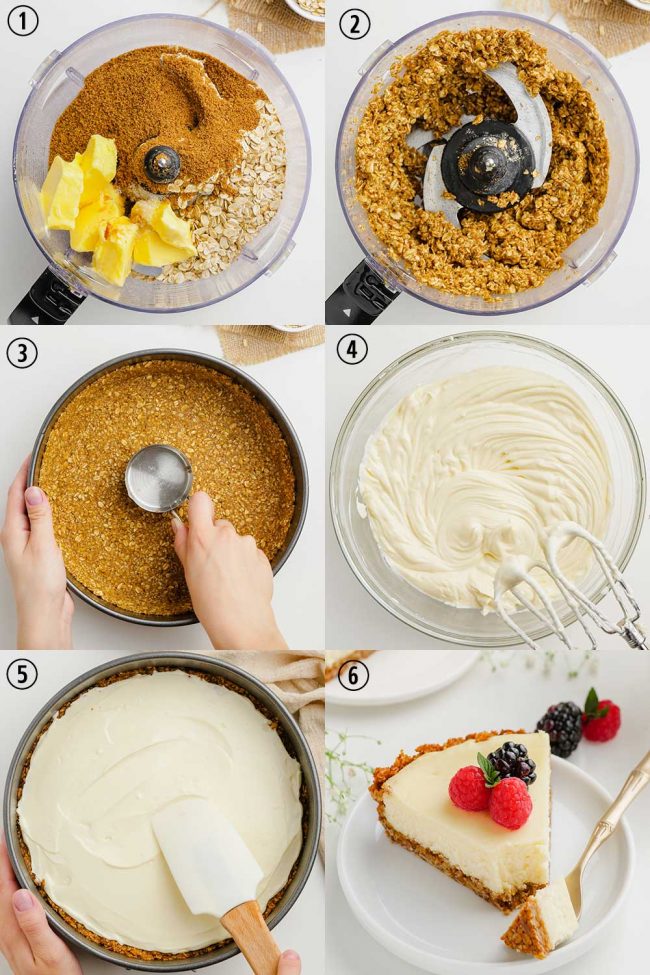 Substitution questions about this eggless cheesecake?
Can I use coconut oil in the crust?

I haven't tried this recipe with coconut oil because it's already full of dairy, so I figured why not go with butter. The taste is just so much better than coconut oil.

I do know that it won't be a 1:1 substitute. Oil and butter aren't interchangeable in several types of recipes, with crusts being the most problematic.

Can I use X-ingredient in place of X-ingredient in the crust?

Nope. You can try, but you'd be taking a risk.

Crusts are not something you want to play around with unless you're okay with it completely sticking to the pan, turning out soggy, falling apart, etc.

What can I use instead of cream cheese?

If you want to make a cheesecake with something other than cream cheese, you'll have to find a recipe without cream cheese. I have several vegan cheesecakes that might interest you!

This vegan caramel pecan cheesecake is my favorite choice for Christmas, but if you prefer a plain one, this vegan cheesecake is fantastic.

As is this vegan chocolate cheesecake.

There are dairy-free and vegan cream cheese brands, but I don't use them and have no idea if they'd work here. If they're supposed to be a 1:1 sub for cream cheese in any kind of recipe, I imagine they'd work in this cheesecake.

Though it might crack. Any kind of sub to a cheesecake could cause cracking.

What can I use instead of granulated sugar?

I only use granulated sugar when coconut sugar isn't an option. If you use coconut sugar in the filling, you'll have a coconut sugar-flavored cheesecake.

I think it'd be good, but not at all how this recipe is intended to taste. And it'd of course be quite brown.

I think a keto sub for granulated sugar would work well, but I haven't tried it. You'd also have to find a keto pie crust recipe to make the cheesecake keto. Any kind of liquid sweetener would make the cheesecake too runny.

Can I reduce the granulated sugar?

I'm thinking that using 1/2 cup instead of 3/4 cup would be okay, but I haven't tried it.

What can I use instead of milk?

You can use any type of milk you'd like. I used cashew milk once and loved it. It didn't taste any different.

Do I have to use the cornstarch?

Yes, as the cornstarch is taking the place of the eggs as a binder. I didn't think to try out different types of starches to see if they'd work. I find that I need different amounts of arrowroot and tapioca starch to replace cornstarch, so I wouldn't recommend it.

Egg subs won't work in this recipe to replace the cornstarch.

I've got these mini cheesecakes, should you absolutely want to use eggs. And these Baileys cheesecakes are also delicious!

Can I change the proportions of milk and lemon juice?

Some people like the tang lemon juice adds to cheesecake. I'm happy without it. I've made this cheesecake with all milk and no lemon juice and loved it.
The apartment is decorated, and the presents are bought, but that's the extent of my Christmas prep. So happy (and very safe!) holidays to everyone, and may we all enjoy a better 2021. :) I'll be back in January!
❀
Eggless Cheesecake (gluten-free option)
Prep Time:
Cook Time:
Ready in:
Yield:

8 slices
A store-bought or homemade graham cracker crust can also be used!
Ingredients
For the homemade cookie crust:

2 1/2 cups (230 grams) rolled oats (use GF oats for a GF cheesecake)
1/2 cup (100 grams) coconut sugar or brown sugar
3/8 teaspoon salt
1/2 cup (113 grams) butter, room temperature
1/2 teaspoon vanilla

For the filling:

three 8-ounce packages (24 ounces / 680 grams) cream cheese, room temperature1
3/4 cup (150 grams) granulated sugar
5 tablespoons milk (whatever type)
3 tablespoons cornstarch 
1 tablespoon lemon juice or more milk2
2 teaspoons vanilla extract
1/4 teaspoon salt
Directions
For the homemade crust:

Grease a 9" springform pan on the bottom and up the sides. 
Preheat the oven to 350 °F (176 °C).
Place the crust ingredients in a food processor. Process for about 30 seconds or until when pinched together, it easily holds together.
Pat over the bottom and up the sides of the prepared springform pan. It won't make it all the way to the top.
Bake for 14-18 minutes3 or until lightly brown (prepare the filling while the crust bakes).
Remove from the oven and let cool for 5 minutes before pouring in the cheesecake filling.

If using a store-bought / homemade crust:

The store-bought crust will be already baked so just fill it. If using a homemade graham cracker crust, you need to let it cool completely before filling!

To bake the cheesecake:

Turn the oven down to 325 °F (163 °C).
In a large mixing bowl, beat the cream cheese and sugar using an electric hand mixer at medium speed. Beat just until well combined and creamy.
Mix together the milk and cornstarch until no lumps remain. Add this and the remaining ingredients to the cream cheese mixture. Beat on low until well incorporated. Overbeating will make cracks so don't overmix.
Pour over the crust. It was the perfect amount for the crust. If you have too much filling, don't pour it over the crust.
Bake for 45 minutes. The middle will still be a little jiggly.
Remove to a rack to cool for 2 1/2 hours.
Use a knife to run around the inside of the pan to loosen the crust from the pan.
Chill for at least 4 hours before cutting.
If the homemade oat crust is very firm and too difficult to cut straight from the fridge, let the cheesecake sit at room temperature for 20-30 minutes.
Cover and refrigerate any leftovers for up to 5 days. It can also be frozen whole or in pieces and thawed overnight in the fridge.
Notes
If you live outside of the US - you likely have a different type of cream cheese than in the US. US cream cheese is firmer and meant for baking, rather than the kind for toast, like in Europe. For 8 ounces (225 grams) of cream cheese, buy a 300-gram package (the stuff at Aldi, Lidl, etc. works just as well as Philadelphia), put it in the center of a clean tea towel or cheesecloth, and squeeze out the liquid until you have 225 grams of cream cheese. So for this recipe, buy 900 grams of cream cheese and squeeze out the liquid until you have 680 grams of cream cheese left.
You can use a different proportion of lemon juice and milk, as long as you have 6 tablespoons total.
If you use European butter, the crust will fall a little bit down the sides of the pan. After 14 minutes of baking, remove from the oven and use a spoon to press the crust back into place. Bake for another 4 minutes.