Quick, easy and honey sweetened, this strawberry sauce is a great topping for pancakes, cheesecakes and other desserts!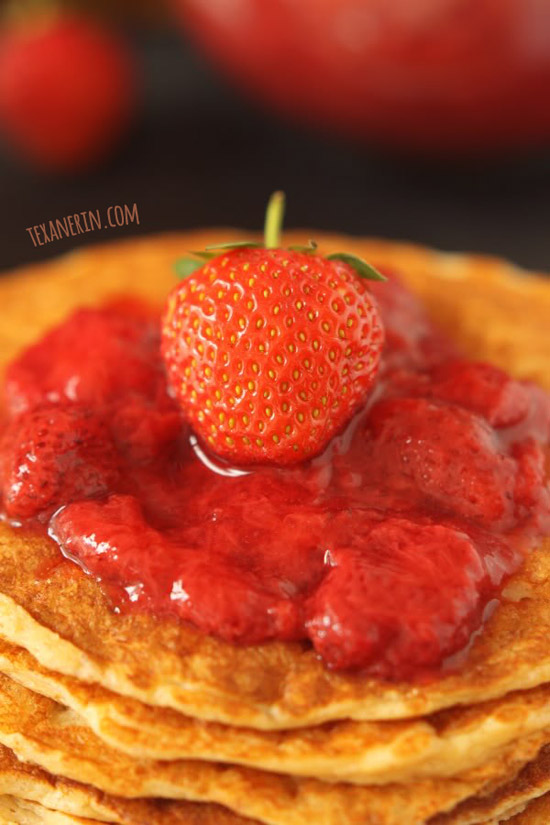 Like my homemade strawberry jam, this only uses a few ingredients and is much healthier than your average sugar-filled strawberry treat! This sauce tastes like strawberries and not like sugar with a side of strawberries. :)
If you want some really delicious strawberry sauce, I recommend using flavorful strawberries. I've used some pretty bad frozen ones thinking that the honey would somehow magically transform my strawberries into deliciousness, but… that was not to be. The honey helps a little but if your strawberries are flavorless, the sauce won't be that great.
This homemade strawberry sauce was insanely good on these 100% whole grain pancakes for two but I'm sure any pancake recipe would do! And if you're more of a mix person, this 100% whole grain pancake mix is the best ever!
I'm pretty sure you could replace the strawberries for another type of berry. My problem with that is that any other berry is just too precious to cook with. If I have fresh raspberries or blueberries, I don't want to cook with them but eat them as they are. Now, if you have massive berry bushes or live somewhere with loads of blackberry bushes alongside the road – go for it! :)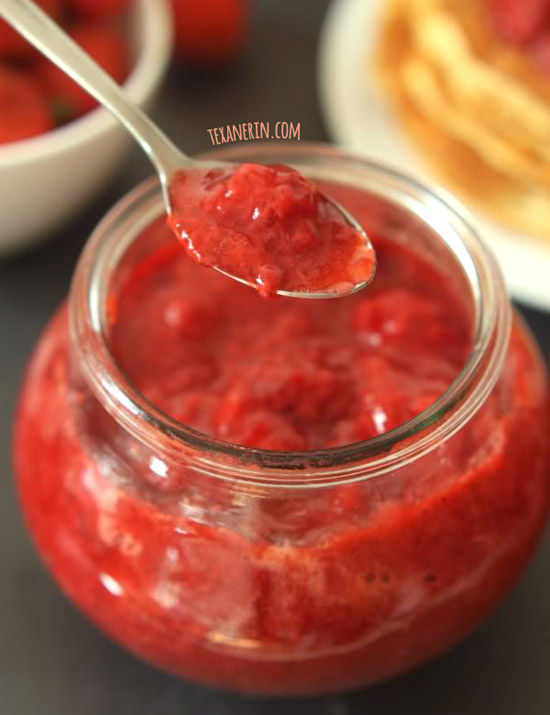 There's a little lemon zest in there but it's completely optional. I definitely recommend it, though, as it adds a nice little zing! I don't normally buy organic produce, just because it's so expensive where I live, but lemons are one of the few things I buy organic (if I'm using them for their zest).
This strawberry sauce freezes very well. When I find myself with too many strawberries, I whip up a batch of this, or even double it, and freeze it for my next pancake breakfast. You can defrost it overnight in the fridge or gently defrost it in the microwave or in a pot on the stove.
So! What are you going to use this sauce on? :)
❀
Honey Sweetened Strawberry Sauce
Prep Time:
Cook Time:
Ready in:
Yield:

2 1/2 cups
Ingredients
540 grams (about 3 cups mashed / 19 ounces) rinsed off, patted dry, and hulled really sweet strawberries
3 tablespoons (60 grams) honey
1 teaspoon vanilla
zest of two lemons (optional)
1-3 teaspoons cornstarch (or arrowroot powder / starch / flour for a grain-free / paleo version)
Directions
Place the strawberries in a medium pot or large saucepan and smush with the bottom of a glass (being careful not to scrape your pan if you're using a non-stick pan).
Add the honey, vanilla and zest, if using, and cook over medium for about 10 minutes. The mixture should have thickened just a little. To make it thicker, combine 1-3 teaspoons of cornstarch with the same amount of water. Use 1 teaspoon to make the sauce slightly thicker and 3 teaspoons to make the sauce quick thick, almost like jam. Pour the cornstarch slurry into the sauce and stir. Simmer for 1 minute and remove the pot from the heat. Do not let simmer longer or the cornstarch will break down, making the sauce runny.
The sauce will thicken more as it cools. Store in the fridge for no longer than 5 days and freeze any leftovers.