Paleo vegan chocolate cream pie with an ultra-silky chocolate filling and a chocolate cookie / brownie crust! Made without tofu. Prefer a chocolate fudge pie? Serve it cold for a fudgy texture.
Thanks to Bob's Red Mill for making today's post possible! I am beyond excited to be sharing this recipe with you today.
First of all, after making what I'm guessing to be over 200 grain-free crusts the last few years, I finally came up with one I love!
A chocolate cookie crust. It's kind of soft, so it's not crunchy like an Oreo crust, but something between that and a brownie. It cuts quite nicely, but still not perfectly, on the first day, which I think you can see in the video, but gets more crumbly and difficult to cut each additional day. For that reason, I recommend filling the pie the day of serving.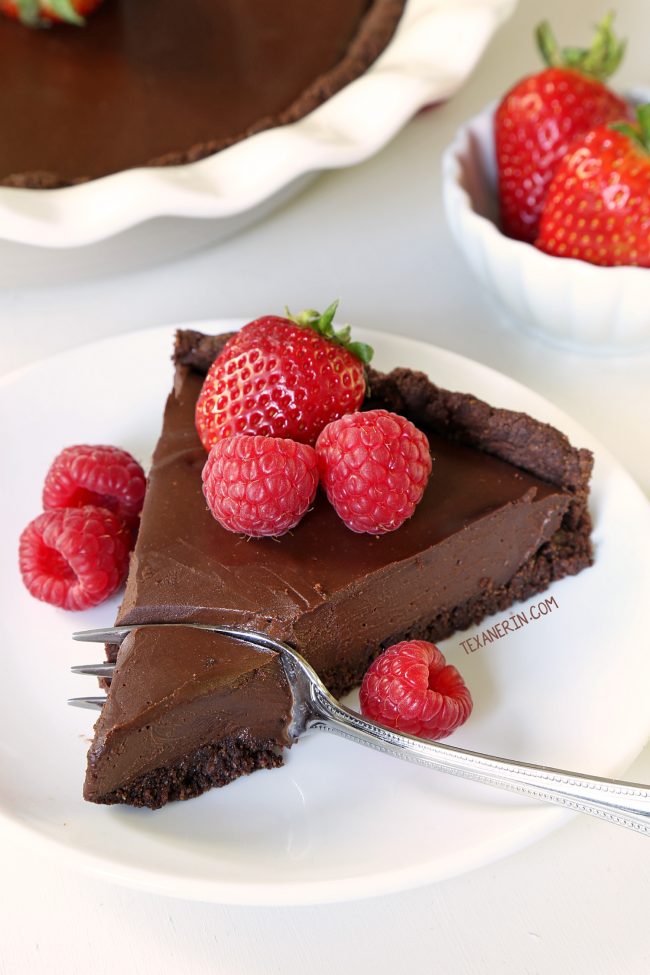 And it really tastes delicious on its own. I can say that for very few grain-free crusts I've tried. I have to admit that it probably tastes so good because there's half a cup of sugar in there. ;)
The second reason I'm so excited about this pie that I can't sleep and am writing this post at 3am is because of the filling. Oh my gosh. It's perfect in every way.
I made a paleo chocolate fudge pie last year that was delicious but I love this one even more. The filling is softer and fudgier.
You can leave out the pie all day at room temperature and it doesn't melt. It stays nice and creamy. At least in my 67 °F apartment you can. You probably can't in the summer. If you want a thicker, fudgier texture (which I think I even prefer!), serve it straight from the fridge.
It also doesn't taste coconutty at all. All I taste is chocolate. I can't guarantee your pie won't have any coconut flavor but with the brands I used, it didn't.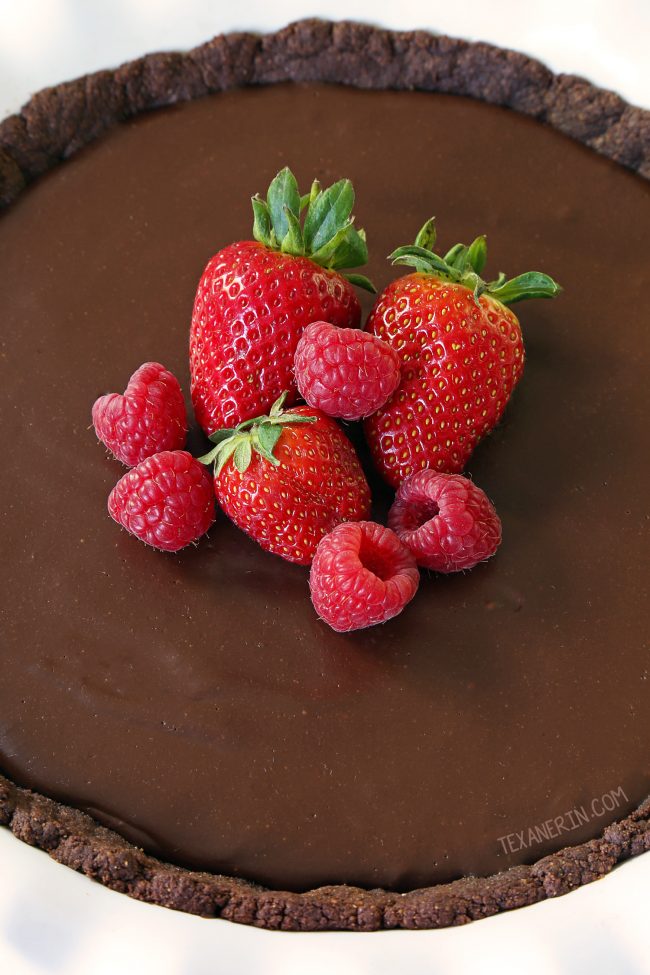 This vegan chocolate cream pie is one giant blob of brown so if you feel like livening it up, you've got a few options for decorating.
With Easter around the corner, you can use store-bought candy eggs, but I thought of a few ways to have totally junk-free Easter decorations!
The little nests you can see further down are made out of toasted coconut and melted chocolate. Super easy.
I wanted to make little truffle eggs but ran out of time. So I used raspberries! They don't look a thing like eggs but I think they still look nice.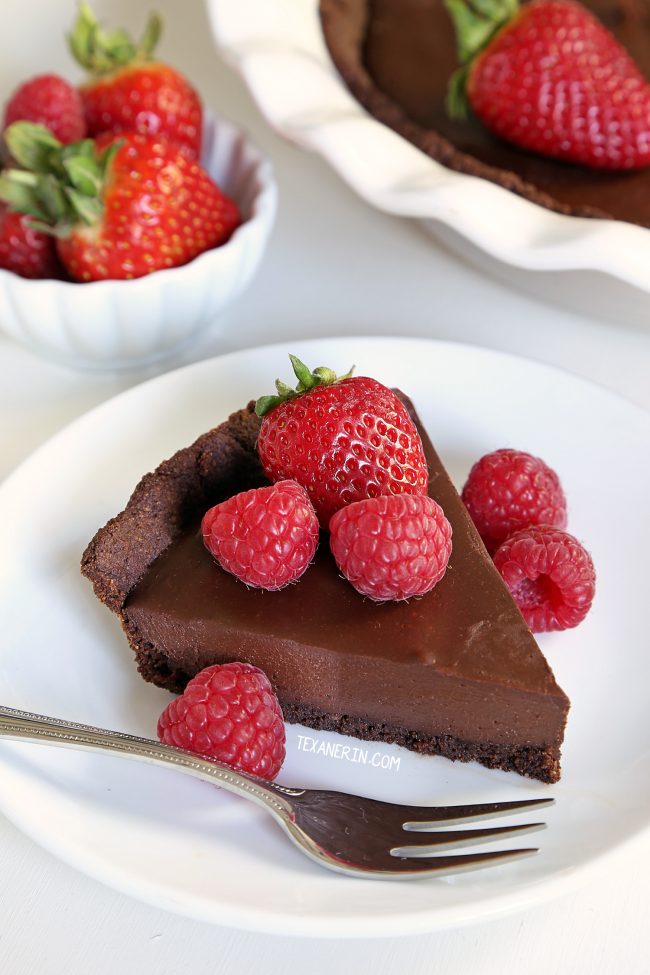 Or just bypass the Easter thing and decorate with berries. It's certainly the easiest route and is also super tasty. For Christmas, add some mint leaves to the raspberries!
I know it's hard to come across paleo recipes that are nut-free. The only nut product used in this recipe is almond butter in the crust, but if you use sunflower seed butter, then this vegan chocolate cream pie recipe is nut-free.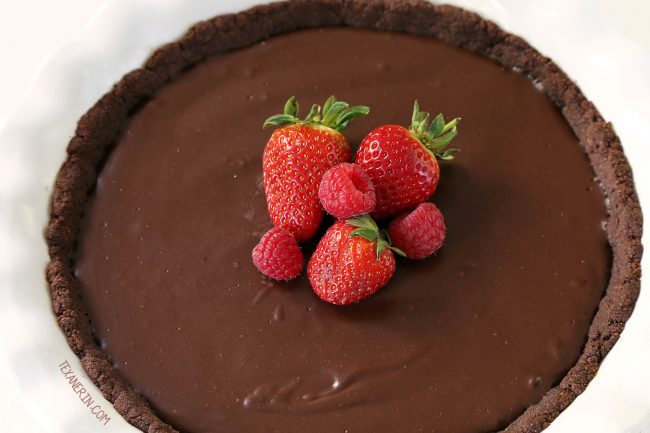 I'm also excited to be sharing this Gluten-free Vegan Egg Replacer from Bob's Red Mill with you!
A lot of egg replacers out there aren't gluten-free. This one is mixed and packaged in their dedicated gluten-free facility and batch tested in their quality control laboratory (just like all their gluten-free products).
Egg replacers usually also contain some funky ingredients. This one just consists of potato starch, tapioca flour, baking soda and psyllium husk fiber.
When I googled "Is psyllium husk paleo?" – some sources said yes, some no, and some maybe. So I'll just say if you need this pie to be paleo, you can use a chia egg or a regular egg if you don't need the pie to be vegan.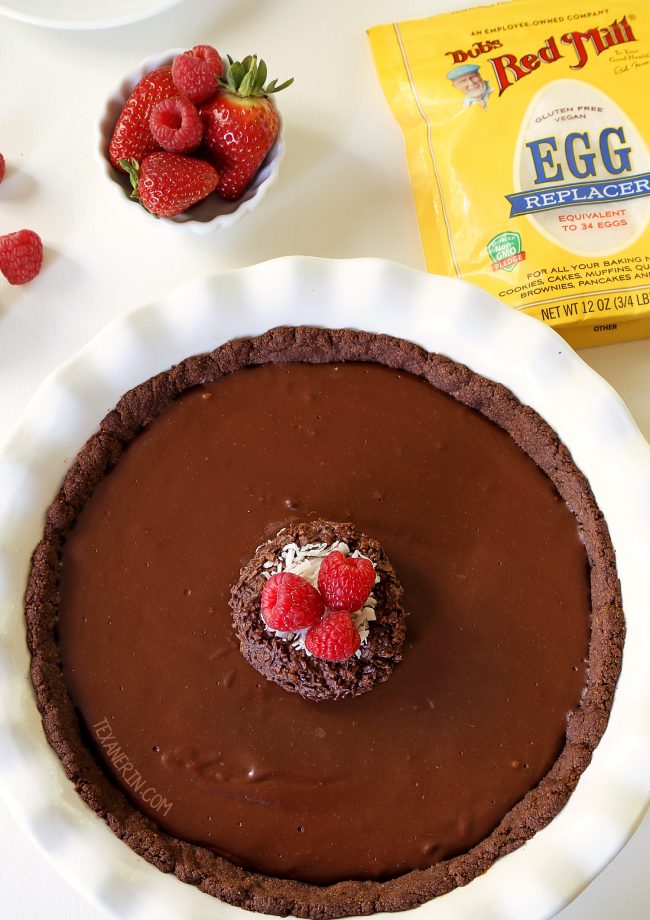 Like all other egg replacers (at least all the ones I've come across), it doesn't work in recipes that require you to beat eggs (like angel food cake or meringue) but I've had a great experience with it so far!
The only thing that didn't work was my paleo lemon curd. I thought it was a long shot but had to try, anyway. :) I also don't think it'd be the best to use in things like mousse.
I also wouldn't use it, or ANY egg replacer, in a recipe that calls for a whole bunch of eggs. If I see a recipe that calls for 4 or more eggs, but I don't want to use eggs, I look for another recipe. I'm not saying that it wouldn't work to replace 4 or more eggs, I'm just sharing a general egg replacer tip with you. Actually, I think I'm going to break my own advice and try it in my paleo chocolate cupcakes recipe soon, which calls for 4 eggs, and report back!
By the way, here's a great resource on egg-free baking from Allergylicious! Tons of great info there.
Hope you all have a great Easter and that you'll give this pie and the Gluten-free Vegan Egg Replacer a try! Thanks again to Bob's Red Mill for sponsoring today's post. They have lots of fun Easter baking ideas on their website as well as a free e-book with 14 delicious recipes to celebrate spring! I think I may give the Easter bunny cake a try. So cute!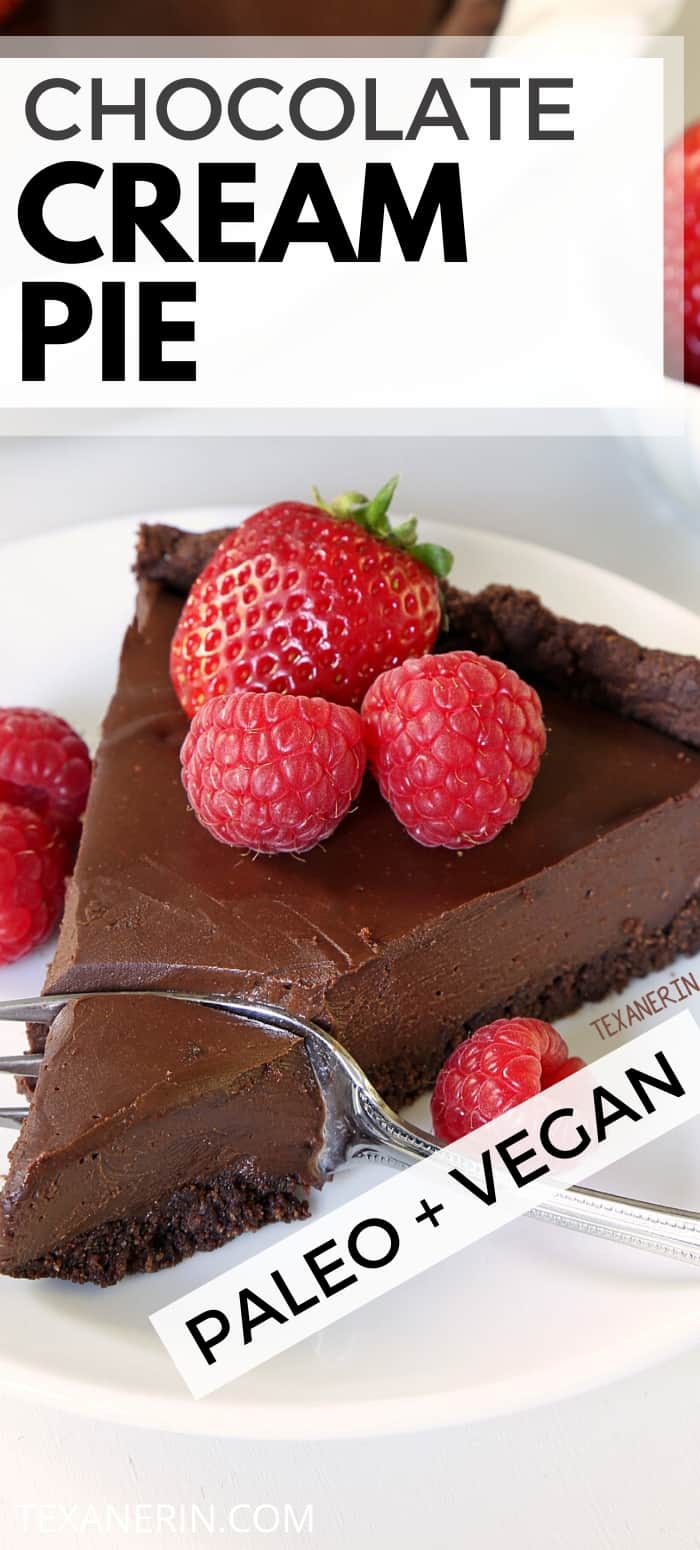 ❀
Paleo Vegan Chocolate Fudge Pie (nut-free option, grain-free, gluten-free, dairy-free)
Prep Time:
Cook Time:
Ready in:
Yield:

8-12 slices
Ingredients
1/2 cup (100 grams) coconut sugar
1/4 cup (32 grams) coconut flour
1/4 cup (29 grams) cocoa powder
1/4 teaspoon salt
1/4 cup (64 grams) almond butter or sunflower seed butter for nut-free (make sure your nut / seed butter only consists of nuts / seed and salt - no added fat or sugar)
4 teaspoons (19 grams) coconut oil (shouldn't be melted but like the texture of softened butter)
1 tablespoon vanilla extract
1 egg made with Bob's Red Mill Gluten-free Vegan Egg Replacer or for paleo, use 1 chia egg or for a non-vegan version, 1 large egg (50 grams, out of shell)

For the filling:

1 1/2 cups (360 grams) warmed coconut cream from 1 1/2 14-ounce (400-gram) cans full-fat canned coconut milk, chilled overnight
1/2 cup (105 grams) pitted dates
2/3 cup (133 grams) coconut sugar
3/4 cup + 1 1/2 tablespoons (98 grams) cocoa powder (I used raw cacao powder)
2 tablespoons + 3/4 teaspoons (32 grams) coconut oil
2 1/4 teaspoons vanilla extract
1/2 teaspoon salt

For decoration:

3 tablespoons semi-sweet chocolate chips, melted
1/4 cup + 1 1/2 teaspoons shredded toasted coconut (sweetened or unsweetened is fine)
pinch of salt
3 raspberries or Easter egg candies
Directions
Preheat the oven to 350 degrees F (170 C) and grease a 9.5" (I'm guessing a little smaller or larger would be fine) pie plate with coconut oil. If you don't grease it, the crust will likely stick.
In a medium mixing bowl, mix together the coconut sugar, coconut flour, cocoa powder and salt. Add the almond butter, coconut oil, and egg and mix with an electric hand mixer until as well combined as you can get it. Then switch to using your hands to get it fully combined. If using a normal egg, you can easily mix it together with just the hand mixer. The mixture will also be much wetter and stickier in that case than the mixture in the video. I use a silicone spatula to spread it into the pie plate. Whether you use an egg or egg sub, I don't recommend trying to crimp it or doing anything fancy with this crust.
Press it up the sides and over the bottom of the prepared pie plate. Bake for 12 minutes or until it's slightly puffy. It won't be firm. Let cool completely, about 30-45 minutes, while you prepare the filling. I recommend filling the crust the day of serving.
In the bowl of a food processor or a high-speed blender, add all the filling ingredients, in the order listed, and blend for about 30-60 seconds or until totally smooth and no lumps of dates remain. Pour the filling into the cooled crust and place the pie in the refrigerator for 2 hours or until the filling is firm and no longer jiggly. While it's chilling, prepare the chocolate nest.
Mix together the melted chocolate, 1/4 cup coconut and salt until well combined and then scoop onto a piece of parchment paper (I put the paper on a small cutting board that I can fit in the fridge). Form it into a small nest. Create a little space for the eggs. Cover with additional 1 1/2 teaspoons coconut, if desired. Refrigerate for about 30 minutes or until firm and then top with Easter eggs or raspberries.
Refrigerate pie for up to 2 days or freeze, very well packaged, for up to 1 month. For a soft cream pie texture, serve room temp. For a fudgier pie, serve cold. Note that the crust becomes softer and more crumbly when cutting after the first day. You can see in the video that it cuts pretty decently on the first day.