Like I mentioned in my post on where and what to eat in New Orleans, I had the most amazing Bananas Foster Pain Perdu at The Ruby Slipper Cafe. After the first bite, I knew I had to recreate it when I got home. This version doesn't taste a thing like the Ruby Slipper's but it's still delicious. Their version had some fresh banana slices plopped on top, which didn't seem very Bananas Foster-y to me so I did something a bit different.
If you're not familiar with Bananas Foster, it's a dish that originated at Brennan's Restaurant in New Orleans in 1951, consisting of sliced bananas, which are often flambéed tableside, with a delicious sauce and vanilla ice cream.
The sauce is made from butter, brown sugar, cinnamon, dark rum, and banana liqueur. If you're like me, you probably don't have banana liqueur and wouldn't go out and buy it just for this so I omitted that from my recipe. I also did my usual changes and used coconut oil and coconut sugar in lieu of butter and brown sugar.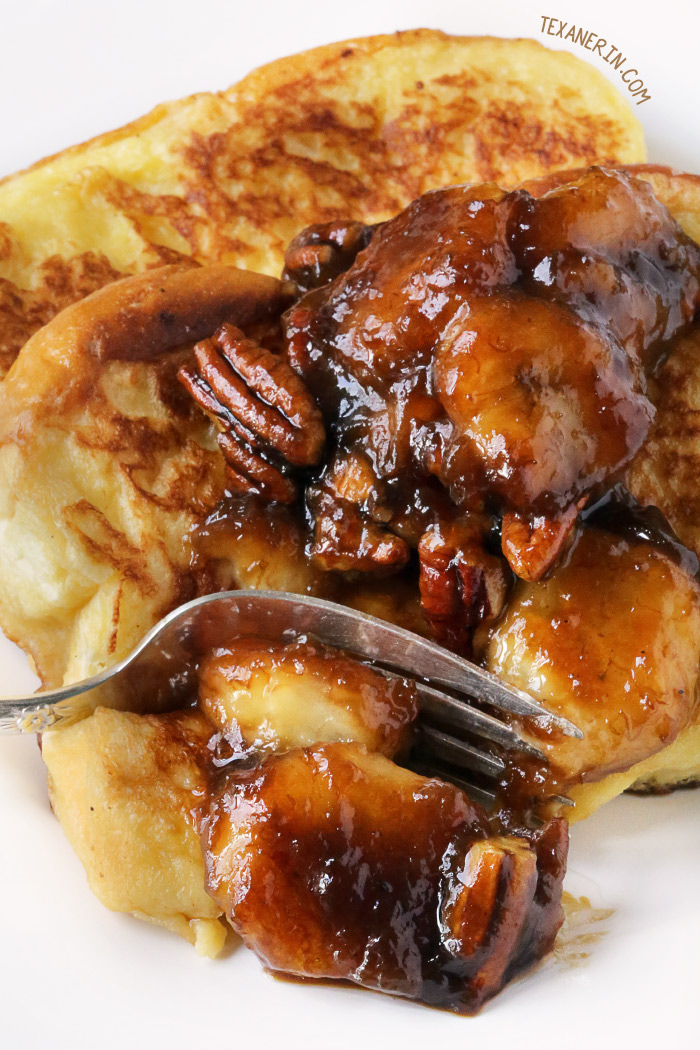 Some recipes for Bananas Foster French toast require you to actually make Bananas Foster (minus the ice cream). You then spoon that over the French toast. I'm not in the mood to caramelize sugar in the morning (or ever) so my recipe calls for a much simpler sauce. You just mix everything together, let it simmer two minutes and then add the bananas.
Note that in the sauce you see in the pictures, the bananas were added the second minute of simmering. It worked fine – the bananas were cooked a bit but not too much.
But when I made it the next few times, it came out differently every time as a result of varying levels of banana ripeness. I'm not a fan of overly mushy bananas so I think the safest way to deal with the bananas is by adding them after the sauce is finished simmering.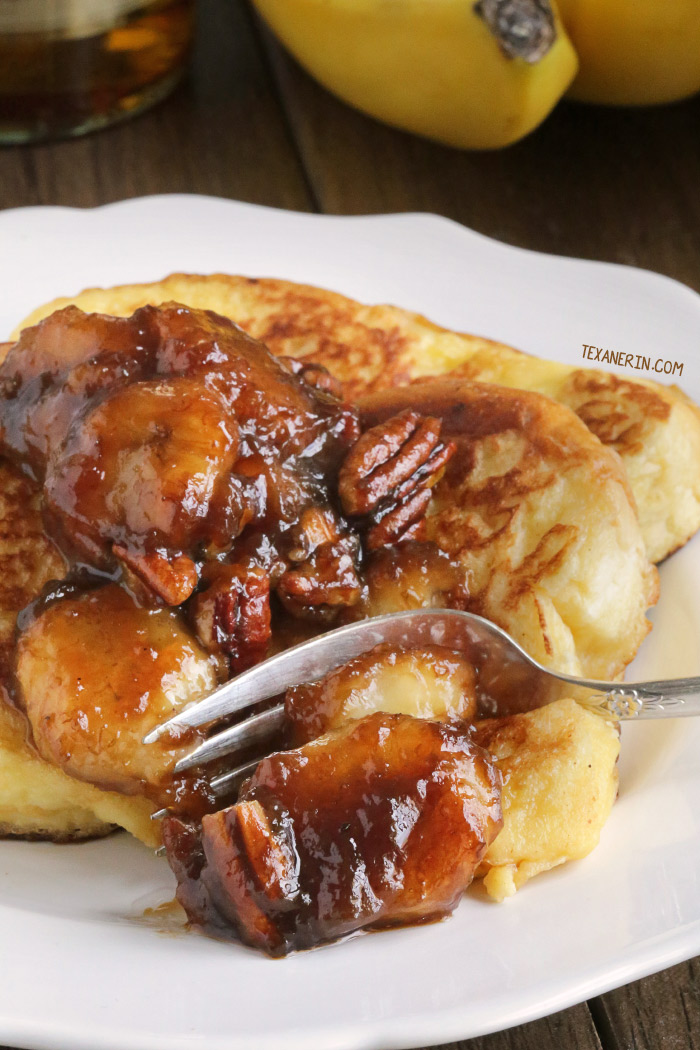 This recipe can easily be made whole wheat or gluten-free. Here's a recipe for whole wheat brioche and gluten-free brioche. But this is more of a recipe I'd recommend to use up old bread. I can't imagine making fresh bread just to use it in this (or any) French toast recipe.
If you don't have brioche on hand but have regular gluten-free bread, try this caramel apple French toast casserole from Vegetarian Mamma! It looks incredible.
I used coconut milk and oil, making this Bananas Foster French toast dairy-free, too! The coconut flavor goes along nicely with the rum and bananas.
If you don't want to use canned coconut milk, I have no idea how that'd go since I haven't tried it. Coconut milk is quite a bit thicker than regular milk so I'm guessing it may come out a little differently. Let me know how it goes if you try it out! :)
❀
Bananas Foster French Toast (gluten-free, dairy-free, whole grain options)
Prep Time:
Cook Time:
Ready in:
Yield:

4 servings
Ingredients
For the sauce (you may want to double this if you want a lot of sauce – this yields just enough for a thin layer on each slice of French toast. What you see in the pictures is 1 serving of sauce meant for two pieces):

1/4 cup (56 grams) unsalted butter or 3 1/2 tablespoons (49 grams) coconut oil (use coconut oil for dairy-free)
1/3 cup (67 grams) brown sugar or coconut sugar (I used coconut sugar - if you use brown sugar, your sauce will be lighter)
1/4 teaspoon ground cinnamon
1 tablespoon water
pinch of salt
1 tablespoon dark rum
2 bananas (each banana was 120 grams without the peel), sliced into 1/3" pieces
1/3 cup (37 grams) toasted chopped pecans, optional

For the French toast:

fat for greasing pan
3 large eggs, room temperature
1/2 cup (120 milliliters) canned full-fat coconut milk
1 tablespoon granulated sugar, raw sugar or coconut sugar
1 tablespoon dark rum
1 teaspoon vanilla extract
1/2 teaspoon ground cinnamon1
1/8 teaspoon salt
8 3/4" slices of stale brioche, challah or French bread (use gluten-free or whole grain, if desired)
Directions
Prepare the sauce. Melt the fat in a medium saucepan over medium-high heat. Add the sugar, cinnamon, water, and salt and bring to a boil (if using coconut oil, it may not combine well at the beginning but it eventually comes together). Turn the heat down to medium-low and simmer for 2 minutes, adjusting the heat, as necessary, until it's thickened a little. Remove the pan from the heat and add in the rum, sliced bananas, and pecans, if using. Add more salt, to taste (it really brings out the flavor!) If you want the sauce thinner, stir in a little water, rum or vanilla.
Heat a medium non-stick pan over medium heat. Grease it lightly with a little coconut oil (or however you prefer to grease it). Meanwhile, whisk together the eggs, coconut milk, sugar, rum, vanilla, cinnamon and salt until well combined.
Dip a piece of bread in the egg mixture and then flip over to dip the other side. Make sure both sides are thoroughly coated and then transfer to the hot pan. Cook for about 2 minutes or until the bottom has browned and then flip and cook the other side for another 2 minutes.
Spoon the sauce over the French toast and serve. Does not reheat well!
Notes
The pictured French toast didn't have cinnamon in it – if you use cinnamon, which I highly recommend, your French toast will be a tad bit darker.
For dairy-free: use coconut oil instead of butter.