These gluten-free blueberry muffins are easy to make, perfectly sweet and have an amazing texture. With a dairy-free option.
These muffins are really something. They're one of the rare, totally unhealthy recipes I share. I'll be back next week with something a little more nutritious, I promise.
I really don't like using granulated sugar and pretty much reserve it for recipes like this with a white batter, if that makes sense. I love coconut sugar in my chocolate, spiced, gingerbread, etc. treats but not a light lemony one like this.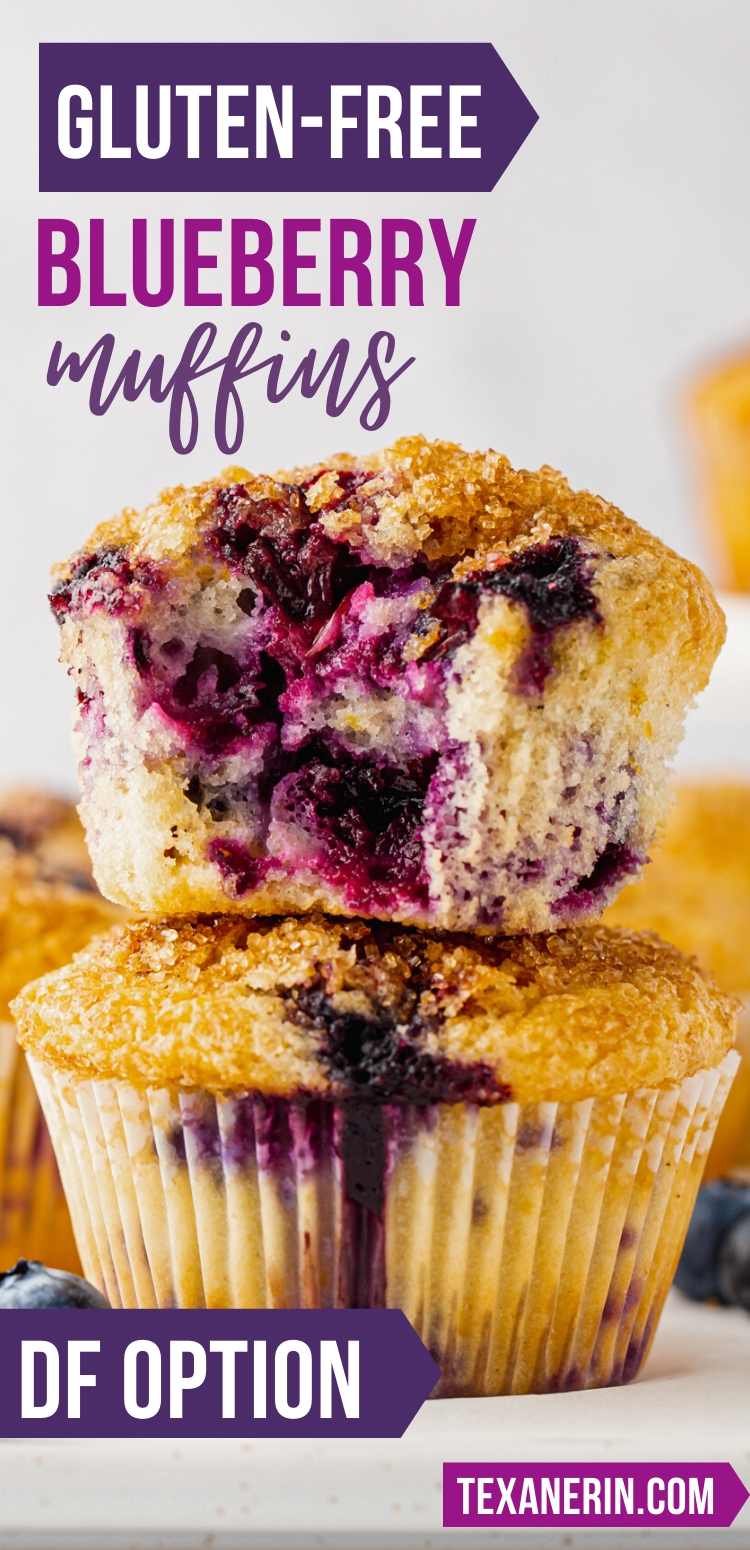 Maple syrup works in some lemon treats like my gluten-free lemon cookies and vegan lemon bars but exchanging maple syrup for the granulated sugar in this recipe wouldn't have worked. It'd have been a soupy mess.
These muffins are gluten-free and dairy-free but not at all healthy. I do have these naturally sweetened and healthier paleo blueberry muffins, if you'd like something else!
They're also SUPER delicious. They have an amazing texture – more like angel food cake.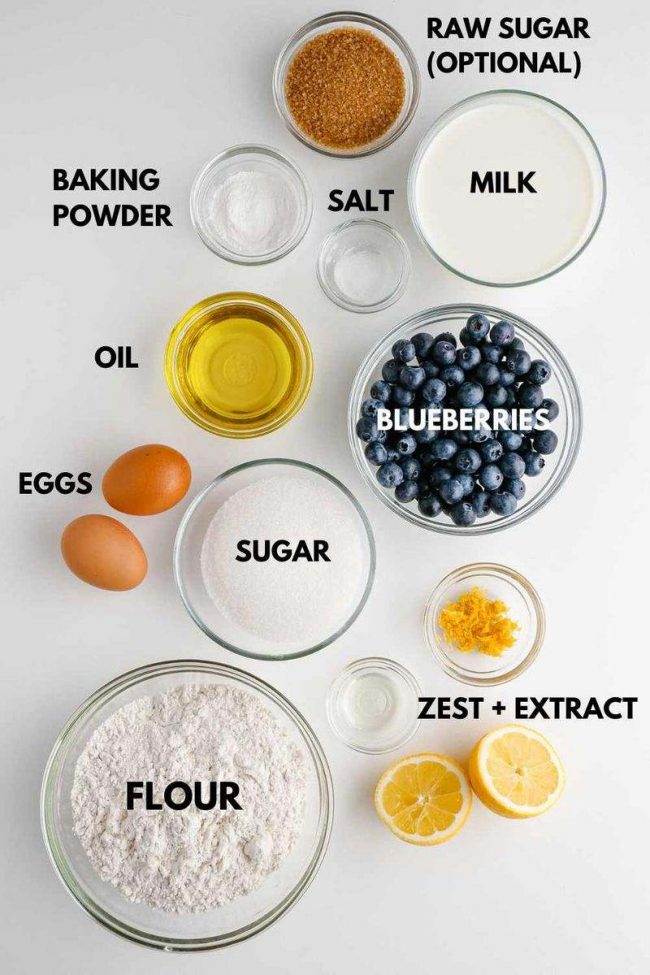 If blueberries aren't your thing, these chocolate banana muffins and paleo carrot cake muffins are both honey-sweetened and gluten-free.
These gluten-free blueberry muffins are just like traditional bakery-style muffins. They're not gummy, gritty or anything weird like some gluten-free muffins are.
The pictures don't do the texture justice! You can't see how truly perfect they are.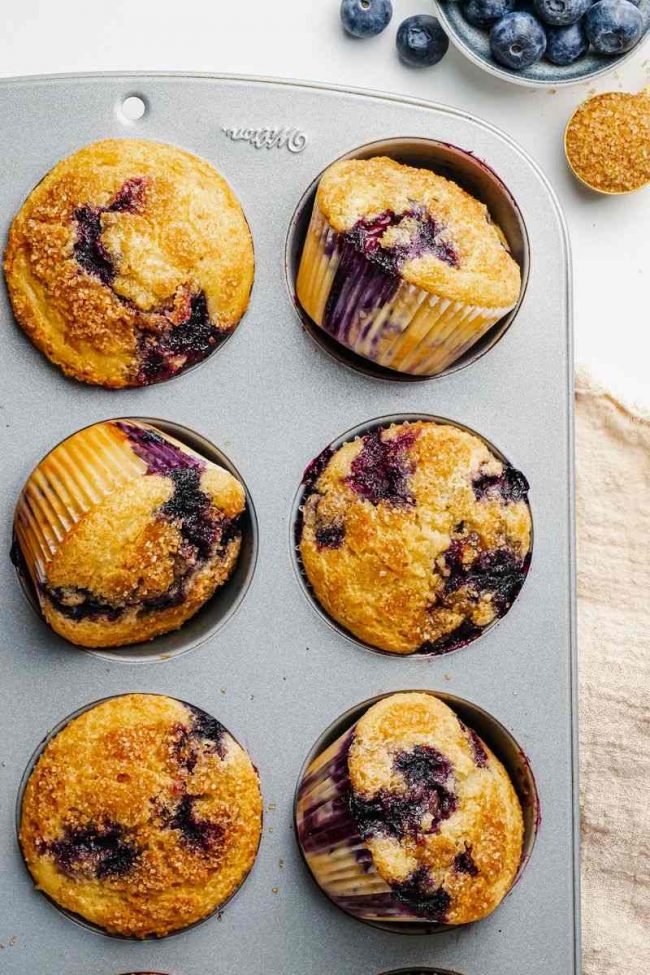 I wish I could offer a vegan option but the chia egg version I tried was terrible. They were dense, gummy and inedible.
I imagine you'd get similar results with other egg subs. I usually have great luck with them in cookies, but not so much with muffins, cakes and brownies.
This recipe calls for oil. I used regular extra-virgin olive oil and even with the lemon flavors, you could still taste it.
If you must use olive oil, then maybe go with a lighter flavored olive oil. Or use the stronger stuff if you don't mind the taste. I know a lot of people like it!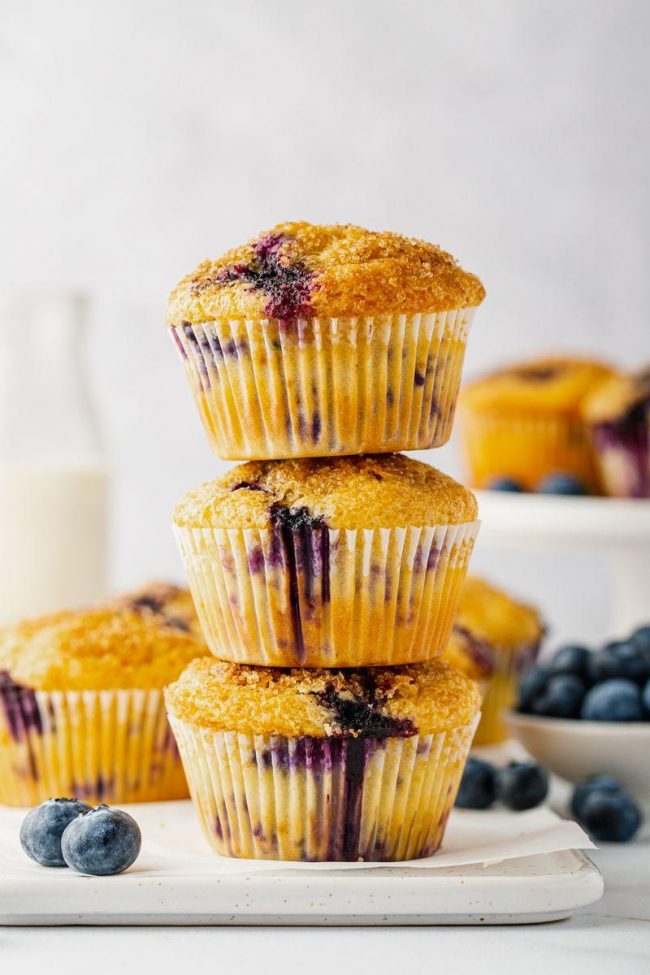 My first choice is coconut oil. Unrefined works if you don't mind coconut taste (which goes well with lemon) but I used refined for no coconut taste.
I don't like anything messing with my lemon taste! You can of course use any neutral-tasting oil that you'd like.
Instead of my usual streusel, I sprinkled a teaspoon of raw sugar on top of each muffin. It makes this wonderful little crunchy sugar dome. Or something.
I don't know how to describe it. I highly recommend it. It's not like these are healthy, anyway, so why not live a little. ;)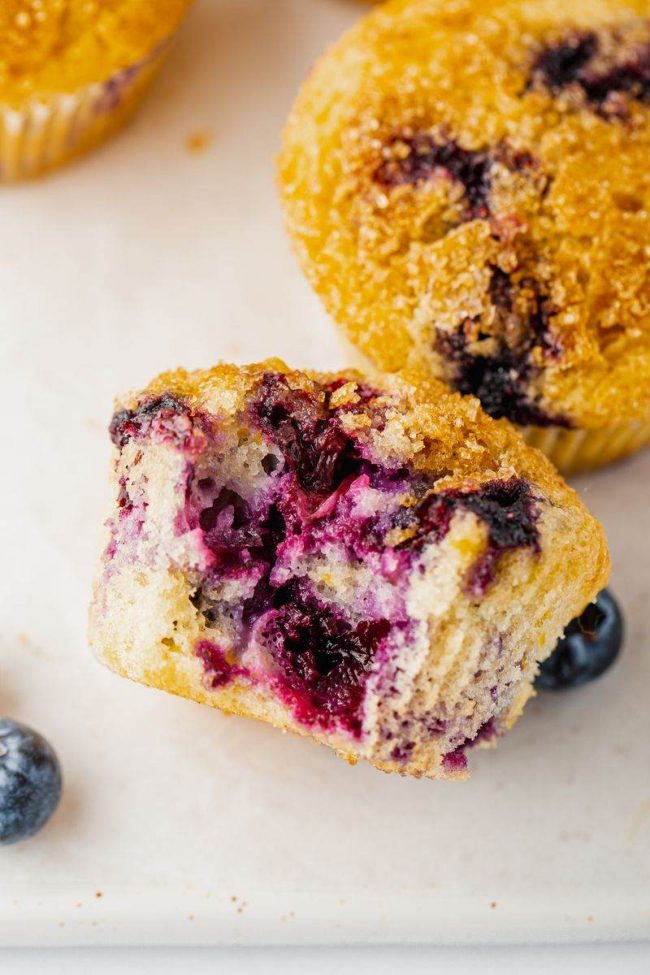 Questions about these muffins?
Can I use a different brand of gluten-free baking flour?

Bob's is the only brand I've tried in this recipe. You could try another flour that's meant as a 1:1 sub for all-purpose flour but since I haven't tried it, I can't say how it'd come out. I can say that using the recommended flour, the muffins have an AMAZING texture and aren't gritty, gummy or weird at all!

Can I use a different type of sugar? You could use another type of granulated sugar but keep in mind how it'll affect the taste. I find coconut sugar + lemon to be odd. You could add cinnamon instead of lemon flavor and use coconut sugar! That would probably be great.
How can I replace the eggs?

I've tried these muffins with chia eggs and the result was so dense. Just… bad. I can't really recommend egg replacers in this recipe. Sorry!

Can I use something instead of oil?

Butter has less fat than oil so I would recommend sticking to oil for the best texture. If you use olive oil, make sure to use one with a lighter taste. You don't want a strong olive taste (unless you like that!).

Refined coconut oil works great if you don't want any coconut taste. You can use unrefined coconut oil if you don't mind the coconut flavor.

Do I have to use fresh berries?

I haven't tried it but I think frozen berries would work. Don't defrost them first.

If your berries are covered in little icy bits, use a paper towel to rub them off.

Can I use different berries?

I think raspberries would be great. I'm hesitant to recommend anything else (strawberries, peaches, etc.) because they're so much juicier and these muffins are already super moist. If you try another fruit, I'd love to hear how it goes!

Do I have to use the lemon extract and zest?

You can use orange or lime zest + extracts or just omit the zest and use vanilla in place of the extract.

Do I have to use the sugar on top?

Nope. It's just tasty.
If you try these gluten-free blueberry muffins, I'd love to hear how they come out!
❀
Gluten-free Blueberry Muffins (naturally dairy-free)
Prep Time:
Cook Time:
Ready in:
Yield:

12 muffins
Ingredients
1 3/4 cups + 2 tablespoons (259 grams) Bob's Red Mill Gluten Free 1-to-1 Baking Flour
3/4 cup (150 grams) granulated sugar
1 tablespoon baking powder
1/2 teaspoon salt
2 large (50 grams each, out of shells) eggs
1 cup (250 ml) milk or almond milk for dairy-free
1/3 cup (80 ml) oil1
1 teaspoon lemon extract
1 tablespoon lemon zest
1 1/2 cups (213 grams) fresh blueberries, rinsed and patted dry
1/4 cup raw sugar for topping
Directions
Preheat the oven to 400° F (205 °C). Line a muffin pan with 12 liners.
In a small mixing bowl, mix together the flour, sugar, baking powder, and salt until combined.
In a large mixing bowl, beat together the eggs, milk, oil, lemon extract and zest. Add the dry mix to the wet and stir just until combined.
Fold in the blueberries.
Scoop the batter into the prepared muffin tin and fill each muffin cup about 3/4 full. Top with 1 teaspoon raw sugar per muffin.
Bake for 18 minutes or until a toothpick inserted in the middle comes out clean.
Let cool in the pan and them remove to a wire rack to cool completely.
Store in an airtight container at room temperature for 3 days, refrigerate for 5 days or freeze for 2 months.
Notes
If you use coconut oil, it should be melted and cooled slightly - and if you don't want coconut taste, use refined coconut oil. 1/3 cup of coconut oil = 75 grams. Note that if you use olive oil, the muffins will have an olive oil taste to them. Use canola, grapeseed, etc. for something more neutral.
As an Amazon Associate, I earn from qualifying purchases. For more info, see my disclosure.