These healthier grain-free and gluten-free apricot muffins are perfect for summer and even more importantly, have an excellent texture!
More apricots! Sorry I'm posting more baked stuff. It seems like nobody in the US wants to bake right now with the insane heat so perhaps you European readers can enjoy these lovely apricot muffins? :)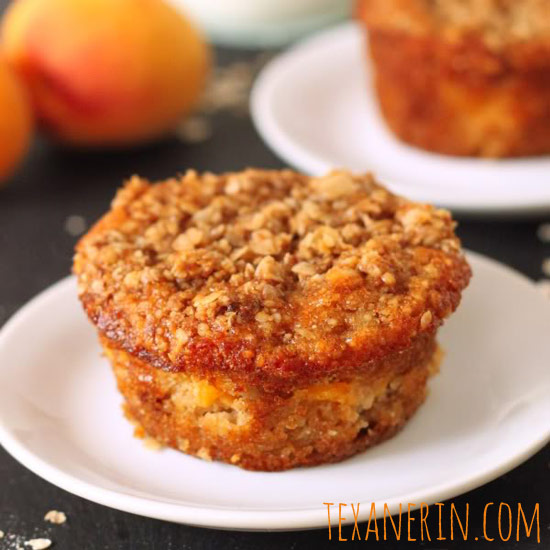 Whenever I make a new recipe with almond flour, I like to make a half or even a fourth. Things just don't come out as consistently as with regular flour, so I want to be sure it's good before I invest in the full amount of almond flour.
I've made these apricot muffins twice now and really enjoy them, but I'll leave the recipe in it's small form. You can easily double it though!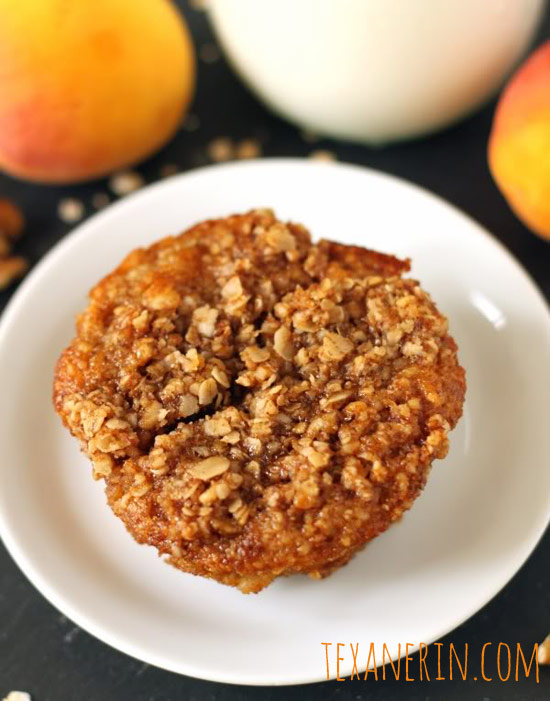 And about the streusel topping… I used it the first time, not the second time, and I preferred it without. With the topping, these obviously aren't grain-free, but still gluten-free if you use gluten-free oats.
To be honest, I wasn't wild about the streusel topping I came up with, mostly because I don't like walnuts. I thought I might still like it, but I didn't. And it's hardly sweet. If you want typical, buttery and sweet topping I recommend you pick your favorite streusel recipe and just use that. :)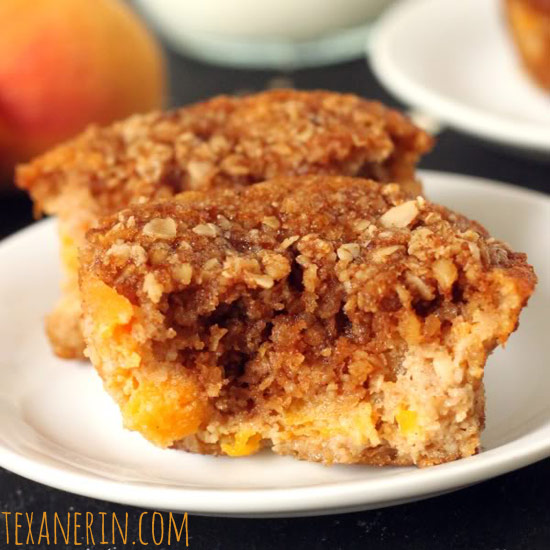 This isn't a nice picture, but I wanted to show you the texture. I have to admit that it looks really weird, and the texture isn't the same as a normal muffin, but they're still pretty darn good. And I was worried about the apricots making the muffins soggy, but I really don't think that they did. Next time I think I'll use 1/2 cup apricots!
Want another yummy gluten-free apricot treat? Try these no-bake apricot oat protein bars from Cotter Crunch!
❀
Grain-free Apricot Muffins
Prep Time:
Cook Time:
Ready in:
Yield:

5 muffins
Ingredients
Muffins:

80 grams almond flour (I'm not listing the cups because almond flour brands seem to differ quite a bit)
3/4 teaspoon cinnamon
1/8 teaspoon nutmeg
1/4 teaspoon baking soda
1 teaspoon orange zest
2 tablespoons honey
1 egg
1 teaspoon vanilla
1/3 cup apricots, skin on and chopped

Streusel:

15 grams walnuts
1 tablespoon oats (non-contaminated for gluten-free)
20 grams coconut oil or normal butter
1/4 cinnamon
1 tablespoon coconut sugar
2 tablespoons oats (non-contaminated for gluten-free)
Directions
Line a muffin tin with 5 liners (you might only be able to / want to use 4, but have a 5th ready just in case).
Preheat your oven to 350°F / 176°C. First, make the streusel. In your food processor, add the walnuts and 1 tablespoons of oats and process until it's finely ground (which should only take a few seconds).
Add the butter, cinnamon, and coconut sugar, and pulse. Stir in the oats and set aside.
For the muffins, combine the almond flour, cinnamon, nutmeg, baking soda and orange zest in a small bowl. In a separate medium bowl, combine the honey, egg and vanilla.
Add the dry mix to the wet, stirring until just combined, and then fold in the apricots. Spoon the batter into the muffin liners and evenly distribute the streusel among the muffins.
Bake for 15 - 18 minutes until golden brown. These are pretty moist but they should still look set when you take them out. Turn out onto a wire rack immediately to prevent them from getting soggy (they're already really moist). It's really humid where I live so I stored these in the fridge.