Not only are these the fudgiest brownies ever, but these grain-free and dairy-free fudge brownies are entirely date sweetened and have a healthier peanut butter chocolate fudge frosting!
First of all, I just have to say this – if you put these brownies in the fridge, they are like straight up fudge. Seriously. They do not taste grain-free! I took these pictures when the brownies were at room temperature because it was sunny (a rarity around here at this time of the year!) and I was sleepy and wanted to nap. But now I'm kicking myself for not waiting so you could see what they look like refrigerated!
I've been working on this recipe since I started grain-free baking about a year and a half ago. But the other day I realized… there's no fat in there. Why have I never added fat?!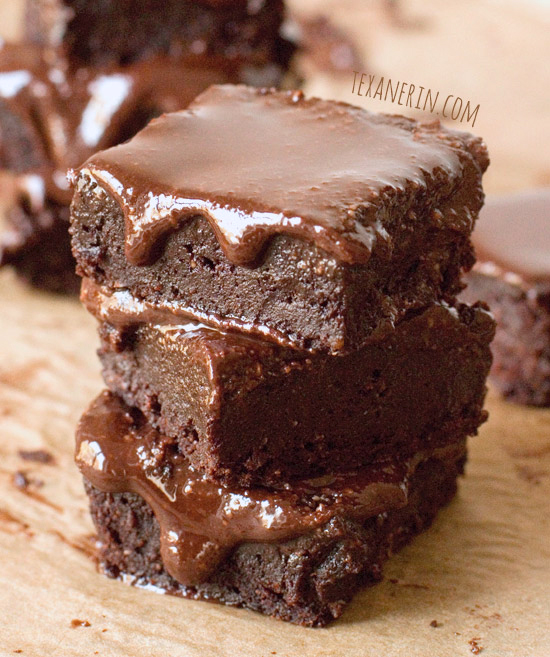 The brownies below are the fat-free version. Or I guess I should say the added-fat free version. If you want to make those, just omit the coconut oil from the recipe. I'm sure these would also work well with only 2 tablespoons of oil! The oil-free version is good and all but why have fat-free good brownies when you could have the best ever fudgy brownies?!
I used coconut oil in these brownies and don't know if any other fats would work. So go with coconut oil! And I only have access to refined coconut oil (which has absolutely no coconut taste) so if you use unrefined, I don't know if it'd have a slight coconut taste or not. But even if it did, I bet these would still be delicious!
The most amazing thing about these brownies is that they're entirely date sweetened! No honey, no coconut sugar, no maple syrup. Just dates!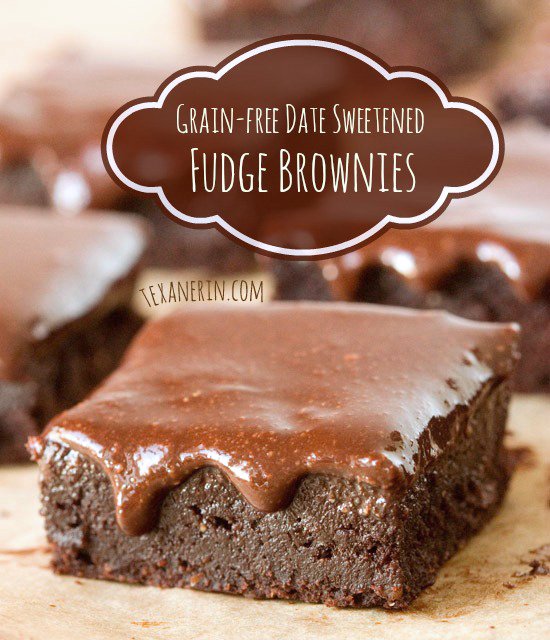 You whip the batter up in the food processor, meaning that the dates are totally processed to a paste and nobody will have a clue that there are dates in there!.
I don't normally like recipes with just coconut flour in them, but these are an exception. And I'm afraid that there are no subs for coconut flour here. You have to use coconut flour. It's expensive but you use so little at a time!
I also used Dutch process cocoa powder, just because that's all we have over here. When I was in the US this summer and did some baking, I was a little surprised by the difference between Dutch-process and normal or even Hershey's dark cocoa powder. I definitely recommend getting some of the Dutch-process kind! It just makes baked goods taste more intense and somehow more developed. If that makes any sense.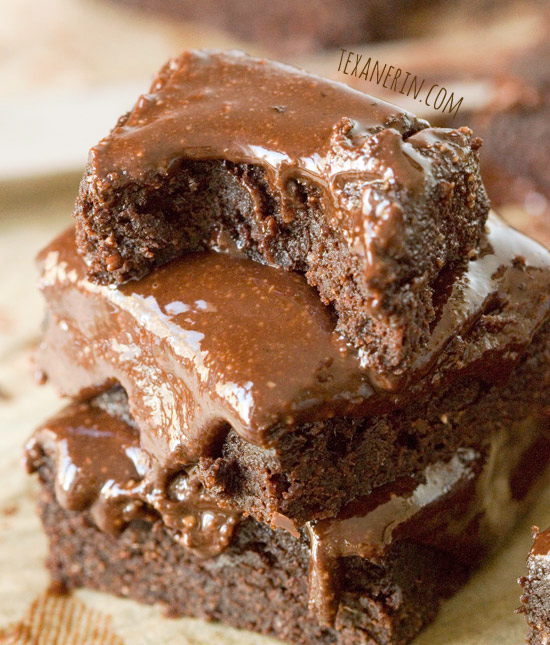 I've also tried these with prunes but I found them a bit gross. You could definitely taste the prunes! Stick with dates. :) I just used normal dates because I've never seen Medjool dates around here, so if you want to use Medjool, get out your scale and go by weight.
After posting my healthier Halloween sugar cookies, I asked on Facebook what other Halloween goodies people would like to see healthified. The first answer I got was anything with chocolate and peanut butter – so I jazzed these fudge brownies up with a little peanut butter! It's in both the batter and the frosting. While you can't really taste it in the brownies, you can taste it in the frosting, although it's not super peanut butter-y.
The frosting is the same one I used in my spiderweb cupcakes but I doubled the peanut butter. And the frosting does have a tablespoon of honey in it. I couldn't make that date sweetened. It just didn't work.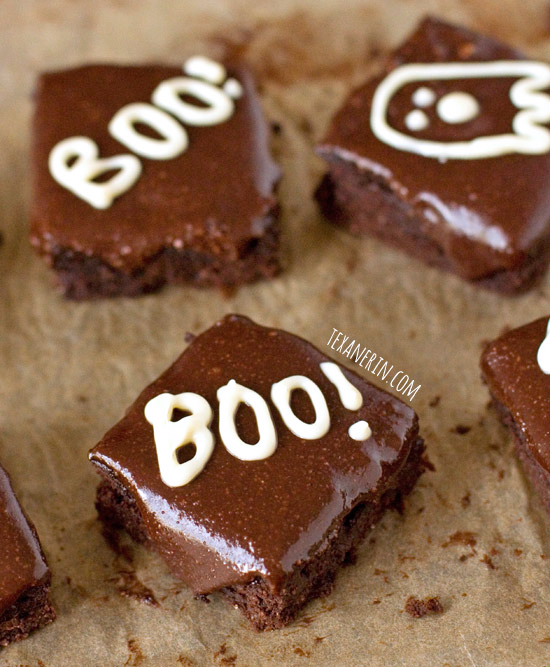 The frosting is like dark chocolate peanut buttery fudge when refrigerated. When at room temperature, you can see what a mess it is. I didn't refrigerate my brownies before cutting them, but you should to avoid a mess. And if you don't want to use peanut butter, you can use any nut butter or maybe even coconut butter (not coconut oil!) And for a nut-free version, I bet SunButter would work just fine!
You can see my pathetic attempt at Halloween-ifying these fudge brownies. At least it was quick, easy, and free of super processed junk! It was just a little white chocolate but you could use anything that's pipe-able.
If you try these, let me know how they come out! I'd love to hear what you think. :D
❀
Grain-free Fudge Brownies
Prep Time:
Cook Time:
Ready in:
Yield:

8 brownies
Ingredients
Brownies:

80 grams (this is 11 regular, non-Medjool) dates1
2 teaspoons vanilla
1/4 cup natural peanut butter (the kind with no added fat or sugar!)
2 tablespoons milk of choice
1/4 cup coconut oil, melted
1 egg
1/4 cup (25 grams) coconut flour
1/3 cup (38 grams) Dutch process cocoa powder
1/2 teaspoon baking powder

Frosting:

1 1/2 tablespoons (21 grams) coconut oil
1/4 cup (64 grams) natural peanut butter
2 1/2 tablespoons (~12 grams) Dutch-process cocoa powder
1 tablespoon (20 grams) honey
Directions
Preheat the oven to 350 degrees F (175 degrees C). Prepare a 9" x 5" loaf pan with a piece of parchment paper for easy removal of brownies. If you don't have parchment paper, you can spray the pan with baking spray.
In the bowl of your food processor fitted with the S-blade, process the dates until it becomes pasty. It'll be spreadable, but not a liquid.
Add the vanilla, peanut butter, milk and coconut oil and blend until homogeneous.
Add the egg and pulse just until combined. Do not over mix here!
Add the remaining ingredients (coconut flour, cocoa powder, and baking powder) and pulse once or twice to get it mostly combined, and then use a plastic spatula and finish mixing it in.
Bake the brownies for 10 – 12 minutes or just until the top appears set. If you press down into the brownies with your finger, they will be very, very soft.
Let cool completely before frosting.
For the frosting, melt the coconut oil, natural peanut butter and cocoa powder in a small pan over low heat. When completely melted and smooth, take the pan off the heat, add the honey and stir until well combined.
Frost the brownies and place the loaf pan back in the refrigerator to allow the frosting to set (to allow for easier cutting).
Once the frosting is set, cut the brownies and store in an airtight container in the fridge for up to 5 days.
Notes
If you want to use Medjool dates, please go by weight!
As an Amazon Associate, I earn from qualifying purchases. For more info, see my disclosure.