These paleo apple muffins are fuss-free and completely maple sweetened. They get extra apple flavor from grated and diced apples. Thanks to Pure Canada Maple for making today's post possible! Pictures updated on 10/1/18.
I've been wanting to post a paleo apple muffins recipe for a long time. At first I tried adapting the paleo blueberry muffins I posted recently. They're my favorite muffin recipe, by far, but that didn't work out. The cinnamon and spices just made them weird.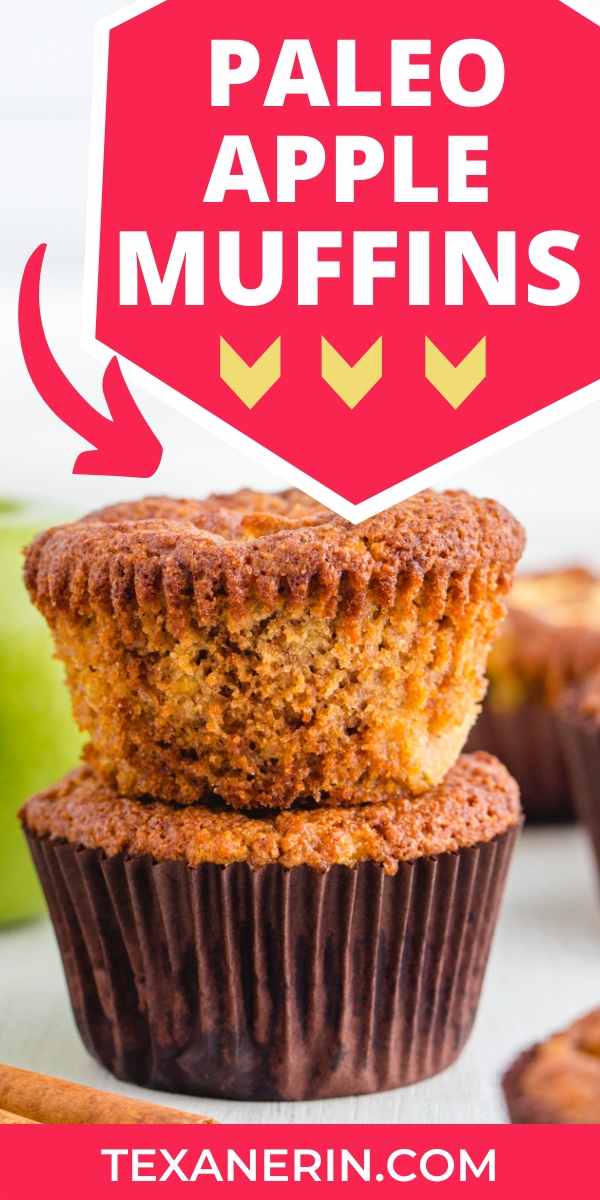 So then I tried adapting my paleo apple butter cake but I wasn't in love with those muffins, either. I tried some other apple muffins with almond flour and then figured that it'd be easy enough to adapt my grain-free carrot cake cupcakes, which is one of my most popular recipes. People seem to love them and I hope you all will enjoy these just as much. :)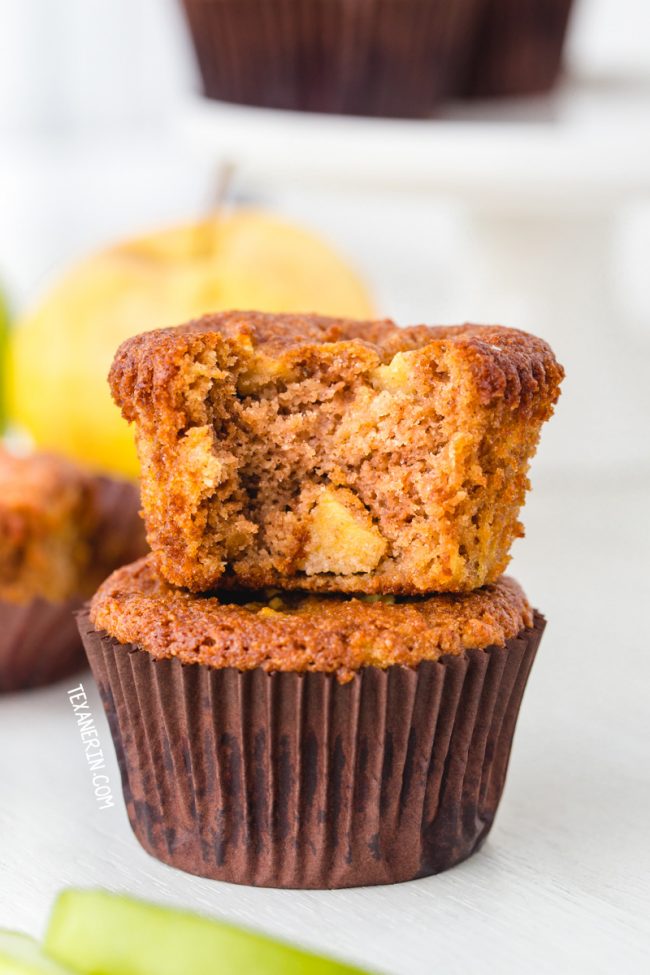 The carrot cake recipe uses 1/2 cup of grated carrots and I subbed that with 1/2 cup of coarsely grated apples. I've only made these muffins using this extra coarse grater to grate the apples so if you want to use a fine grater, I have no idea how that'd work out.
I'd be afraid that the muffins would come out too wet. These muffins are already super moist so I don't know if they could handle even more moisture!
Another change was the sweetener. I use a lot of lighter colored maple syrup throughout the year as a sweetener in all kinds of different flavored goodies, like these paleo key lime pies or these paleo lemon cookies.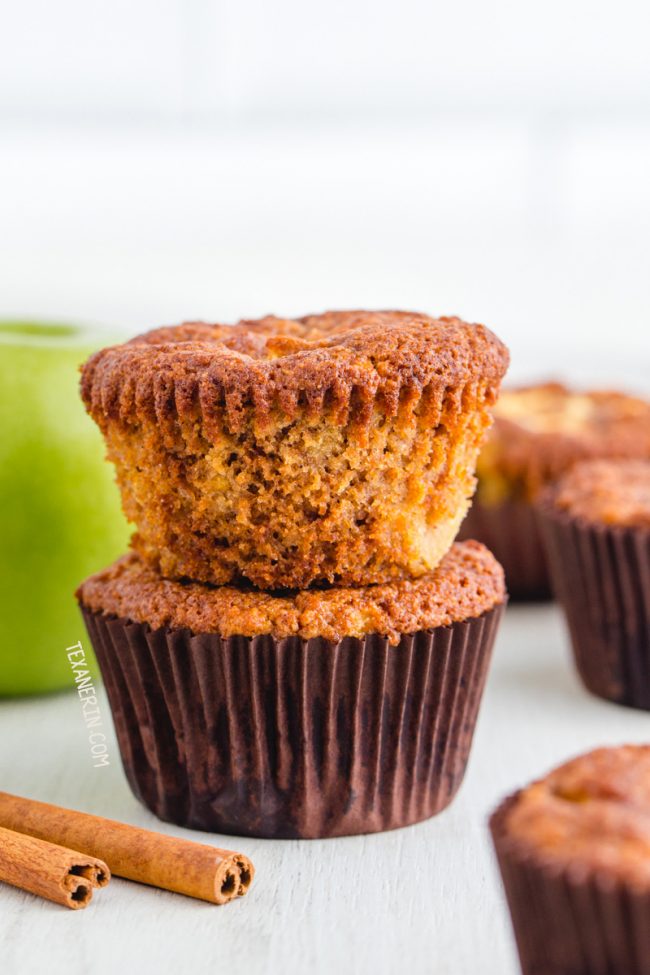 And now that I'm baking with cinnamon, apples and in a few weeks – pumpkin – I go through about 1 1/2 liters a month! I'm in the mood for maple everything. :)
The carrot cake recipe uses honey but 100% pure maple syrup seemed like a much better choice for these autumnal muffins. I used the exact same amount! It's an easy sub and I think it blends better with the apple + cinnamon + nutmeg combination than honey does.
You can use any grade of all-natural maple syrup in these. You can't really taste it through all the cinnamon flavor so I went with the standard Grade A Medium Amber kind that's usually sold in grocery stores around here. I save the darker, stronger tasting and slightly more expensive Grade A Dark Amber kind for dishes where I want the maple taste to shine.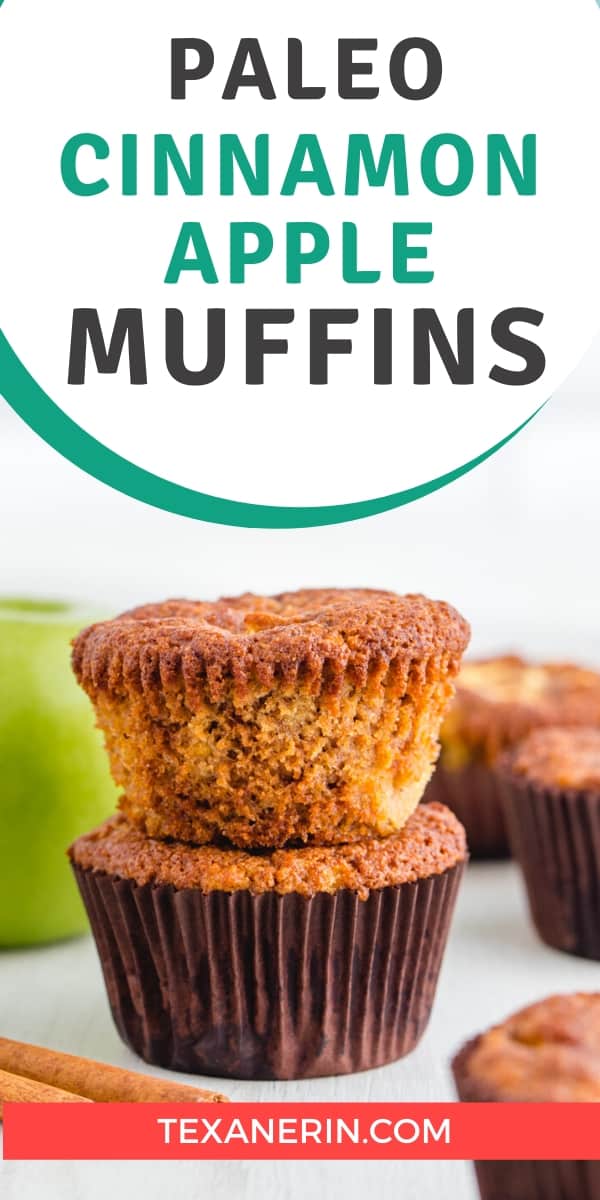 One tablespoon of cinnamon may seem like a lot for 8 muffins (it's 3/8 teaspoon per muffin) but I've tried these with less cinnamon and they just weren't very exciting. You need the cinnamon!
I've also tried these with a bunch of different apple types and we could hardly detect there were apples in the muffins – until I made them with Granny Smith. Their tartness helps them stand out more and together with the cinnamon and maple syrup, creates a truly awesome apple muffin.
Thanks again to Pure Canada Maple for sponsoring today's post! As always, all opinions expressed are my own.
One of the old pictures for reference for those of you who have made these paleo apple muffins before!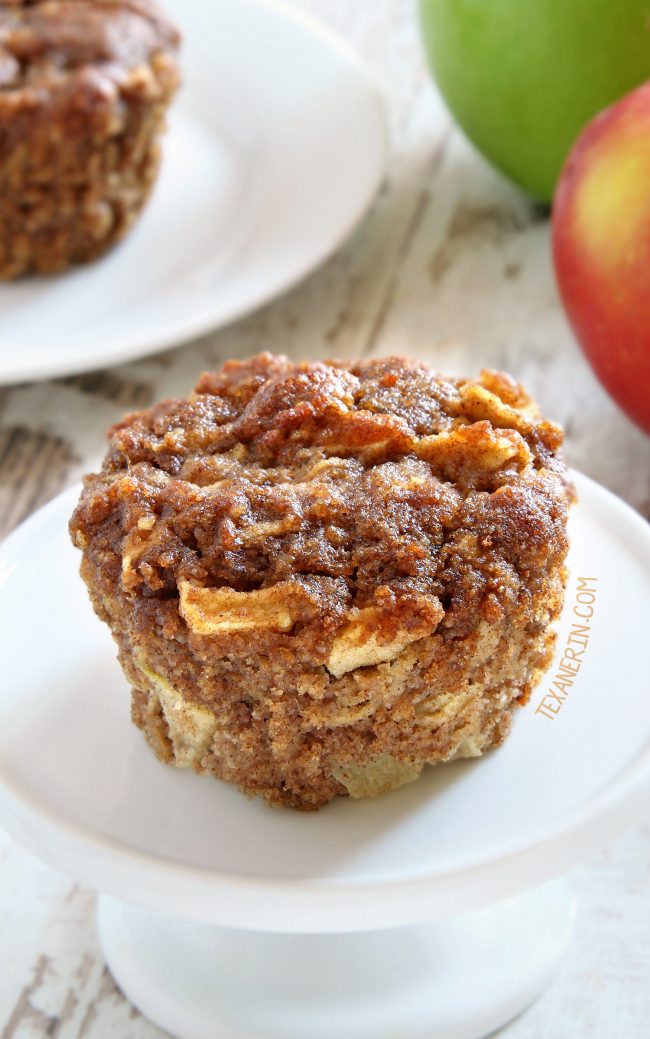 ❀
Paleo Apple Muffins (grain-free, gluten-free, dairy-free)
Prep Time:
Cook Time:
Ready in:
Yield:

8 muffins
Ingredients
1 1/4 cups (125 grams) blanched almond flour
2 1/2 tablespoons (20 grams) coconut flour
1/2 teaspoon baking soda
1/4 teaspoon salt
1 tablespoon ground cinnamon
1/4 teaspoon ground nutmeg
2 large eggs (50 grams each, out of shell), room temperature (2 eggs is correct!)
5 tablespoons (70 grams) refined coconut oil, melted (if you use unrefined coconut oil there may be some coconut taste to the muffins)
1/3 cup (106 grams) pure Canadian maple syrup
2-3 tablespoons coconut sugar, optional (see note)1
2 teaspoons vanilla extract
1/2 cup (90 grams) coarsely grated Granny Smith apples
1 1/4 cups (155 grams) Granny Smith apple chunks (about 1/4")
Directions
Preheat the oven to 350°F (175°C). Line a muffin pan with 8 muffin liners.
In a medium bowl, mix together the dry ingredients (almond flour through nutmeg). Set this aside.
In a large bowl, mix together the eggs, oil, pure Canadian maple syrup, and vanilla.
Add the dry mix to the wet and mix just until combined.
Gently fold in the grated apples and then the chopped apples.
Divide the batter evenly among the liners, filling them almost full, and bake for 23-25 minutes or until a toothpick inserted in the middle comes out clean.
Let the muffins cool for 5 minutes in the pan and then remove to a wire rack to cool completely.
Store in an air-tight container at room temperature for 1 day or refrigerate for up to 4.
Notes
I added the coconut sugar to the recipe in October 2018. Before that, no coconut sugar was listed and the reviewers loved them that way! Only add the coconut sugar if you like things to be on the sweeter side.
The video shows 3 eggs because the beginning part of the video that shows mixing together the ingredients is taken from the video I did for my paleo apple cake (which uses this same apple muffin recipe, but 1.5x all the ingredients - which is why it shows 3 eggs instead of 2). Sorry for the confusion! I didn't realize it until it was too late.
As an Amazon Associate, I earn from qualifying purchases. For more info, see my disclosure.