This healthier carrot cake cheesecake is 100% whole grain and made with less sugar!
I've heard a lot about the Cheesecake Factory carrot cake cheesecake but I've never had it nor have I ever been to the Cheesecake Factory. I always felt like I was missing out but now that I have this cheesecake, I don't think I care. I do wish though that I could hop on a plane to the nearest Cheesecake Factory to do a compare and contrast on this cheesecake but unfortunately that's not in the budget. ;)
This recipe is admittedly kind of time consuming but it's so worth it. You have to make the cheesecake batter, the cake batter, and the cream cheese Greek yogurt frosting on top. With all the work involved, it makes sense to double the recipe for a full cheesecake. Sadly, I just can't do full cheesecakes. Mr. Texanerin and I are going to demolish whatever size cheesecake we have so it just makes sense to go with a smaller one.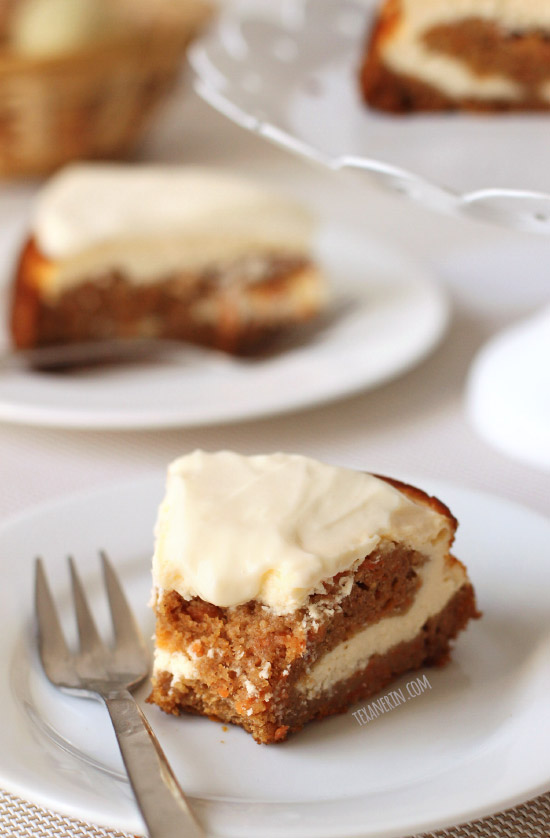 If you want to double the recipe, use a 9″ springform pan and bake for 60-70 minutes.
If you're like me, you're probably considering skipping on the cream cheese frosting (it's decadent enough, right?!) but that's something you definitely don't want to do! It makes the cheesecake. Putting the frosting together only takes two minutes and it's nice and tangy and adds so much to the cheesecake. I used half a cup of Greek yogurt to lighten things up and just enough sugar to lightly sweeten it.
There's also Greek yogurt in the cheesecake batter but that doesn't make it taste like light or low-fat cheesecake. I like my cheesecakes to be dense and heavy, just like a more traditional cheesecake.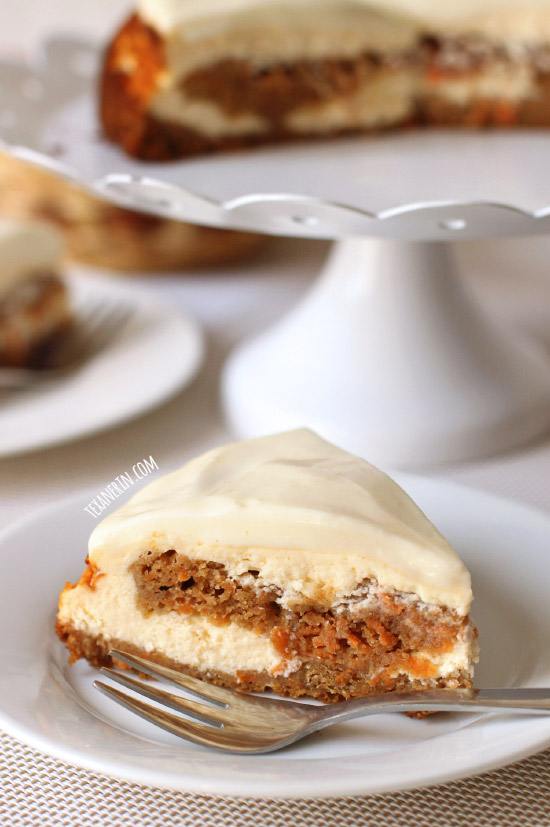 One important thing to note is that you shouldn't marble or swirl the layers together! It won't come out properly if you do that. And don't panic when you see your cheesecake rising and cracking in the oven. That's normal and unavoidable with this recipe (because of the baking powder) but you'll cover it up with the frosting so nobody will be the wiser. :)
I haven't tried making a grain-free or gluten-free version of this carrot cake cheesecake but I'm pretty confident that you could use this grain-free carrot cake recipe instead of the carrot cake batter recipe below. Just make half of it, though, unless you're doubling the entire carrot cheesecake recipe. Or you could try these mini carrot cake cheesecakes from RecipeGirl. They look amazing and have a gluten-free option!
I hope you all have a great Easter! Here are some more 100% whole grain Easter recipes. :)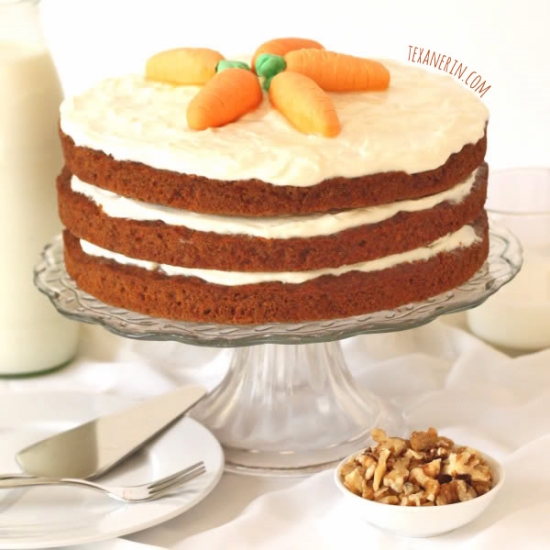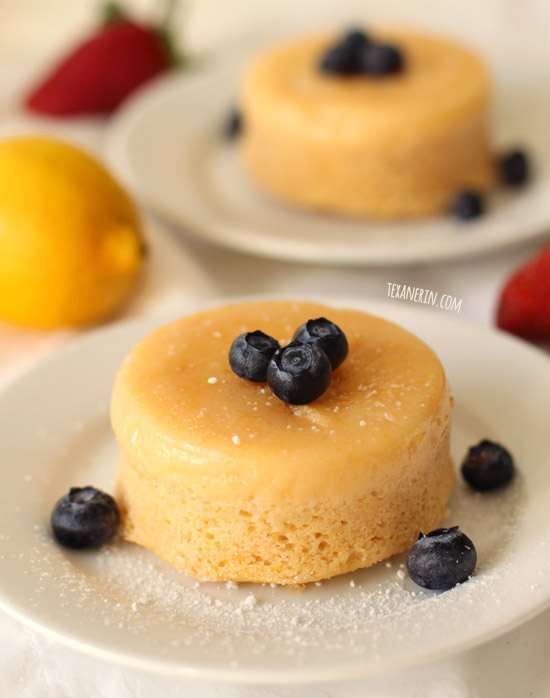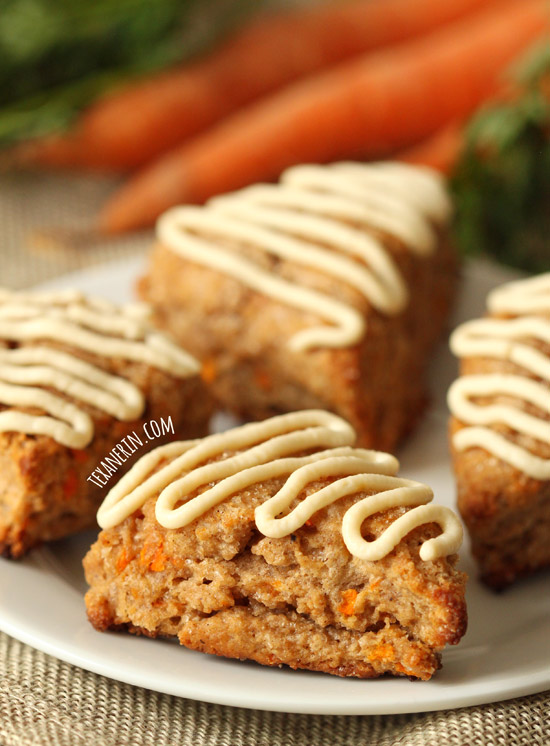 ❀
Healthier Carrot Cake Cheesecake
Prep Time:
Cook Time:
Ready in:
Yield:

8 slices
Ingredients
For the cheesecake batter:

8 ounces (225 grams) cream cheese, room temperature
2 tablespoons granulated or unrefined sugar
1/8 teaspoon salt
1 teaspoon vanilla
1 egg
1/3 cup (75 grams) plain Greek yogurt

For the cake batter:

1/2 cup (62 grams) whole spelt flour or whole wheat flour
1/2 teaspoon baking soda
1/2 teaspoon ground cinnamon
1/4 teaspoon ground ginger
1/8 teaspoon ground nutmeg
1/8 teaspoon salt
2 tablespoons (28 grams) melted coconut oil or canola oil
2 tablespoons + 2 teaspoons unsweetened apple sauce (or more oil)
1/4 cup (50 grams) unrefined sugar or brown sugar
1 large egg
100 grams (about 3/4 cup) peeled and grated carrots

For the frosting:

2 ounces (56 grams) cream cheese, room temperature
1/3 cup (66 grams) granulated or unrefined sugar
1/2 cup (112 grams) plain Greek yogurt
1 tablespoon (14 grams) melted coconut oil
1 teaspoon vanilla
1/8 teaspoon salt
Directions
Lightly grease a 6 1/2" springform pan and set aside.
In a medium mixing bowl using an electric hand mixer, beat together the cream cheese and sugar until smooth.
Add the salt, vanilla and egg and beat until smooth.
Stir in the Greek yogurt and set this bowl aside.
Preheat the oven to 350°F (176°C).
Prepare the cake batter by mixing together all the dry ingredients (flour through salt) in a medium bowl.
In another medium mixing bowl, mix together the oil, apple sauce, sugars and egg.
Add the dry mix to the wet and stir just until combined.
Fold in the carrots.
Pour half of the cake batter on the bottom of the prepared pan.
Dollop large spoonfuls of half the cheesecake batter over the carrot cake batter. Do not swirl or mix it together.
Dollop the remaining carrot cake batter over the cheesecake batter layer.
Evenly spread the remaining cheesecake on top.
Bake for 30 minutes or until the middle of the cheesecake is still jiggly but appears to be almost set. The cake will rise and crack but don't worry as you'll be covering the cake with frosting.
Let the cheesecake cool completely and then refrigerate for 3 hours.
After the cheesecake has cooled thoroughly, prepare the frosting by mixing together the cream cheese and sugar until smooth.
Add the Greek yogurt, oil, vanilla and salt and mix until thoroughly combined.
Spread the frosting over the top of the cheesecake and chill for another hour until the frosting firms up just a bit.
Refrigerate until ready to serve.
Cover and refrigerate for up to 4 days.
Cake batter recipe adapted from Carrot cake with maple cream cheese frosting