Today I'm sharing something special: my first guest post ever! I'm extremely excited to introduce you to the super sweet and talented Caroline of Chocolate & Carrots. If you don't already know her, you have to check her out! Caroline is a new mom with a three month old boy and still found time to make this post for us. Thanks Caroline!
Caroline is treating us to something especially amazing today – healthier fudge! Just look at the ingredients: coconut oil, honey, cocoa powder, and almond butter. She knows me well, huh? :) I was so excited about this post that I've already tried it out. Verdict? YUM!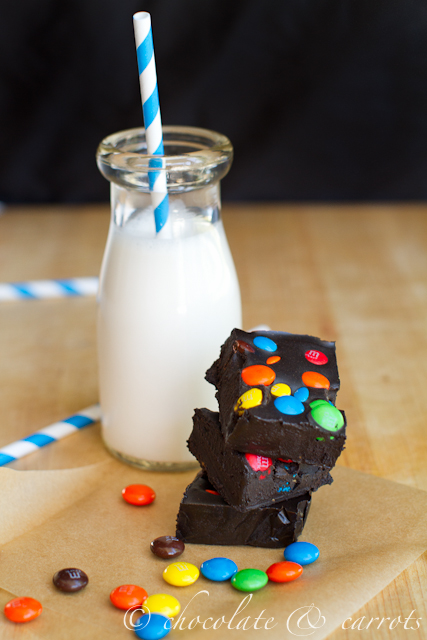 Hey there! My name is Caroline and I bake and blog over at Chocolate & Carrots. I'm so thrilled that Erin asked me to do a guest post for her. We've never met in person, but she is seriously sweet and makes some incredible goodies. I feel like we're already best friends. I remember forever ago when she first emailed me and said the sweetest things about how I inspired her to take better food photos. It's things like that that you never forget and truly mean a lot. Since then, I've loved getting to know Erin via email and instagram, and she's put up with my shenanigans in my blogging world!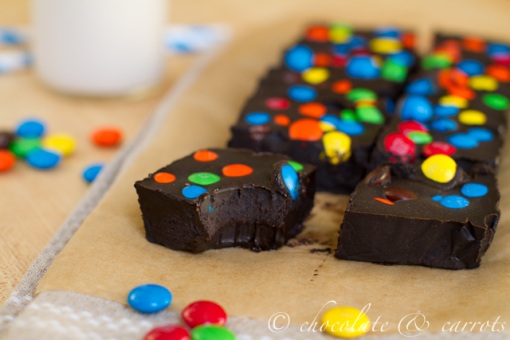 Erin was a sweetheart and hosted a virtual baby shower for me when I was pregnant with Liam. I remember waking up that morning and crying to all of the sweet posts that my blogging friends did for me.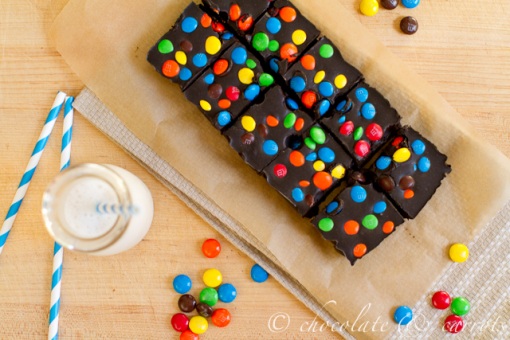 Okay. Enough mushy stuff. Let's get to the sweets! Today, I want to share this amazingly chocolatey fudge that is basically dark chocolate gananche on steroids, but without the no-no, heavy cream. So, it's pretty decently good for you considering we're talking dessert, too! I will warn you though, a tall glass of milk is a required accompaniment and a little bit of this rich chocolately treat goes a long way.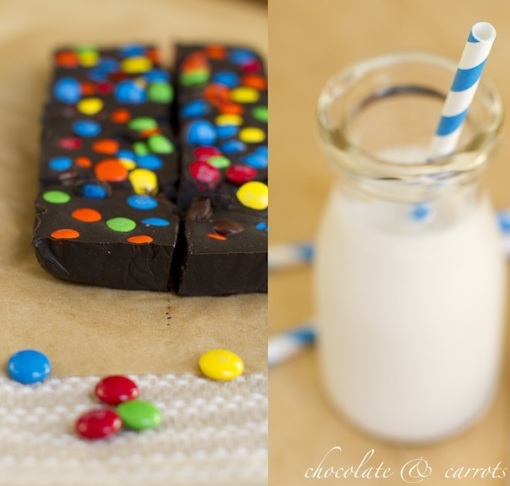 ❀
Healthier Dark M&M Fudge
Prep Time:
Cook Time:
Ready in:
Yield:

1 loaf pan
Ingredients
1/2 cup coconut oil, in liquid form
1/2 cup honey
1/2 cup + 2 tablespoons Hershey's special dark cocoa powder
2 tablespoons almond butter
1/2 cup dark chocolate M&M's (for something naturally colored, try Unreal Candy Coated Chocolates)
Directions
Whisk the coconut oil and honey together.
Slowly whisk in the cocoa powder.
Whisk in the almond butter.
Pour into a loaf pan that has been covered in non-stick foil.
Sprinkle the M&M's on top.
Freeze for 15 minutes.
Cut into squares.
Store in the refrigerator until ready to eat.
Notes
It's probably best if eaten with a fork or with a dollop of frozen yogurt!
Adapted from The Wannabe Chef