This keto chocolate pudding is no-cook, rich, creamy and quick to put together! It's also vegan but can be made with dairy if you prefer.
With today's keto chocolate pudding recipe, I've now got something for everyone! If you'd prefer a non-keto recipe, scroll down where you'll find all my other pudding recipes.
This kind of recipe is my ideal dessert. No-bake, no-cook, rich, creamy, and ultra-smooth. Just dump everything in a blender, blend and you're done.
Super thick, rich and creamy
This keto pudding recipe is the same as my chocolate chia pudding, but with keto sweetener instead of maple syrup.
If you use something other than canned coconut milk, it'll be less rich but still pretty thick. One thing you need to do is make sure to add the water.
I just remade this pudding before posting. I made it tons of times over the summer but apparently had forgotten quite a bit.
Tonight, I was absent-minded and forgot to add the water and thought it was thick enough without it. So I didn't bother adding it when I realized my mistake.
But then I put it in the fridge and it was way too gloopy after chilling for an hour or two. It was weird.
And that's when I remembered why I originally added the water to the recipe back in the summer. Don't omit it!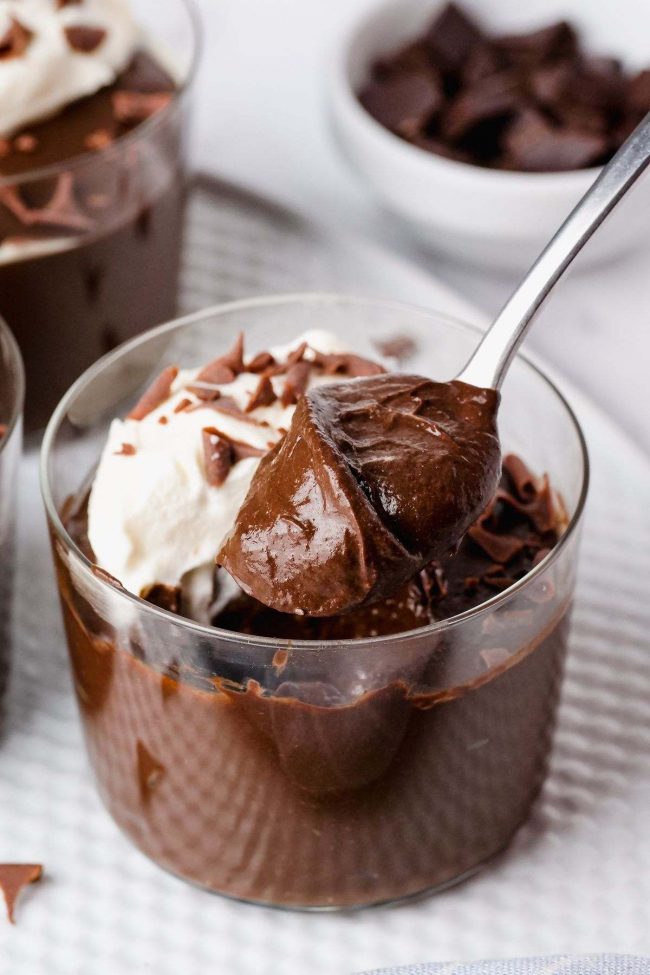 No lumps or weird texture
I haven't liked most chia pudding recipes I've tried. I just don't like the lumpiness. It kind of weirds me out.
Normally, you stir all the pudding ingredients together and then add the whole chia seeds. With my recipe, you actually pulverize the chia seeds with half of the coconut milk and the sweetener first.
Then you add the other ingredients.
The result is totally smooth! The texture is really like regular no-cook pudding.
No high-speed blender?
If you don't have a high-speed blender, you could use store-bought ground chia seeds or grind your own in an electric coffee blender. Then use a food processor to blend. When measuring them out for the pudding, go by weight instead of volume. So use 50 grams of ground chia seeds.
I don't think a food processor will get it 100% smooth, even with using previously ground chia seeds, though. I could be wrong!
I think another issue might be that you'd need to make a double batch to get the pudding over the blade. If the pudding doesn't go over the blade, it won't blend.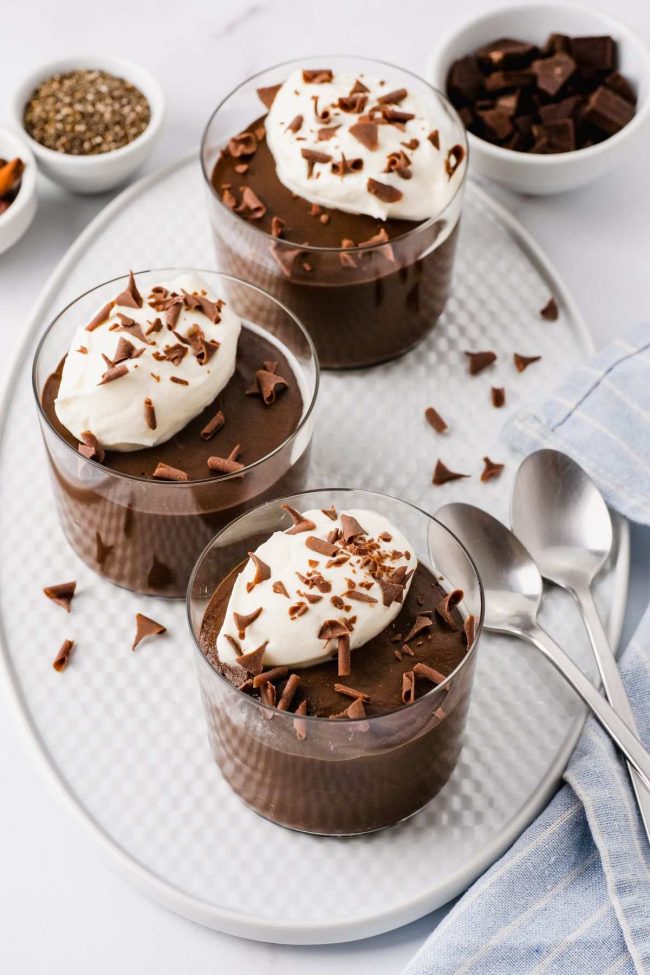 If you have a small food processor, a single batch might work.
You could do the same with a regular blender and I think it would get it super creamy. Again, just a guess. :)
An immersion blender should probably also get it decently creamy!
What does not work is using pre-ground chia seeds, and mixing it with the other ingredients in a bowl. I was really excited with that experiment, thinking, "Aha! What a great short-cut!" but… nah. That was like regular lumpy chia pudding, even with the pre-ground chia seeds.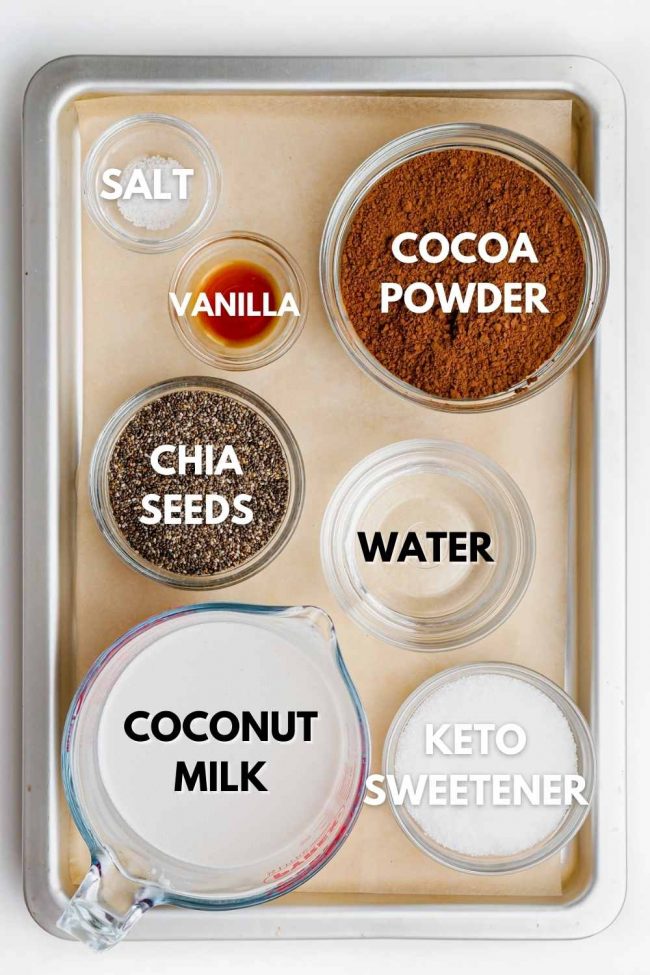 Super easy
It's no-cook and super easy. You just toss everything into a high-speed blender. Blend. Done!
It's kind of thin after blending but chilling thickens it up. You can see what I mean in the video.
The sweetener
As someone who fought against posting keto recipes for years, because I really didn't like keto sweeteners, if I post a keto dessert recipe, you know it's got to be good. ;)
I used the same blend of sweeteners that I've used in all my keto recipes so far. While you're enjoying this pudding, it tastes like regular pudding made with cane sugar.
Only later, really like 10 minutes later, did I notice the sweetener aftertaste. My husband didn't notice it at all.
I made it once with all cashew milk and the sweetener taste was pretty obvious. So I can't recommend that. I think all coconut milk is the way to go but you can experiment with mixing types of milk. There's more on that below.
I think this will also largely depend on your brand of cocoa powder. Use a brand you love and that has a deep, chocolate taste. I used Dutch-process but various random German store-brands that aren't useful to those of you in the US.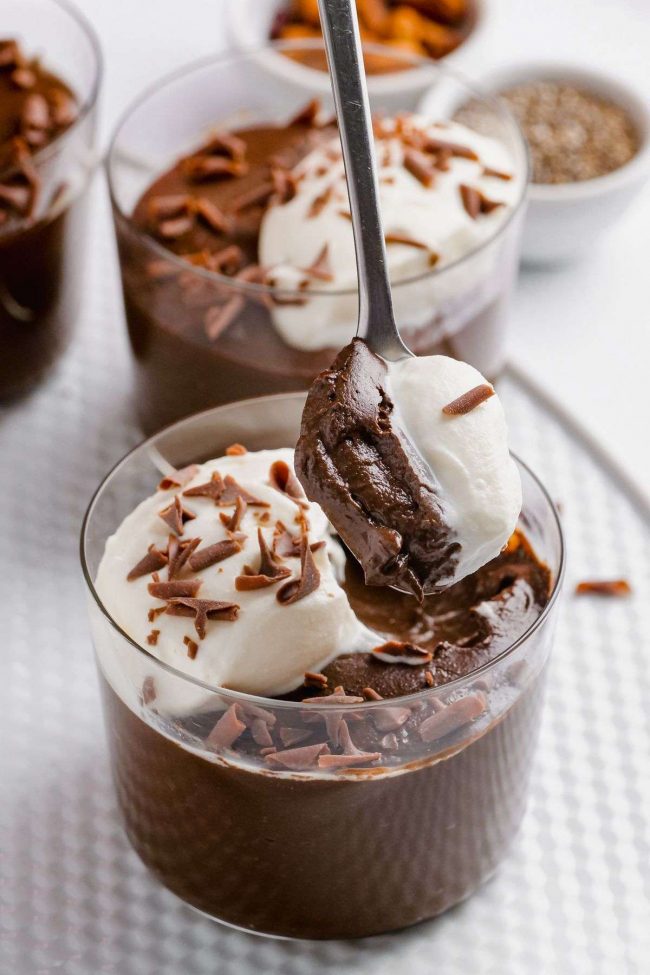 If you want to make up a big batch of this sweetener, use:
1 pound (453 grams) xylitol = 2 1/4 cups
12 ounces (340 grams) erythritol = 1 1/2 cups + 3 tablespoons
2 teaspoons pure stevia powder
Then you can make these delicious keto dessert recipes:
I also have lemon cookies and peanut butter cookies coming up that use this same blend! Might as well make a big batch now. ;)
It's a lot quicker and easier to just use 5 tablespoons of the pre-mixed blend for this low-carb chocolate pudding (and future recipes) than to measure out the exact amount of all three sweeteners each time. The measurements for just 5 tablespoons of the sweetener are kind of crazy.
Or really, just the stevia. You need a bit less than 3/16 teaspoon stevia (or actually, 1/8 teaspoon + 1/32 teaspoon to be exact). If you've got these measuring cups and spoons, it's no problem. If you don't have those measuring spoons, winging it makes me nervous.
Also, I tested the measurements using measuring spoons an endless number of times for this recipe. Even when using the same spoons and a knife to level them out, the results were different each time. And when I used different tablespoons, the differences were as big as 33%!
As in, 1 tablespoon of sweetener weighed 15 grams with one brand of tablespoons but another weighed 10 grams. Both were marked as 15ml. It's crazy but I did it multiple times. So please, get a scale. ;)
By the way, this sweetener isn't a 1:1 sub for granulated sugar. When using this blend, I use about half the amount of granulated sugar called for, or maybe up to 2/3. It depends on the recipe.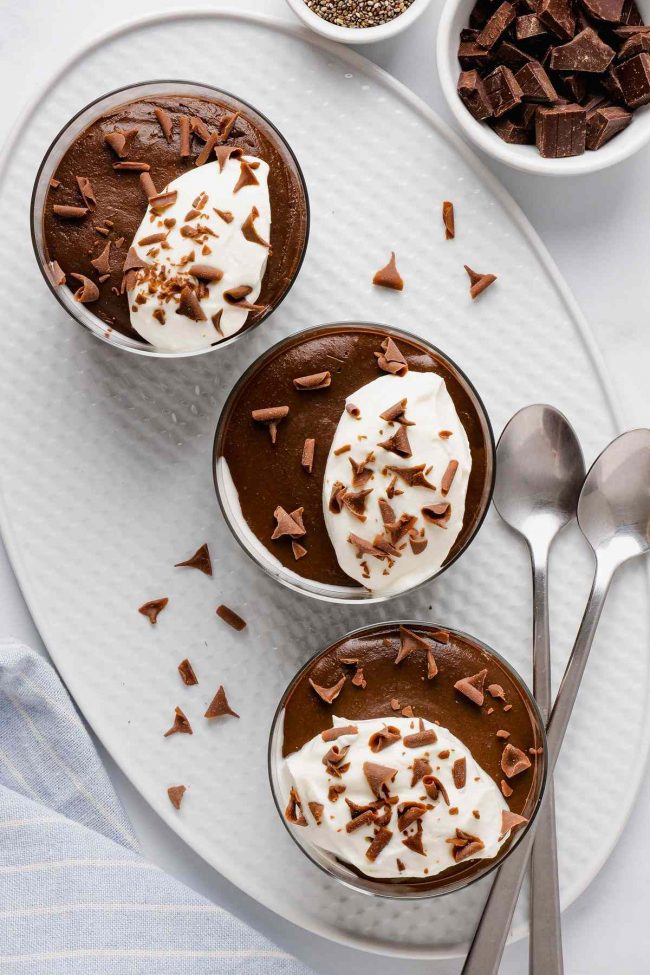 If you can have dairy…
Feel free to use dairy, if you prefer! I used canned coconut milk, but you can use whatever mixture of dairy you'd like.
Canned coconut milk is usually around 19% fat. So light cream would be your closest equivalent.
But if you want to mix and match, like milk combined with some heavy cream, here's how much fat everything has.
Half-and-half contains 12% fat
Light cream contains 20% fat
Whipping cream contains 35% fat
Heavy cream contains 38% fat
The pudding is already pretty rich and decadent with 19% fat, so I probably wouldn't do all whipping cream or heavy cream.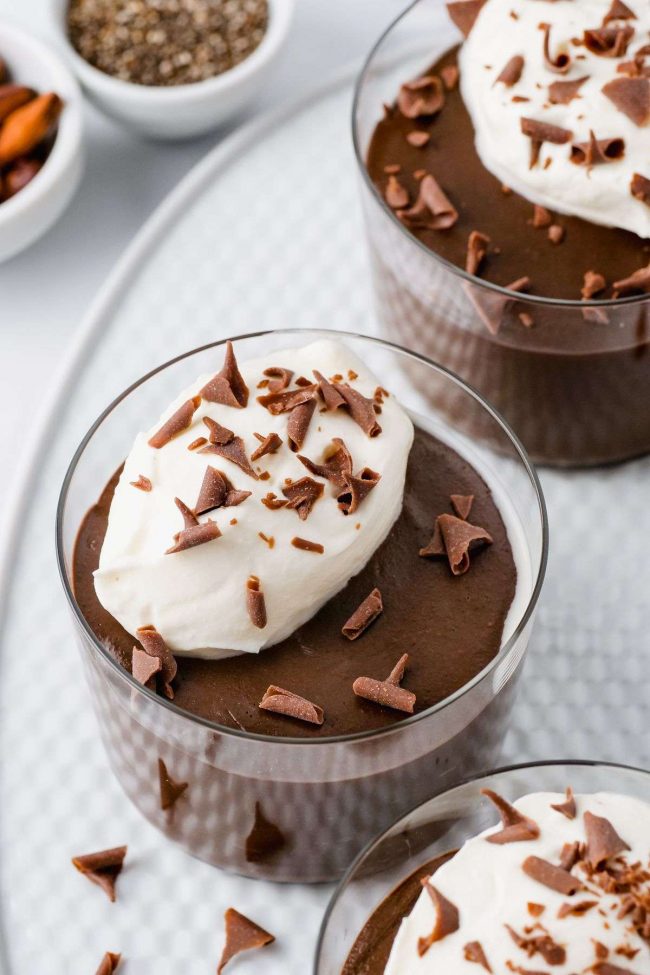 Health benefits of chia seeds
The chia seeds are used instead of cornstarch or arrowroot to thicken the pudding. It adds more nutritious goodness, too!
Benefits of Chia seeds:
Chia seeds are an outstanding superfood. Adding chia seeds to recipes dramatically boosts the nutritional value of a variety of different foods. Because of their bland taste, chia seeds can easily be incorporated into porridge, pudding, smoothies and fruit juice, baked goods, or even eaten raw.


Chia seeds contain impressive amounts of fiber. Comprised of 40% fiber by weight, chia seeds slow digestion which makes you feel satisfied, and helps to manage blood sugar.


Chia seeds are a rare source of omega-3 fatty acids. Omega-3s are important for brain health: helping to fight depression, improving sleep, and reducing the risk of heart disease.


Chia seeds have high amounts of nutrients like calcium, phosphorus, and magnesium. In fact, ounce per ounce, chia seeds have more calcium than most dairy products and help to promote good bone health.


Chia seeds have high-quality plant-based protein and are super high in antioxidants helping to slow down the signs of aging and helping to reduce the risk of cancer.
Don't be fooled by their size, chia seeds are a powerful nutritional addition to your diet!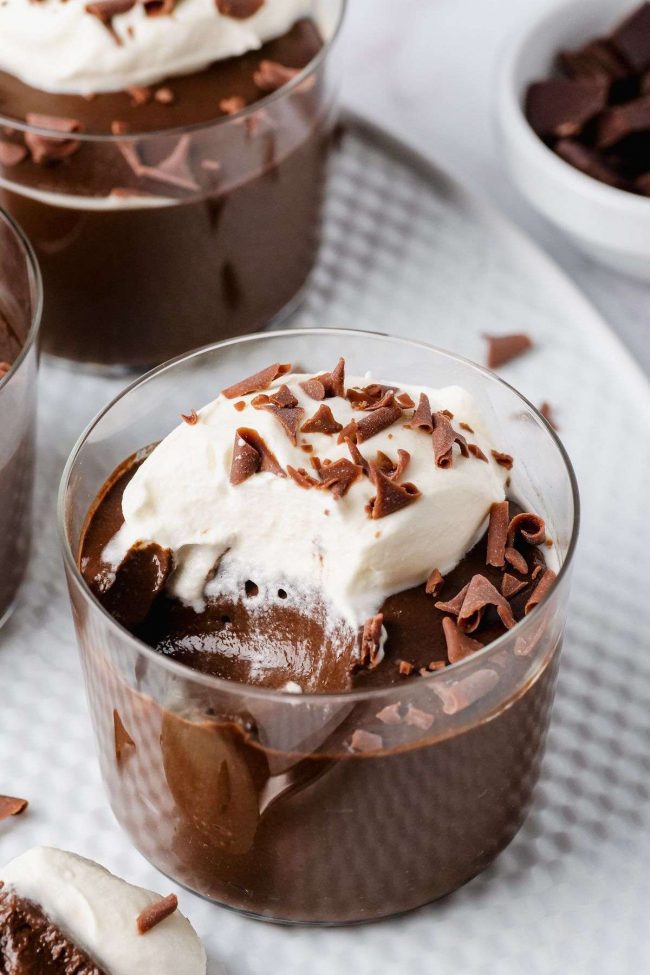 Want a non-keto version?
That's easy! Use 1/2 cup of maple syrup instead of the keto sweetener. Chill it for a few hours so that it can thicken.
If keto isn't your thing, check out my other non-keto options:



The rest are all paleo/vegan or at least have options for that: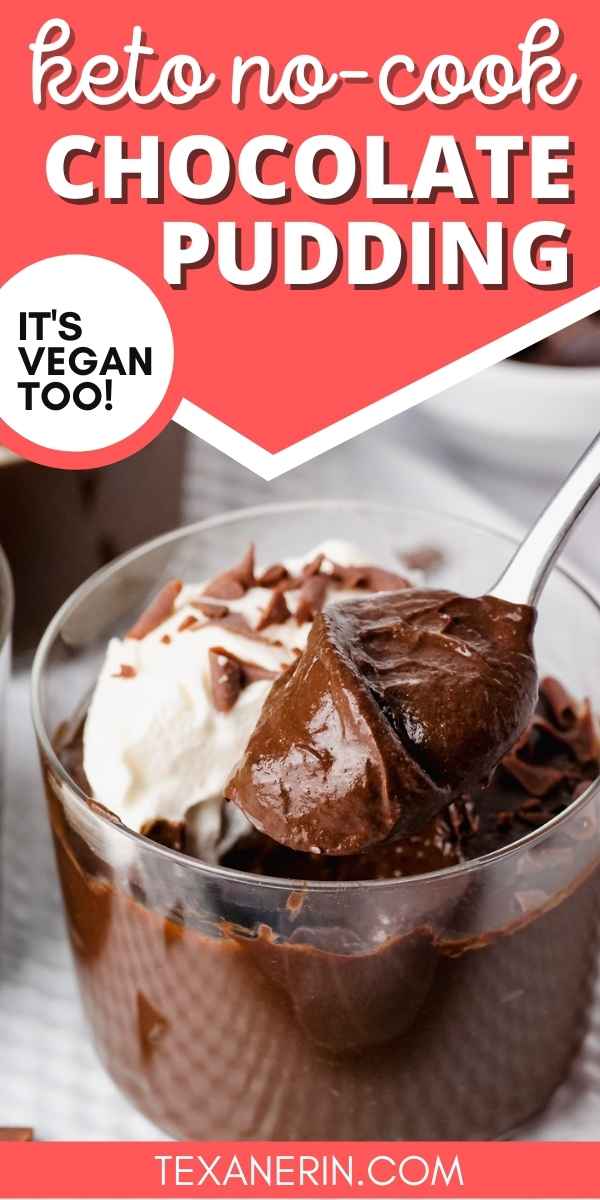 Questions about this keto pudding?
What can I use in place of the canned coconut milk?

If you eat dairy, light whipping cream would be the best sub. Or a mix of water + whipping or heavy cream.

If you don't drink dairy, you need something a bit thicker than regular plant-based milk. If you don't want to use all canned coconut milk, then 50% canned coconut milk and 50% of whatever plant-based milk you'd like would be fine.


I tried it with all cashew milk and we didn't like it. It was definitely missing something.

Can I use a different sweetener?

I've only tried this with the listed mix of keto sweeteners and Lakanto Maple Flavored Syrup. We thought that version was terrible, so I really don't recommend it.

If you want to experiment, you need something that would replace 1/2 cup of maple syrup.

Can I use X type of cocoa powder?

You can probably use any kind of unsweetened cocoa powder. I used Dutch-process because I like the dark chocolate taste, but natural cocoa powder (like Hershey's) or raw cacao powder would work, too.

Can I make this less rich?

You could use a combination of canned coconut milk and another type of thinner milk. 50% canned coconut milk + 50% of another type of milk works fine.

Can you taste the coconut?

Nope! At least not with the coconut milk and cocoa powder I used.

Do I need a high-speed blender?

Read the section above called "No high-speed blender?" :)
If you give this recipe a try, I'd sure love to hear how you like it! I don't get much feedback on my keto recipes, so I'd really appreciate it.
Nutritional info
The following information is provided as a courtesy and is an estimate only. I'm not a nutritionist nor a dietician. This information comes from online calculators. Although I do everything to attempt to provide accurate nutritional information, these figures are only estimates. Be aware that varying factors such as product types or brands used can change nutritional information in any recipe.
Here's the label for the keto version. Net carbs = 6.96 grams per 1/2 cup serving. Net carbs = total carbs – fiber – sugar alcohols. There are 9.74 grams of sugar alcohol per 1/2 cup serving and that's how I came up with that number.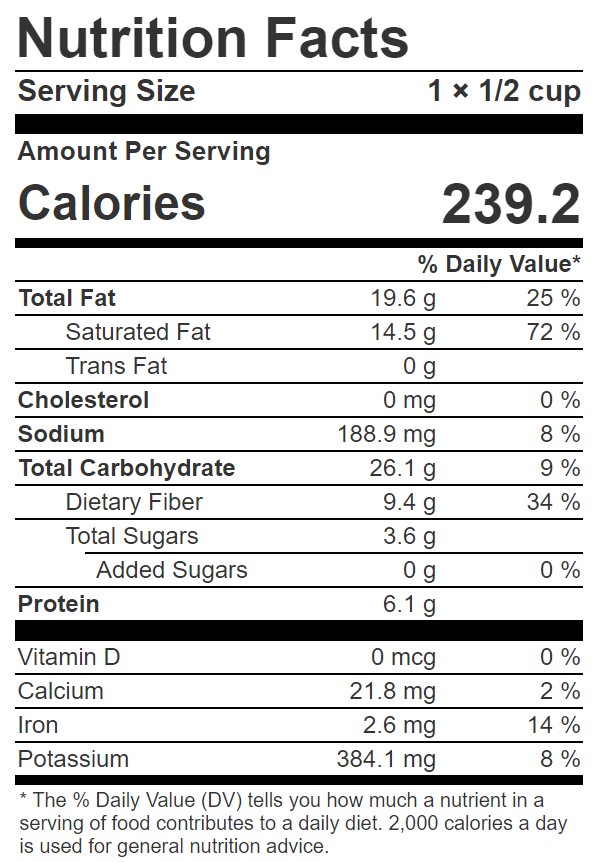 ❀
Keto Chocolate Pudding (vegan)
Prep Time:
Cook Time:
Ready in:
Yield:

2 1/2 cups
Ingredients
1 14-ounce (1 3/4 cups or 400-ml) can full-fat coconut milk, divided
37 grams xylitol1
28 grams erythritol
1/8 teaspoon + 1/32 teaspoon stevia (or a bit less than 3/16 teaspoon)
1/4 cup (50 grams) whole chia seeds
1 teaspoon vanilla extract
3/8 teaspoon salt
1/4 cup (60 milliliters) water
1/2 cup + 2 tablespoons (72 grams) cocoa powder
Directions
In a high-speed blender at high speed, blend about half the coconut milk, sweetener, chia seeds, vanilla and salt for about 1 minute until totally smooth.
Add the rest of the coconut milk, the water and cocoa powder and blend until combined. There should be no lumps of chia seeds.
Pour into serving cups.
Let chill for about or hour before serving so that it firms up.
Cover any leftovers and refrigerate for up to 3 days.
Notes
The sweeteners I used were 100% xylitol, 100% erythritol and 100% stevia. If you make a big batch of this blend as listed in the recipe post, then you need 5 tablespoons (65 grams). If you don't have a scale, then this is about:

– 2 tablespoons + 2 1/2 teaspoons xylitol
– 2 tablespoons + 1/2 teaspoon erythritol
– 1/8 teaspoon + 1/32 teaspoon stevia