This banana cream pie milkshake is made healthy with Greek yogurt and bananas instead of ice cream and can be made dairy-free, vegan, and gluten-free!
It's Milkshake Week! But me being me with my low posting frequency, I'm only joining in on the fun on the last day. Julie, Lindsay and a lot of other bloggers have been posting amazing milkshakes all week long that have been making me desperate for freezer space. Freezer space so that I can actually buy ice cream to make actual milkshakes with! So due to my lack of freezer space, and because I know you all like stuff on the healthy side, I went the healthy ice-cream-free milkshake route.
I thought about doing the frozen banana and peanut butter thing but with natural peanut butter, I find that you have to add a ton to get any kind of peanut butter flavor. If I'm going to eat 300 calories of peanut butter (and believe me, I do ;)) I want to at least be able to taste it. So that idea quickly died.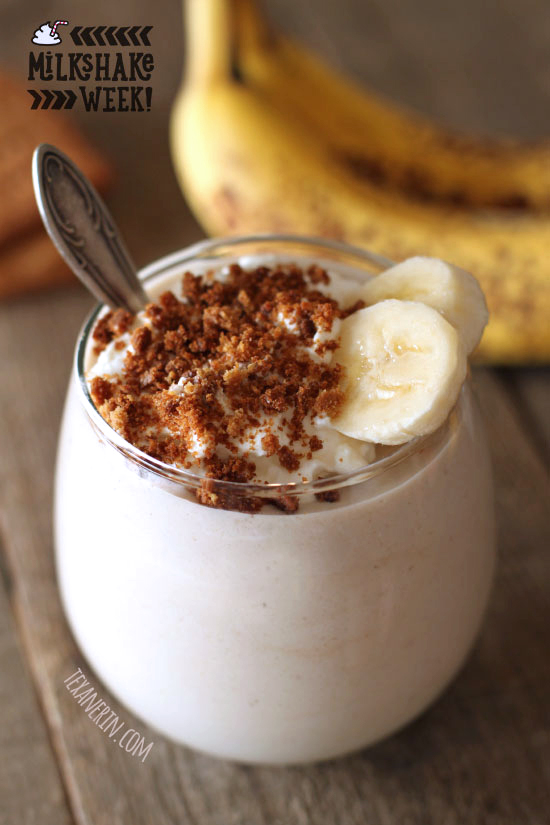 I recently made graham crackers and made some graham cracker crusts with them, but I still wanted to get even more use out of them. I also happened to have attempted a banana cream pie that was a total failure that same day. And so the banana cream pie milkshake was born!
All you do is blend frozen bananas, Greek yogurt and milk and add some whipped cream and graham crackers on top. If you use ripe bananas, your milkshake should be plenty sweet. However, I was a bit dumb and used some unripe bananas that weren't very sweet. I added a little maple syrup and that took care of the sweetness issue! And obviously, feel free to add ice cream instead of yogurt.
Whenever I see other frozen banana smoothie or milkshake recipes, people often call for 1 banana per serving. That might work if you want a half cup serving (like, half-a-measuring-cup-cup and not an actual cup) but the only time the half a cup serving size suffices for me is if it's veggies. So this recipe calls for two bananas per serving. I'm sure a few of you don't like the thought of downing two bananas at once as bananas aren't the lowest calorie fruit out there but come on! ;) It's a milkshake. You'll get your potassium plus bananas are heart healthy. So do yourself a favor and make this milkshake. Do it for your heart!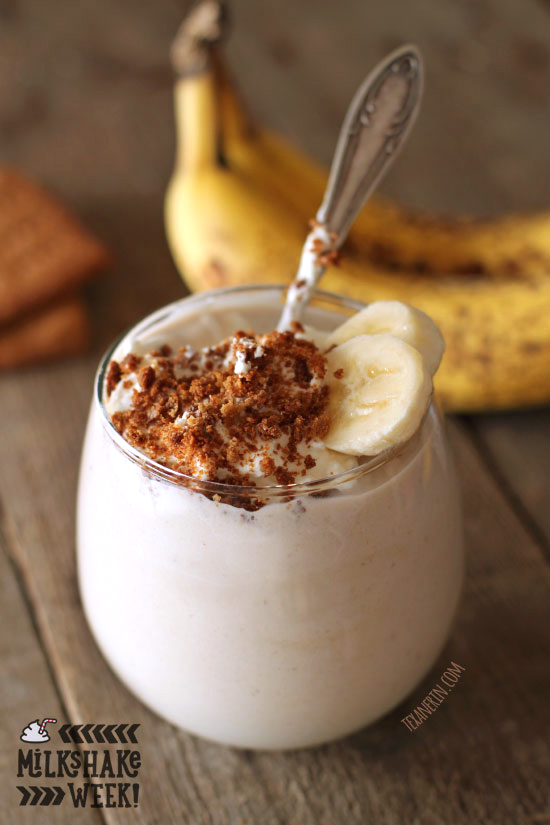 This milkshake is super allergy-friendly. I've linked to gluten-free, grain-free, dairy-free, vegan and whole wheat graham crackers in the recipe as well as to dairy-free yogurt. Banana cream pie milkshakes for everyone! :D
For another fun spin on banana pie, try this Banana Split Ice Cream Pie from Vegetarian Mama!
❀
Healthy Banana Cream Pie Milkshake
Prep Time:
Cook Time:
Ready in:
Yield:

1 serving
Ingredients
Directions
Blend the bananas, vanilla, cinnamon, Greek yogurt and milk together with an immersion blender, food processor, or a high-powered blender until well combined.
Pour into a glass.
Using an electric hand mixer, whip the cream until stiff peaks form and spoon the cream on top of the milkshake.
Garnish with graham cracker crumbs.
Enjoy immediately.