This gluten-free granola couldn't be any simpler to make and is also vegan, 100% whole grain and dairy-free.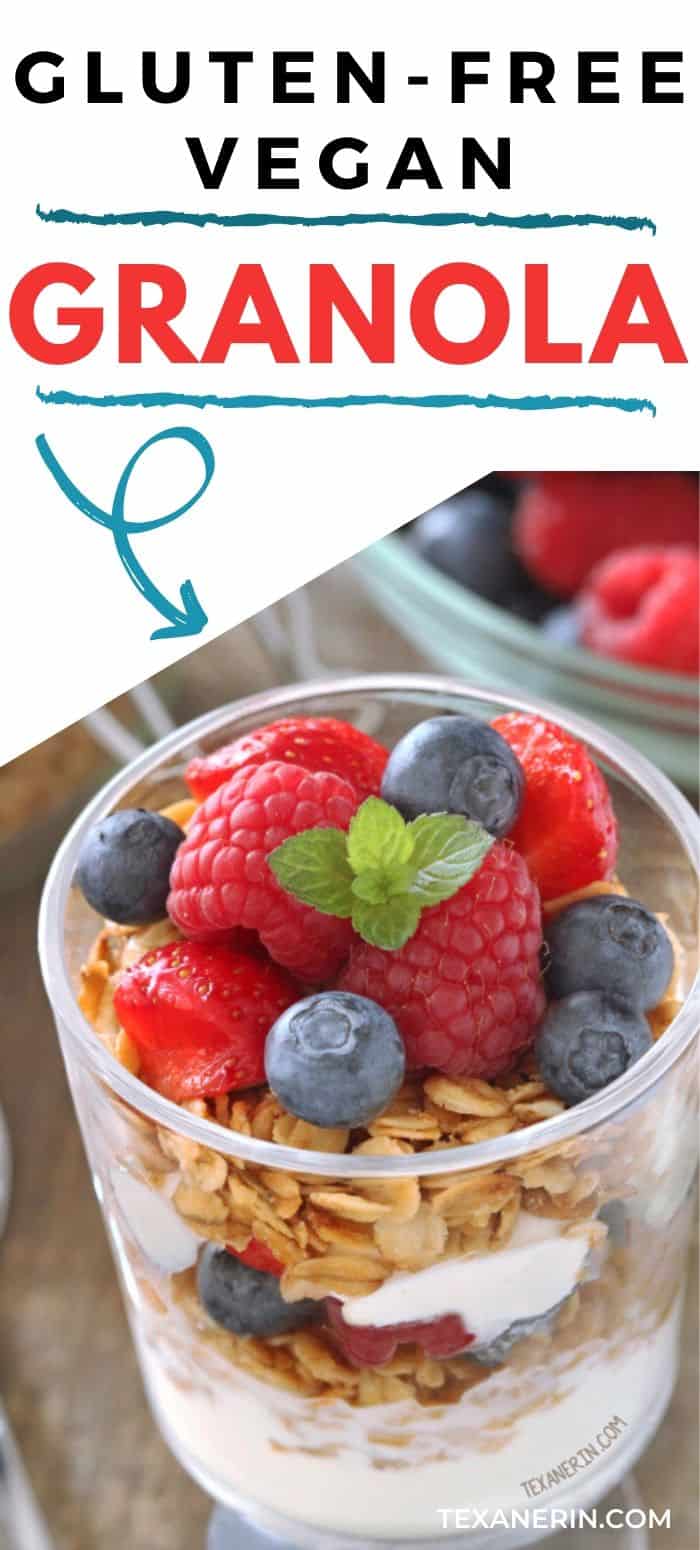 So here's a super last minute treat for July 4th! If you find yourself with some more time on your hands, take a look at these healthier July 4th desserts.
I absolutely love these parfaits. What I don't love is that you can't assemble them beforehand. The granola gets soggy pretty quickly so you'll want to eat these up right away! If you want to make these for a July 4th picnic or something like that, you'll just have to make a little make-your-own-parfait station. It's kind of fun, right? :)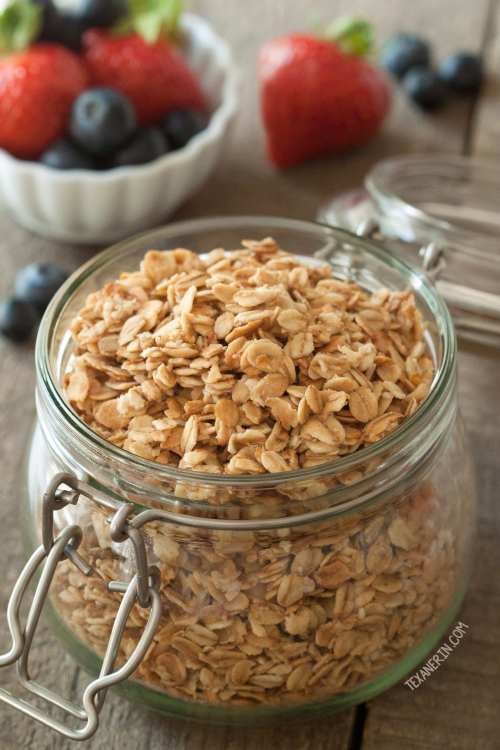 This gluten-free granola wasn't originally going to be vegan. I wanted to make granola clusters and I read how you could add an egg white to "any" granola recipe and it'd magically become cluster-y. I was doubtful but tried it out, anyway.
The egg white version came out kind of soft and mushy, which was kind of a relief. I hate having leftover egg yolks and I bet some of you do, too! So here's a less fussy recipe.
When I realized that the granola was almost vegan, I tried it out with brown rice syrup in place of the honey. Worked perfectly! Prefer bars? Try these great Vegan Granola Bars!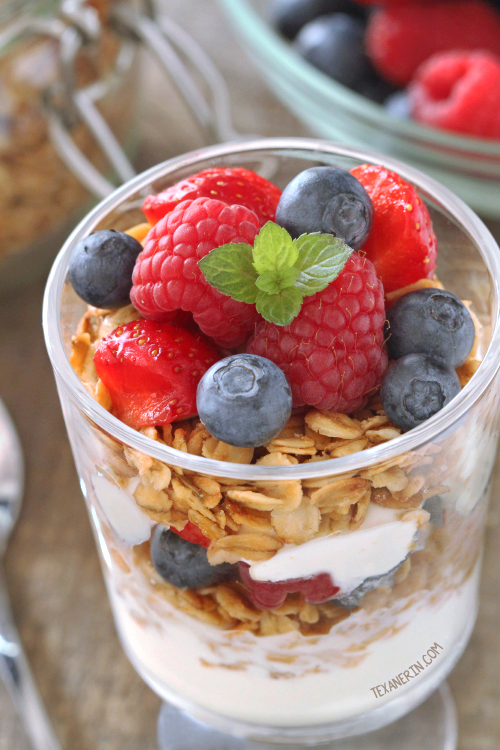 The added sugar is entirely optional. I forgot to add it once and was going to throw the granola away, thinking that it tasted like nothing.
Then a few people came over, tried it, and some preferred it to the version with sugar. I've also made it with 2 tablespoons of sugar instead of 4 and even that was pretty great.
I envy the people who thought this gluten-free granola was plenty sweet without it! My sweet tooth must be out of control.
The two tablespoons of vanilla isn't a typo, by the way. Just go with it! And the almond extract adds something a little special, without turning the granola almond-flavored.
Prefer a recipe with nuts and seeds? Try this great homemade granola!
I hope you all have a fantastic 4th of July! And for another gluten-free treat perfect for the holiday, check out this amazing Gluten Free Angel Food Cake.
If you try out this granola, please let me know in the comments how it turned out! Thank you. :)
❀
Gluten-free Granola (vegan, dairy-free, 100% whole grain)
Prep Time:
Cook Time:
Ready in:
Yield:

4 cups granola
Ingredients
For the granola:

4 cups (368 grams) rolled oats (use gluten-free oats, if necessary)
1/4 cup (50 grams) raw sugar or granulated sugar, optional
6 tablespoons (84 grams) unsalted butter or coconut oil for vegan1
6 tablespoons honey or brown rice syrup for vegan
2 tablespoons vanilla extract
2 teaspoons almond or coconut extract
1/2 teaspoon salt

For the parfaits:

1/4 cup (25 grams) granola
1/2 cup (120 grams) plain or vanilla Greek yogurt or coconut yogurt for vegan
1/2 cup mixed berries, rinsed and patted dry
Directions
For the granola:

Heat the oven to 325 °F (163 °C). Line a jelly roll pan with a piece of parchment paper.
In a large mixing bowl, stir together the sugar, coconut oil, honey, vanilla extract, almond extract and salt. Stir in the oats.
Transfer the granola to the prepared jelly roll sheet and spread into an even layer.
Bake for 15-20 minutes, rotating the pan halfway through, until the granola near the edges of the pan starts to brown. Keep a close eye on it as all ovens are different. Stir the granola thoroughly and then bake for another 5-10 minutes or until uniformly lightly browned. The granola will still be soft but will crisp up as it cools.
Let the granola cool completely on the pan. Store in an airtight container for up to 3-4 weeks.

For the parfaits:

Layer 1/4 cup Greek yogurt into the bottom of a dessert glass (my glasses have a capacity of 10-ounces). Top with 2 tablespoons granola, followed by 1/4 cup berries. Do one more layer of yogurt, granola and berries. Serve immediately.
Notes
I used refined coconut oil, which doesn't have coconut taste. If you use unrefined coconut oil, this granola may have some coconut taste to it.
For vegan: Use coconut oil, brown rice syrup and coconut yogurt. I'd recommend using coconut extract instead of almond if using coconut yogurt and unrefined coconut oil.
For dairy-free: Use coconut oil and coconut yogurt. I'd recommend using coconut extract instead of almond if using coconut yogurt and unrefined coconut oil.
Source: My Post on My Baking Addiction – Gluten-free Granola