These chocolate flapjacks are an amazingly simple oat-based sweet treat much like granola bars that are made with butter, honey, brown sugar, and a touch of vanilla. They have such a great texture and are so easy to make. And since they're oat-based, they're also gluten-free, as long as you use gluten-free oats.
If you thought this post was about pancakes and were surprised by the picture, it must be noted that flapjacks are different depending on where you live.
In the USA and Canada, flapjacks are synonymous with those round fluffy batter-based pancakes we all love with a drizzle of maple syrup.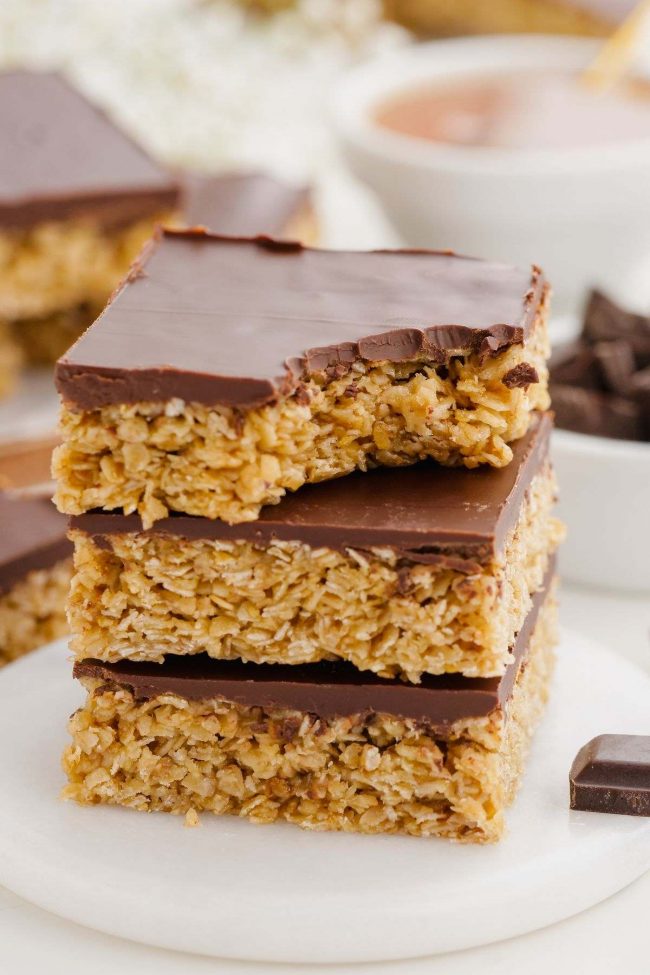 But in the UK, flapjacks are an oat-based sweet bar made in a baking tray often taken with tea or as a lunch box snack.
I don't want anyone to feel disappointed, so if you came here for pancakes, then pancakes you should have! Just scroll to the bottom for a fantastic list above the recipe box.
But now that you know flapjacks have two different meanings, you can have the best of both worlds by trying this fantastic snack.
These flapjacks are terribly addictive. If you have self-control issues, I'd suggest you only make them if you have someone to share them with. Or bury them in your freezer. ;)
Ingredients
Just standard staple ingredients here!
Butter – I haven't made with successfully with anything else.



Light brown sugar – I don't recommend just using regular granulated sugar. The brown sugar gives these flapjacks a great flavor!



Honey – you can also use golden syrup/light treacle or brown rice syrup



Vanilla – if you need to omit it, add water so the wet to dry proportions are correct (yes, even though it's just 1 teaspoon).



Quick oats – I've tried quick oats and rolled oats and find that the bars do not hold together with rolled oats. So you must use quick oats. Note that quick oats and instant oats are not the same!



Chocolate + butter – this is for the topping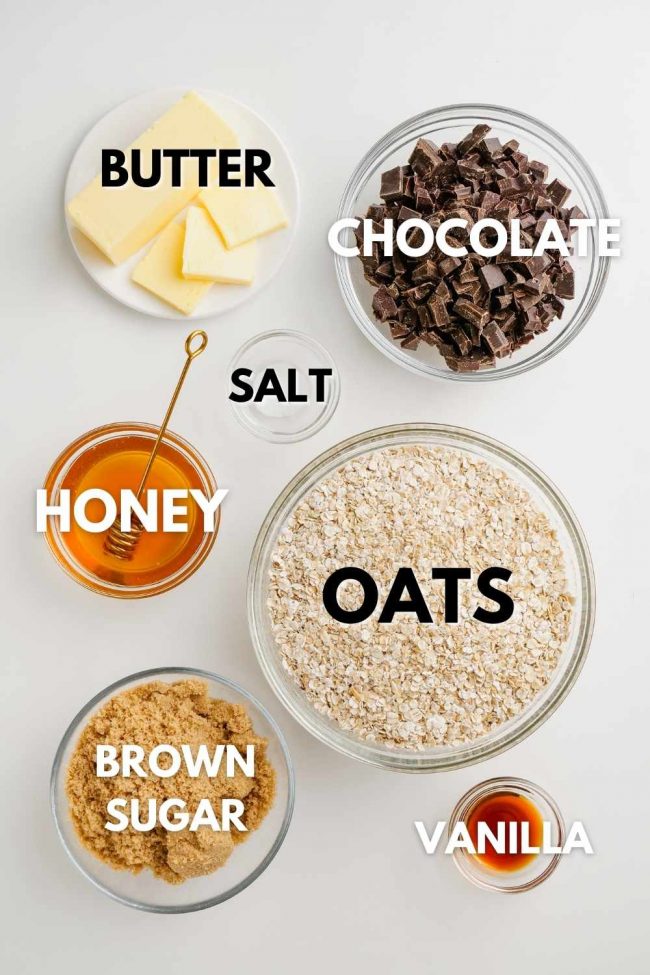 About the sweetener
I used honey because I prefer using natural sweeteners. I also love the taste that honey adds to these flapjacks! If you're gluten-free, be sure to check out my post on Is Honey Gluten-free?
If you're low on honey, then golden syrup works just fine. So does brown rice syrup. Maple syrup does not because its not sticky enough.
What is golden syrup / light treacle?
Golden syrup or light treacle is an amber-colored, thick sweetener mostly used in baked goods in the UK. Treacle is a word used to describe the grade of syrup made from refining cane sugar.
But don't confuse it with light corn syrup because although they look similar, they don't have the same uses. Corn syrup is made from corn; whereas, light treacle is made from cane sugar.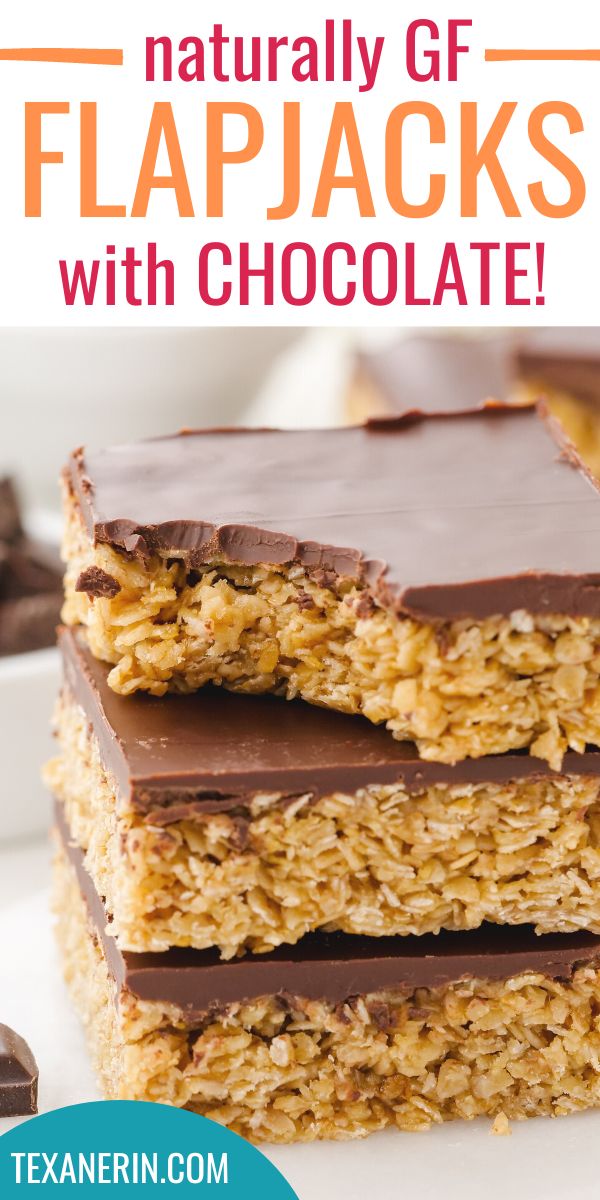 Molasses, however, can be substituted for Black treacle which is a richer and darker syrup made from cane sugar. We aren't using black treacle here, but you can file it away in the things to remember later.
Golden syrup is simply water, sugar and citric acid. It has a rich, buttery flavor with a hint of caramel, and not too sweet like corn syrup. It's great on pancakes as well, so if you buy Golden syrup for this recipe, you can surely use up the entire bottle by drizzling it on your favorite stacks.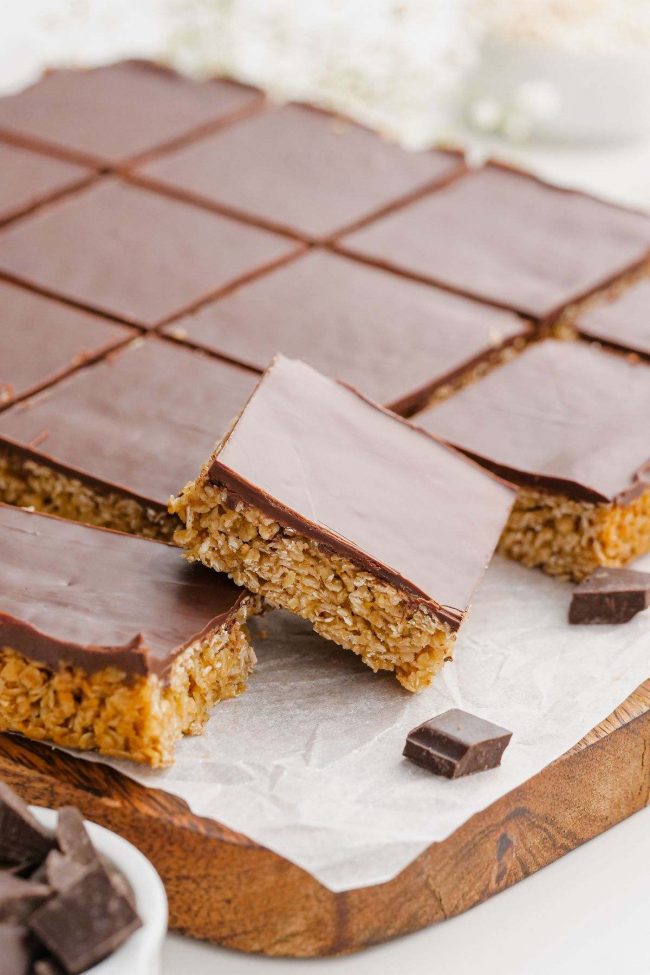 Where can I buy it in the US?
If you want to make your own, I found a great tutorial on how to make golden syrup.
Like with anything these days, you can buy Golden Syrup online from Amazon easily enough.
World Market and Walmart both seem to stock it, so you shouldn't have any problems finding it. I would, however, call to make sure it's in stock just to make sure before you make the trek. It'll probably be in the international food aisle.
How to make flapjacks
You melt all the ingredients together except for the oats and the chocolate + butter for the topping.
Stir in the oats.
Plop the mixture into the pan and bake.
Melt chocolate + butter together and spread over cooled bars.
A lot of other flapjack recipes call for baking them a lot longer than I do. I tried baking them longer, but then they became super hard to chew.
So if you're used to baking your flapjacks for more like 30 minutes instead of 11-15, don't worry. I've tested these numerous times!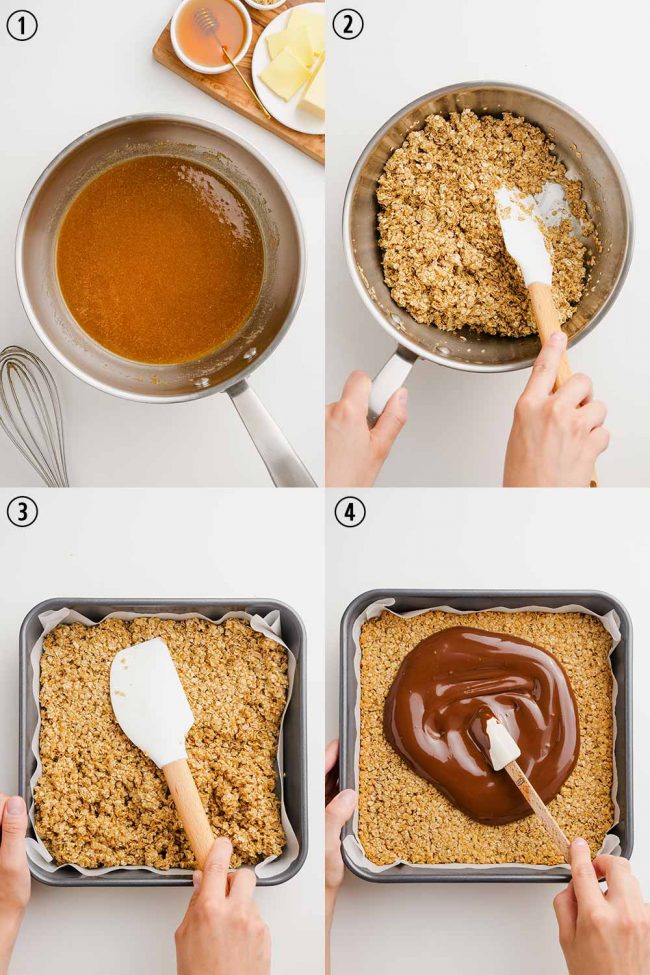 Can I make these vegan?
You can easily use brown rice syrup in place of honey. And for the butter, you can use vegan butter.
Golden syrup is vegan, it contains nothing but sugar and isn't processed with any animal derivatives. That's not to say all products are the same, so if you're making your own, perfect. If not, always research the manufacturers' website for more information. Lyle's Golden Syrup, a wildly popular brand, is suitable for vegans and can be easily found in the states.
I don't like vegan butter and don't use it so I tried them with coconut oil. I reduced the amount by a bit (since coconut oil is 100% fat and butter is 80-82%) and they were still SUPER greasy.
The coconut oil also didn't want to combine with the rest of the ingredients. I had to vigorously stir for several minutes until it combined.
I'm guessing that during baking, it separated again, making them so oily.
So I really don't recommend using coconut oil. I'm working on a healthier version of these that will use coconut oil, though.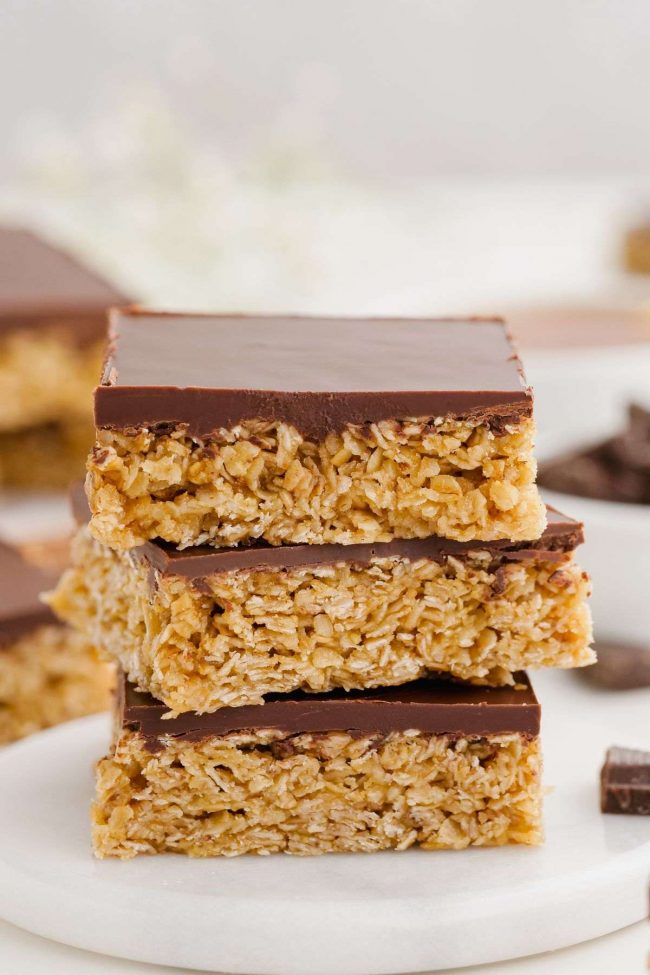 Can I add chocolate chips to the mix?
Sure. But I don't recommend it!
First, the flapjack mixture is already plenty sweet. If you add a bunch of chocolate chips to the mix, I think it'd be too sweet.
Dark chocolate would probably be okay, though.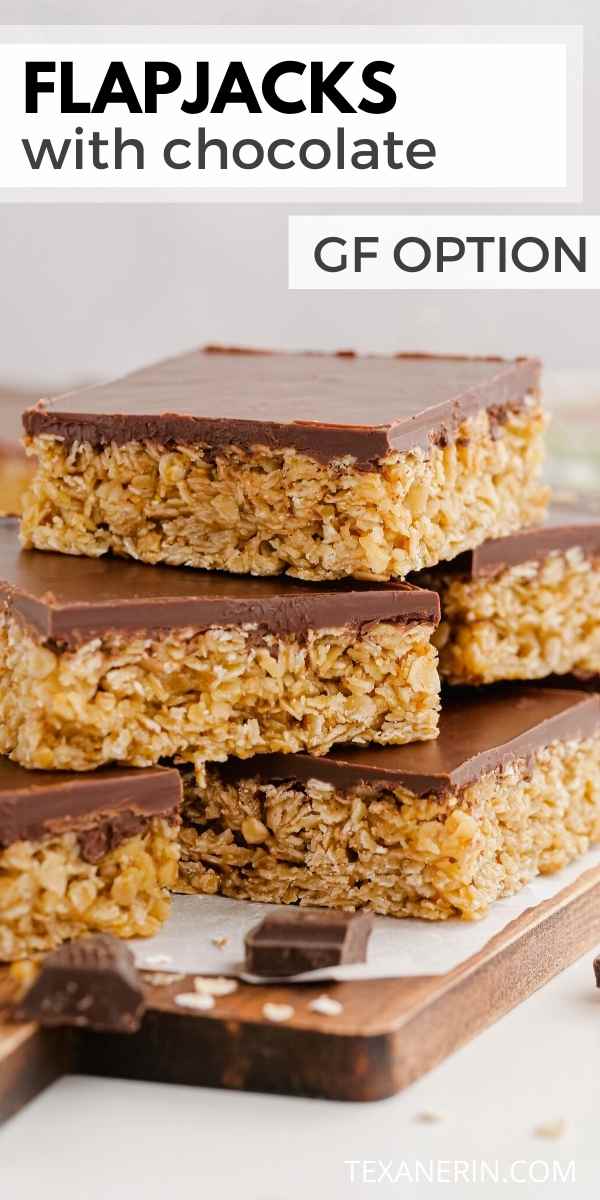 The other issue is that they'd just melt and make a big mess. And you can't really just wait for the mixture to cool before adding the chocolate chips (which would prevent the chips from melting) because then the mixture would be quite firm, making it quite difficult to pat the mixture into the pan.
The solution is to just make the chocolate topping as the recipe calls for.
"And the extra chocolate on top doesn't make them too sweet?" you must be wondering. It's what I'm wondering as I type this. ;)
No. Somehow, it doesn't make the bars too sweet.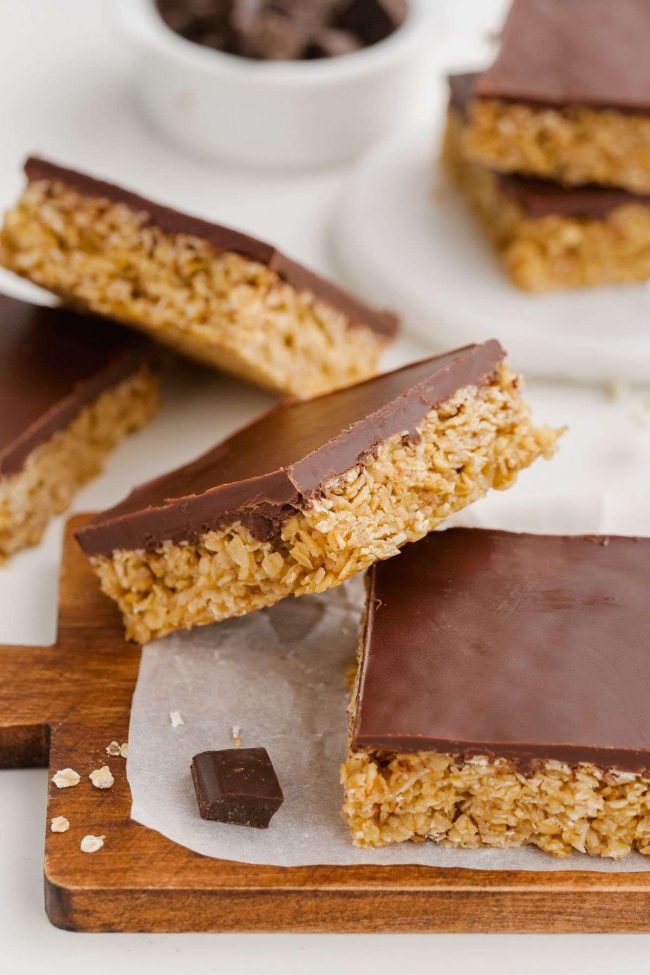 Other amazing bars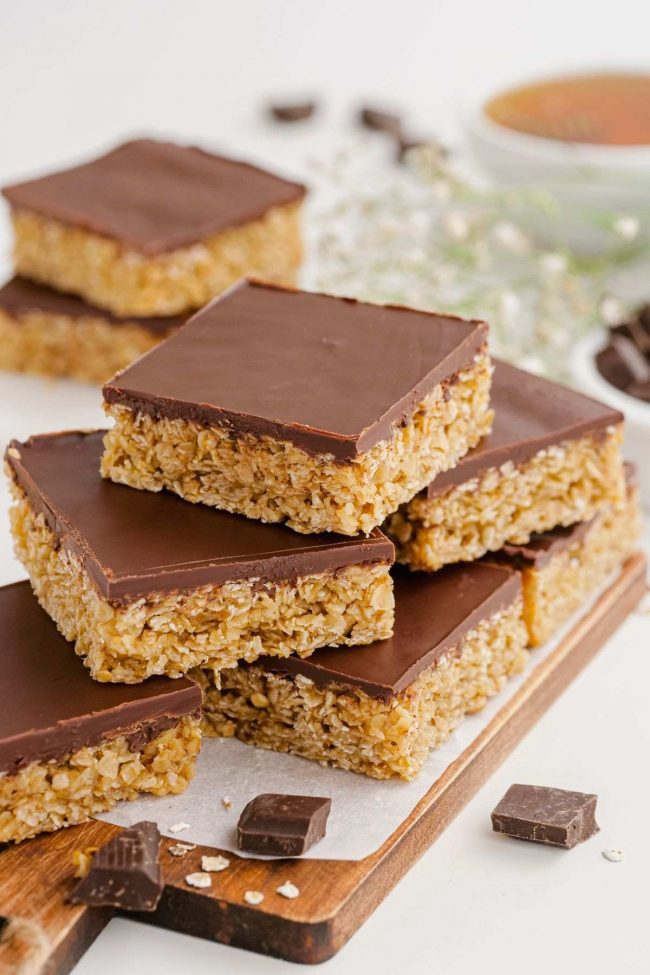 For the other flapjack lovers here is the pancake list made especially for you! Try these gluten-free banana pancakes, paleo pancakes, pancakes without milk of any kind, protein pancakes, or 100% whole grain pancakes. And to top it off, try this blueberry maple syrup sauce.
Now, I think everyone should be covered on flapjacks! ;)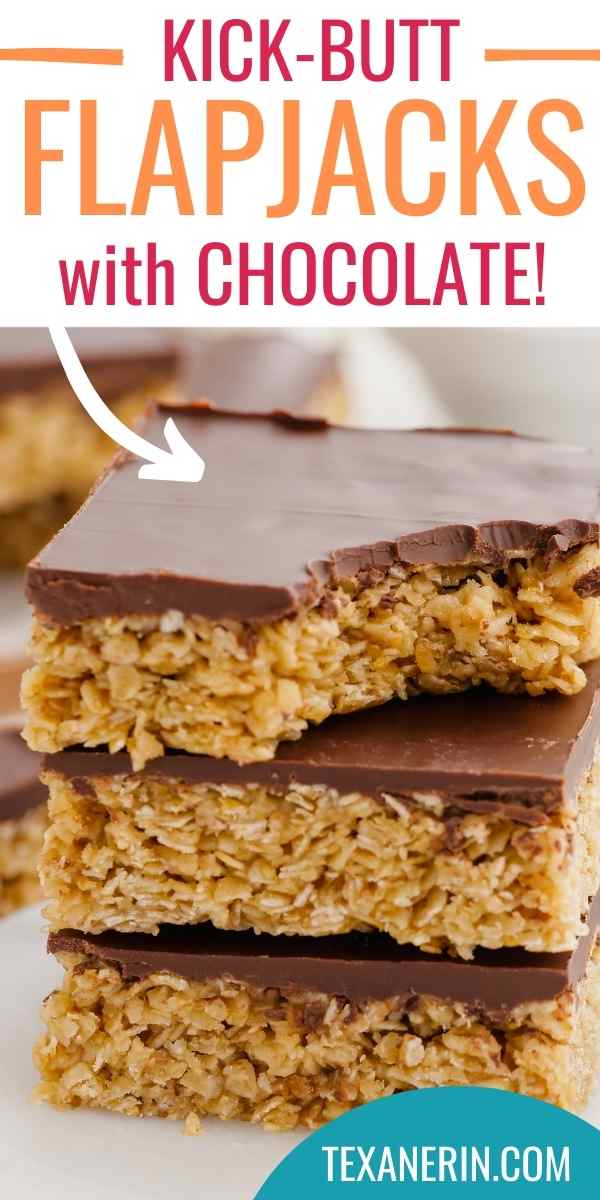 ❀
Chocolate Flapjacks
Prep Time:
Cook Time:
Ready in:
Yield:

16 bars
Ingredients
1/2 cup + 1 tbsp (126 grams) unsalted butter
2/3 cup (133 grams) light brown sugar
1/4 cup (80 grams) honey, golden syrup or light treacle
1 teaspoon vanilla extract
1/4 teaspoon salt
3 1/3 cups (300 grams) quick oats (not rolled/traditional oats! If you're GF, use GF oats)
1 1/4 cups (213 grams) chopped semi-sweet chocolate mixed with 1 teaspoon melted butter
Directions
Preheat the oven to 350 F (175C) and line an 8"x8" pan with parchment paper.
In a saucepan over medium heat, melt together everything except for the oats and chocolate.
Once it's totally melted, remove from the heat and stir in the oats until combined.
Scoop into the pan, firmly pat it down with a spoon or silicone spatula, and bake for 13-15 minutes.
The edges will have browned just a little and it'll be bubbling mostly around the edges, and maybe also a little in the center. Don't let it bubble too long or it "fries" the bars and makes them too hard to chew. When you take them out of the oven and tilt the pan to the side, they should be firm enough so that they don't move. They firm up as they cool.
Remove from the oven and let cool for 10 minutes.
In a small saucepan over medium-low heat, melt the chocolate and butter together. Spread over the bars.
Let cool completely, about 2 hours, or put into the fridge or freezer to speed it up.
Cut into bars. Store in an airtight container at room temp for 1 week, refrigerate for 2 weeks or freeze for 3 months.
If you try any flapjacks listed here today, I would love to hear about it. Leave a comment, take a pic 📸 and tag #texanerin on Instagram, Facebook, and Twitter so I can easily find them. You can also find all my recipes on Pinterest, just hit the follow button. Enjoy!