These keto cheese crackers are just as delicious as the traditional store-bought kind! Nobody will believe that these are low-carb, gluten-free and grain-free.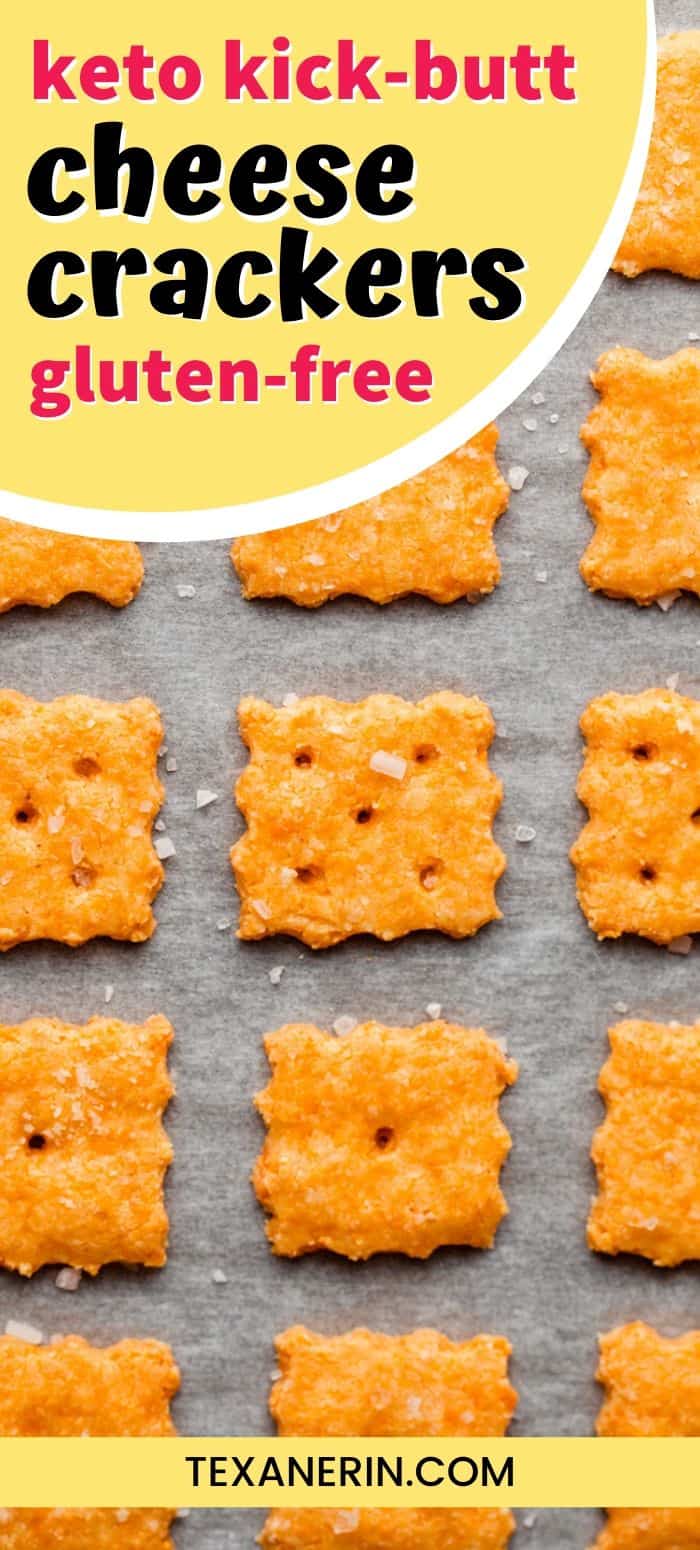 Growing up, my favorite snack foods were Cheez-its and Goldfish. Despite my hardcore love of cheesy junk food, I only first made cheese crackers after moving to Germany.
By the way, if you love cheesy carby food like I do, try my healthy alfredo sauce. It's grain-free and has a keto option!
I looked high and low in German grocery stores and couldn't find them anywhere (and still can't!) I guess that's okay because cheese crackers are my biggest weakness. I definitely don't need easy access to them!
Every time I make these low-carb cheese crackers, it ends badly. I only make cheese crackers for special occasions but they normally don't even make it there.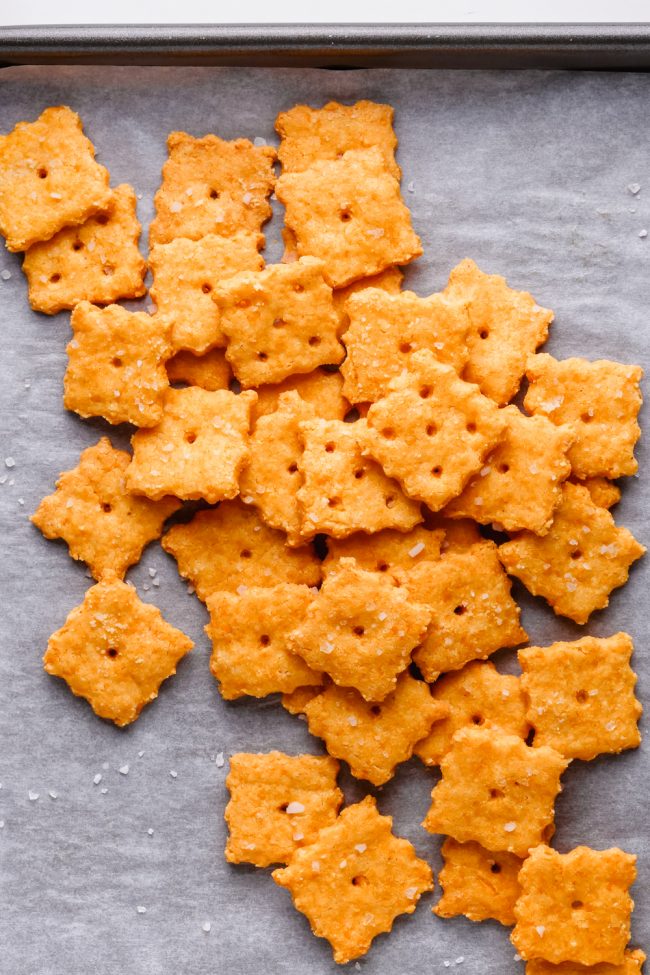 Mr. T will typically find me after eating a tray of crackers, tell me how naughty I am, try one himself and then eat half the next pan.
Perhaps they're so addictive due to the ridiculous amount of cheese in there. The first time I made them, I was kind of shocked. It's a ton of cheese.
But they're so delicious and so much healthier than store-bought so I decided I didn't care. :)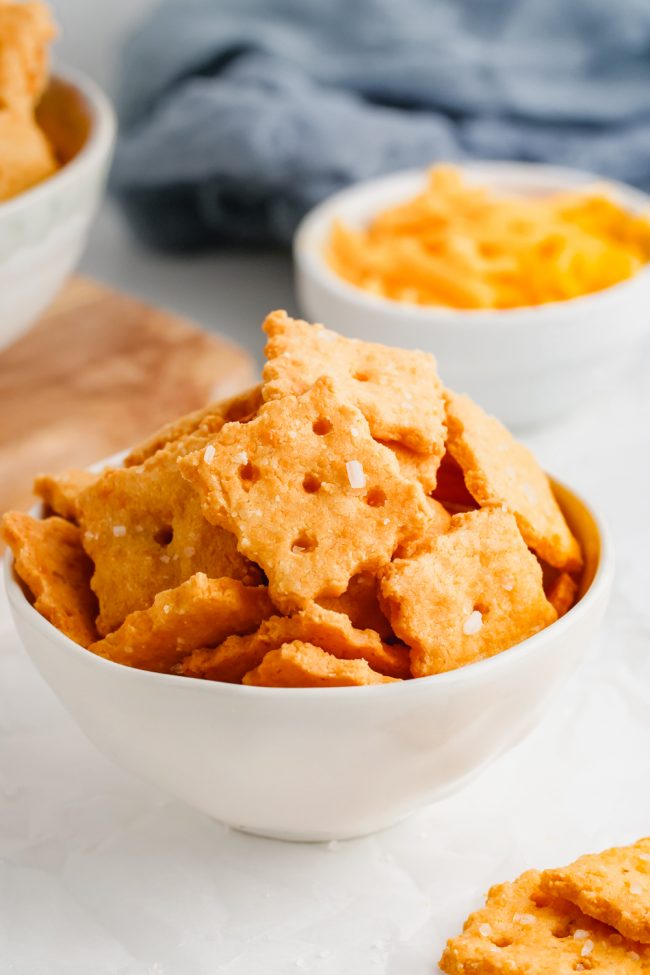 And there's no need to worry about the weird combination of almond and coconut flour with cheddar. All you taste is cheddar with a hint of cayenne and onion powder!
I've made cheese crackers before but this was the first time I've added cayenne pepper. Just a little goes a long way! They're not spicy at all so if that's what you're going for, you'll want to add more spice.
But I need to warn you that these keto cheese crackers may only stay super crisp on the first day. I've made them several times and sometimes they stay crisp for weeks and sometimes they stay crisp for one day. But even then, they're still kind of crisp, but with a slight bit of a chew.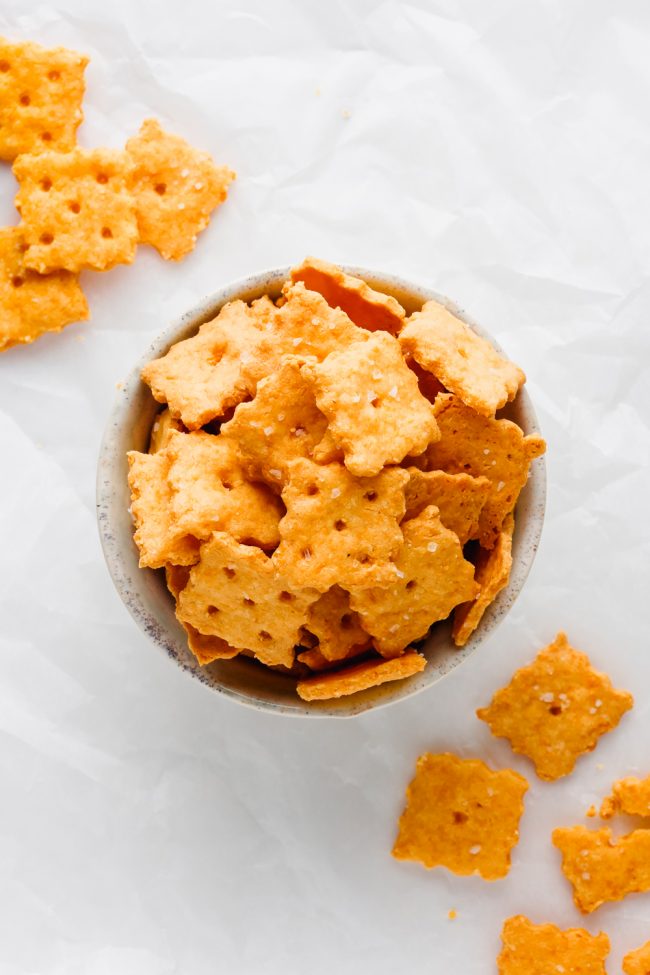 I always weigh everything when I bake so it's not a measuring issue. It either has to be a slight difference in the brands of cheese I use or perhaps in humidity. I'm not really sure.
It doesn't make the crackers any less delicious, though! And if you want to, you can always pop them back in the oven for a few minutes (6 minutes at 350 °F) to crisp them back up. :)
If you try them out, I'd love to hear what you think! If you're in the mood for something sweet, try my coconut flour cookies or paleo chocolate chip cookies (both of which also have keto options!).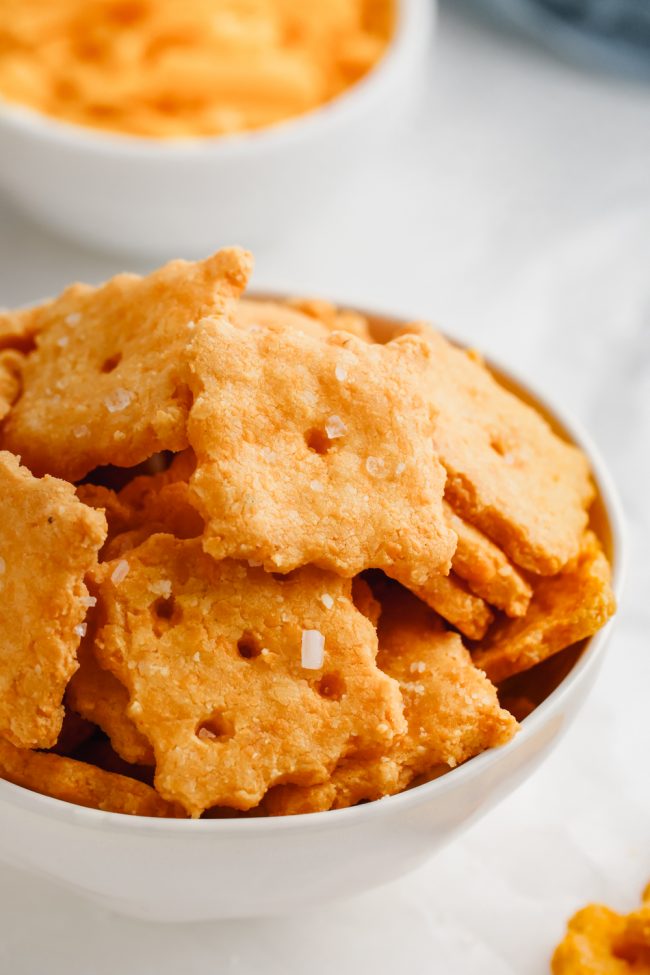 Questions about these keto cheese crackers?
Can I use something other than almond flour? Another nut flour might work but I don't think they'd taste as good. As much as I love hazelnut flour, I think hazelnut flour + cheddar would be strange.

Can I use something other than coconut flour? Unfortunately not. Coconut flour absorbs so much more liquid than other types of flour.

Can I use something other than onion powder / cayenne? You can omit them or replace them with whatever you think sounds good.

What can I use instead of an egg? I haven't tried making these with an egg replacer because I figured with all the cheese in there, they're not vegan anyway. I'm not too optimistic that an egg replacer like a chia egg would work, but if someone tries, please let us know how it works!

Do I have to use cheddar? I've tried cow milk Gouda and goat Gouda. Neither were nearly as flavorful as the cheddar version. But it worked!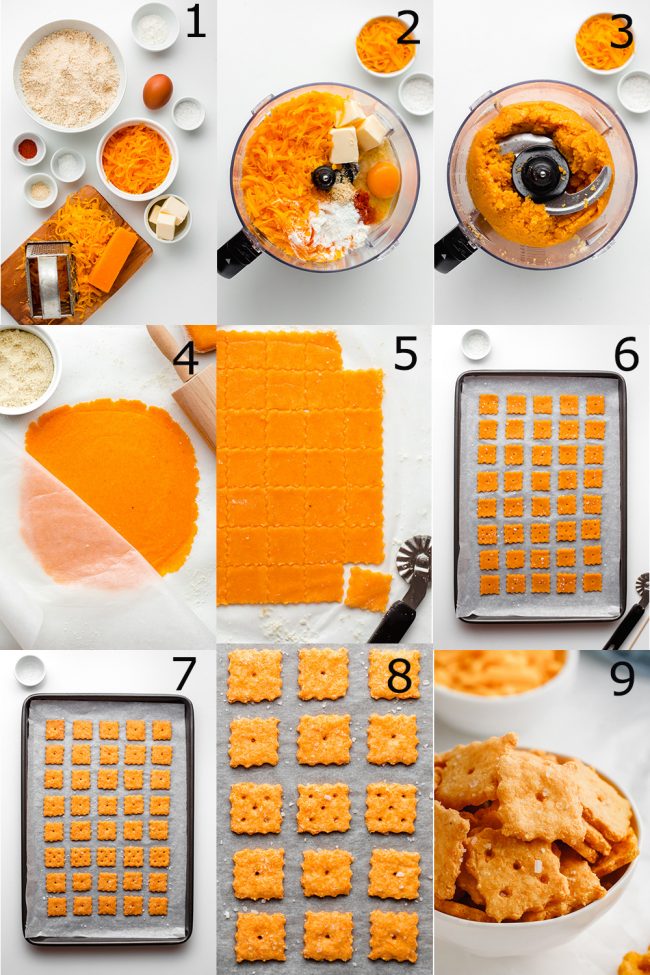 ❀
Keto Cheese Crackers (grain-free, gluten-free)
Prep Time:
Cook Time:
Ready in:
Ingredients
2 cups (200 grams) blanched almond flour
1/2 teaspoon salt
1/2 teaspoon baking powder
2 teaspoons coconut flour
1/4 teaspoon onion powder
1/4 teaspoon cayenne powder
1 large egg (50 grams, out of shell), room temperature
3 tablespoons (42 grams) butter
2 1/2 cups (10 ounces / 283 grams) shredded sharp cheddar cheese
for rolling out the dough – additional almond flour or other grain-free flour
Directions
In the bowl of a food processor fitted with an S-blade, process all the dough ingredients together. Pulse for about 15-30 seconds or until a ball forms.
Wrap the dough in plastic wrap, punch down, and freeze for an hour or until well-chilled (which will make rolling easier).
Preheat the oven to 350 °F (175 °C) and line a baking sheet with a piece of parchment paper.
Sprinkle a piece of parchment paper with almond flour (or other flour of choice), place 1/4 of the dough in the center, and place another piece of parchment paper on top. Leave the rest of the dough in the refrigerator until ready to use.
Roll the dough out to 1/16". If you roll it too thick, the crackers may not crisp up and if you roll it too thin, it'll be difficult to remove the crackers from the parchment paper.
Use a ravioli cutter or desired cookie cutters to cut out shapes. I made mine as 1" squares. If you like things on the salty side, lightly salt the tops of the shapes.
If you find the shapes to difficult to remove from the parchment paper, place it in the freezer for 5-10 minutes. Then they should pop right off.
Remove the shapes to the prepared baking sheet, leaving just a little room (about 1/4") between the crackers, and bake for 14-17 minutes or until the edges have started to brown. They'll be soft once removed from the oven but should crisp up once cooled. If they're still not crisp after cooling, return to the oven and bake for another 4-7 minutes.
Store in an airtight container for up to 2 weeks. If they lose their crispness, bake for 6 minutes at 350 °F (175 °C).