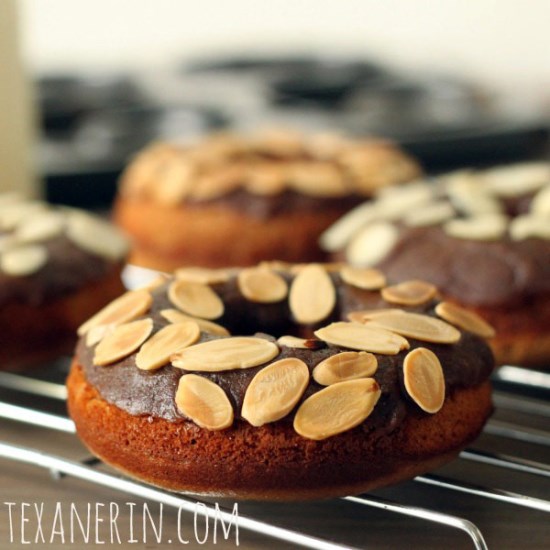 These donuts are magnificent. I really can't believe that they're grain-free.
I was really tempted to make some cream cheese frosting and pour it all over the donuts but I went the "sophisticated" route and added toasted sliced almonds. They looked pretty but then I picked them all off. They just got in the way of the good stuff. :)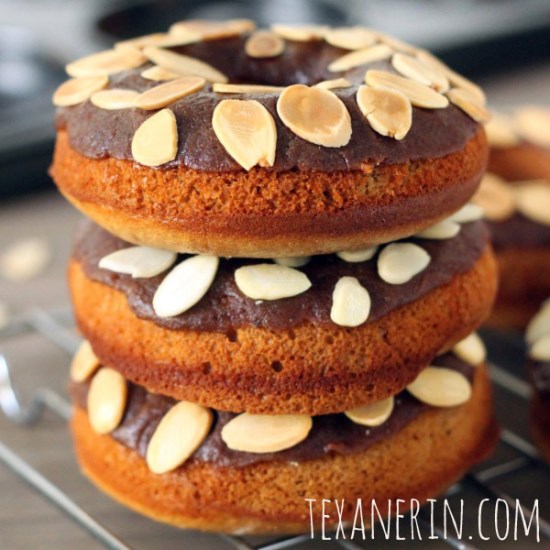 The topping is amazing and doesn't really need anything extra. There's no added sugar at all but it's still sweet enough. I didn't know if I could handle eating raw dates but I loved it! I think the added raisins helped me out with that.
The creator of the recipe, Coco, noted that combining the donut mixture in the blender or food processor results in a super smooth texture which you don't normally get when baking with almond flour. I'm going to do this from now on because like I said, the texture is awesome.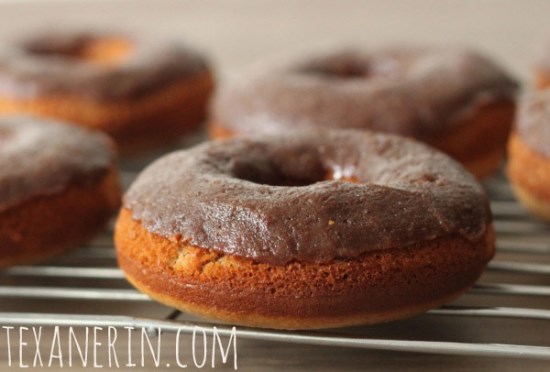 I wasn't really able to capture how fluffy these were. These beat whole grain donuts hands down. Speaking of whole grain goodies, yesterday I realized that I hadn't posted a non-chocolate whole grain recipe for six weeks. Whoops! I've baked you some super fluffy whole grain dinner roll muffins to make up for it. Recipe will be up next week. :)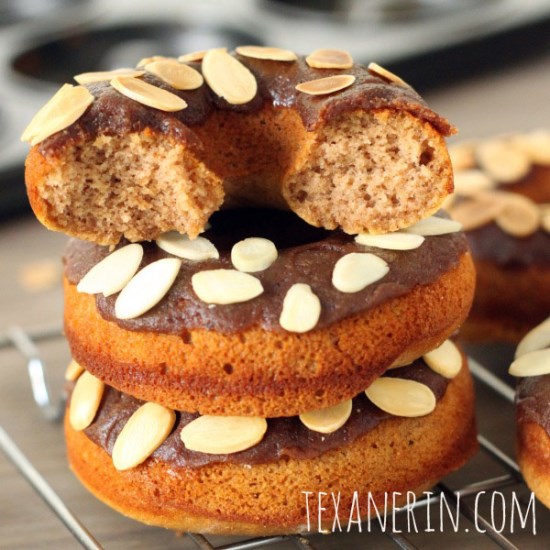 Want some more cinnamon-y goodness? Try these gluten-free cinnamon rolls! These cinnamon roll muffins also look great.
❀
Gluten-free and Grain-free Cinnamon Roll Donuts
Prep Time:
Cook Time:
Ready in:
Yield:

6 donuts
Ingredients
Topping:1

45 grams dates
20 grams raisins
2 tablespoons almond butter
1/2 teaspoon vanilla
1 1/4 teaspoon cinnamon
1 tablespoon coconut oil or normal butter, melted (I think I'll leave that out next time)

Donuts:

145 grams (~1 1/2 cup) almond flour
1/4 teaspoon salt
1/4 teaspoon baking soda
1/2 teaspoon nutmeg
1 teaspoon cinnamon
3 eggs
1/4 cup coconut oil or normal butter, melted
2 tablespoons (40 grams) honey
1/2 teaspoon vanilla
Directions
Preheat your oven to 350°F / 175°C.
Grease a six mold donut pan very well.
In the bowl of your food processor, combine the topping ingredients. It should be totally smooth like a thick paste. Take out the mixture and set aside.
Without cleaning the bowl of the food processor, add the dry donut ingredients. Pulse.
In a separate small bowl, combine the wet ingredients and add this to the food processor.
Blend until the batter is very smooth and then pour into the six donut molds, filling about 2/3 of the way.
Bake for 12 minutes. Do not over bake! These should be moist and fluffy.
Remove the donuts from the pan and let sit for a few minutes (you want the donuts to be warm, just not super hot) before spreading on the topping. You could just spread it on, but I wanted them to look pretty so I divided the dough into six pieces, rolled them up like this, and then used my fingers to get the donut covered.
If you want to add almonds, coconut, or something else to the top, do it at the beginning when everything is still warm. These can be stored at room temperature and they stay moist for days (although they're best fresh from the oven. :))
Notes
The topping is only half of what's in the original recipe and I added a few things – double this if you want a thicker coating.
Adapted from Cinnamon Roll Almond Flour Donuts on Roost Blog (this blog no longer exists)