This healthier fettuccine alfredo skips on the cream but not on the taste! Creamy and cheesy with a little lemon zest tossed in.
There's something I love even more than sweets and that's cheese and carbs. Nothing beats a big pot of melty, gooey carb-laden goodness. This isn't exactly melty or gooey but it still does the job! It's got a lot of cheese in it so it's not healthy at all, but it is healthier than your average fettuccine alfredo with a cup of cream in it. If you want to make it a little more nutritious, toss in some cooked chicken or mushrooms!
That's what makes this healthier fettuccine alfredo recipe so glorious – you can totally eat it up and not feel that guilty.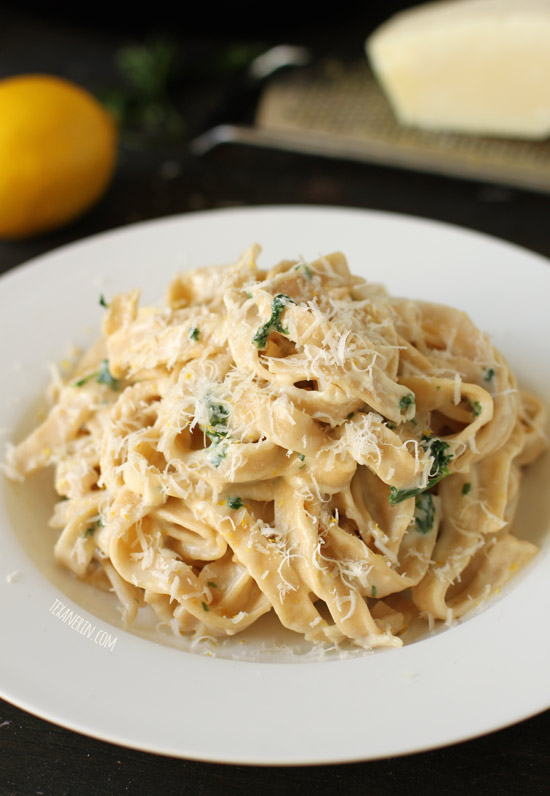 I found this lightened up fettuccine alfredo a while back on Fearless Homemaker, made it, and just revisited the comment I made after making it:
"The husband told me I should open an Italian restaurant. Based off of this recipe." Yup. We LOVE this dish!
Plus it's got some lemon in it. I'm all about lemony things right now and have been since December 26th. The lemons keep me sane until summer time. I threw some parsley on top because I wanted to make it pretty (and because it's recommended in the original recipe, so I'm assuming someone likes that combination!) but it just took away from the lemony cheesy goodness.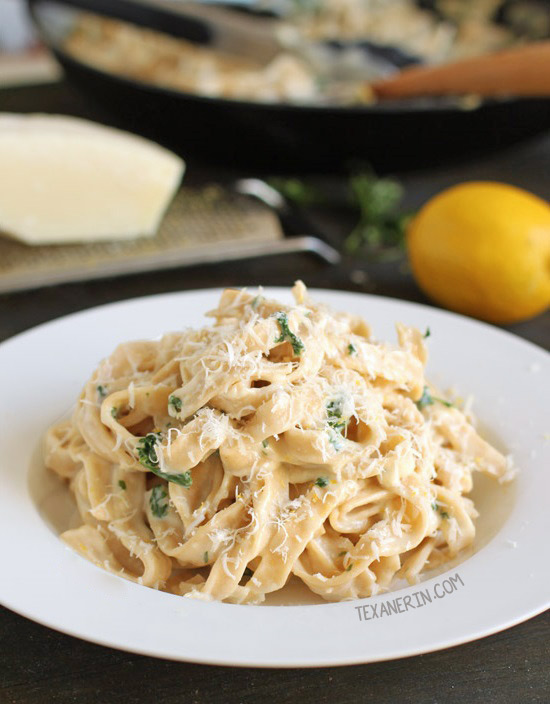 This is amazingly quick and easy to put together. Whenever I have people over to bake and we need something savory after gourging on sweets, this healthier fettuccine alfredo is one of my favorites. My others are this gnocchi with lighter tomato cream sauce and these browned butter and sage lemon gnocchi.
You can make it gluten-free, whole grain or of course, just use regular pasta! It'll all work in this dish.
I'm going to Paris tomorrow for a week! Any recommendations? It's supposed to rain every day that we're there and we're not museum people so I really have no idea what we're doing. Walking around in the rain is not my idea of fun but I suppose that's what we'll be doing. At least I can eat pastries, right? ;) The only things I have on the schedule are markets, bakeries, and trips to the grocery store (that's always one of my favorite things to do in another country – it's so fun!) And the catacombs. I'd appreciate any suggestions!
❀
Healthier Fettuccine Alfredo
Prep Time:
Cook Time:
Ready in:
Yield:

2-4 servings
Ingredients
8 ounces (225 grams) dry fettuccine (or any other type of pasta – use GF or whole grain pasta, if desired)
1 tablespoon (14 grams) butter
2 cloves garlic, minced
2 teaspoons grated lemon zest
1 tablespoon white whole wheat or all-purpose flour (use a GF all-purpose flour for a GF version)
1 1/2 cups (355ml) milk (any kind you like)
1/4 teaspoon salt (I like things salty and use 1/2 teaspoon)
3 tablespoons cream cheese or neufchatel cheese
1 cup (85 grams) grated Pecorino Romano or Parmesan, plus more for sprinkling on top
3 tablespoons chopped fresh parsley, optional
freshly ground pepper, optional
Directions
Prepare the pasta according to the pasta directions. When it's finished, drain it but do not rinse. Return to the pot.
Meanwhile, in a medium skillet over medium heat, melt the butter.
Add the minced garlic and lemon zest and cook until the garlic is soft – about 1-2 minutes.
Stir in the flour and cook, stirring constantly, for 1 minute.
Whisk in the milk and salt and cook, whisking constantly, until the sauce has thickened – about 3 minutes.
Add the cream cheese, Pecorino Romano and whisk until completely melted.
Add the parsley if using, and salt and pepper to taste.
Add the sauce to the prepared pasta and mix until combined. Top with more cheese if desired.
Serve immediately and refrigerate any leftovers for up to 4 days.
Adapted from Low Cal Fettuccine Alfredo Recipe, as seen on Fearless Homemaker - Lightened Up Fettuccine Alfredo