This healthy alfredo sauce recipe skips on the cream but not on the taste! It's creamy and cheesy with a little lemon zest for extra flavor. With grain-free, gluten-free and keto options.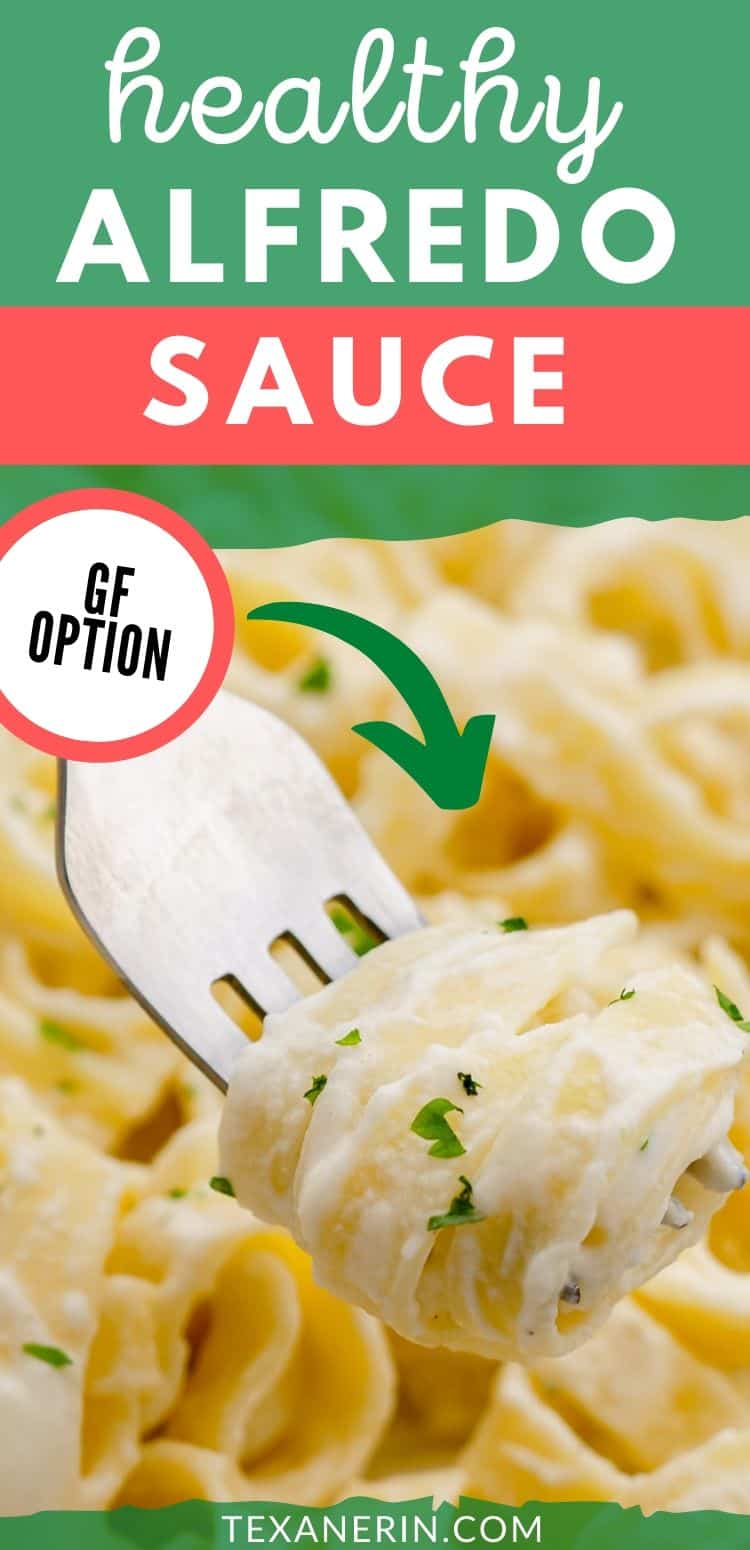 There's something I love even more than sweets and that's cheese and carbs. Nothing beats a big pot of melty, gooey carb-laden goodness.
This isn't exactly melty or gooey but it still does the job! Instead of using a cup of heavy cream, this alfredo sauce recipe uses a cup of milk. And if you want to make it a little more nutritious, toss in some cooked chicken and veggies!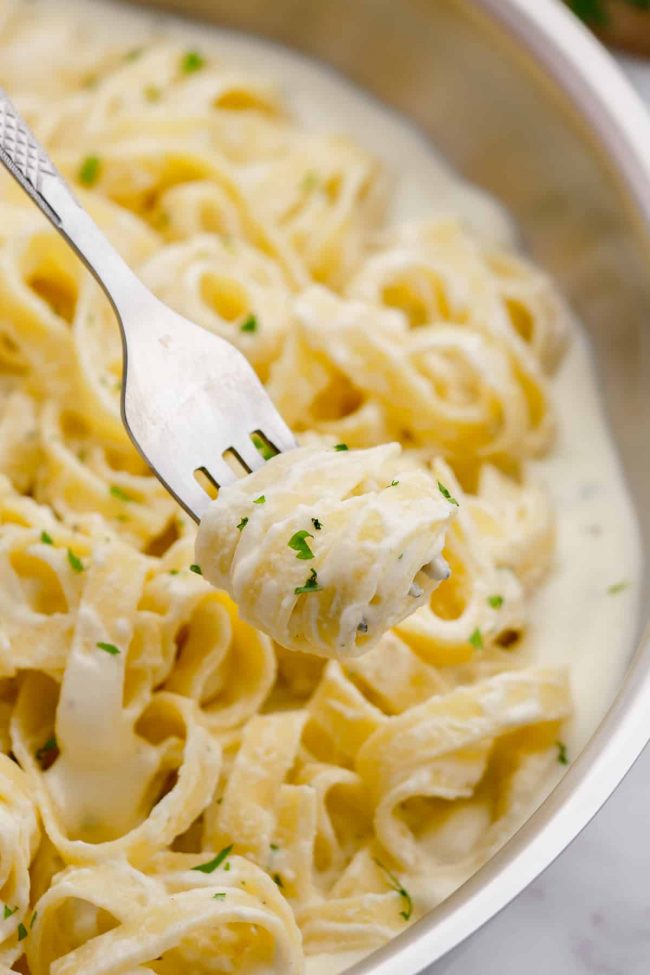 This recipe should probably be called healthier fettuccine alfredo instead of healthy alfredo but to be honest, nobody searches for that. And I want people to find this delicious recipe!
It's just as "healthy" as the other "healthy" alfredo recipes I found so… 🤷
Something else I love about this recipe is the lemon in it. I'm all about lemony things right now and have been since December 26th. The lemons keep me happy until summertime.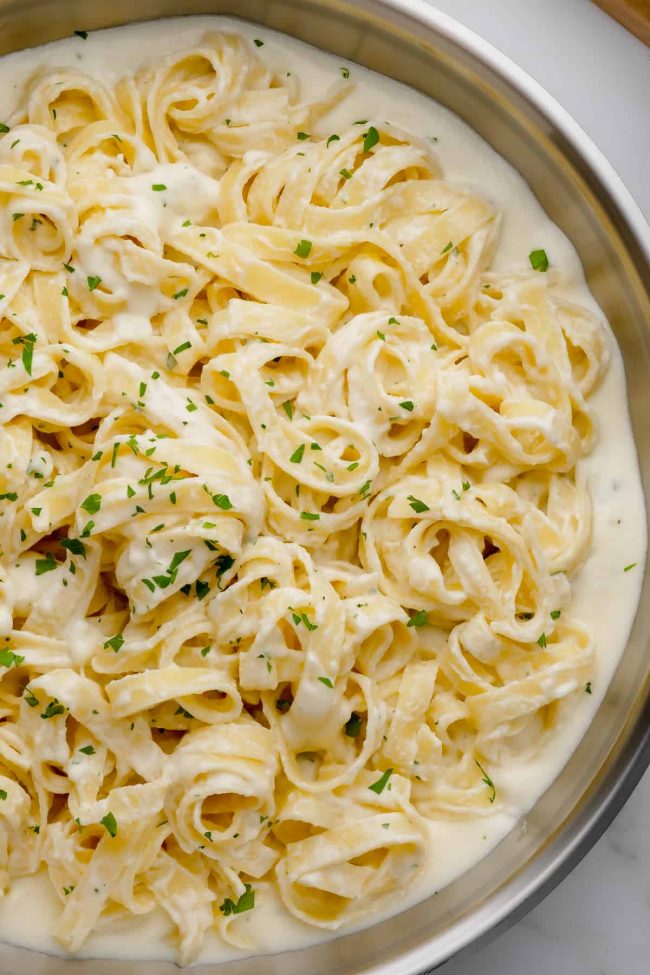 It's also amazingly quick and easy to put together. Whenever I have people over to bake and we need something savory after gorging on sweets, this recipe is one of my favorites. So is this pecan-crusted salmon.
You can make this dish with regular, whole wheat, gluten-free or grain-free pasta. Spaghetti squash is also great for a keto version! Here's How To Cook Spaghetti Squash.
If using spaghetti squash, make sure to have it hot before adding the hot alfredo sauce. If you warm up the squash with the sauce, it quickly goes from creamy to soupy. I know this because I was eating a bowl of spaghetti squash alfredo "soup" when I started writing this post.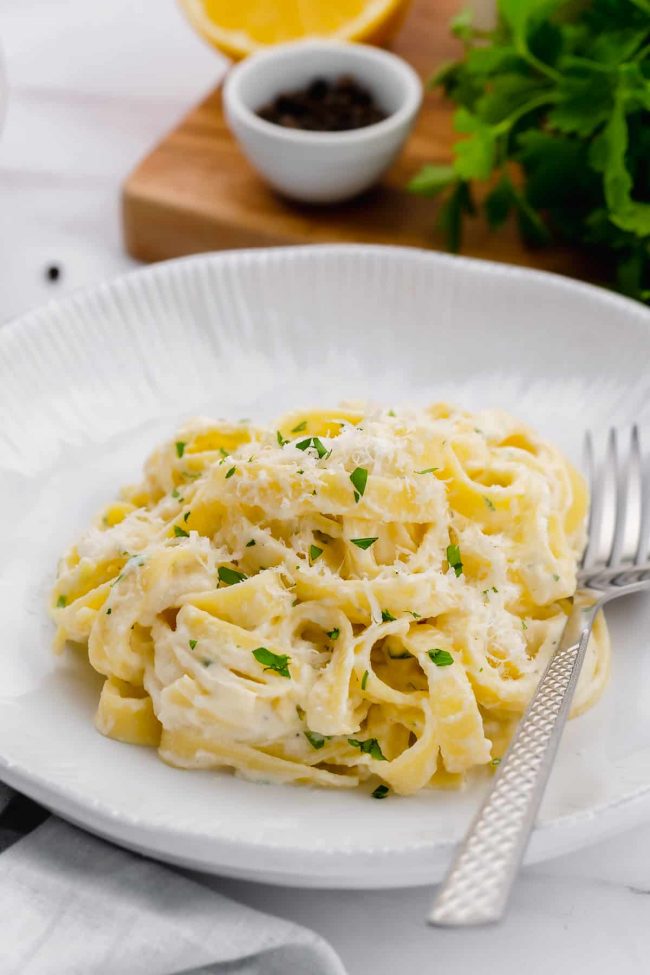 Then I realized I could probably let it simmer (while stirring) for a few minutes to take care of the liquid. It worked!
For the flour, you've got a few different options. Regular flour or white whole wheat work if you can have wheat. A gluten-free 1-to-1 baking flour works for gluten-free and cassava flour is great for grain-free.
Cassava flour is far from low-carb but there's only 1 tablespoon in the whole recipe. With that in combination with spaghetti squash, I was doubtful that this would be considered keto. So I talked to a few keto bloggers and they thought it qualified, as long as it's a side dish and not the entire meal.
If you try out this healthy alfredo sauce recipe, I'd love to hear how you like it!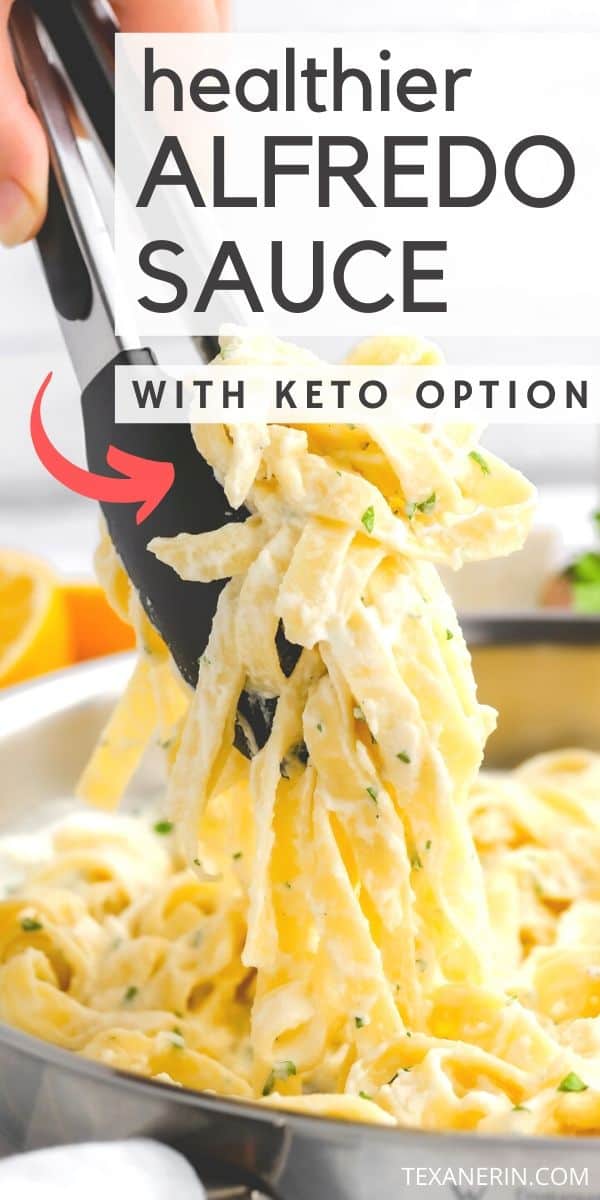 ❀
Healthy Alfredo Sauce (gluten-free, keto options)
Prep Time:
Cook Time:
Ready in:
Yield:

2 as a main or 4 servings as a keto side dish
Ingredients
8 ounces (225 grams) dry fettuccine (or any other type of pasta – use gluten-free, grain-free or whole grain pasta, if desired. For keto, use cooked spaghetti squash.)
1 tablespoon (14 grams) butter
2 cloves garlic, minced
2 teaspoons grated lemon zest
1 tablespoon white whole wheat flour, all-purpose flour or for gluten-free, use a gluten-free 1-to-1 flour (like this one) or cassava flour for grain-free / keto (I used Bob's Red Mill)
1 1/2 cups (355ml) milk (plus a little more for thinning for sauce, if desired)
1/4 teaspoon salt (I like things salty and use 1/2 teaspoon)
3 tablespoons cream cheese
1 cup (85 grams) grated Pecorino Romano or Parmesan, plus more for sprinkling on top
2 tablespoons chopped fresh parsley, optional
freshly ground pepper, optional
Directions
Prepare the pasta according to the pasta directions. When it's finished, drain it but do not rinse. Return to the pot.
Meanwhile, in a medium skillet over medium heat, melt the butter.
Add the minced garlic and lemon zest and cook until the garlic is soft – about 1-2 minutes.
Stir in the flour and cook, stirring constantly, for 1 minute.
Whisk in the milk and salt and cook, whisking constantly, until the sauce has thickened – about 3 minutes.
Add the cream cheese, Pecorino Romano and whisk until completely melted.
Add the sauce to the prepared pasta and mix until combined. If it's too thick for you, add a little more milk.
Top with more cheese, parsley and pepper if desired.
Serve immediately and refrigerate any leftovers for up to 4 days.
Notes
If keto, this would make an appropriate side dish.