These raspberry molten lava cakes make the perfect Valentine's Day dessert for two! Can be made gluten-free, 100% whole grain or with all-purpose flour and have a dairy-free option.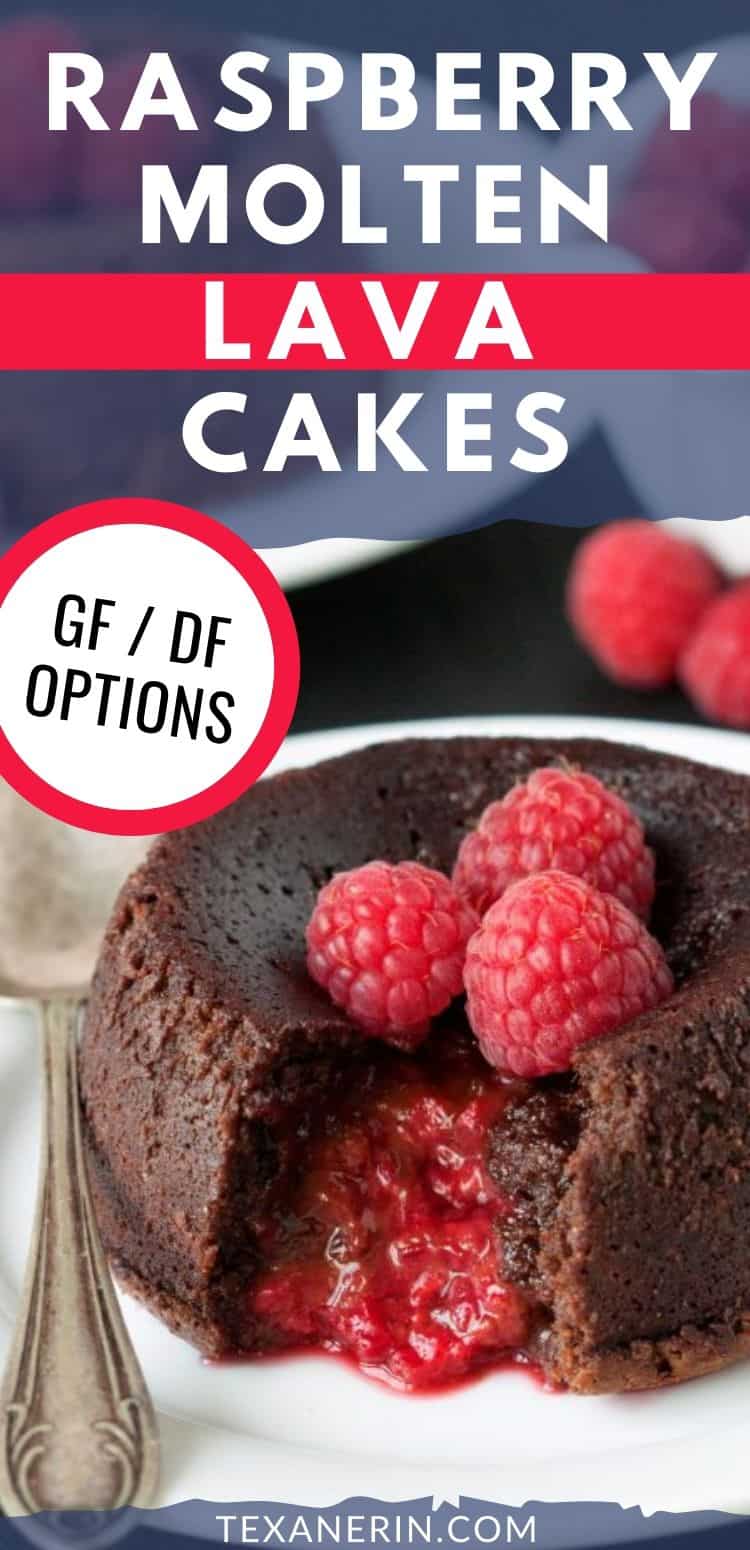 Last year I made these healthier molten lava cakes. They're whole grain and I thought I'd try a gluten-free version this time and toss in a few raspberries to make something naturally pink for Valentine's Day.
You can use whole wheat or whole spelt in this recipe, too, but you'll probably need to reduce the baking time by 2-3 minutes. You can also use AP flour!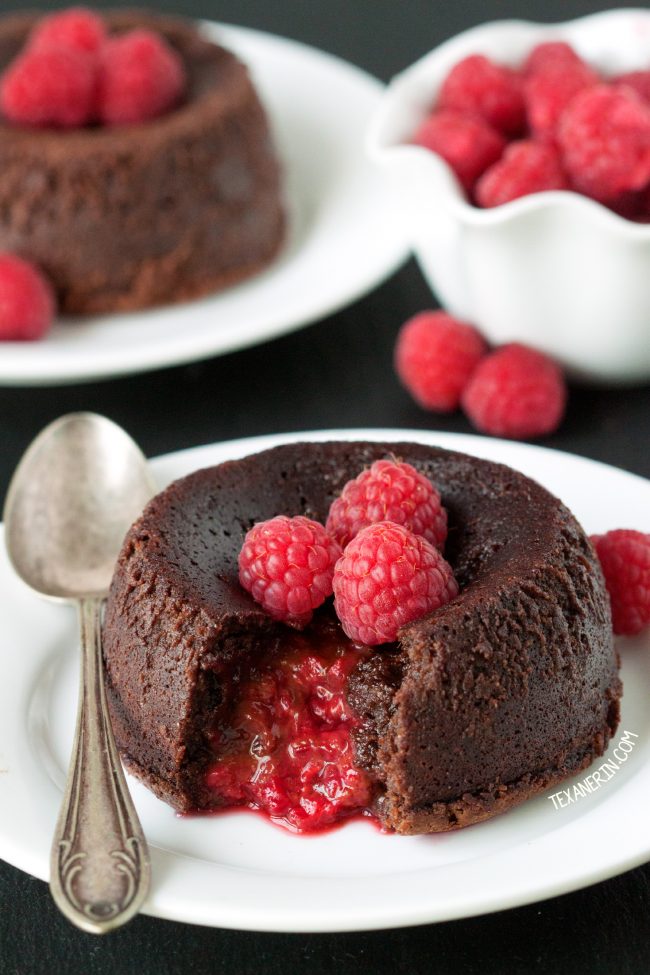 These gluten-free lava cakes were my latest post on My Baking Addiction. I used buckwheat again because it's usually such an easy grain-free and gluten-free substitute in recipes calling for all-purpose or whole wheat flour. But not always.
I made a coconut chocolate cake the other day that had to be thrown out. Perhaps coconut milk and buckwheat combine to do something unpleasantly funky, but whatever happened, it was sad.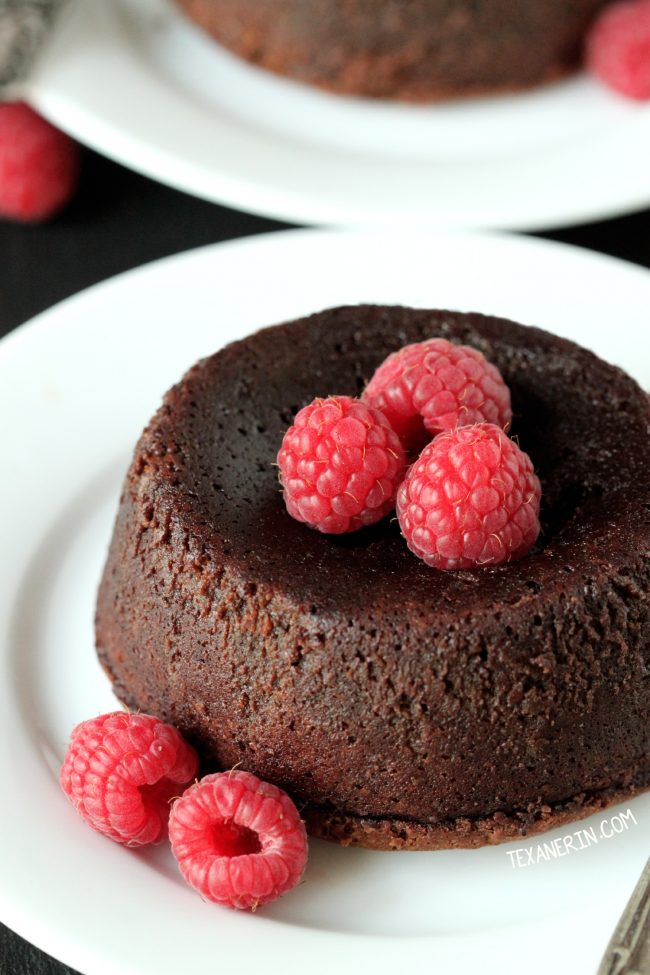 Buckwheat, by the way, isn't a grain, but a pseudograin that isn't even related to wheat. And I like how buckwheat flour is grain-free, gluten-free and 100% whole grain all at the same time. Buckwheat is pretty cool. Unless you consider how it tastes in non-chocolate treats. ;)
These lava cakes look like they have an insane amount of raspberry filling but they really don't. I just happened to cut into it at a weirdly raspberry-filled point.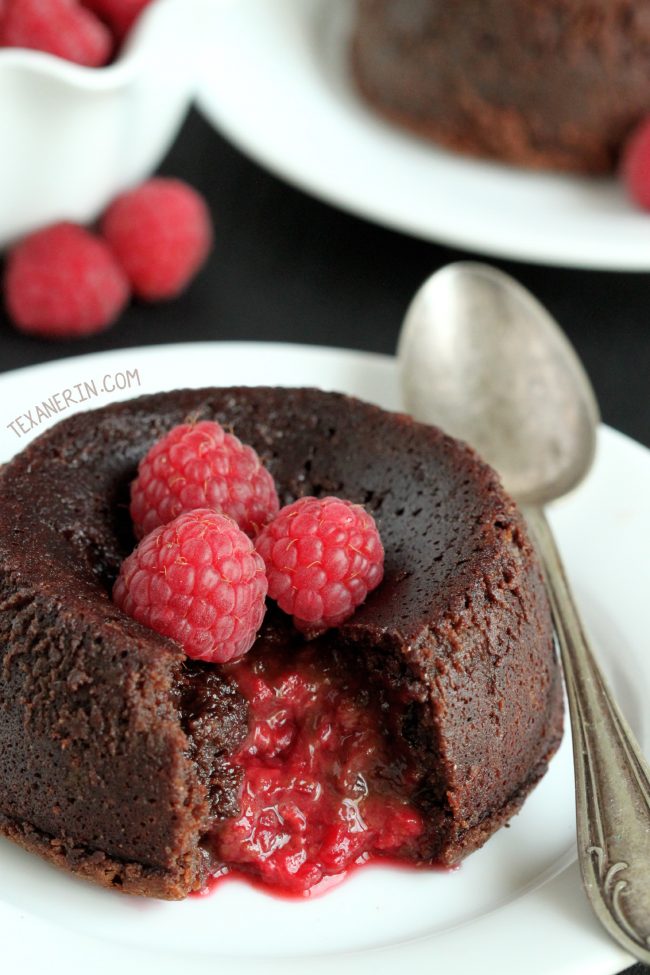 There's plenty of chocolate lava in there! And you can just leave out the raspberries, if you want. But keep an eye on them as they bake as you may need to reduce the baking time by a minute or two.
So that's it for the year as far as chocolate raspberry goodies go. I've had enough. I feel like it's time to move on to chocolate and peanut butter. :D
❀
Raspberry Molten Lava Cakes (gluten-free, dairy-free, 100% whole grain, all-purpose flour options)
Prep Time:
Cook Time:
Ready in:
Yield:

2 cakes
Ingredients
1/4 cup (50 grams) coconut sugar or granulated sugar
1 large egg
1 large egg yolk
2 teaspoons vanilla extract
1/8 teaspoon salt
2/3 cup (113 grams) semi-sweet chocolate chips (use dairy-free chocolate chips, if necessary)
3 tablespoons (42 grams) unsalted butter or coconut oil (use coconut oil for a dairy-free version)
3 tablespoons (23 grams) buckwheat flour for a gluten-free version or whole wheat flour or all-purpose flour for a non-GF version
3 tablespoons fresh raspberries (about 12-15 small ones), lightly mashed
2 teaspoons raspberry jam or 1 teaspoon sugar
Directions
Preheat the oven to 350 °F (175 °C) and spray two 6-ounce ramekins very well with cooking spray.
In a medium bowl, mix together the sugar, egg, egg yolk, vanilla and salt. Set aside.
Melt the chocolate and butter in the microwave at half power, in 30 second increments, until melted. Stir after every increment.
Add the chocolate mixture to the sugar mixture and stir just until combined.
Sprinkle the flour over the batter and fold in. Do not over mix! Your cakes will be tough if you do. Only fold in until no more flour streaks remain. The batter will be quite sticky and almost as thick as brownie batter.
Scoop a little more than 1/4 of the batter into each of the prepared ramekins.
Mix the mashed raspberries and jam or sugar together until combined.
Put 1/2 of the raspberry mixture into the center of each cake, taking care to keep it in the center (and not spread out) as much as possible.
Divide the remaining batter between the two ramekins.
Bake for 15 minutes. The surface shouldn't be wet. If it is, keep the cakes in for another minute or two until the middle is no longer wet. The toothpick test does not work here.
Remove the cakes from the oven and cool for 15 minutes in the ramekins.
Run a knife around the edge of the cakes and flip out onto the serving plates.
Serve immediately. Leftovers can be covered and refrigerated for up to 2 days. Reheat in the microwave at half power for 10-15 seconds or until warm enough for your liking.
Notes
If you don't need these to be gluten-free, you can use whole wheat or whole spelt instead of buckwheat.
Source – My post on My Baking Addiction: Gluten-free lava cakes