This lightly honey sweetened lemonade is a breeze to make and is a great way to get rid of an overabundance of lemons!
I feel silly even posting this because it's hardly a recipe and certainly not groundbreaking but the world needs honey sweetened lemonade, right? :) What I really needed when making this was a way to get rid of my zested lemons. I had about 20 of them (I really like lemon zest in my baked goods!) and I was desperate to make anything using lemon juice that didn't require zest.
Anyone have any other heavy-on-the-lemon-juice recipes? At any given point, I usually have about a dozen zested lemons in the fridge. I need to find more to do with them!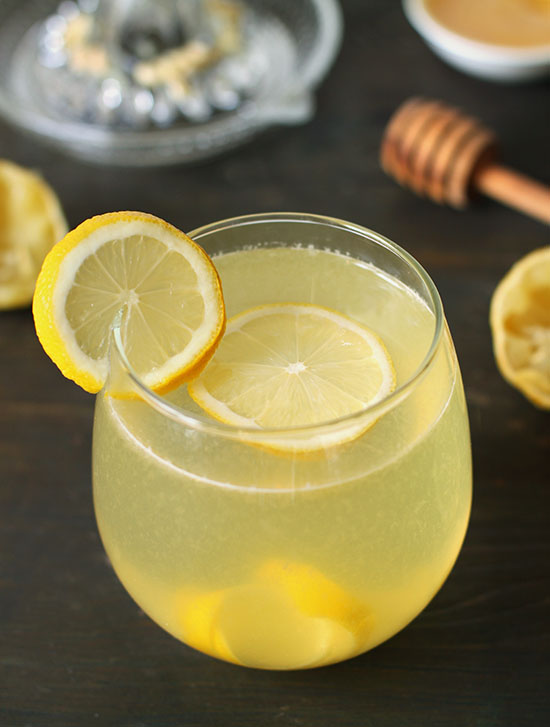 Different sources say 1 large lemon yields anything from 2 tablespoons to 1/4 cup lemon juice, hence the wide range of lemons (4-7) given in the recipe. But it really doesn't matter because 1 cup of lemon juice always = 1 cup. I'm sometimes frustrated when I find a recipe that calls for the juice of so-and-so lemons or oranges. I have no idea how much that yielded for the recipe creator! So I usually don't bother making those recipes.
Lime juice also sounds fun (although lime + honey? I don't know…) but I haven't tried it. I read that the lime shortage is over but they're still insanely expensive over here. Up until a few years I was able to buy a box 40-50 limes for about $7 at the Turkish market. That was nice while it lasted. We had fajitas all the time!
One last thing – sorry for the lack of posts the last few months. I only have about 5 or 6 more weeks before the book manuscript is due. Then stuff should go back to normal with me posting regularly and posting some things that are a little more involved than mixing water, honey and lemon juice together. Thanks for being patient!
❀
Honey Sweetened Lemonade
Prep Time:
Cook Time:
Ready in:
Yield:

6-8 servings
Ingredients
4 1/2 cups (1065ml) water
1/3-1/2 cup (107-160 grams) honey
1 cup (240ml) freshly squeezed lemon juice - from about 4-7 large lemons
Directions
Warm the water and 1/3 cup honey in a pot or saucepan over low heat. Stir to dissolve the honey and once dissolved, remove from the heat. This should only take about a minute.
Add the lemon juice and stir. Add more honey, if desired.
Chill and serve.