This raspberry smoothie is super thick thanks to bananas, avocado and yogurt and can also be made paleo and vegan by simply using coconut milk yogurt.
I already have a raspberry smoothie recipe, this raspberry coconut smoothie, but I wanted something not coconutty.
I actually did use coconut yogurt in this recipe (you can use whatever type of yogurt you want) but even with that, I couldn't taste any coconut. So I was thrilled.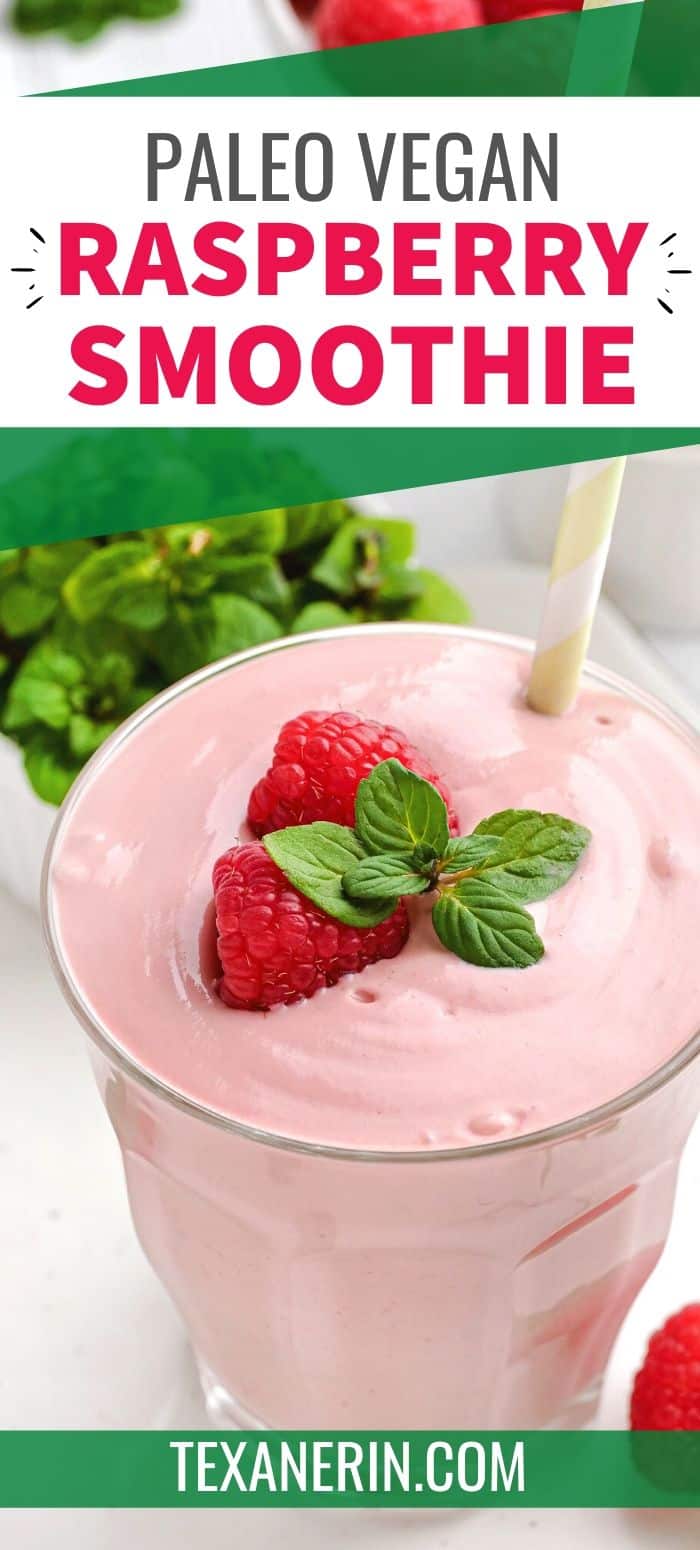 You can probably tell that this is a super thick smoothie. If you want it thinner, you can use milk instead of yogurt and you definitely won't want to use a thick yogurt such as Greek yogurt.
I normally don't put sweetener in my smoothies (one exception would be this paleo blueberry smoothie) but with not-so-sweet raspberries and avocados, the banana alone wasn't enough to sweeten this raspberry smoothie.
The amount you'll need depends on how sweet your bananas are and how big of a sweet tooth you have. I have a big sweet tooth and used 2 tablespoons but then it was nice and sweet and at 1 tablespoon per smoothie, I figured it's not so bad.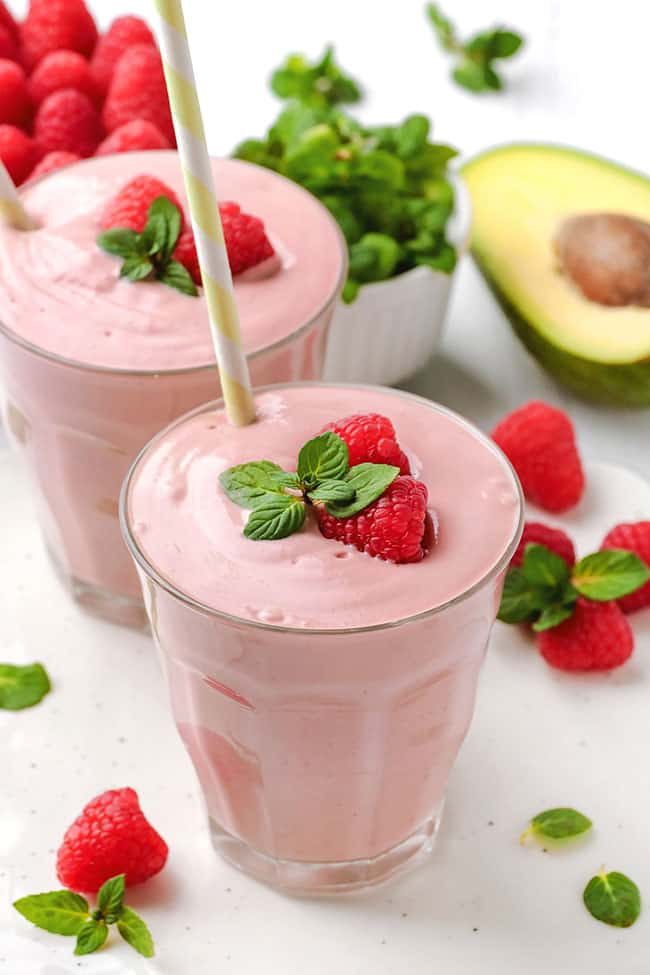 I used maple syrup because I love raspberries and maple syrup together, like in these raspberry cream pies, but almost any sweetener works. I personally wouldn't choose coconut sugar because its darker taste would interfere with the light raspberry taste.
If you really prefer not to use any added sugar, try my chocolate avocado smoothie or omit the avocado.
Moving on to the next ingredient! Someone always asks if they have to use the banana in the smoothie. You don't have to, but then you'll need to dump in a lot of sweetener.
Or maybe just another tablespoon or so. Perhaps dump was a little over-the-top.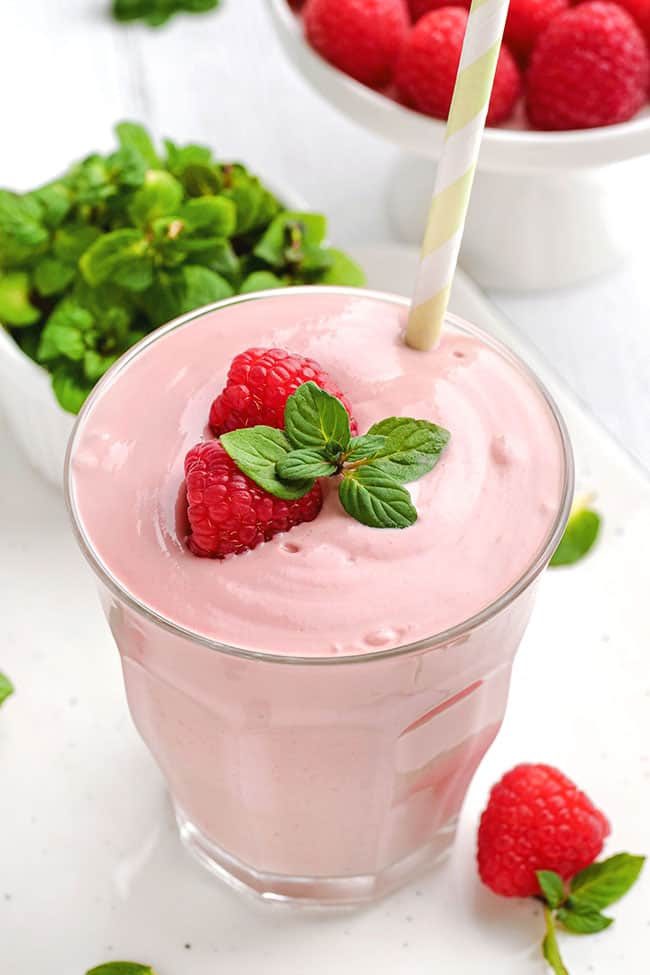 Half a mango would also probably work in place of the banana, but I'm guessing you'd still need to add some sweetener. It'd depend on your mango, though.
You also don't have to add the avocado. If you don't, you'll almost definitely be able to omit the sweetener, assuming your banana is nice and sweet.
As I mentioned in my guide to avocado, frozen avocados work great in smoothies.
I wanted to test this recipe one last time today before posting and was bummed that I didn't have any avocados. But then I remembered a bag that I had discovered hidden deep in the freezer!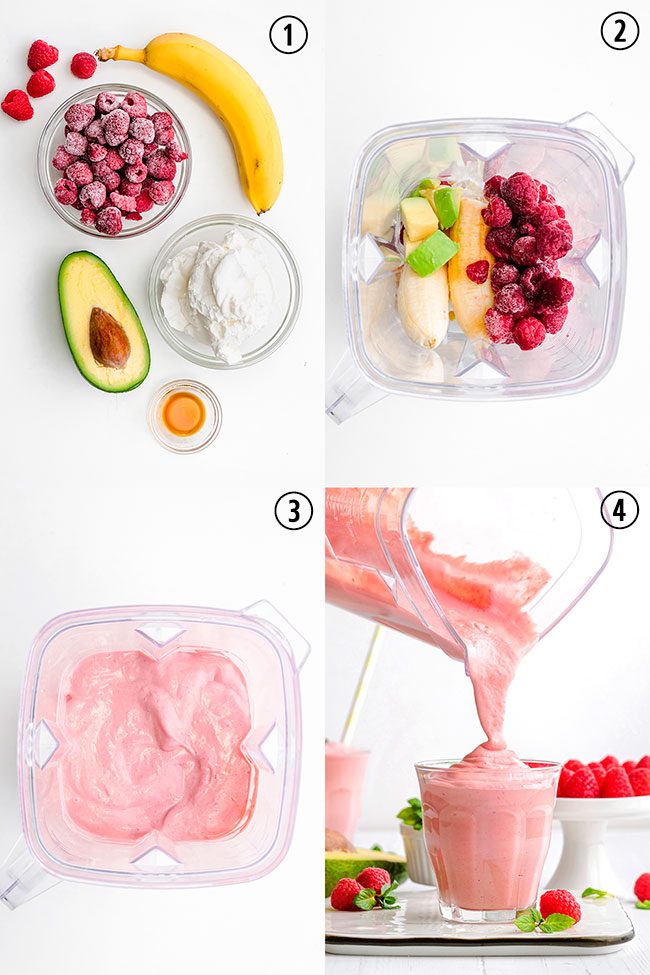 I also used frozen raspberries but you can use fresh if you prefer. I can't imagine using something so precious as fresh raspberries in a smoothie, though. It would feel so wrong. ;)
If you've got a raspberry bush and have too many raspberries to eat, then that's a different (and lucky!) situation.
To keep this raspberry smoothie paleo and vegan, make sure to use a paleo / vegan yogurt (I use this homemade coconut milk yogurt) and to use an appropriate sweetener, such as maple syrup.
Enjoy! :)
❀
Raspberry Smoothie (vegan, paleo option)
Prep Time:
Cook Time:
Ready in:
Yield:

2 medium, very thick smoothies (about 2 1/4 cups smoothie)
Ingredients
1 cup (130 grams) frozen raspberries
1/2 of an avocado (75 grams flesh)
1 large banana (about 150 grams without the peel)
1 cup (250 grams) yogurt (I used unsweetened coconut milk yogurt for a paleo / vegan option)
1/2 teaspoon vanilla extract
~2 tablespoons maple syrup or another liquid / granulated sugar or a little powdered stevia, optional and the amount depends on your bananas (make sure to use a paleo / vegan sweetener, such as maple syrup)
Directions
Blend all ingredients in your blender, food processor or with an immersion blender. Serve cold.