This paleo lemon curd is honey-sweetened and uses whole eggs, meaning you're not stuck with a load of egg whites!
When organic lemons are on sale, I go wild and buy several pounds of them. I don't often buy organic produce because it's so wildly expensive, but if I'm going to zest lemons and oranges, I go organic. I zest them and then freeze the zest in a small glass jar.
That way I don't have to obsess over finding cheap organic lemons and oranges later in the year. I don't often bake orange flavored goodies outside of the winter but it's comforting to know that I could if I wanted to. ;) Plus I can only turn down Mr. T's requests for chocolate orange scones for so long before I break down and make him some.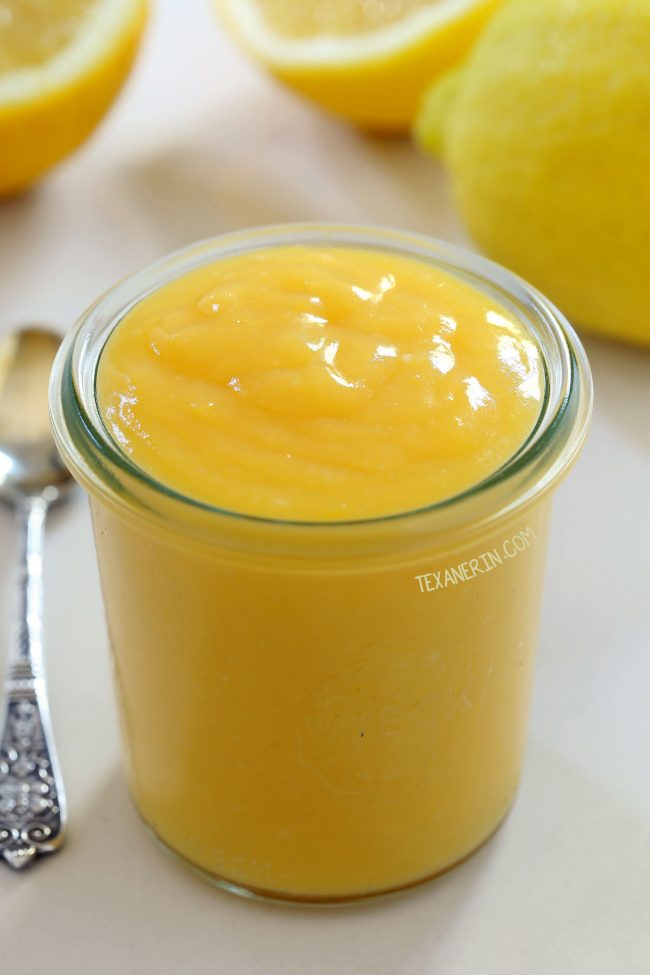 So now that a few dozen zested lemons were sitting around doing nothing but getting depressed by the dark weather, I had to find something to do with all the juice. Paleo lemon curd was my first creation! It wasn't supposed to be paleo but it just turned out that way. I wanted to create a honey sweetened lemon curd just because the amount of white sugar I found in other recipes was kind of absurd. I'm sure they all taste wonderful – I just don't need a cup of sugar in my lemon curd.
And because I didn't need a ton of egg whites taking up room in the fridge, I used whole eggs. And it worked!
I made this a few times using different methods. The easiest and my favorite way was just to mix everything together in a pot and cook it until thickened. No need to whip eggs or separate them or any of that. I did like the effect that running it through a food mill had! Smoother lemon curd = better.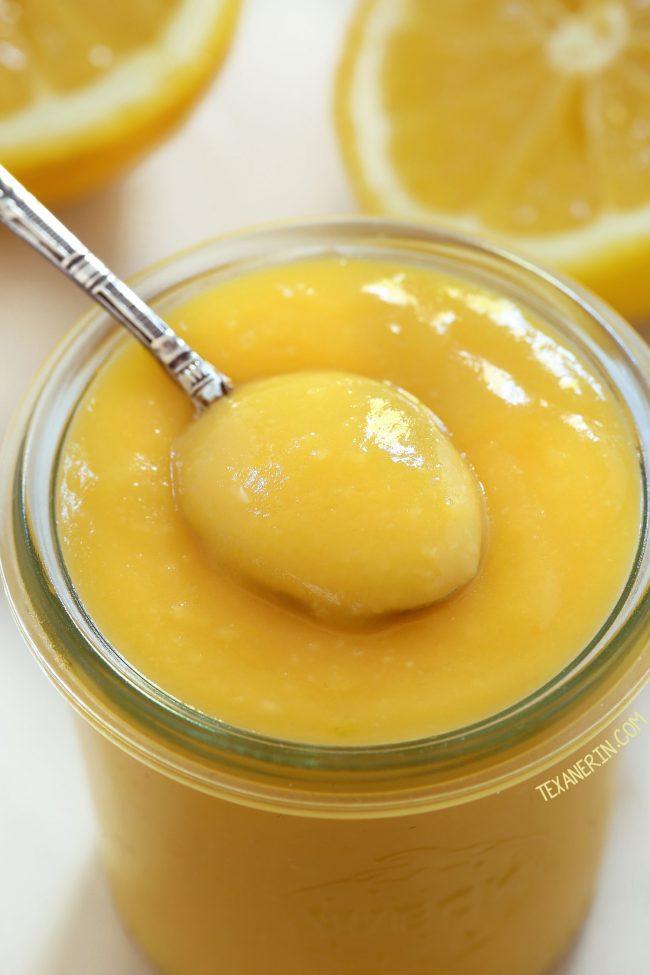 The honey taste in this lemon curd wasn't super strong, but you can taste it. If you don't like honey, here's a microwave lemon curd recipe from Belly Full! It's definitely not paleo, though. ;)
If you don't need this lemon curd to be paleo, you could also use regular unsalted butter.
Although this paleo lemon curd recipe is super easy, it can be ruined quickly – if you walk away! If you're not paying attention, the lemon curd can go from perfect to a nasty, cooked egg mess in moments. So don't get distracted. ;)
Note – pictures updated in May, 2016.
❀
Paleo Lemon Curd (honey-sweetened)
Prep Time:
Cook Time:
Ready in:
Yield:

1 cup
Ingredients
3 large eggs
1/4 cup (80 grams) honey
zest of 2 lemons (about 1 tablespoon)
1/4 cup (56 grams) refined1 coconut oil or regular unsalted butter (use coconut oil for paleo / dairy-free)
1/3 cup + 1 tablespoon freshly squeezed lemon juice
Directions
Mix together the eggs, honey and lemon zest in a medium non-reactive (ceramic, stainless steel, or nonstick) saucepan or pot. Do not use any reactive (aluminum, copper, iron, and steel) utensils when making this recipe. This applies to any recipe with acidic ingredients.
Heat over medium-low heat and once everything is well-combined, add the coconut oil or butter and continue stirring.
Once melted, stir in the lemon juice.
Cook the lemon curd over medium-low heat, stirring constantly, until it thickens – about 5-10 minutes. It's ready once the curd coats the back of a spoon and a clear path is left when you run your finger through it. Do not let the curd go over 170 °F (77 °C). Eggs scramble around 185 °F (85 °C) so be careful!
Place a strainer or food mill over the storage container you want to store the curd in. Strain it and then let it cool completely.
Store in an airtight container in the refrigerator for up to one week.
Notes
Do not use unrefined coconut oil unless you want your lemon curd to taste coconutty!
As an Amazon Associate, I earn from qualifying purchases. For more info, see my disclosure.