This lightly honey sweetened spiced peach jam is not only delicious but an excellent way of dealing with an overabundance of peaches!
First of all – thank you so much for all the emails and comments I received regarding the book announcement! I now have more than enough help and am so thankful for all the offers and kind comments.
This spiced peach jam is admittedly not that exciting but I have to be honest with you. Baking any more than I have to right now just isn't going to happen. I'm in the kitchen from about 7am-10pm. That's enough for me! So y'all get some jam I made a few weeks ago. :D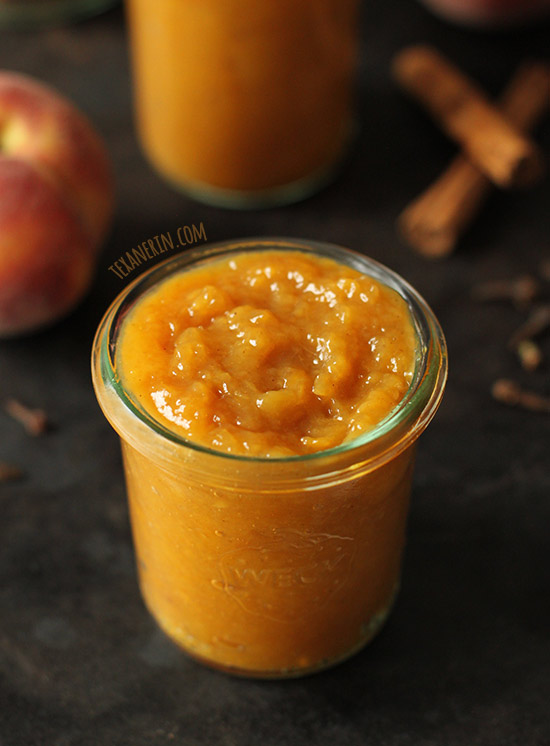 On Saturday nights, Mr. Texanerin and I are real party animals. We go to the grocery store around 8pm when they have great sales on produce. Stores are closed on Sundays in Germany and so they need to get rid of certain produce (berries! peaches! apricots!) on Saturday nights. The last few weeks, peaches have been $.61 per pound, which obviously means that I have to buy them ALL. And so I ended up doing what I always do when this happens. Jam! Honey sweetened jam without pectin.
You can just make plain peach jam if you want but I was bored of plain jam so I made it all snazzy with cinnamon, ginger and cloves. And then I froze it and hid it at the bottom of the freezer so that I can have a nice summery surprise come November when the grey, dreary days make me want to cry. Peach jam will save me. At least for one day!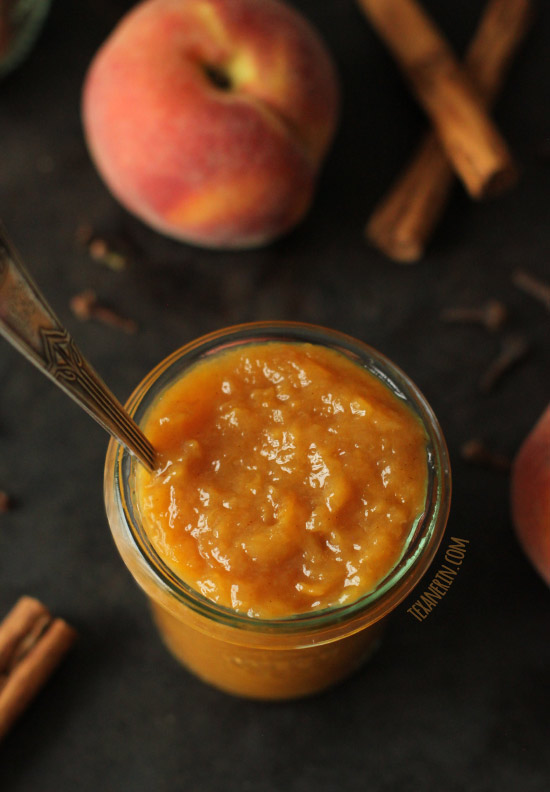 This jam is super simple. You mix together peaches, honey, lemon juice and spices and let it simmer for about 40 minutes. I think it's easiest to just cut the peaches and peel them with my fingers. If the peaches are really ripe, I can do this in 10 seconds. If they're not ripe enough or are being finnicky, you might want to use the boiling method. It always works but I make a mess and I never have ice so… peeling works fine by me. :)
This spiced peach jam is also naturally gluten-free free and dairy-free! If you want a vegan version, just use sugar. I haven't actually tried it but after seeing other peach jam recipes with cups of sugar in it, I'm assuming sugar will work out just fine.
And because people always ask – this is where you can buy the type of jars I use. Weck is a German company so it's pretty easy to find their jars in local shops, where I buy them individually. I think I have one of every single jar and love them all!
❀
Spiced Peach Jam
Prep Time:
Cook Time:
Ready in:
Yield:

20 ounces (560 grams) jam
Ingredients
2 pounds peaches (907 grams) – about 8 medium peaches1, peeled
1/3 cup (106 grams) honey
2 tablespoons lemon juice
1/2 teaspoon ground ginger2
1/4 teaspoon ground cinnamon
1/4 teaspoon ground cloves
Directions
Mix everything together in a medium non-reactive pot.
Bring to a light boil over medium-high heat and let it boil, uncovered, for 30-50 minutes or until thick enough for your liking. Stir occasionally and pay close attention after 30 minutes. The longer it cooks, the more often you need to stir. The amount of time will depend on how juicy your peaches are.
When you think your jam is thick enough, continue boiling and put some of the jam on a clean spoon and then put the spoon on a plate in the freezer. Let it sit for five minutes and then take it out. If the jam falls easily off the spoon when you turn it to the side, it's not ready and you should continue cooking for another 5 minutes and try the test again.
Let cool and then pour the jam into jars and store in the fridge and for up 1 week. Freeze any leftovers after that.
Notes
If you want to be really exact, the weight after peeling them and removing the pits was 614 grams.
This jam is not heavily spiced. If you want the spices to be more pronounced, taste the jam towards the end of the cooking time and add more spices, if desired.