This Halloween martini is basically a blueberry martini with fun melon and blueberry eyeballs. It's also naturally gluten-free and dairy-free.
Here's an easy cocktail for Halloween! And I think as far as alcoholic Halloween drinks go, it's on the healthier side.
There's no food coloring – not even artificially colored alcohol – and it's maple-sweetened. It calls for Chambord, and even that is naturally colored and naturally sweetened with honey (making this a non-vegan drink). If you do need something vegan, try this Halloween Punch with Eyeballs.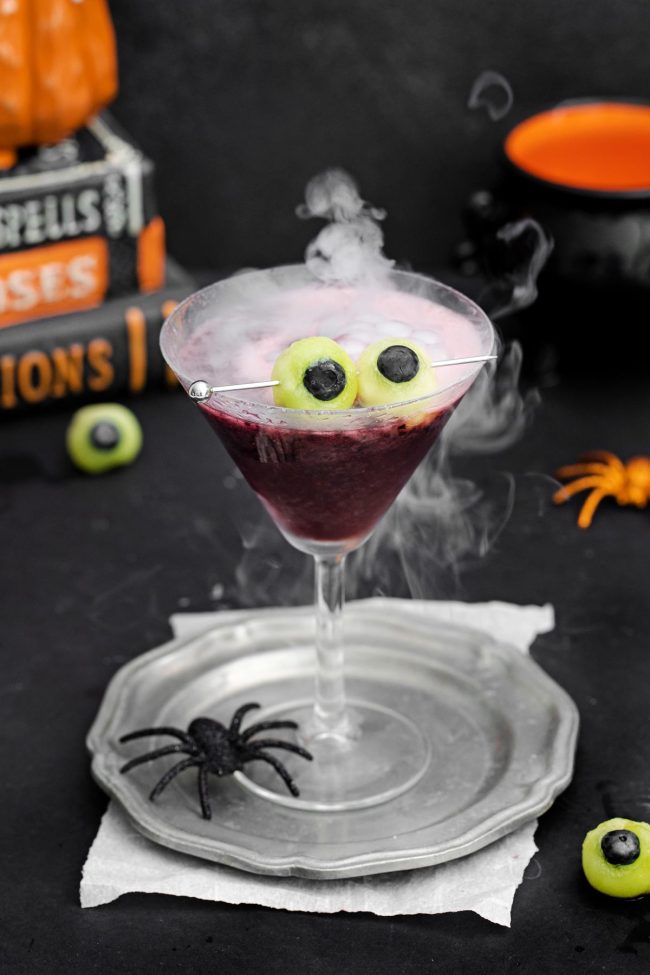 Ingredients
Blueberries – fresh ones were used in the photos, but you can also use frozen.


Chambord – more on this below.


Vodka – you don't need an expensive brand. I used a pretty cheap one with fantastic results.


Lime juice or lemon juice – I've used both and even a combination of the two.


Maple syrup or simple syrup – I always use maple syrup. The flavor goes perfectly with blueberries and Chambord!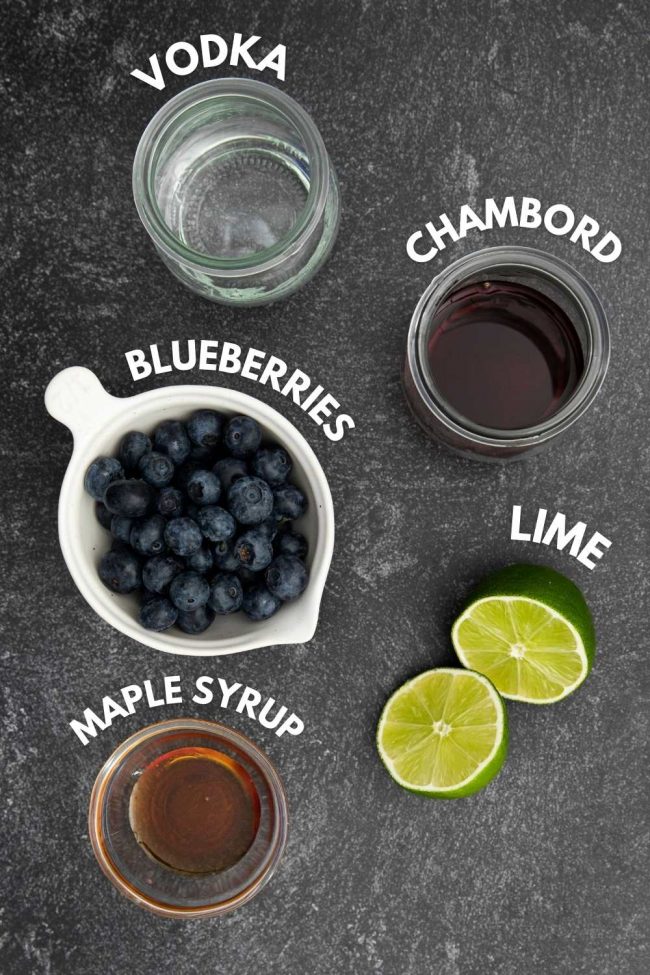 Blueberries
I see that a lot of blueberry martini recipes call for blueberry juice or blueberry vodka. I figured most of us don't have either of those ingredients on hand and don't want to buy a specialty vodka for just one recipe (I know I don't!). So I went with actual blueberries.
You get loads of real blueberry flavor, but you do need a blender. An immersion blender will also do the trick! I suppose you could also mash the blueberries and then press them through a food mill or fine mesh sieve, but I haven't tried it.
Fresh vs. frozen wild
Both work great! But when using frozen wild blueberries, I needed to double the sweetener.
The color of the drink was the same with both, which was quite a surprise. Frozen blueberries are usually wild, and they have dark blue/purple flesh. Cultivated blueberries are the normal fresh ones you get at the store, and they have green flesh.
In many recipes, including this Blueberry Avocado Smoothie, fresh blueberries give you a lighter color because of their greenish insides.
But it doesn't make a difference here. Use whichever you prefer!
What is Chambord?
Chambord is a French brandy-based liqueur that's made from black raspberries, vanilla, citrus peel, honey, herbs and spices. Although black raspberry is the star, it's a lot more than that when it comes to taste.
It contains only 16% alcohol, so it has much less alcohol content than other spirits like vodka, rum, and tequila.
It doesn't have to be refrigerated, but should be stored out of direct sunlight, and it'll last indefinitely. I'd use it up within the year once it's opened, but it's so tasty that I'm sure you won't have any problem doing so.
My Vampires Kiss Cocktail also uses Chambord and is basically a raspberry version of today's recipe. And it has a fun raspberry and maple syrup "blood" sauce around the rim of the glass.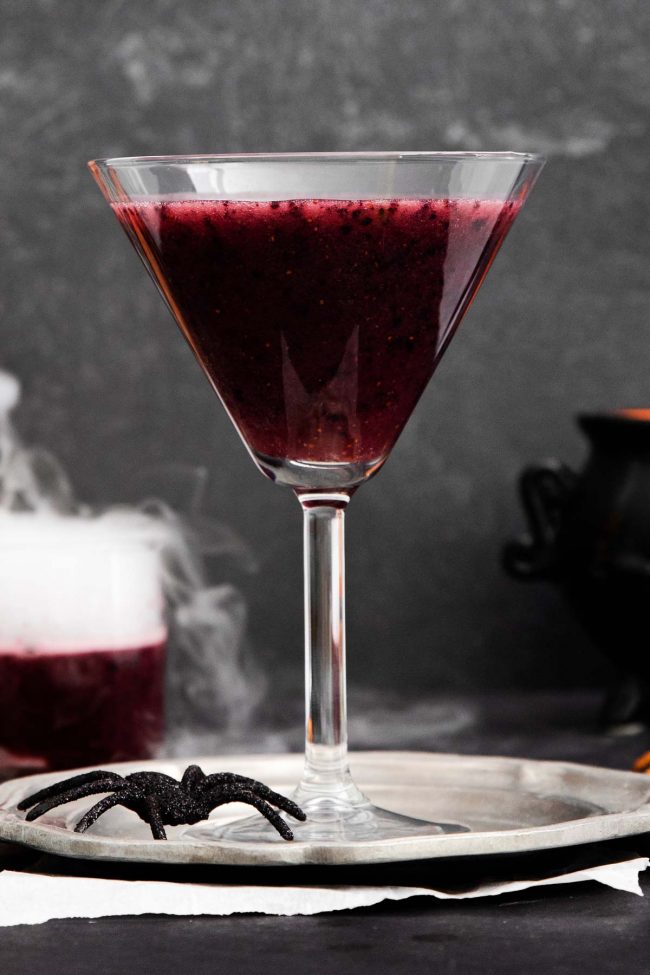 Melon eyeballs
These are the same eyeballs I used in my Non-alcoholic Halloween Punch. Here's a photo.
I've seen them here and there, and they appear as if they can float. But I've tried fresh and frozen melon, and I can tell you that those people are setting those eyeballs on a glass to appear as if they're floating.
Because they totally sink. I've also tried numerous types of melon and in different types of drink – alchoholic, non-alcoholic, bubbly, non-bubbly, etc.
But when you put them on a cocktail pick, the problem is solved. Then you also don't have to awkwardly dig the eyeballs out of your glass.
To make them, you scoop out balls of melon with a melon scoop. Then you make an X at the top of the ball and dig a little hole out so that the blueberry has a place in where it can sit.
Then place two of the eyeballs on a cocktail pick and place on the drink.
Dry ice safety tips
Dry ice creates a spooky and fun effect making it perfect for this Halloween martini. But it's so cold that it can cause burns and even frostbite if handled without gloves or tongs.
So this section will be super long because I want to ensure that nobody gets hurt. Please read it if you're inexperienced with dry ice!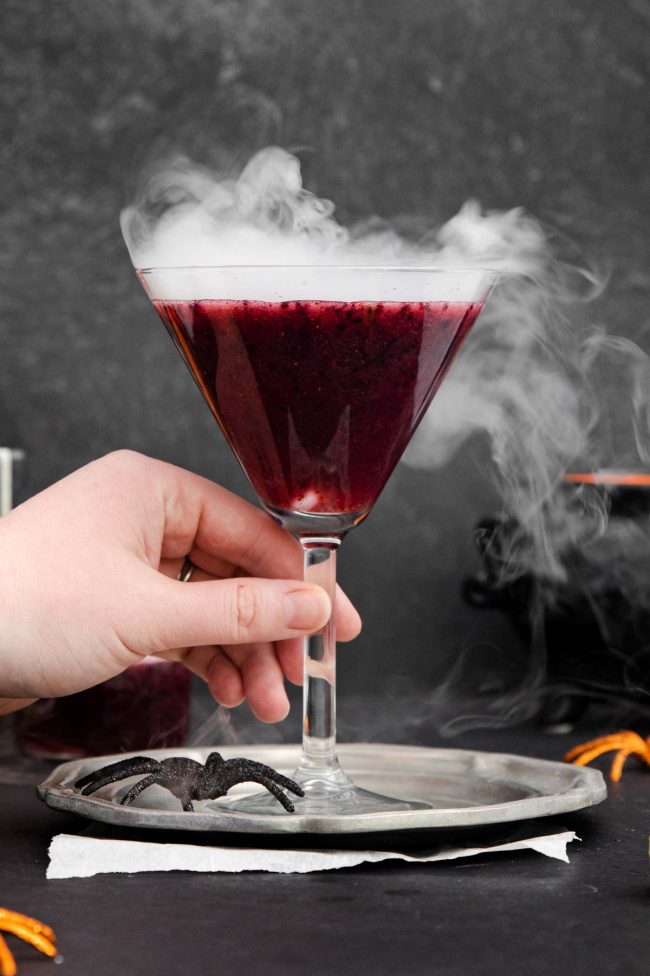 Dry ice is a solid form of carbon dioxide. When it "melts," it turns into a gas, creating a smokey effect.
If you're making these martinis for a party and there are kids around, please keep the dry ice out of their reach!
⚠️ Vital tips for handling dry ice. ⚠️
Do not swallow!
Do not touch with bare hands.
You must use tongs or gloves.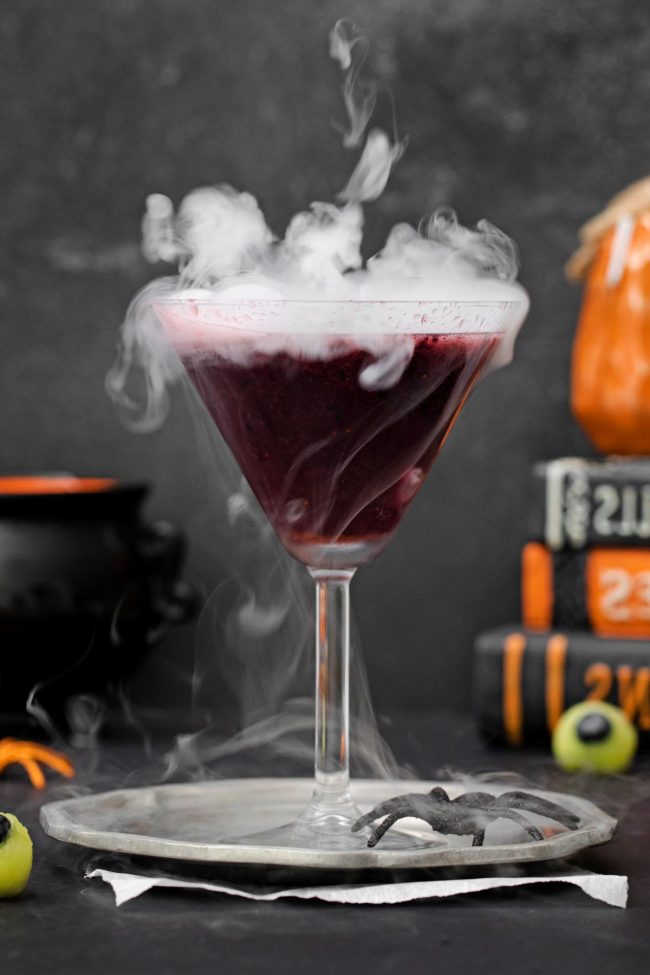 How to store it properly
Don't place dry ice in the freezer! It can make the freezer too cold and could even break it.
It's best to keep dry ice in a styrofoam cooler because it won't crack, it's insulated and lets the carbon dioxide disperse safely. Plastic coolers might break.
Ventilation is key, so don't put dry ice in an air-tight container! Carbon dioxide gas can build up, so to minimize the risk of explosion, leave the lid ajar.
⚠️ Safety first! ⚠️
Keep away from children and pets.
Wear gloves and goggles when handling or use tongs when adding it to the glasses.
If your dry ice comes in a block, then you need to break it up. Keep it in the package, but wrap the package in a towel or plastic bag and drop it on the ground.
Do not set it on the counter! Glass, ceramic, stoneware and plastic can crack if it comes into contact with dry ice.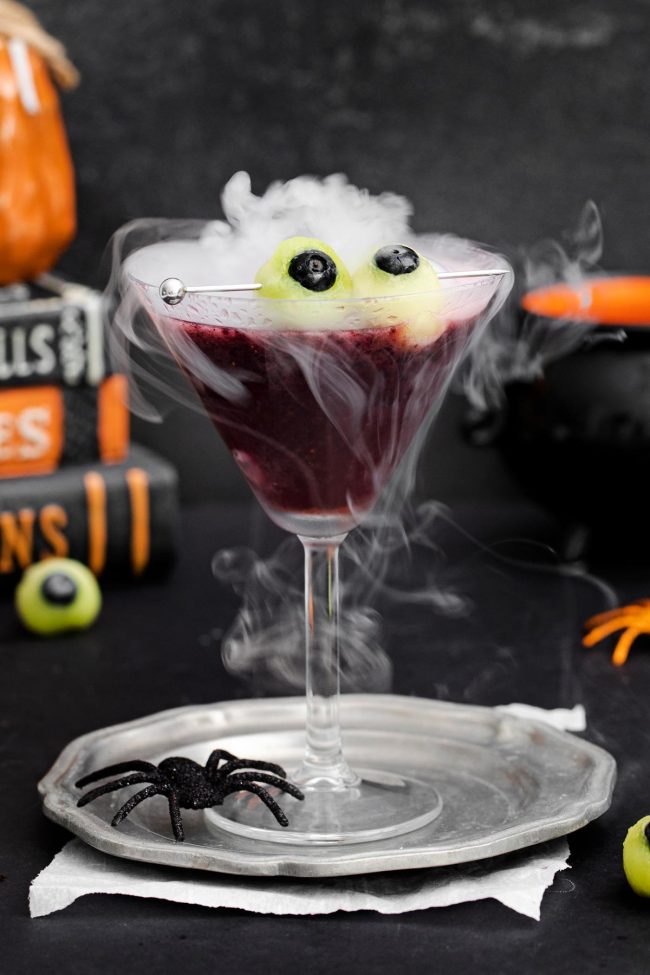 How to properly dispose of dry ice
Let the dry ice turn into vapor if you have some left over.
Choose a well-ventilated space away from kids and pets and let it vaporize by leaving the container lid ajar.
Place the container in an outdoor area and in direct sunlight if possible.
Never dump dry ice in sewer lines or in the garbage disposal, trash cans, toilets or sinks because it can cause pipes to freeze and burst.
Recap
Always use protective gear when handling dry ice.
Always store it properly away from kids and pets.
Always allow it to turn to vapor in a cooler with the lid open.
No need to be scared of using dry ice as long as you are using precautions.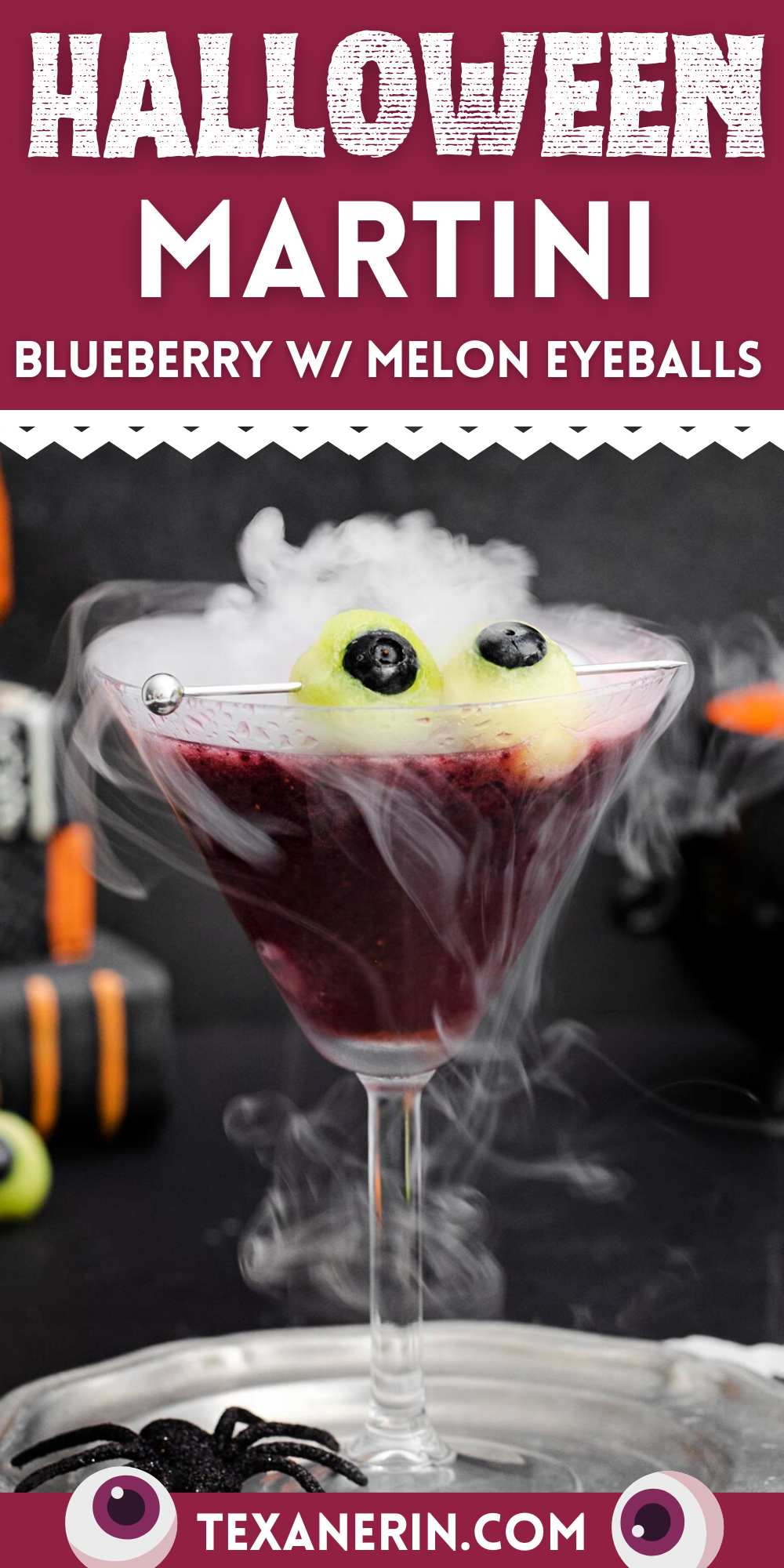 I hope you'll enjoy this Halloween martini! If you try it out, please leave some feedback below, as I'd love to hear your thoughts. :) Thanks a bunch!
Other adult Halloween party recipes
Eyeball Cupcakes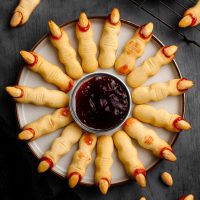 Witch Finger Cookies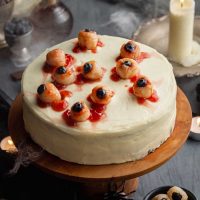 Halloween Cake with Eyeballs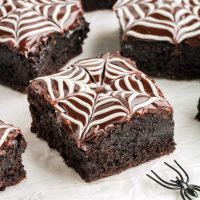 Spiderweb Brownies
❀
Halloween Martini (Blueberry Martini with Melon Eyeballs)
Prep Time:
Cook Time:
Ready in:
Yield:

14 tablespoons (2 small or 1 large martini)
Ingredients
1/2 cup (36 grams) fresh or 1/2 cup (60 grams) frozen blueberries
2oz (1/4 cup) Chambord
2oz (1/4 cup) vodka
4 teaspoons lime juice
2 to 6 teaspoons maple syrup or simple syrup
honeydew melon + blueberries for eyeballs
dry ice, optional
Directions
Blend everything but the sweetener in a blender until totally combined.
Stir – don't blend – in the sweetener. If using fresh blueberries, you only need 2 teaspoons. If using frozen, you'll need 4 to 6 teaspoons.
Pour into the glass.
To make the eyeballs, scoop out balls with a melon scoop. Make an X at the top of the ball and dig a little hole out so that the blueberry has a place to sit. Put two on a cocktail pick to create a set of eyeballs and place on top of the glass.
If using dry ice, please read all the safety tips in the post first. Keep the dry ice pieces at least 1-2" in size. You don't want one to accidentally get into your glass. Add one to the glass and serve.