These pecan pie bars with a shortbread crust and a caramel pecan topping can be made with gluten-free, all-purpose or whole wheat flour and are made without corn syrup. Thanks to Bob's Red Mill for sponsoring today's post!
Pies can be tricky so I'm a huge fan of making dessert bars. The crust is so much easier and as long as the recipe's good and you follow it, you can't really mess it up! If you prefer a pie, try this gluten-free pecan pie.
These pecan pie bars are made without corn syrup and instead use brown sugar and some honey and maple syrup. If you want to use another liquid sweetener or all maple syrup instead of the combination of honey and maple, I'm not sure how they'd come out as I haven't tried it. Honey is a lot stickier than maple syrup, which I'm guessing would affect things.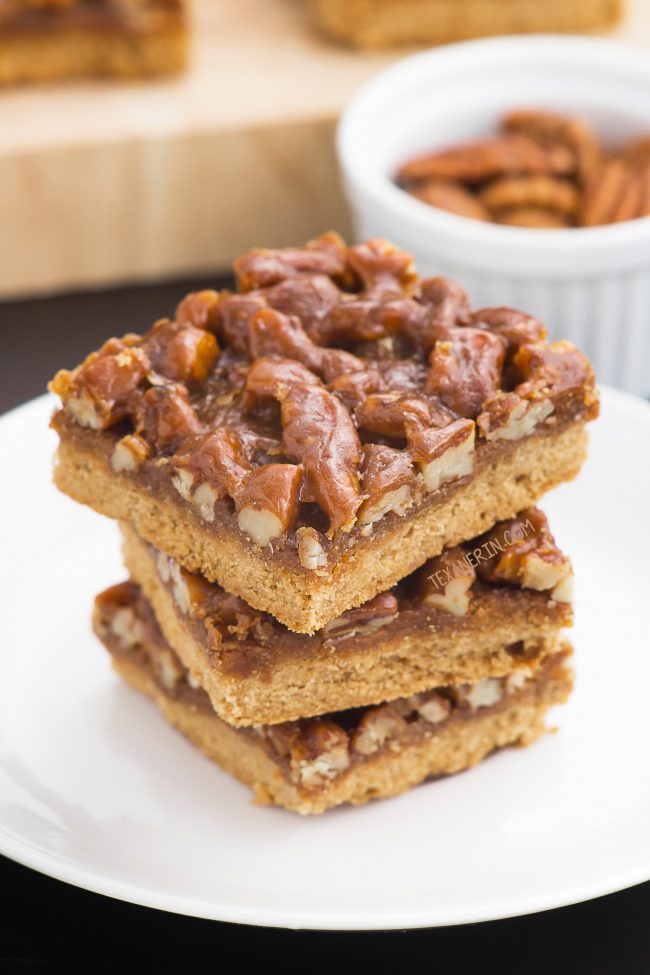 As for the shortbread crust, you have the following three options.
All-purpose flour
I don't often bake with AP flour, but when I do, I always get Bob's Red Mill Organic Unbleached White All-Purpose Flour (they also have a non-organic version). Bleach is added to most flour to make it white. That's the only reason. It's nasty. All of Bob's Red Mill's flour is unbleached, so you never have to worry about that with them!
Their flours are also unbromated. Bromate, which some studies have linked to cancer, is banned in many countries but in the US, it's not. And you often find it in flour. No, thanks! If I'm going to use AP flour, it's definitely going to be unbleached and unbromated.
For more info about these two issues, check out Bob Red Mill's post about it: What Is It? Bromated and Bleached Flour.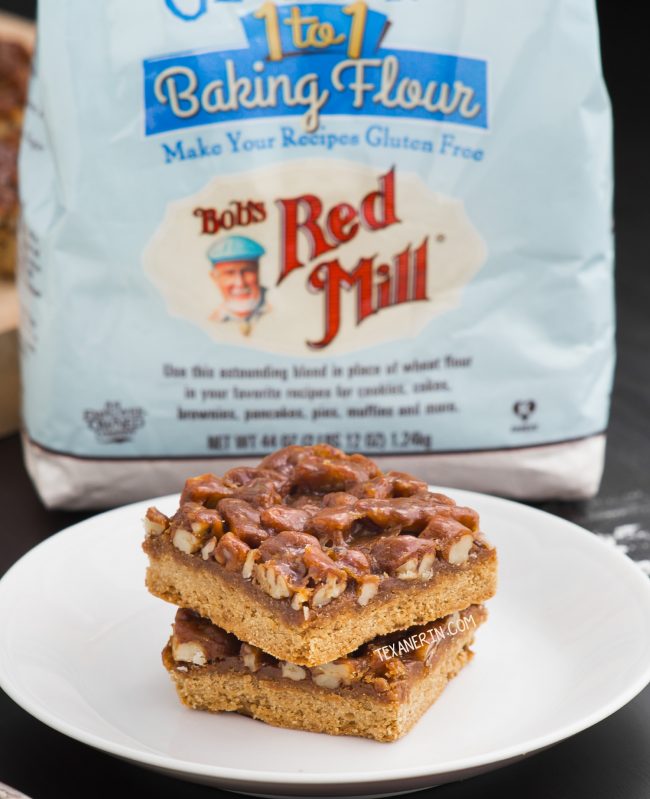 Gluten-free 1-to-1 Baking Flour
This is definitely my favorite gluten-free sub for all-purpose flour! I talked about it at length in my recipe post for these pumpkin cream cheese muffins (which are outrageously delicious and I recommend you try ASAP!).
I've used it in a ton of other recipes on the blog, like these mini pecan pies or this bourbon pumpkin cake. You use it cup for cup like you would AP flour, making it especially awesome for people who don't want to invest in several different flours or just occasionally bake gluten-free for friends or family. I've tried other mixes but this one is my favorite because it yields goodies that aren't gritty, starchy, chalky or rubbery.
Organic Ivory Whole Wheat Flour
If you follow my blog, you've probably read all about how awesome ivory whole wheat (sometimes called white whole wheat) is. It has all the nutrition of regular whole wheat, but without the whole wheat taste! So it was the obvious choice for this crust as there aren't any strong flavors like cocoa powder, cinnamon or other spices to cover the whole wheat taste up.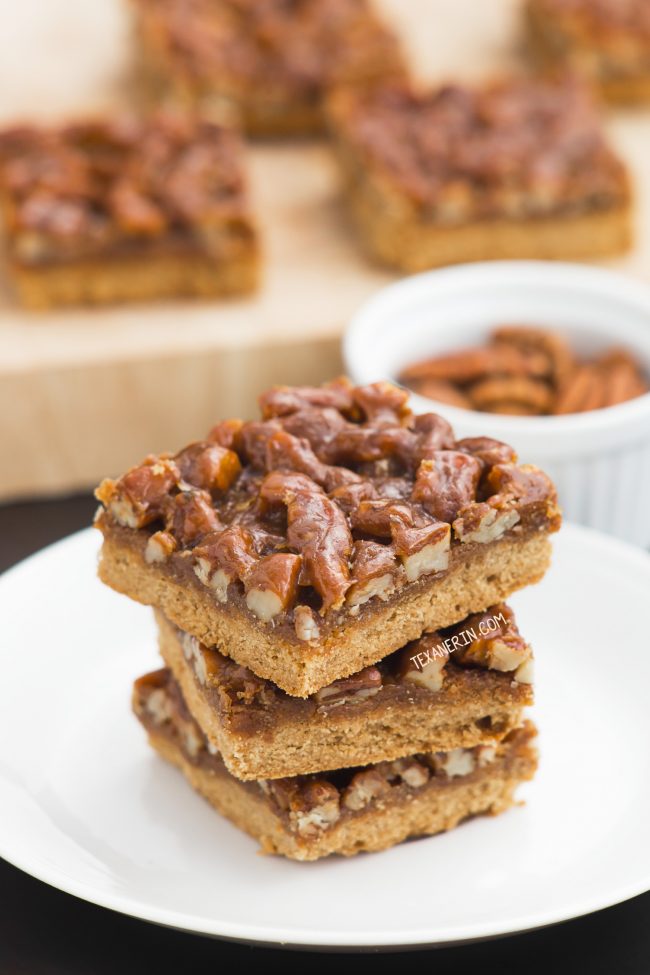 These pumpkin cupcakes and apple blondies use ivory whole wheat flour and would be great for Thanksgiving dessert! This cinnamon babka also looks like something I need to try. Have you ever had babka before? So, so delicious!
For people wondering about the baby – I'm now 4 days overdue and I'm apparently no closer to having this baby than I was a month ago. Hopefully things will get rolling soon. :D
Prefer a paleo version? Try these paleo pecan pie bars from Food, Faith, Fitness!
Click below to view the how-to video for these pecan pie bars! Or click here to view the video on Facebook. Thanks! :)
❀
Pecan Pie Bars (gluten-free, whole wheat, all-purpose flour options)
Prep Time:
Cook Time:
Ready in:
Yield:

12-16 bars
Ingredients
For the crust:

6 tablespoons (84 grams) unsalted butter, room temperature
1/2 cup (100 grams) brown sugar
1 large egg (50 grams, out of shell)
1 1/2 cups (207 grams) Bob's Red Mill Gluten-Free 1-to-1 Baking Flour for the gluten-free version or 1 1/2 cups (188 grams) ivory whole wheat or all-purpose flour for a non-gluten-free version
1/4 teaspoon baking powder
1/4 teaspoon salt

For the topping:

1/2 cup (113 grams) unsalted butter
1/4 cup (80 grams) honey
1/4 cup (80 milliliters) maple syrup
6 tablespoons (75 grams) brown sugar
1/2 teaspoon vanilla extract
1/2 teaspoon ground cinnamon
3/8 teaspoon salt
2 tablespoons whipping cream
1 1/4 cups (138 grams) pecans, chopped in 1/3" pieces
Directions
Preheat the oven to 375 °F (190 °C). Line an 8"x8" pan with a piece of parchment paper.
In a large mixing bowl, cream the butter and sugar with an electric hand mixer or stand mixer, starting off on low and increasing to medium speed until light and fluffy.
Beat in the egg on low and once well combined, add the flour, baking powder and salt. Beat on low until well combined and it comes together, almost like a dough.
Pat onto the bottom of the prepared pan. You may want to use a silicone spatula to help evenly spread it out. Use a fork to poke holes about every 2".
Bake for 12-15 minutes or until the dough no longer appears wet. It won't have browned, except a little bit around the edges, and it will be quite soft. While the crust is cooking, start preparing the topping.
In a medium or large saucepan, add the butter, honey, maple syrup, brown sugar, vanilla extract, cinnamon and salt. Let sit until you remove the crust from the oven.
Once you remove the crust from the oven, reduce the heat to 350 F (176 C), and let partially cool while continuing with the topping.
Bring the mixture to a boil at medium heat and simmer, while stirring constantly, for 5 minutes. Reduce the heat as needed to just keep it at a boil and so that it doesn't burn. Remove from the heat and stir in the whipping cream and chopped pecans.
Pour the mixture over the partially baked and partially cooled crust and spread to even it out.
Bake at 350 F (176 C) for 30 minutes. The topping will be bubbly and have turned a darker, more golden color. It'll appear very greasy at first, but don't worry - it'll be fine! Remove from the oven and let cool for about 2 hours or until firm. Cut into squares.
Store in an airtight container for up to 5 days.
As an Amazon Associate, I earn from qualifying purchases. For more info, see my disclosure.