Try these 100% whole grain Baileys Irish cream brownies for a super gooey and decadent treat for St. Patrick's Day!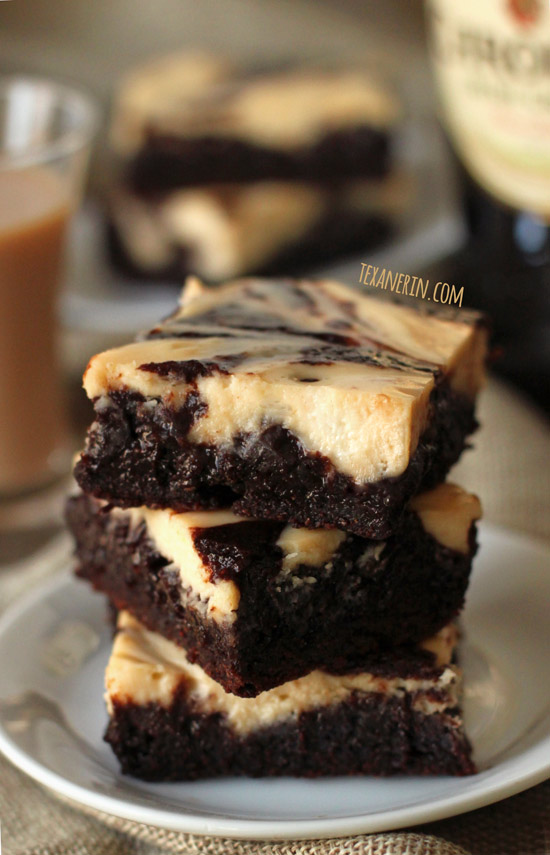 Being the Irish American girl I am, I wanted to post some authentic Irish desserts for St. Patrick's Day. The dyed stuff is cute but I figured it wasn't very Irish. So I wrote an Irish colleague of mine, Camilla, and asked her. Her answer was so interesting (at least for me! ;)) that I wanted to share.
This is what she told me:
Well, to be honest there is more and more of the neon green stuff eaten in Ireland – the shamrock shake even made it there a couple of years ago – but it has to be done with a sense of irony ;-) Wearing real shamrock is pretty popular though!
The truth is that in terms of traditional fare, savoury stuff is more popular on Paddy's Day and all year round – boxty bread, soda bread, stew, coddle, buttermilk, kale, anything relating to a full Irish breakfast or breakfast roll.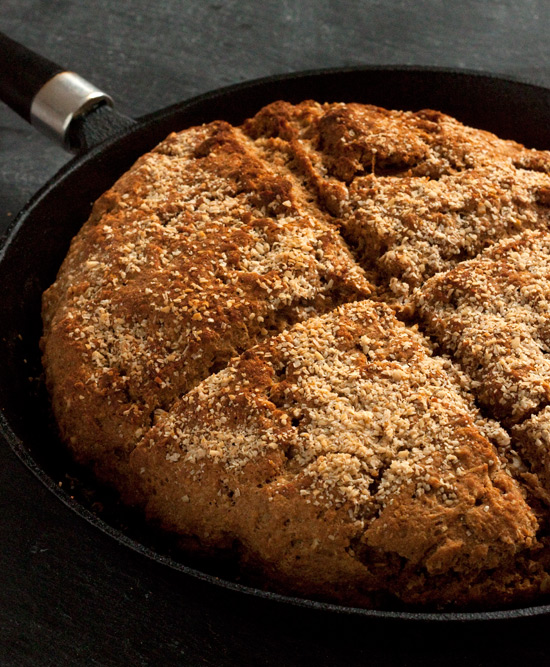 In terms of sweet ingredients, traditional routes would be oats (because we actually do love them nearly as much as potatoes), honey (crops up all the time in Irish mythology, especially as mead) or anything incorporating alcohol (favourites: Guinness, whiskey, cider, maybe brandy) like chocolate Guinness cake. I see you already made a Bailey's cake though.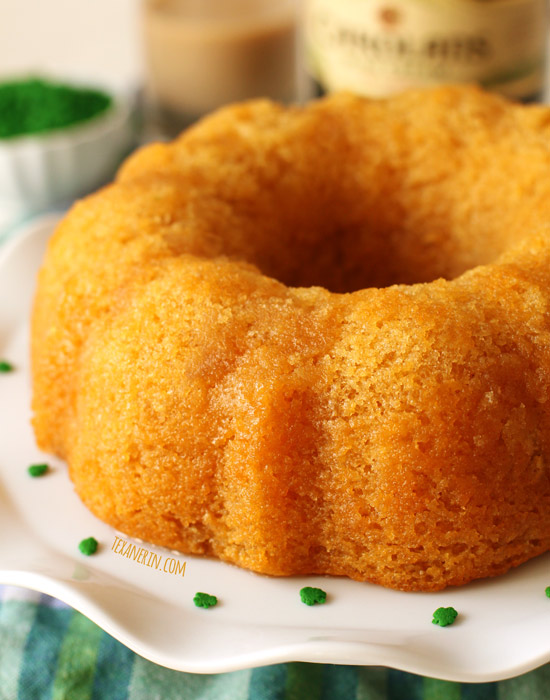 We're also into Irish coffee, rich chocolate (Butlers is the main brand) and various dodgy soft drinks – lemon and lime, orange, red lemonade and orange and lemon (aka rock shandy, one of the few things I miss) being the favourite flavours.
In short: Paddy's Day is really mostly about drinking, and Irish cuisine is an oxymoron. :-(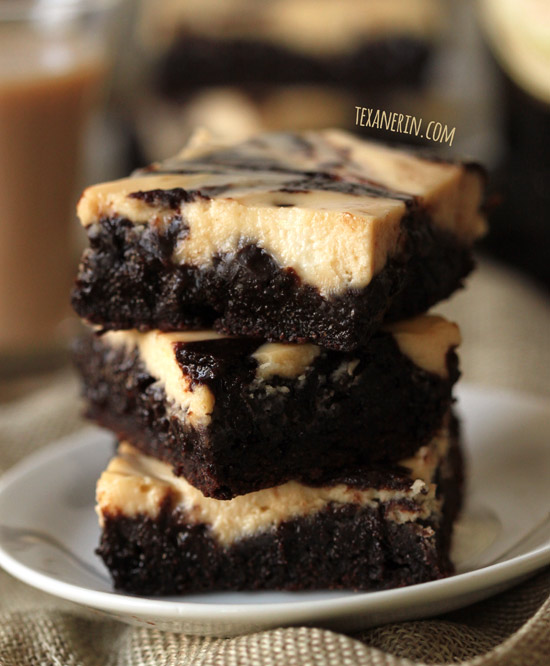 That last sentence cracks me up. Thanks for your help, Camilla! :)
So! What I took from that was booze. And so here you go. Super gooey and fudgy chocolate Irish cream brownies, which have a little Irish cream in them, and then topped off with some cheesecake topping with more Irish cream.
I've made a ton of Irish cream brownies before, but none of them were this rich and gooey. And you absolutely can't taste the whole wheat flour.
The only thing I need to note is that when you take them out of the oven and grab a spoon and dig in, the 1/4″ or maybe 1/2″ border around the sides of the pan will be slightly cakey. But don't worry! Once you dig in a bit more, they're super fudgy. Also, I baked these just until the center was set. The toothpick test doesn't work here! If you wait until the toothpick comes out clean, the brownies will be overdone.
I have a thing for cheesecake brownies but I'm clearly lacking in this department. I need more! Ideas? :)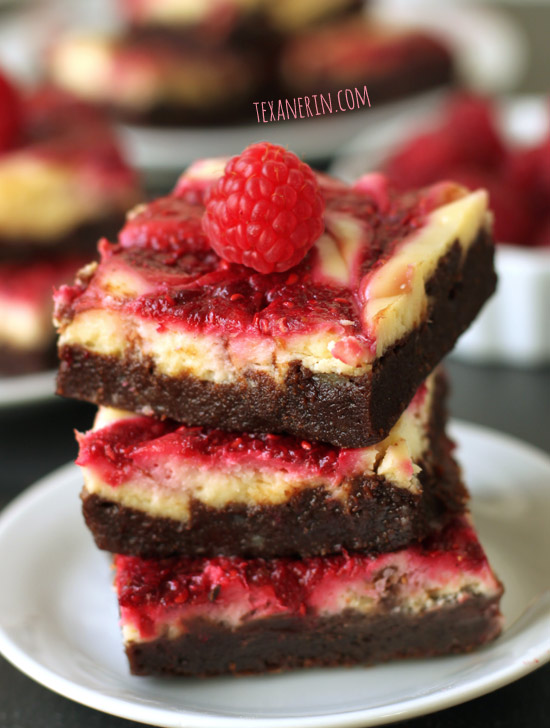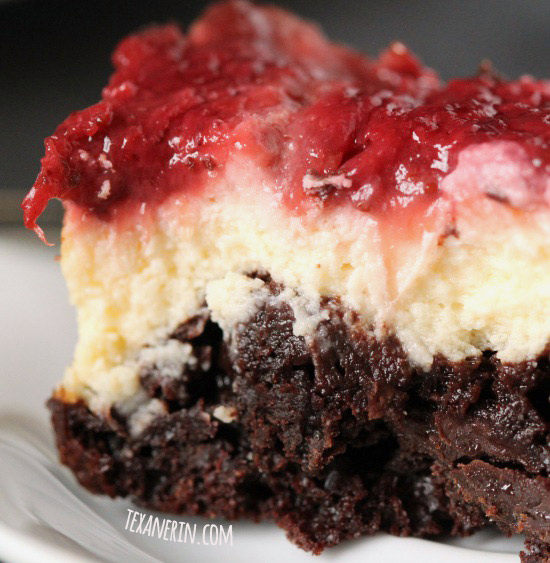 ❀
100% Whole Wheat Irish Cream Brownies
Prep Time:
Cook Time:
Ready in:
Yield:

16 brownies
Ingredients
For the brownies:

1 cup + 2 tablespoons (225 grams) sugar
1/2 cup (118ml) canola
3 large eggs
2 tablespoons Irish cream (Baileys is recommended)
1 1/3 cups (175 grams) whole wheat flour, white whole wheat flour or whole spelt flour
1/2 cup (60 grams) Dutch-process cocoa powder
1/4 teaspoon salt

For the filling:

8 ounces (225 grams) cream cheese
2 tablespoons unrefined or granulated sugar1
3 tablespoons Irish cream
1 egg
pinch of salt
Directions
Preheat the oven to 350°F (175°C). Line an 8"x8" pan with parchment paper. This is to make removal of the brownies easier. You can alternatively spray the pan with baking spray.
First prepare the cream cheese filling.
In a small mixing bowl, beat everything together with an electric hand mixer until well combined.
In a large bowl, mix together the sugar and oil. If using unrefined sugar, let the mixture sit for 5 minutes to help dissolve the sugar.
Using a wooden spoon, stir in the eggs and Irish cream and mix just until combined.
In a medium bowl, mix together the flour, cocoa powder and salt.
Add the dry mix to the wet and stir just until there are no more streaks of flour. If you over mix, the brownies will be tough.
Pour the batter into the prepared pan and spoon the cream cheese mixture on top of the batter. Using a knife, swirl the cheese mixture into the batter.
Bake the brownies for 18-20 minutes minutes or until the middle appears set (it shouldn't jiggle when you tap the pan). The toothpick test doesn't work here as the toothpick will come out wet (the brownies continue to cook after you remove them from the oven). Do not bake until the toothpick comes out clean!
Let the brownies cool in the pan and then refrigerate for 3 hours or until the cheesecake layer has firmed up.
Store in an airtight container and refrigerate up to 5 days.
Notes
Don't use a type of unrefined sugar that's super coarse as it might not dissolve very well.