These gluten-free chocolate cupcakes are incredibly moist and just as delicious as traditional cupcakes! With vegan and dairy-free options.
I've been making these amazing cupcakes for about 14 years now (although I used to make them with whole wheat). Once I tried this recipe, I had no desire to try another!
If you prefer to use a cake pan instead of making cupcakes, I posted the cake base over on Food Doodles. That healthy chocolate cake recipe also has a different + healthier frosting recipe.
These gluten-free chocolate cupcakes, if you use the same flour I did, don't taste at all gluten-free. They're so very moist and fudgy and sure to please even the pickiest of eaters.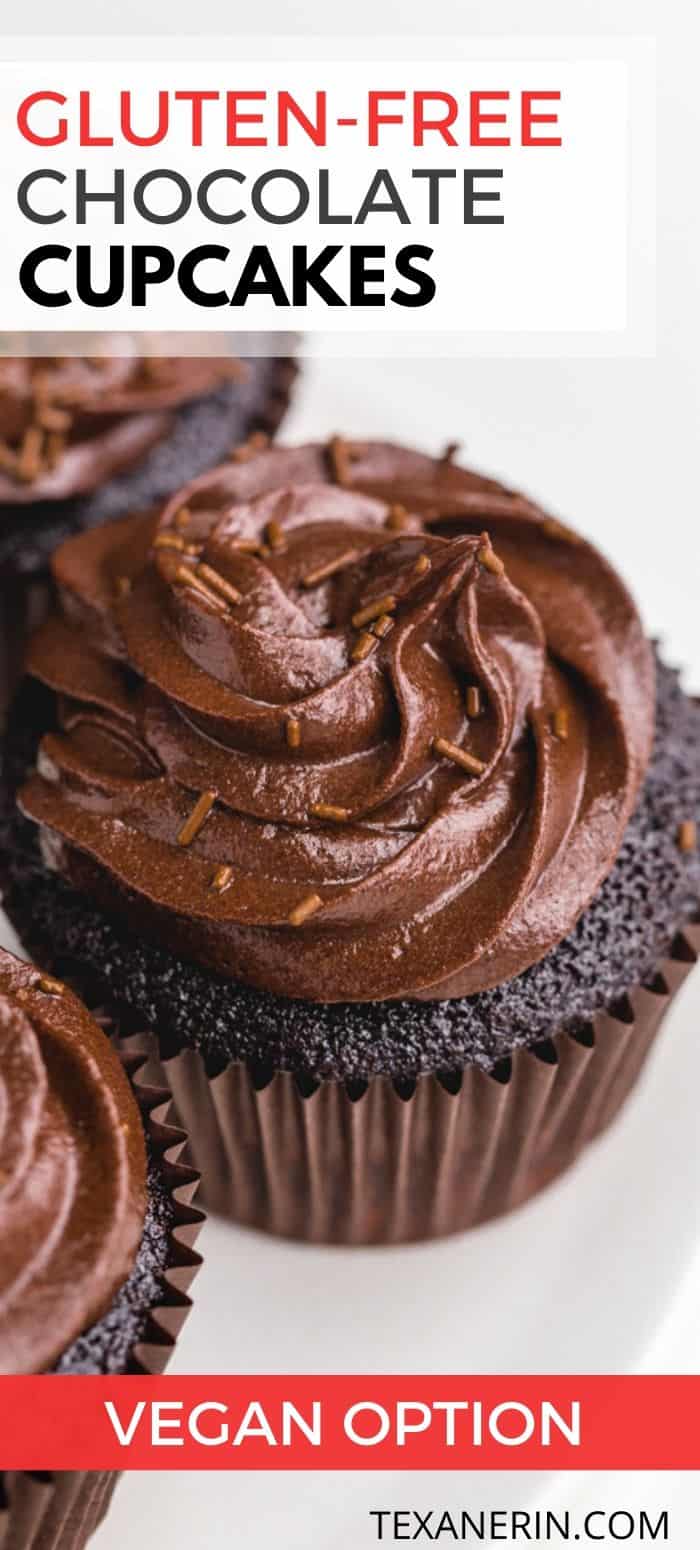 You could try a different blend but I can't say that the cupcakes would be as good or that they'd not taste gluten-free. Gluten-free flour mixes are so different!
I have tried them with buckwheat flour for a whole grain, healthier version but I thought they tasted strange. And I don't want weird tasting cupcakes!
I do hope to post a healthier gluten-free cupcake recipe soon, though. If you want something that's whole grain + gluten-free, check out the kladdkaka (Swedish sticky chocolate cake) recipe I posted last week.
To top these cupcakes off, I used chocolate cream cheese frosting. It's super easy to make and seriously so delicious! And it pipes wonderfully.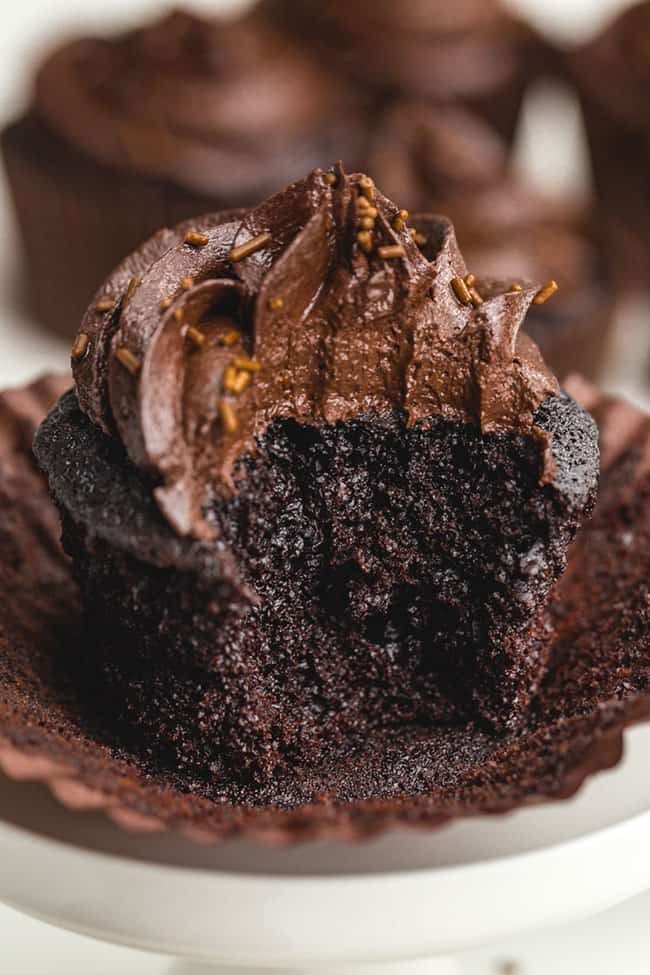 The cupcakes, without the cream cheese frosting, are dairy-free and vegan as long as you use dairy-free milk and egg replacements. I recently made them with chia eggs for the first time and was surprised that it worked so well.
There's really no difference between the version with regular eggs and the one with chia eggs. I haven't tried, but I imagine other egg replacers would work.
I've also linked to some vegan and dairy-free frostings in the recipe. One is my vegan chocolate frosting, which is almost like fudge.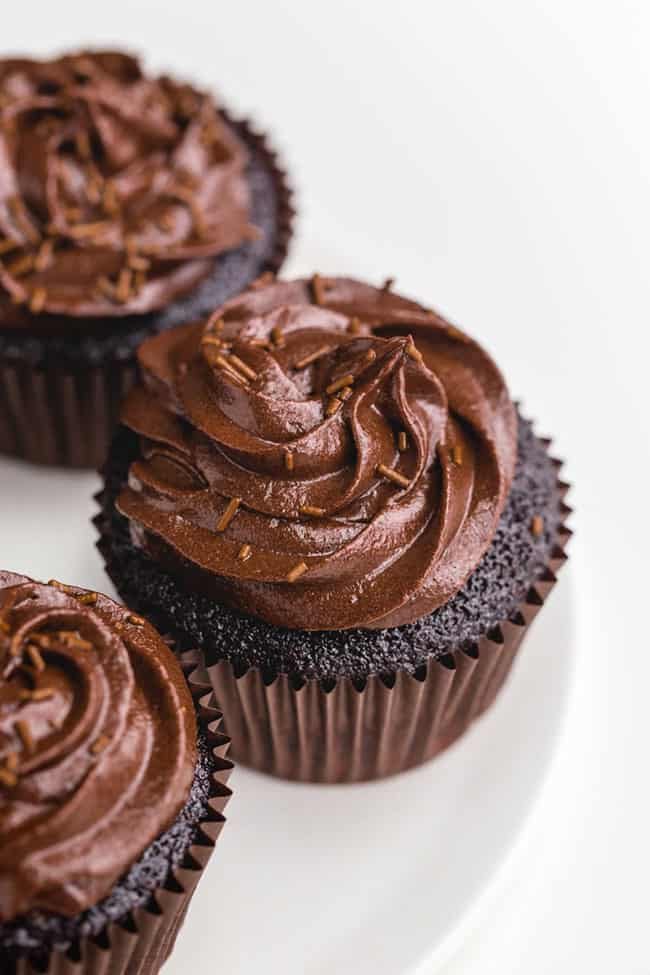 You can see what it looks like on my paleo chocolate cupcakes. It can also be piped!
But you definitely don't want as much frosting piped on top of the cupcakes as you see in the pictures in this post. It'd be way too rich.
Another option would be this vegan chocolate frosting made with basically just chocolate and coconut milk.
I'm not including the recipes for the two vegan frostings below because it'd make the recipe super long and because I have entire posts dedicated to those recipes. There are lots of tips in there and they're worth reading if you want to make them. :)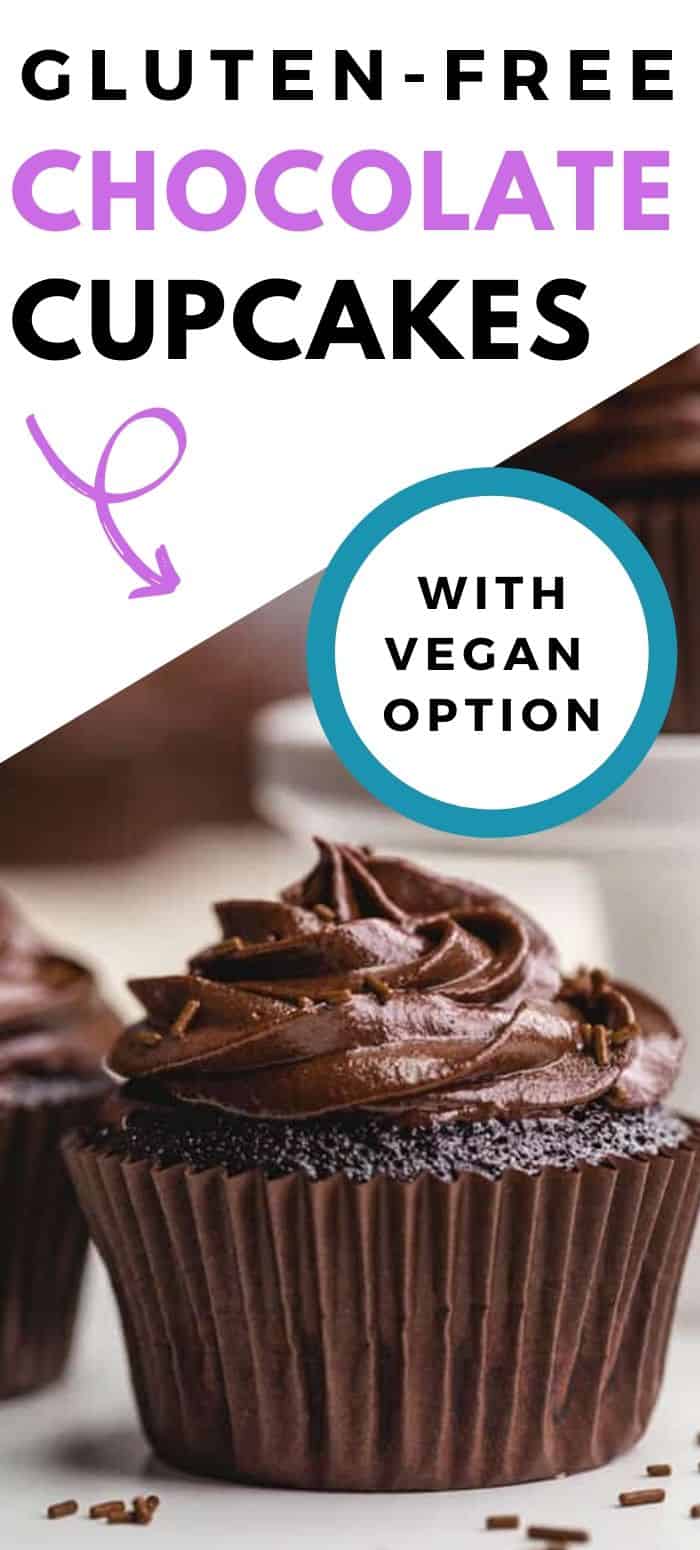 For the sweetener, you've got several options. Granulated sugar or coconut sugar or for a less sweet and non-vegan version – honey! I actually only used half the amount of honey and that version is still really tasty.
If using granulated or coconut sugar, you can still reduce the sugar a bit if you really don't want to use the full amount. Instead of 2 cups (I know, this is crazy!), you could probably get away with 1 1/2 cups without affecting the taste + texture too much.
I think these would be great for Valentine's Day! Just top each with a raspberry or strawberry. This paleo vegan chocolate cheesecake and this gluten-free vegan chocolate cake would also be excellent choices.
Questions about these gluten-free chocolate cupcakes?
Fat
Can you taste the olive oil? I used extra-virgin olive oil and you can taste it in the batter and while the baked cupcakes are still hot. Once it cools, you can't taste it. If you're worried about it, use light olive oil (the light refers to the taste and not calories).

Can I use another oil other than olive? You can use canola oil, vegetable oil, grapeseed oil, etc. Anything neutral tasting. I haven't tried coconut oil but there might be some slight coconut taste in your cupcakes if you use unrefined. If you use refined, you won't taste any coconut.

Can I use butter? I bet you could use butter in these cupcakes but the cupcakes wouldn't be as moist (butter is 80-82% fat and oil is 100% fat).

Flour

Can I use a different gluten-free flour mix? I used Bob's Red Mill Gluten-Free 1-to-1 Baking Flour. If you have another brand that works as a sub for all-purpose flour, then you could probably use it here. I can't say the texture would be as perfect as with the flour mix I used, though.

Do these gluten-free chocolate cupcakes taste gluten-free? These chocolate cupcakes taste like they were made with all-purpose flour. At least with the gluten-free flour mix I used and after they've cooled a bit.

Can I use almond / coconut / other flours? Nope. There's no direct sub for gluten-free flour mixes.

Sweeteners

Can I reduce the sugar? Reducing sugar also reduces moist-ness so unless you want a dry cake, don't go overboard and reduce it to 1/2 cup or some small amount. I think using 1 1/2 cups of sugar would be safe. The honey version is already a reduced amount (1 cup of honey instead of 2 cups of sugar) and I don't recommend reducing it even more!

Can I use something other than the listed sweeteners? I've made these chocolate cupcakes with the listed sweeteners and nothing else. So those are the only ones that I know 100% work.

But I do think any liquid sweetener that you'd usually use in place of honey would probably work here. Any granulated sweetener that you'd usually use in place of granulated sugar would probably also work.

Random

Are all cocoa powder brands gluten-free?Cocoa powder is naturally gluten-free, but you can read Is Cocoa Powder Gluten-free? for more info on what brands are tested and labeled as gluten-free! You can also read more specifically about Hershey's here → Is Hershey's Gluten-free?

Can I use a different egg replacer? I haven't tried, but I imagine other egg replacers (that you've used in other cakes with good results) would work.

Can I make this recipe into a cake? Yes! You can use two round 8″ pans and bake for 25-30 minutes.

Can I freeze the cupcakes? Yes, they freeze well. Freeze them unfrosted and frost after they've thawed and come to room temperature.

If you're just freezing them for your family, and don't care about the frosting sweating, then you can also freeze them frosted.
If you try out these gluten-free chocolate cupcakes, I'd love to hear what you think!
❀
Gluten-free Chocolate Cupcakes
Prep Time:
Cook Time:
Ready in:
Yield:

24 cupcakes
Ingredients
Cupcakes:

2 cups (400 grams) granulated sugar, raw sugar or coconut sugar or 1 cup (320 grams) honey for a non-vegan version
1 3/4 cups (236 grams) Bob's Red Mill Gluten-Free 1-to-1 Baking Flour
3/4 cup (85 grams) Dutch-process cocoa powder (regular cocoa powder works, too, I just prefer the darker taste of Dutch-process)
1 1/2 teaspoons baking powder
1 1/2 teaspoons baking soda
1 teaspoon salt
2 large eggs (50 grams each, out of shell) or 2 chia eggs1 for vegan
1 cup (240 milliliters) milk of choice2 (make sure to use DF / vegan milk, if desired)
1/2 cup (120 milliliters) olive oil (or canola oil or another neutral-tasting vegetable oil)
2 teaspoons vanilla extract
1 cup (240 milliliters) boiling water3

For the chocolate cream cheese frosting:

8 ounces (225 grams) cream cheese, softened
1/4 cup (56 grams) butter, softened
1 1/2 teaspoons vanilla extract
1/3 cup (37 grams) Dutch-process cocoa powder (regular cocoa powder also works)
pinch of salt
1/2 to 1 tablespoon milk
1 cup (120 grams) powdered sugar
Directions
To make the cupcakes:

Preheat your oven to 350 °F (175 °C). Line 2 muffin pans with 24 liners.
In a large bowl, stir together the sugar (if using honey, don't add it yet), flour, cocoa, baking powder, baking soda and salt.
Add eggs, milk, honey (if using), olive oil and vanilla. Mix until combined and then stir in the boiling water. The batter will be almost as thin as water.
Fill each liner just a little more than halfway full.
Bake for 18 minutes or until a toothpick comes out with some moist crumbs, but no liquid.
Let cool for 5 minutes in the pans, and then turn out onto a rack to cool. Let cool completely before frosting.

To make the cream cheese frosting:

In a medium mixing bowl, beat the cream cheese and butter together with an electric hand mixer at medium speed until well combined. It's okay if it looks a little crumbly. Add the vanilla, cocoa powder, salt and 1/2 tablespoon of milk and beat until well combined. If the mixture is very thick now, add the other 1/2 tablespoon of remaining milk.
Gradually beat in the powdered sugar until totally combined. Frost the cupcakes with 2 tablespoons of frosting per cupcake. Refrigerate frosted cupcakes in an airtight container for up to 4 days. Store unfrosted cupcakes in an airtight container at room temperature for up to 3 days.

For the vegan versions:

If making the first option (the chocolate fudge frosting), this yields about 1 cup of frosting, which is enough for a thin smear of frosting - about 2 teaspoons. If you want a tablespoon of frosting for each cupcake, then do 1.5x the recipe. For 2 tablespoons (which I think is a lot as that frosting is very rich, then do 3x the recipe).
If making the second recipe, it yields 2 cups of frosting, which is enough for 4 teaspoons of frosting per cupcake. I think that's just the right amount.
Notes
To make the chia eggs for this recipe, mix together 2 tablespoons of ground chia seed with 6 tablespoons of water until well combined. Let sit for 1-2 minutes until goopy like regular eggs.
If you use canned coconut milk, water it down so it's about as thin as dairy milk. Maybe half coconut milk and half water?
I know that sounds like a lot of water but I promise you, you need 1 cup!
Adapted from my Whole Wheat Chocolate Cupcakes, which were adapted from Adapted from Hershey's One Bowl Chocolate Cake