This sage butter gnocchi couldn't be any easier! A perfect main or side dish. You just need gnocchi, butter, lemon juice, cheese, sage and some garlic. Can be made keto, grain-free or gluten-free depending on what type of gnocchi you use.
Homemade gnocchi, traditionally, is made of mashed potatoes, eggs and flour. It is served with an array of sauces from a brown gravy sage sauce or with crisp spring vegetables, or cheesy tomato sauce.
There are so many ways to use gnocchi that if you haven't already tried it, you have lots of delicious options. With today's recipe, we are keeping it simple so that anyone can make this special meal.
This is one of the few meals that my husband makes for us. The other is these chicken leg quarters with potatoes. Both recipes are quick, easy and use minimal ingredients.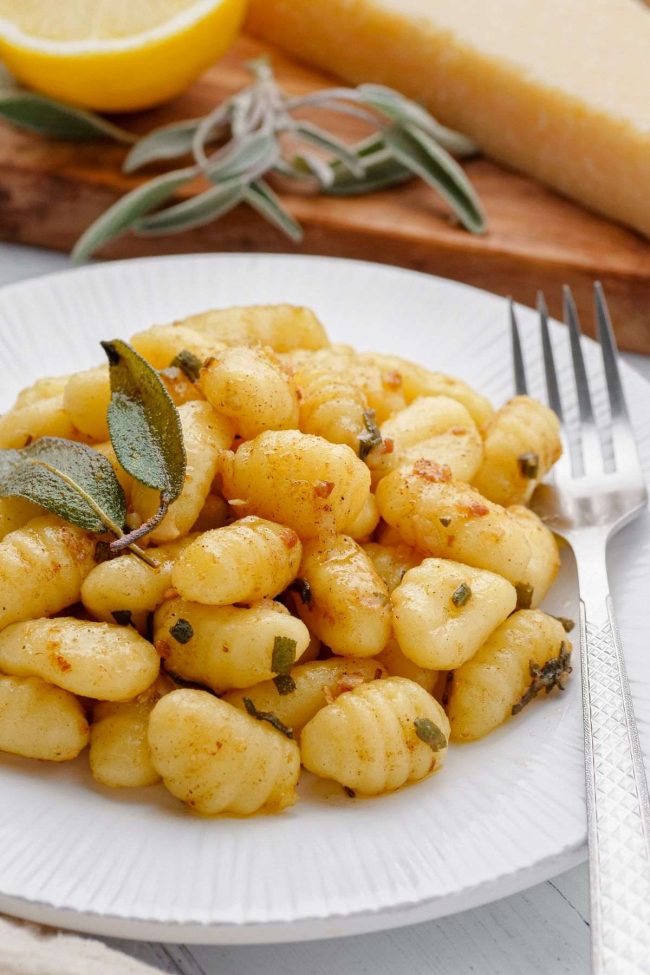 I think this sage butter gnocchi would be perfect for Valentine's Day. Should you be hoping that your loved one will make you something tasty for the day, go ahead and send them this recipe.
Or this lemon garlic pasta. I think anyone can make them without issue!
And for dessert, I can highly recommend these raspberry molten lava cakes for people who have baked before or these healthier raspberry truffles for the folks who never do anything in the kitchen.
Today's recipe only takes about 5 minutes of prep. Maybe 10 minutes for someone who's not used to cooking.
If you don't want to use gnocchi, any kind of pasta works. The amount depends on the type of pasta. I've listed the amount of spaghetti in the Serving Size section of the post down below.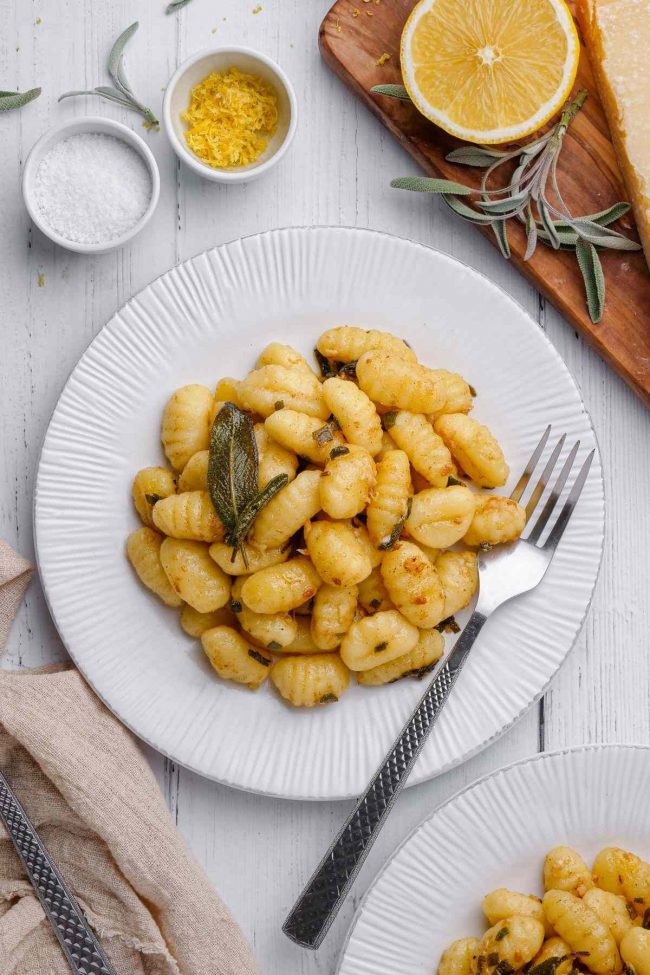 Gluten-free, grain-free, keto, etc.
Make sure to use a type of gnocchi that fits your diet. If you need gluten-free gnocchi, it shouldn't be too difficult to find some at full-sized grocery stores.
Whole Foods and other stores even carry Cappello's grain-free and paleo gnocchi, sweet potato gnocchi, lasagna sheets, fettuccine and more. You grain-free eaters in the US have no idea how lucky you are to be able to find all these amazing grain-free products!
For the rest of us, I don't have a favorite homemade gnocchi recipe. I've tried so many but have had issues so I'm going to keep trying. I hope to be able to share a gluten-free gnocchi recipe at some point!
For keto, this keto gnocchi looks amazing.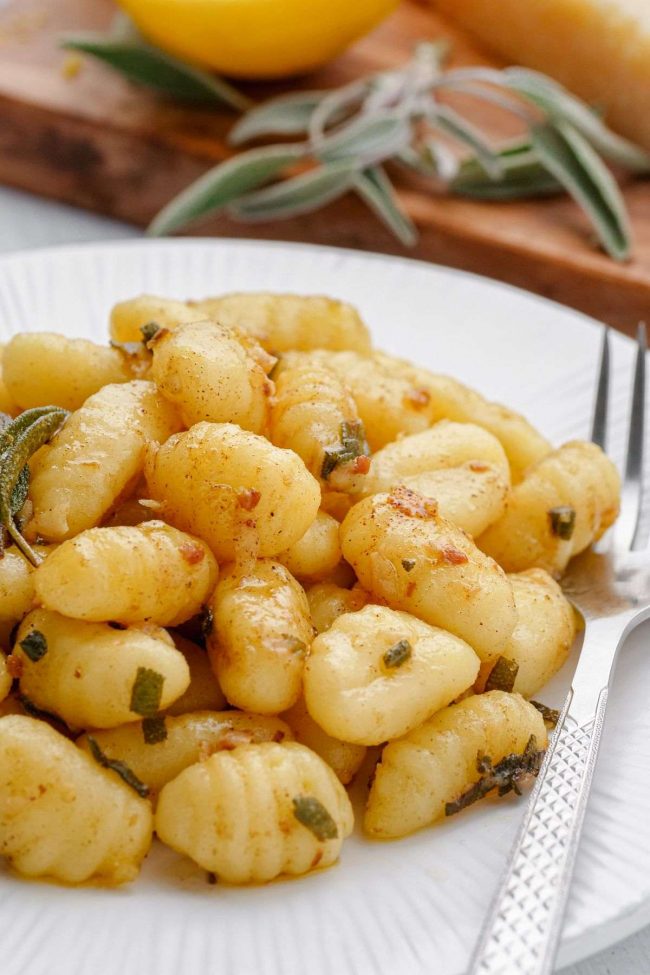 The sage
If you don't have it, you can omit it, but it does add quite a bit of flavor. I've tried using dried or rubbed sage in its place but, it wasn't nearly as good.
You could try using other herbs. You just have to ask yourself if they'd go well with the other flavors. I think basil would be fantastic!
The cheese
As I've said in my all cheesy posts, I'm all about Pecorino Romano. You can, of course, use Parmesan!
If you don't want to buy some just for this recipe, I've got several other recipes that you can use it in.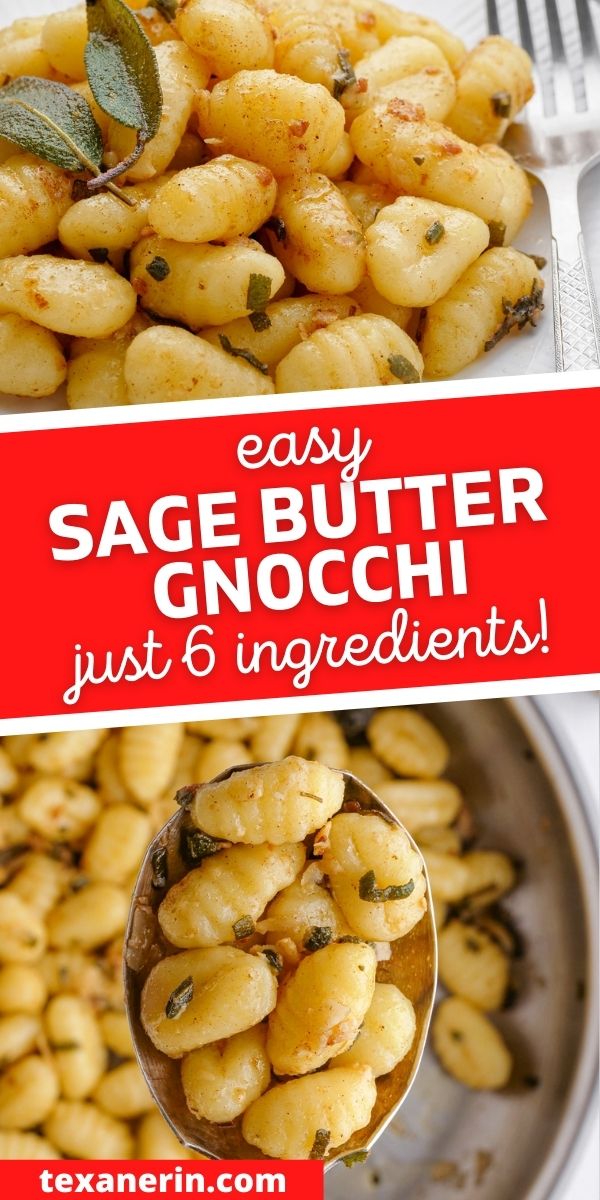 Serving size
Note – what you see in the video and photos is a double batch!
Gnocchi
Different sources say to use around 2/3 cup to 1 cup (125–150 grams) of dry gnocchi per person.
So according to that, what you see on the plates is officially 2 servings. But I wouldn't say it's overly huge for a dinner portion.
Healthy, no, but like what you'd get in a restaurant.
Spaghetti
Supposedly, one serving of spaghetti is 2 ounces (56 grams). That's such a tiny amount!
I used 250 grams of spaghetti for this recipe and that was a good amount for two people. Not a huge restaurant-sized portion, but not a sad little plate of pasta.
Sorry that these aren't very exact recommendations. I much prefer baking in regards to serving size. It's way simpler. ;)
What to serve with it
As much as I'd like to eat an entire pot of this and nothing else for dinner, I do better with some protein! This Grouper Recipe would be a great choice, as would these Chicken Leg Quarters.
Or maybe even this Smoked Ribeye? That sounds like a dream meal. :D
If you give this sage butter gnocchi a try, I'd love to hear what you think!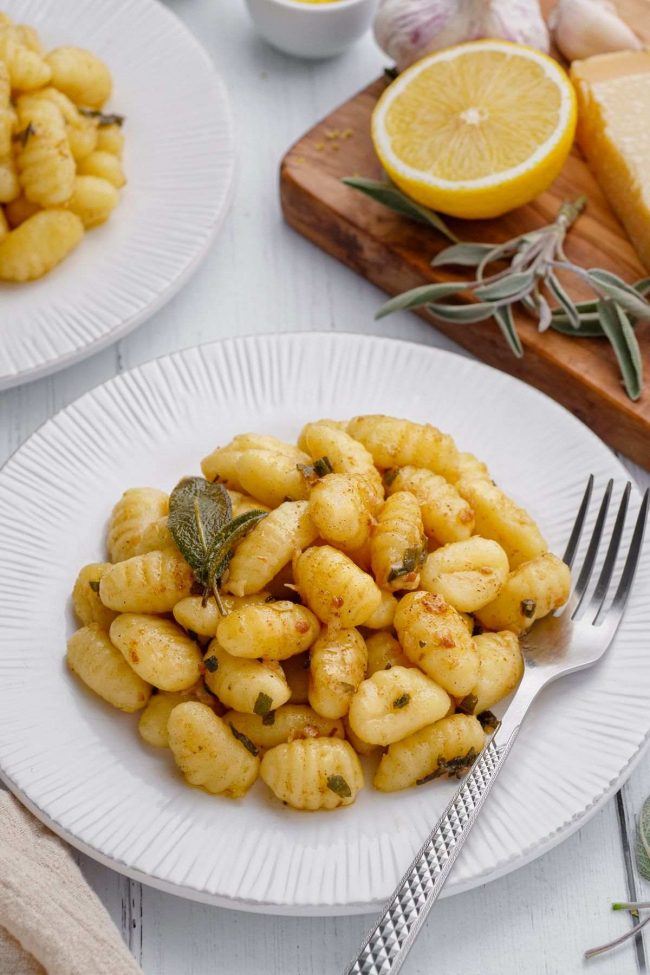 ❀
Browned Butter and Sage Lemon Gnocchi
Prep Time:
Cook Time:
Ready in:
Yield:

1 restaurant-sized portion or 2 smaller servings
Ingredients
10.5 ounces (300 grams) fresh gnocchi (use whatever kind fits your diet)
2 tablespoons (28 grams) unsalted butter
3 tablespoons chopped sage
1 garlic clove, minced
1-2 tablespoons lemon juice (I use 1)
1/4 cup Pecorino Romano or Parmesan cheese
salt, to taste
Directions
Prepare the gnocchi according to package instructions.
Meanwhile, melt the butter in a medium saucepan over medium heat.
Add in the sage.
Continue cooking over medium heat until the butter foams, while giving the pan a good occasional swirl. Once the butter foams, stir in the garlic and keep an extra close eye on it. The color will change from yellow to tan and then to brown.
Once the butter turns brown, immediately remove it from the heat and add 1 tablespoon lemon juice.
Add the gnocchi, stir them a little in the sauce, and then add the cheese.
Add salt to taste, and more lemon juice, if desired.
Serve immediately.
Notes
These are really best when freshly prepared. We've tried leftovers in the microwave and they're not nearly as delicious.