This 5 ingredient browned butter and sage lemon gnocchi couldn't be any easier! A perfect main or side dish.
I know, I know. Another savory recipe. I'll get back to the sweets later in the week! But for now, Mr. T wanted to share this with you. – Erin
Hey everyone, It has been a while since I last got around to making something for you and I am sorry for that! If you have been around in the last couple of days, you might know with what I have been busy this whole time… Thank you so much for all the positive feedback, it really made my day week!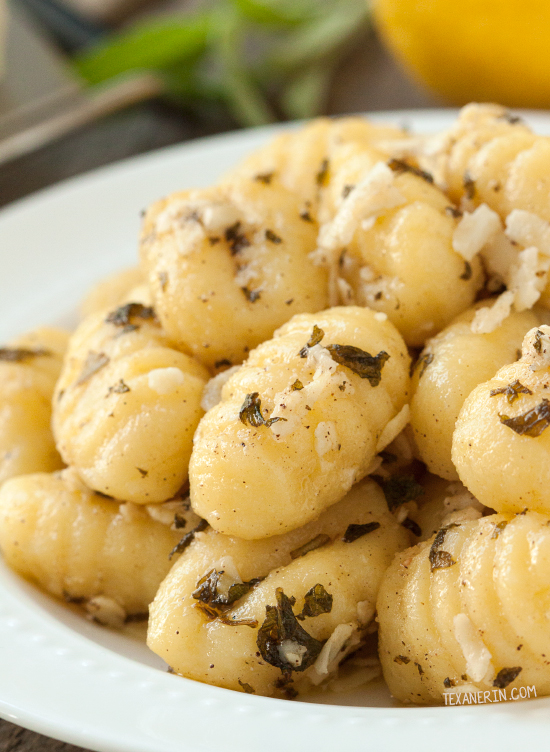 Anyway, today is a special day for Erin and me and since I normally wake up a good while before Erin, I thought I'd make her breakfast. So I went to the recipe index and looked for something to sweeten her start to the day.
I decided to make her these tasty apple fritters. Everything went smoothly until I had fry them. Well, to cut a long story short: my breakfast surprise plan was thwarted by a malfunctioning thermometer. Instead of 375°F the oil was probably double that and so the fritters turned to charcoal within like five seconds. The light smoke rising from the pot should have warned me, but my trust in technology was bigger.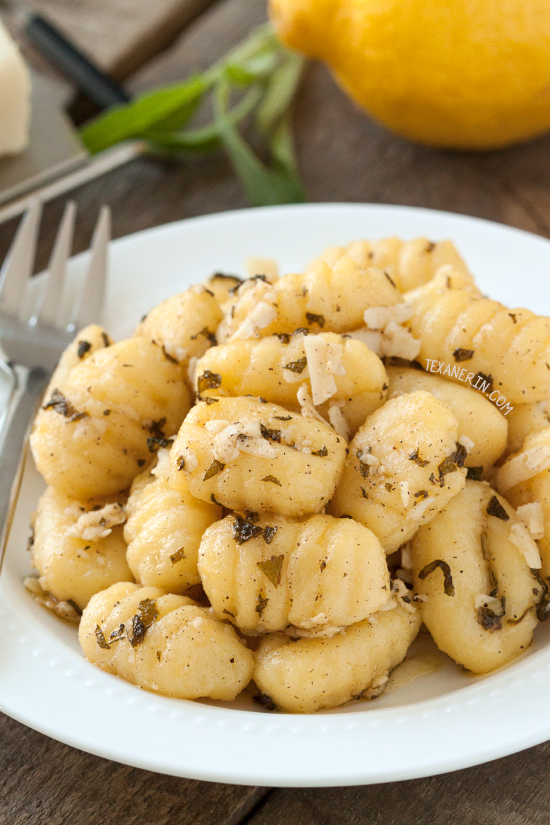 Since I didn't want to ruin the whole batch, I decided it is best to consult with Erin. With a shriveled black wannabe fritter in my hands and repeatedly mumbling "I did them at 375, I followed your directions!" I woke her up. That certainly surprised her, just not the way I had intended it to. What a sad story, huh? Luckily I had not dumped all of the dough in the pot at once, so we were able to have a little fritter fest in the afternoon. I had enough of hot oil for one day though, so Erin made them herself.
In order to make up for a ruined breakfast surprise, I decided to do the unthinkable: attempting to make two recipes in one day! We've had these gnocchi a couple of times already and we both like them a lot. They are super quick (about five minutes) and easy to make — I like!!, they produce almost no dishes — I like!!!, and, most importantly, they just taste divine. :)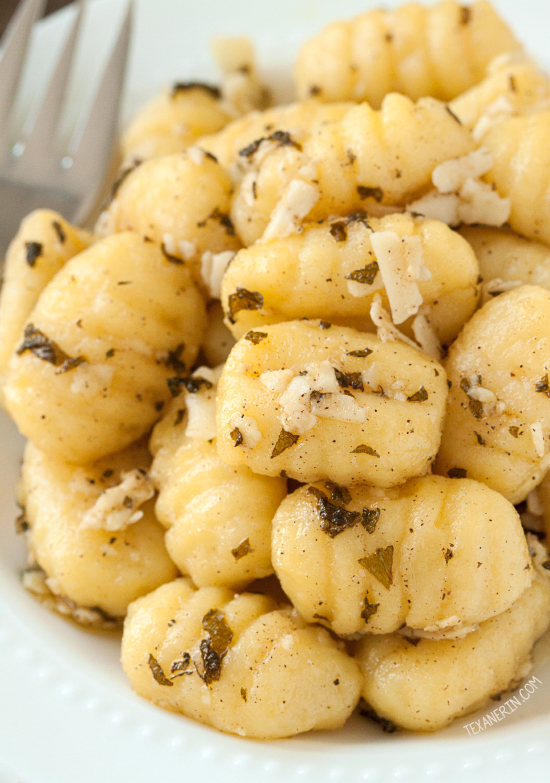 I used the potato version of gnocchi which come in nice little bags and should be available either fresh or frozen in almost every supermarket. One of these days we have to try and make gnocchi from scratch (recipes suggestions in the comments, please!) instead of using store-bought ones, but I can't really imagine them being that much better than the fresh ones I got at Aldi. If you need gluten-free gnocchi, try these.
Buon appetito and please let us know how you like the recipe!
❀
Browned Butter and Sage Lemon Gnocchi
Prep Time:
Cook Time:
Ready in:
Yield:

1 large or 2 small servings
Ingredients
10.5 ounces (300 grams) gnocchi (use gluten-free or whole wheat gnocchi, if desired)
2 tablespoons (28 grams) unsalted butter
3 tablespoons chopped sage
1 - 2 tablespoons lemon juice
2 - 4 tablespoons Pecorino Romano or Parmesan cheese
garlic powder – optional, to taste
salt, to taste
Directions
Prepare the gnocchi according to the package's instructions.
Melt the butter in a medium saucepan over medium-high heat. Add the sage and cook until the butter starts to turn brown and smells slightly nutty. Be careful that it doesn't burn.
Turn the heat down to medium and add 1 tablespoon lemon juice. Add the gnocchi, stir them a little in the sauce, and then add 2 tablespoons of cheese. Add garlic powder, if using, and salt to taste, and more lemon juice and cheese, if desired.
Serve immediately.
Notes
These are really best when freshly prepared. We've tried leftovers in the microwave and they're not nearly as delicious.