Roasting almonds in maple syrup before processing and adding cinnamon yields an amazingly tasty maple cinnamon almond butter! You'll never buy store bought again.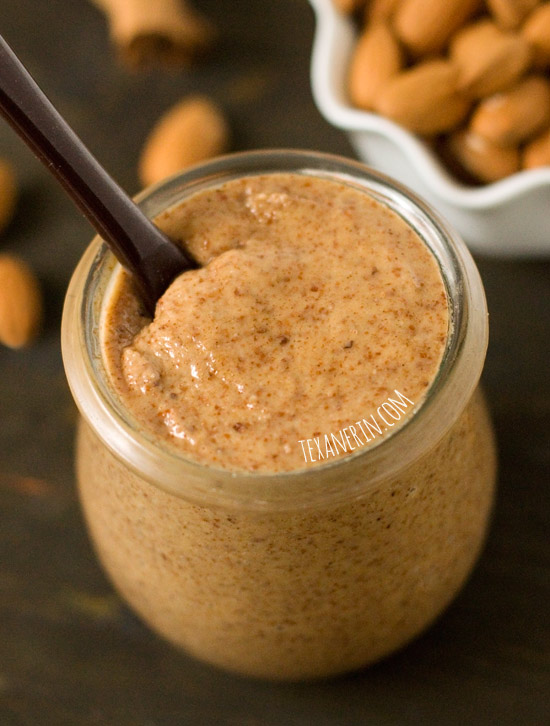 You know what? I don't like almonds. But almonds roasted in maple syrup, combined with cinnamon? This stuff is insanely delicious. Maple cinnamon almond butter = like not-so-sweet spreadable candy!
I've seen recipes with oil but you really don't need any. I used to use a 15 – 20 year old food processor and even I didn't need oil. You just have to keep processing until it's creamy like natural peanut butter.
If you skip the roasting part, it will take a lot longer to process the almonds. One time, it took me about 20 minutes and I was worried about burning my food processor. So don't try to save time by not roasting the almonds because in the end you'll be spending more time on it. Plus you'll miss out on the candied almond thing that's going on and you definitely don't want to do that. ;)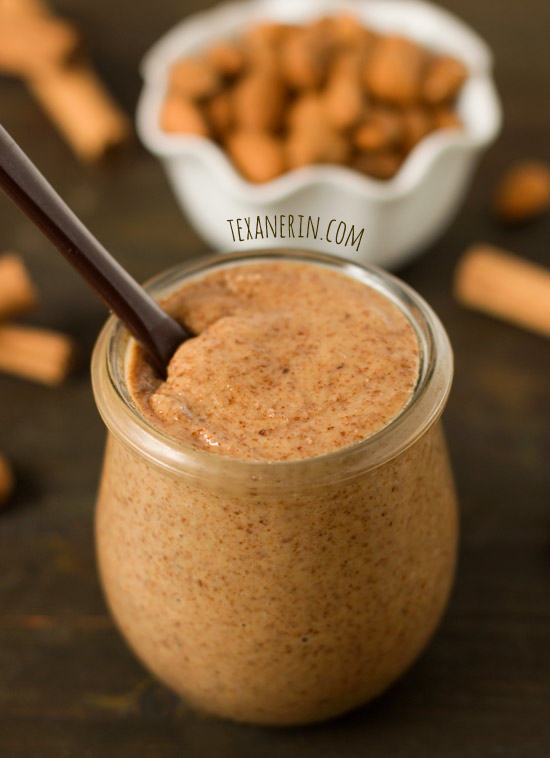 Also be sure to use a rimmed baking sheet. More than once, I've forgotten about that thinking the maple syrup wouldn't run off the pan, but it always does. And 10 minutes later there's a smoky oven disaster.
I've also tried adding vanilla to this almond butter but it always seizes up (and that's using homemade vanilla with just vodka and vanilla beans). If you want to add vanilla, you can add the seeds from a vanilla pod.
Another thing I've tried is roasting the almonds, processing and then adding the maple syrup. It's just not the same! And don't think about honey. Honey always turns my runny almond butter isn't this clumpy ball.
Want some stuff to bake with your maple cinnamon almond butter?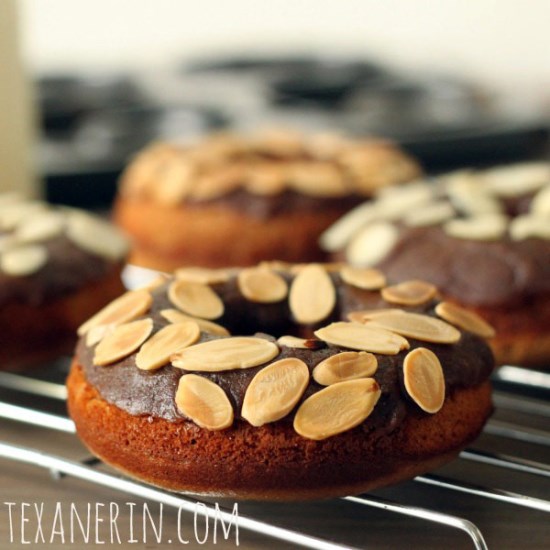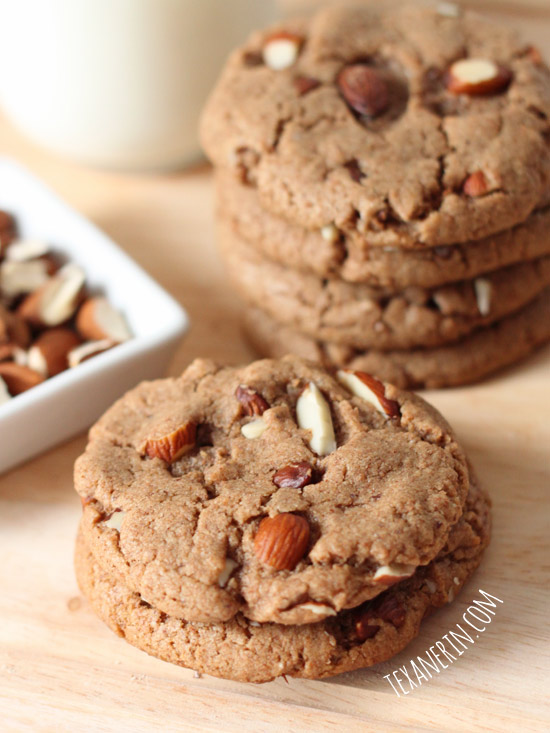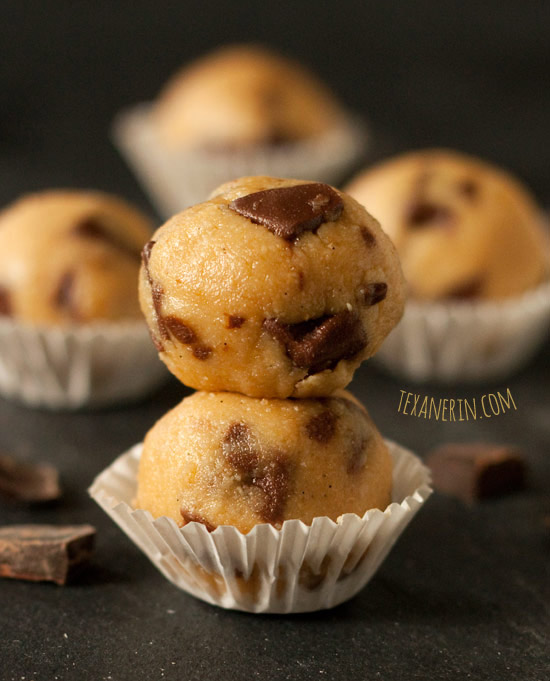 ❀
Maple Cinnamon Almond Butter
Prep Time:
Cook Time:
Ready in:
Yield:

1 1/4 cups
Ingredients
2 cups almonds (300 grams)
1/3 cup maple syrup (80ml) – sometimes I use 1/4 cup, but I prefer 1/3 cup
1 or 2 teaspoons cinnamon
a pinch of salt
Directions
Preheat your oven to 325°F (160°C).
Place a Silpat or piece of parchment paper on a rimmed baking sheet.
Place the almonds on the Silpat and pour the maple syrup over them. Make sure all the almonds are covered.
Roast the almonds for 15 – 20 minutes, stirring every 5 minutes. I try to roast them as long as possible without burning them, which is usually 20 minutes, but it might take less time in your oven. I didn't roast them long enough a few times and it ended up taking about 25 minutes to process them. Also, be careful when you stir them the first time. You don't want the syrup to spill into the oven.
Remove the pan from the oven. Take the Silpat off the pan and let the almonds cool about 5 – 8 minutes. They shouldn't be super hot, but they should still be warm. If you wait too long, it'll be more difficult to process them. But if they're too warm it might upset your food processor. I didn't wait once and just started processing. This melted the top part of my food processor. So waiting is important! I also take off the pusher and I think that this helps release some of the heat.
Put the almonds in the food processor and process until it's creamy. Stop every few minutes to scrape the side of the bowl (and I like giving the food processor little breaks). The last time I made this it only took 7 minutes. I think 15 minutes is normal for most food processors. Add a pinch of salt and the cinnamon. I like 2 teaspoons of cinnamon, but try it after 1 and see if it's good. Process for a few more seconds until it's combined well.
Store in the refrigerator and enjoy!