This vegan caramel sauce is also paleo and is only 3 ingredients (plus salt and vanilla). Perfect on top of pies, cheesecakes, etc.
So far I've used this caramel sauce on this vegan pumpkin cheesecake and as a part of the mini apple pies below. That recipe is coming soon! It'd also be awesome on this paleo apple crisp or this gluten-free apple crisp (both of which are also vegan!).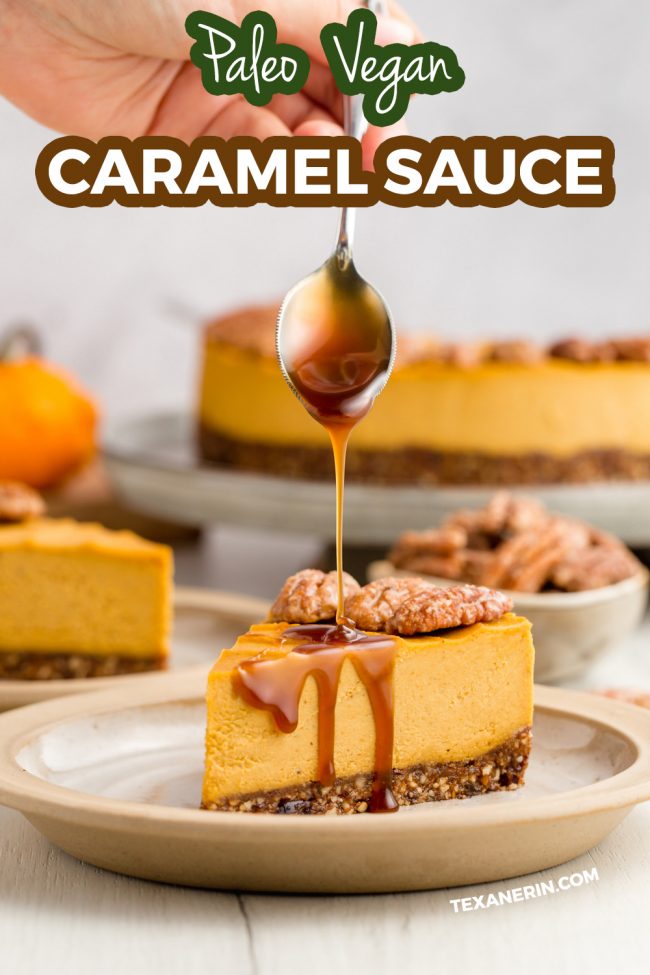 While I was thinking of what recipes I want to post for the holidays, I couldn't stop thinking about this caramel. I was thinking caramel pecan tart, turtle cheesecake, a "Twix" tart and so on. I just want to use it on everything!
I already have a recipe for maple caramel sauce and while it's incredibly tasty, it uses butter, brown sugar and heavy cream. I thought it was time to post a "healthier" caramel sauce recipe that's a bit allergy-friendly!
So this version uses coconut sugar, coconut milk and maple syrup. And of course vanilla and salt because everything is better with vanilla and salt!
I thought the sauce might taste strange with the coconut sugar but it just made it even more addictive somehow.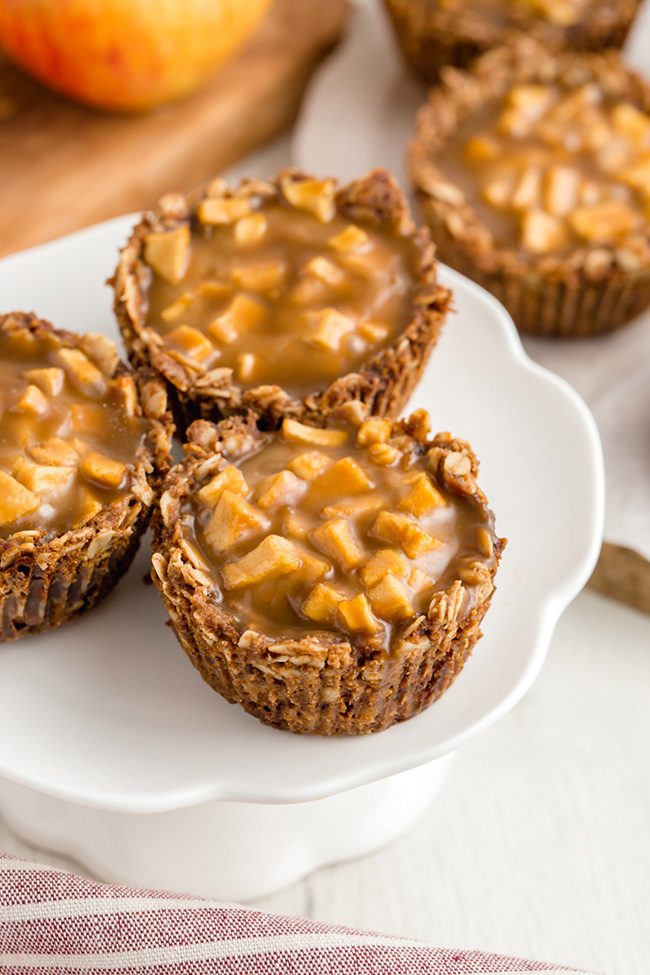 I've seen other vegan caramel sauce recipes that require you to boil the caramel for 20-30 minutes. I figured that using coconut cream instead of coconut milk would speed up the process and it did.
We loved this recipe so much that I also tried making caramels out of it. Problem is I don't really have a clue when it comes to candy-making.
I boiled it to the firm ball stage and once the caramels had cooled, they were like Werther's candies. Totally hard.
Does anyone know how I could turn this recipe into soft caramels? Is the temperature different than classic candy making because I used coconut sugar and maple syrup?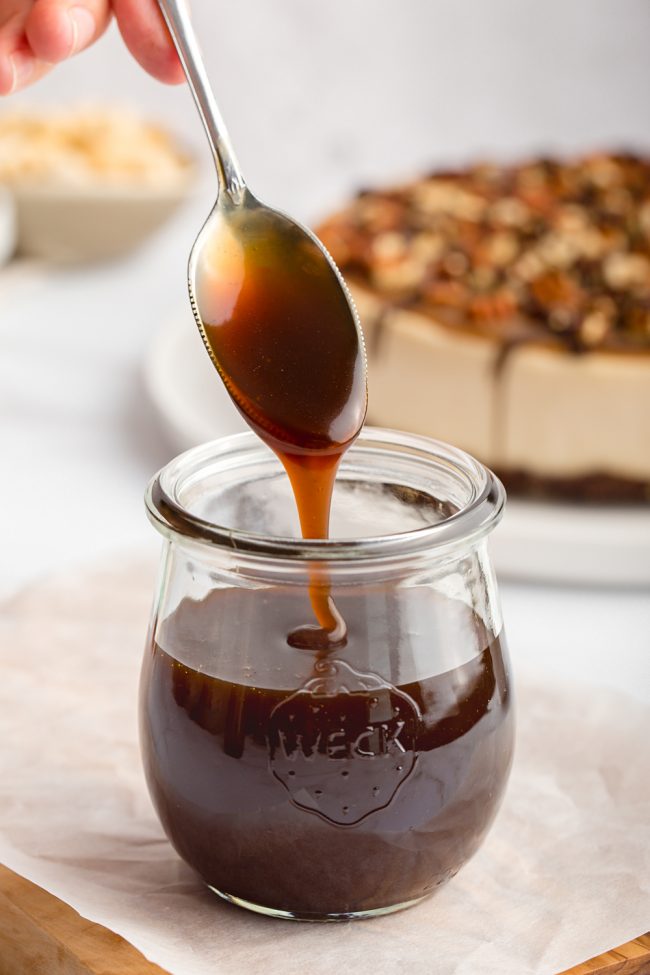 Like I said, I truly am clueless with candy-making. I would love to learn, though!
In the meantime, I'll enjoy this caramel fudge candy, which is also paleo, vegan and super easy to make.
But back to this caramel sauce recipe. I really don't recommend making any subs to this recipe. It's pretty much only three ingredients so when you change one out for something else, it's likely to have a big effect.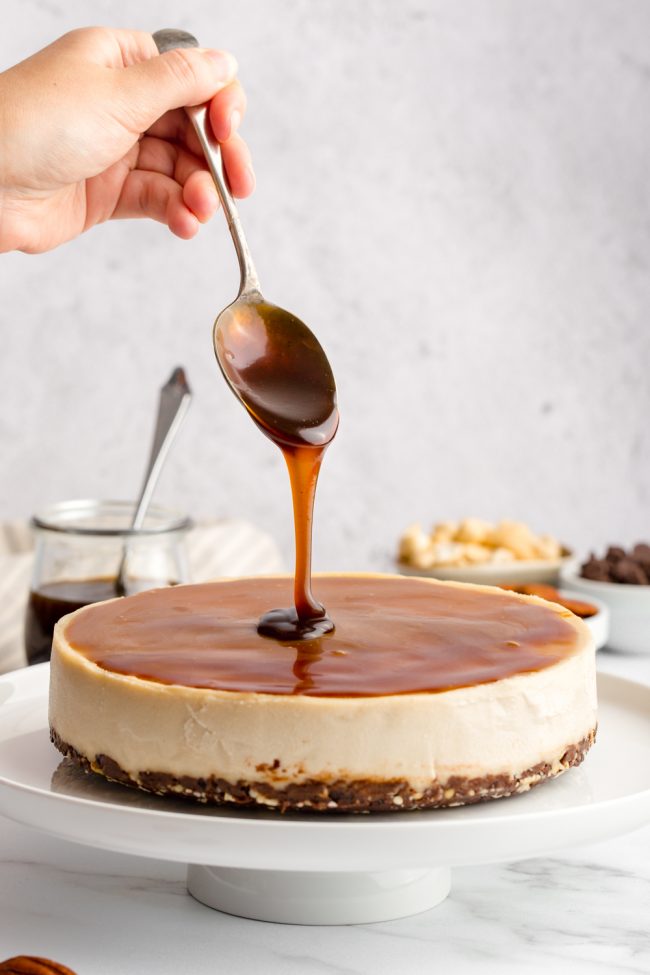 But since I know people will ask questions, anyway, here you go:
Questions about this vegan caramel sauce?
Can I use something instead of coconut cream?

I can't think of a paleo or vegan sub. Heavy cream would probably work if you can have dairy. Almond milk, cashew milk, etc. would be too thin.

Can I use something instead of maple syrup?

I've said it several times before (like in my no-bake oatmeal cookies or my no-bake chocolate oatmeal cookies, but honey and maple syrup don't really work the same way in boiled candy-like / caramel recipes. Since this recipe is for vegan caramel sauce, I never tried honey out (as honey's not vegan). I'm guessing it might work, but that it'd be thicker and that you'd need to boil it for less time.

And also, I think the honey flavor would overpower the caramel taste! Whenever I've made other caramel-like recipes with honey in the past, the honey was way too strong (at least in my opinion). If you feel like experimenting, please leave a comment to let us know how it worked out. :)

Can I use something instead of coconut sugar?

Brown sugar would probably work for a non-paleo version. If you want a keto / low-carb version, I think it's much safer to find a keto / low-carb caramel recipe. I think trying to convert this recipe might be a costly experiment!

Can you freeze this caramel sauce?

I haven't frozen the plain sauce but I have frozen the caramel apple pies you see above (where the caramel is just poured over the top of the pies). It worked great. The caramel didn't separate or do anything weird. So I imagine freezing the caramel sauce would indeed work.
If you try this vegan caramel sauce, I'd love to hear how it comes out!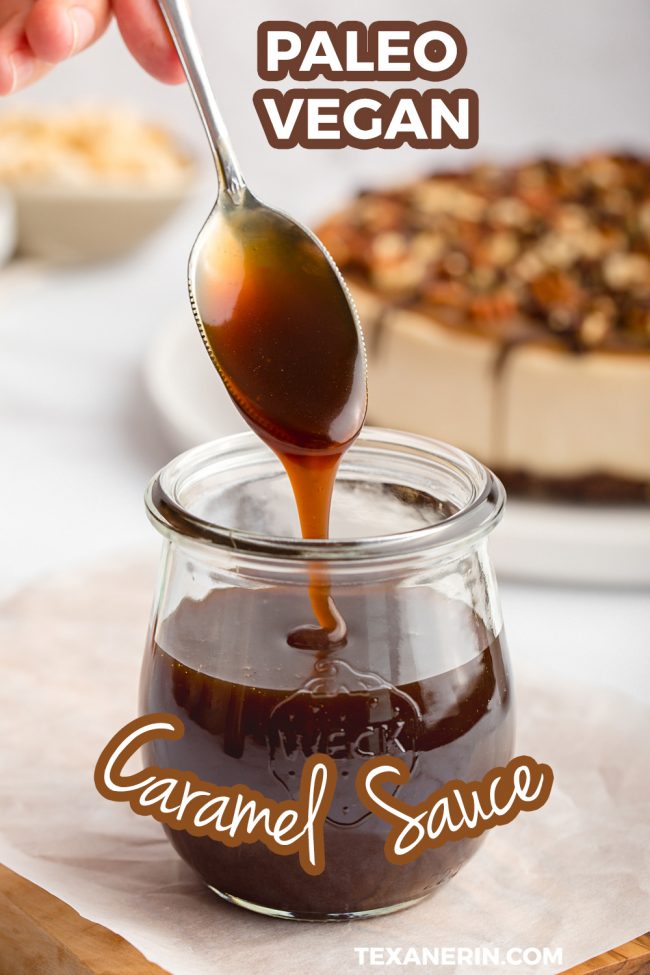 ❀
Vegan Caramel Sauce (paleo)
Prep Time:
Cook Time:
Ready in:
Ingredients
2/3 cup (160 milliliters) coconut cream (not milk!)
1/4 cup (60 milliliters) maple syrup
1/4 cup (50 grams) coconut sugar, very tightly packed (it's best to weigh this)
1/4 teaspoon salt
1 teaspoon vanilla extract
Directions
Add all the ingredients, except for the vanilla, to a saucepan or small pot. Put in a candy thermometer if you have one.
Bring to a boil, over medium heat, stirring frequently. Once it's come to a full boil, continue boiling for 8 - 8 1/2 minutes. Adjust the heat if you need to so that the mixture doesn't burn. I kept mine at 5 out of 9 and never had an issue with that.
The mixture quite quickly came to 195 °F (90 °C), and then it took several minutes before it started getting hotter. Then it quickly moved to 203 °F (95 °C). You could also see a change in the mixture when that happened (but maybe you won't so don't use that as a measure of it being ready). But it will be clearly thicker than when you started. It will thicken quite a bit more as it cools. What you see being poured in the video is still very warm caramel. What you see in the last photo is what it looks like once it's cooled a bit.
Remove from the heat and stir in the vanilla. Let come to room temperature before putting on pies, cookies, etc.
Keep refrigerated for up to 5 days.