These mini caramel pecan tarts have a delicious grain-free and gluten-free graham cracker-like crust and an easy no-bake caramel pecan filling!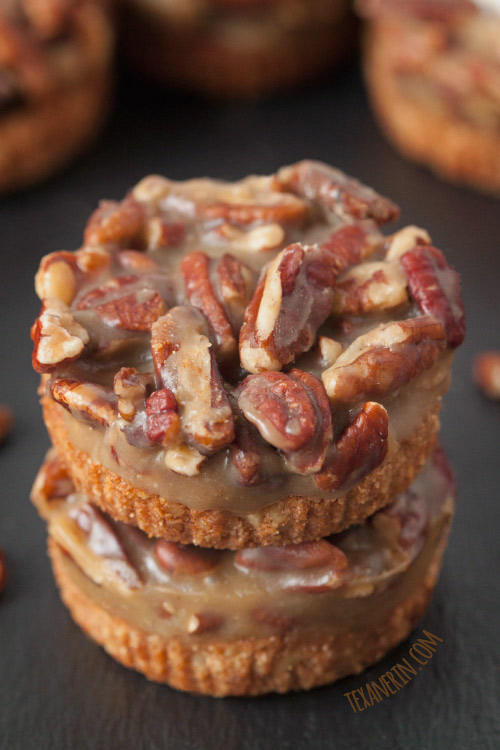 Today over on My Baking Addiction, I'm sharing these gluten-free mini caramel pecan tarts. I spent over a week trying to get this recipe down. Grain-free crusts are a pain! I really wanted to make caramel apple tarts, but the caramel kept leaking through the crust. I tried chilling the crusts, using an egg white wash, pre-baking the crust and nothing worked. So I had to come up with a filling that didn't require any baking and wasn't runny.
I haven't tried the caramel using coconut sugar but I'm pretty sure it'd work. I have tried making actual caramel (where you melt the sugar) with coconut sugar and that was a big fail, but probably because I fail at almost everything caramel related. This caramel recipe, however, couldn't be any simpler. You mix everything together and simmer for 8 minutes. I've made it a few times and haven't messed it up yet so I guess my success wasn't just a fluke. ;)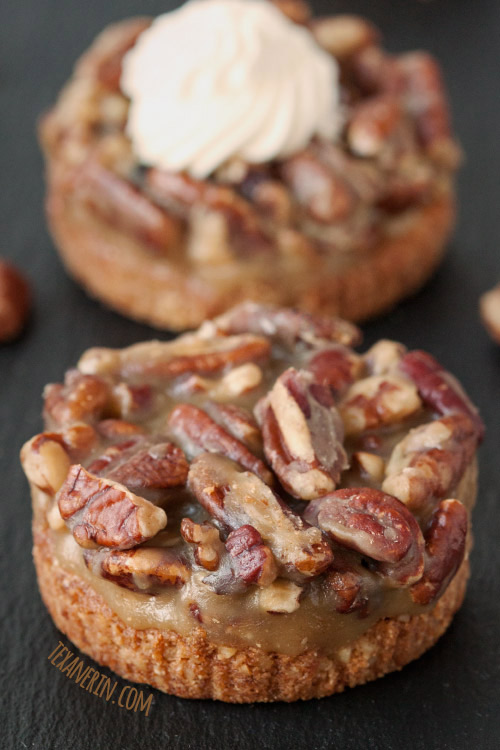 It's important to let the caramel cool before pouring it over the crusts or else the crusts will just suck up the caramel sauce. And then you'll want to cry, like the 13 times I failed at making mini tarts last week.
You can use any type of nuts in these tarts. I used pecans because it seemed right for Thanksgiving, but I did my practice batches with walnuts, because they're so much cheaper here, and they were just as good!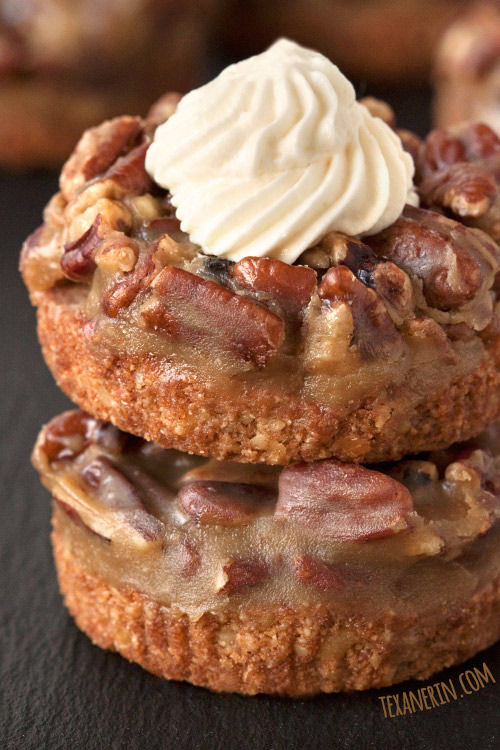 If you don't want to make these caramel pecan tarts in mini form, using a 9″ tart pan should work (though I haven't tried it and can't guarantee it). The beautiful thing about this recipe is that all you need to bake is the crust. Don't screw up the caramel and you'll be good!
Want something low-carb? Give this Sugar Free Pecan Pie a try! This Paleo & Keto Pecan Pie also looks amazing.
I hope everyone has a great Thanksgiving! There's worry of bird flu in poultry over here right now so my Thanksgiving will be turkey-less. I hope y'all feel thankful for your turkey. ;)
Looking for a vegan and dairy-free alternative? Here you go!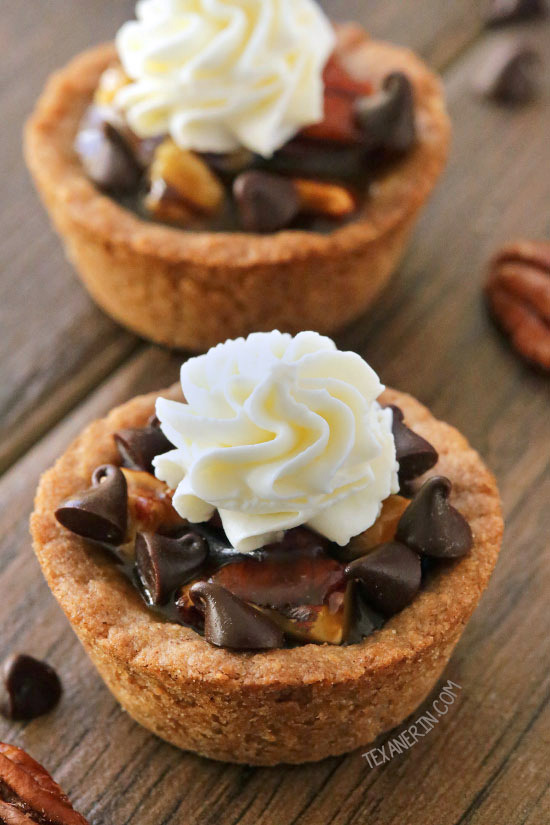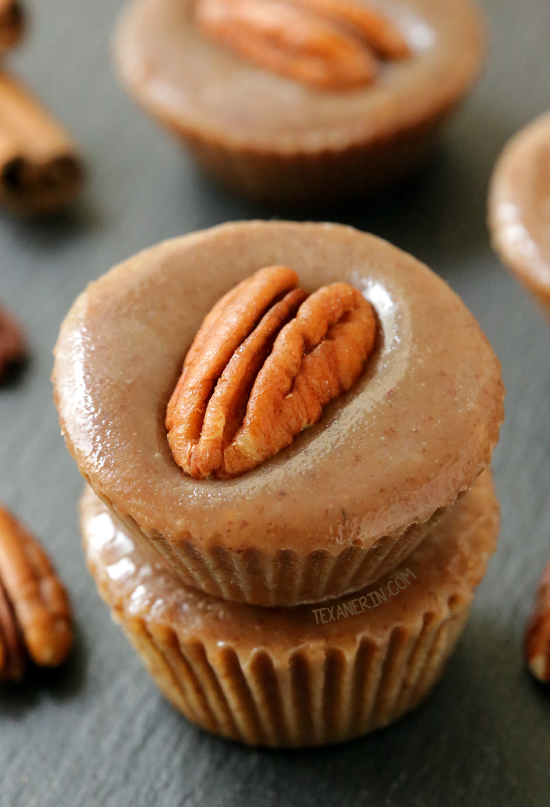 ❀
Grain-free and Gluten-free Mini Caramel Pecan Tarts
Prep Time:
Cook Time:
Ready in:
Yield:

18 mini tarts
Ingredients
For the crust:

1 1/4 cups (125 grams) almond flour or almond meal
1 cup (110 grams) pecans or walnuts
4 teaspoons (12 grams) coconut flour, sifted if lumpy
5 tablespoons (70 grams) unsalted butter
1/4 cup (50 grams) coconut sugar or brown sugar
2 teaspoons cinnamon
1/8 teaspoon salt

For the filling:

3/4 cup (180 grams) tightly packed dark brown sugar
2/3 cup (160 milliliters) whipping cream
7 tablespoons (98 grams) unsalted butter
1 teaspoon vanilla
3/8 teaspoon salt
2 1/2 cups (275 grams) chopped pecans
Directions
Preheat the oven to 375°F (190°C). Line two muffin pans with 18 muffin liners.
Prepare the crust. Place all the crust ingredients in the bowl of a food processor fitted with the S-blade and pulse for 15 seconds or until there are no large chunks of nuts left. The nuts should be 1/8" or smaller in size.
Press 20 grams, about a rounded tablespoon, of dough onto the bottom of the each liner. Try to press it in the nooks and crannies of the muffin liner.
Bake for 7 minutes or until golden brown. Let cool for at least 20 minutes while preparing the rest of the recipe. Don't skimp on the cooling time or the caramel may leak through.
Place the chopped pecans on a baking sheet and roast for 4-6 minutes or until starting to smell toasty. They burn quickly so keep a close eye on them. Remove from the oven.
Prepare the caramel. Heat the sugar, cream, butter, vanilla and salt in a heavy bottom saucepan (do not use non-stick) over medium heat.
Stir until combined and then simmer for 8 minutes. Do not stir. If needed, tilt the pan to redistribute the mixture.
Remove from the heat. The caramel will be quite thin at this point. Let it cool for 20 minutes or until considerably thickened and just barely pourable. Stir in the nuts and then spoon about 2 tablespoons of caramel pecan mixture onto the top of each baked crust.
Place the pans in the refrigerator for 2-3 hours or until the caramel has firmed up.
Serve cold or at room temperature. These can be left at room temperature for 8 hours.
Refrigerate in an airtight container for up to 4 days.
Notes
I haven't tried making this dairy-free. If I had to guess, I'd say use 4 1/2 tablespoons of coconut oil instead of 5 tablespoons butter in the crust, full-fat canned coconut milk instead of cream in the caramel, and 6 tablespoons of coconut oil instead of 7 tablespoons butter in the caramel. I haven't tested this so if you try it, let me know how it comes out!
Source: My post on My Baking Addiction: Gluten-free Mini Caramel Pecan Tart. Caramel adapted from Chocolate Nut and Caramel Shortbread Tart.